Rich Waterworth, General Manager, Europe
2020 has been both difficult and momentous for the Black community. Over the past year, the structural and systemic racism facing Black people has come to the fore in both violent and subtle ways.
But rising out of this adversity has been the much needed spark that the world needs to change. At TikTok, it's something we deeply care about. We take great pride in the diverse community we hope to further nurture. We know it's something we constantly need to work on and we're 100% committed to doing that.
As a business, we were unbelievably proud to celebrate Black History Month with you this past October, with the launch of our employee-led grassroots campaign - Black History, Black Present, Black Future - an initiative built by the Black community, for the Black community, at TikTok.
This campaign was designed to educate our users, colleagues, and partners on Black history in the UK, to inspire creativity and celebrate Black people and Black culture. The quality and extent of this campaign, across LIVE events, internal celebrations, new partnerships and #myroots educated, inspired and shone a spotlight on so many important conversations - as well as celebrated Black culture in a truly TikTok way. The team behind this lit a fire within our business, inspiring us to be better.
But October was just the start - we want to ensure the mission and values of Black History Month remain a constant, not a month in the calendar. For us, Black History Month is a springboard for a series of long-term investments into content, product and culture initiatives that continuously celebrate and elevate Black users, creators and employees.
Following close consultation with our Black colleagues, we're spearheading a series of new initiatives to improve representation, participation and belonging at TikTok:
Recruitment: A commitment to partner with Black network organisations active in the UK and adopt measures to diversify our recruitment pipeline and nurture existing Black talent across our UK organisation - including measures to further diversify our pool of senior leaders. We have also already announced a UK partnership with Colorintech, where students who attended Black Tech Fest will have the opportunity to be fast tracked through the initial application stages of TikTok's 2021 European campus graduate and internship roles. We are also exploring ways to further expand our partnership with Colorintech.
Creator Development & Funding: Our recently launched £54m Creator Fund is designed to help more creators turn their creativity into a career. We are currently conducting in-depth research into our creator community, including looking at the representation of Black creators on the platform. These findings will be used to develop a long-term strategy, ensuring more Black creators are nurtured and supported through our Creator Fund and other related creator initiatives. We're also further strengthening our own programming guidelines to increase representativeness of in-app content.
Diverse Marketing: A renewed commitment to increase representation in all external marketing and communications campaigns to ensure that our own creative output as a business continues to be reflective and illustrative of the diverse communities we serve on TikTok. Marketing serves as the voice of the consumer, and therefore should represent the needs of all our audiences - we will continue to ensure that our paid and owned media strategy reflects this as well.
Our creator community is the lifeblood of our product and our brand, and is therefore critical to our inclusion commitment. We've highlighted our diverse community of creators through campaigns and iniatives including It Starts On TikTok, the Creator Fund and #MyRoots, which celebrated our Black creators, their own diverse roots, culture and heritage.
Appearing across billboards and online, #MyRoots told the stories of creators and artists as they celebrated their Afro-Caribbean roots. Featuring creators like singer/songwriter Cat Burns (@catburnss), football freestyler Jeremy Lynch (@jeremylynchofficial), and personality and queer creator Lily Rose (@itslilyrose), these stories have racked up nearly 300 million combined views to date.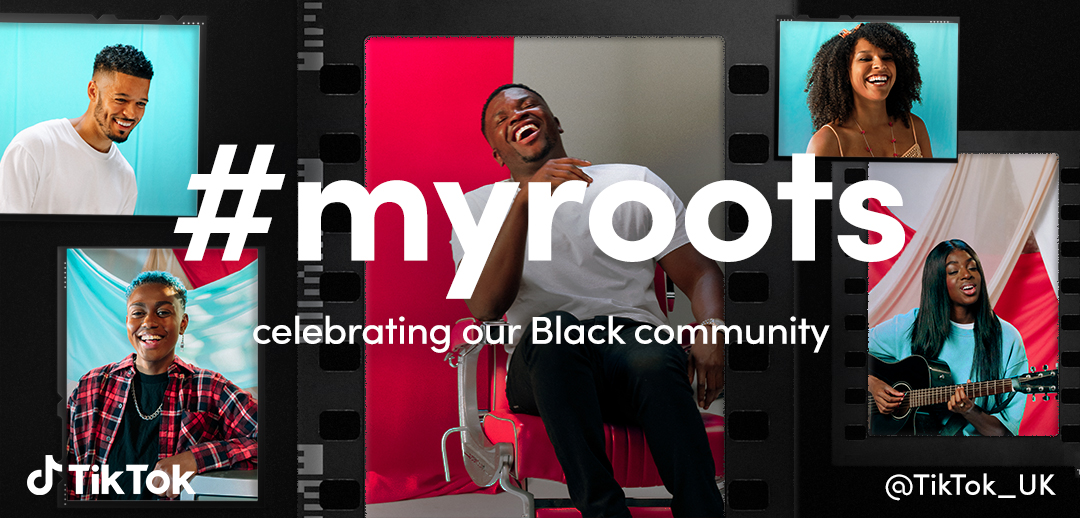 Speaking about being part of the MyRoots campaign, Creator, Lily Rose, said: "I felt extremely privileged and honoured to have been chosen to be a part of such a historic campaign. I think it's positive how TikTok is trying to spread awareness of the Black Lives Matter Movement (BLM) and are proactively encouraging the voices of Black creators to be heard. It's great to see a platform with the prominence of TikTok finally giving Black creators the recognition they deserve and bringing them to the forefront of the app."
We will continue to hero creators that represent our audience and their content interests, placing a spotlight on them and helping to grow their audience.
Media outlets on TikTok: Over the next 6 months, we will onboard and provide dedicated TikTok training to at least 15 of the top 35 Black publications spanning a range of verticals.
Working closely with our community team, we will also further increase engagement with prominent Black media and bloggers across music, fashion, and comedy to help them to build and grow their audiences on TikTok with entertaining, impactful and polished content. Following our Black History Month campaign, we were delighted that 11 of the leading figures who took part in our LIVE events decided to join our platform - several of whom are now eligible for our Creator Fund and have received bespoke training from our team.
Representation in Content Policy: To ensure that a range of voices are heard in discussions about content policy, we are launching a new internal European Product Policy I&D Forum. This will include employees who work in a variety of functions across the business including Trust & Safety, legal, ad policy, and LIVE programming. This new forum will also further complement the work that we are doing externally with a wide range of experts and stakeholder groups such as Glitch and TellMAMA to ensure that we are building policies and products that are both representative of, and sensitive to, the diverse communities we serve.
Dawn Butler MP, Member of Parliament for Brent Central & Former Shadow Secretary of State for Women and Equalities said:
"2020 has been an incredibly challenging year for Black people and the Black community. The Coronavirus pandemic has exposed the structural inequalities and racism that still exist in society.
"However, there is still a lot to be optimistic about. It was great to host a live stream event with inspiring entrepreneurs as part of TikTok's Black History Month campaign - it is vital that high-profile companies like TikTok make public commitments to improve diversity and inclusion across the workplace.
"Not only is this the right thing to do it makes sound business sense - the more diverse a company is the bigger the profit. I'm glad that TikTok is taking this longer-term approach and investing in the Black community which must be sustainable and meaningful."
This year, we've learnt a lot - and we know that announcing these commitments are just a starting point. The goals and values of Black History Month are informing our longer-term strategy for, further shaping how we invest and support the Black community in 2020 and beyond. We're committed to continuing to drive meaningful change and sharing regular updates about our progress.