When we introduced the TikTok For Business platform, bringing authentic, creative storytelling back into marketing was our guiding light. We've seen our community inspire trends and start movements by showing up as their true selves -- telling stories of joy, humor, courage and honesty. This opportunity to spark joy by being your authentic self is not isolated to creators, brands are recognizing the value of realness as well.
As we've seen time and time again, brands play an important role in the TikTok experience, and our community enjoys engaging with the brands they love. The experience is not about advertising, it's connection, inspiration, co-creation, and entertainment. This allows brands to be real and part of the culture creation happening on TikTok because they show up as members of the community.
Every day we see millions of users adding to the diversity of content and range of human expressions on TikTok. What separates the brands who are losing relevance and those that are succeeding is the mindset to think beyond traditional marketing tactics and focus on new initiatives to creatively engage and connect with users through feelings, actions and sound.
In a new U.S. study we commissioned from Nielsen, we're uncovering the most significant insights about the value of authenticity in community and marketing and how brands can shift their storytelling in order to meaningfully engage new audiences.
"Being real is the new cultural currency as today's influence comes from the authentic ideas and imagination of everyday people," said Sofia Hernandez, Head of U.S. Business Marketing, TikTok. "This opens up a new opportunity for brands to take a more meaningful approach to marketing by truly connecting with our community. Trends on TikTok create moments and movements that extend off the platform and become part of our daily lives; and this type of engagement and relevance are what brands continue to strive for."
The following are the top takeaways from the report.
The power of community
People don't have to be perfect, and that's perfect. Everyone belongs to the TikTok community and is accepted. You are not only accepted but celebrated for being yourself by your viewers and fellow creators.
60% of TikTok users said they felt a sense of community while on TikTok.
TikTok users feel energized, motivated, confident and entertained when spending time on TikTok.
3 of 4 people said that TikTok is a place where people can express themselves openly.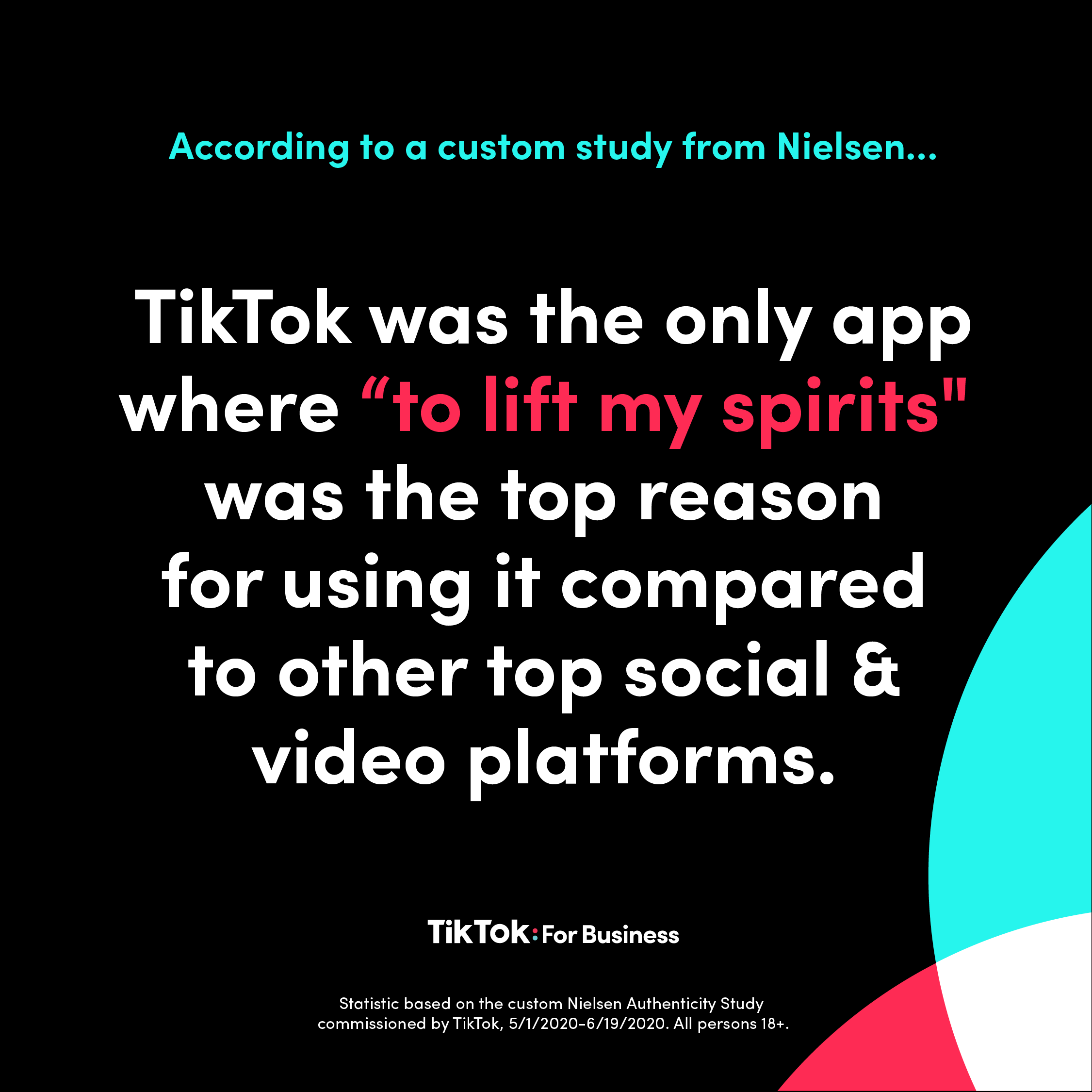 Authenticity and positivity in marketing
Brands are embracing the creative and authentic spirit of TikTok, and giving users a new way to discover and engage with the products they love. In the study, TikTok was the only app where "to lift my spirits" was a top reason for using it.
Nearly 3 out of every 4 users who felt positive said that they felt inspired, confident, and entertained while using TikTok.
61% of TikTok users feel that advertising on TikTok is unique from top social and video platforms.
Users also associated the advertising on TikTok with being more authentic, fun, genuine, honest, real and trustworthy compared to other channels.
43% of heavy TikTok users feel that the "advertising" on TikTok blends in with the content.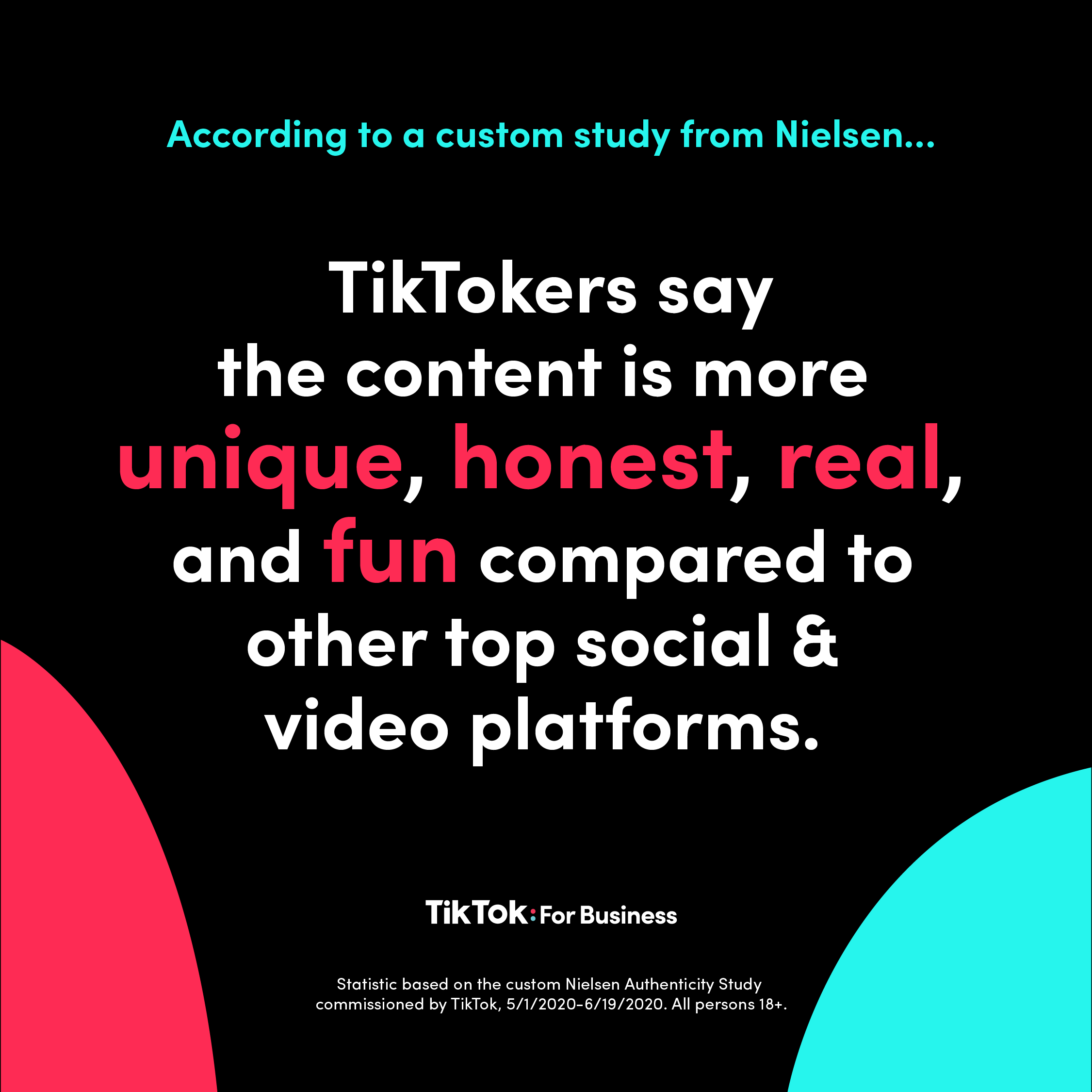 Discovery and connection
TikTok is a dynamic platform and allows for constant discovery. This allows for brands to be relevant and discovered in the same. TikTok is an open platform where anyone and any brand can be discovered.
TikTok users enjoy the discovery of new and relatable content.
Over half of users are engaged in activities like saving sound clips and searching through hashtags. Additionally, 79% of users mentioned they take the time to read the comments on videos.
88% of TikTok users said that they discover new content that they enjoy while using the app, and about half of users said they discover new products through advertisements posted by a product or brand.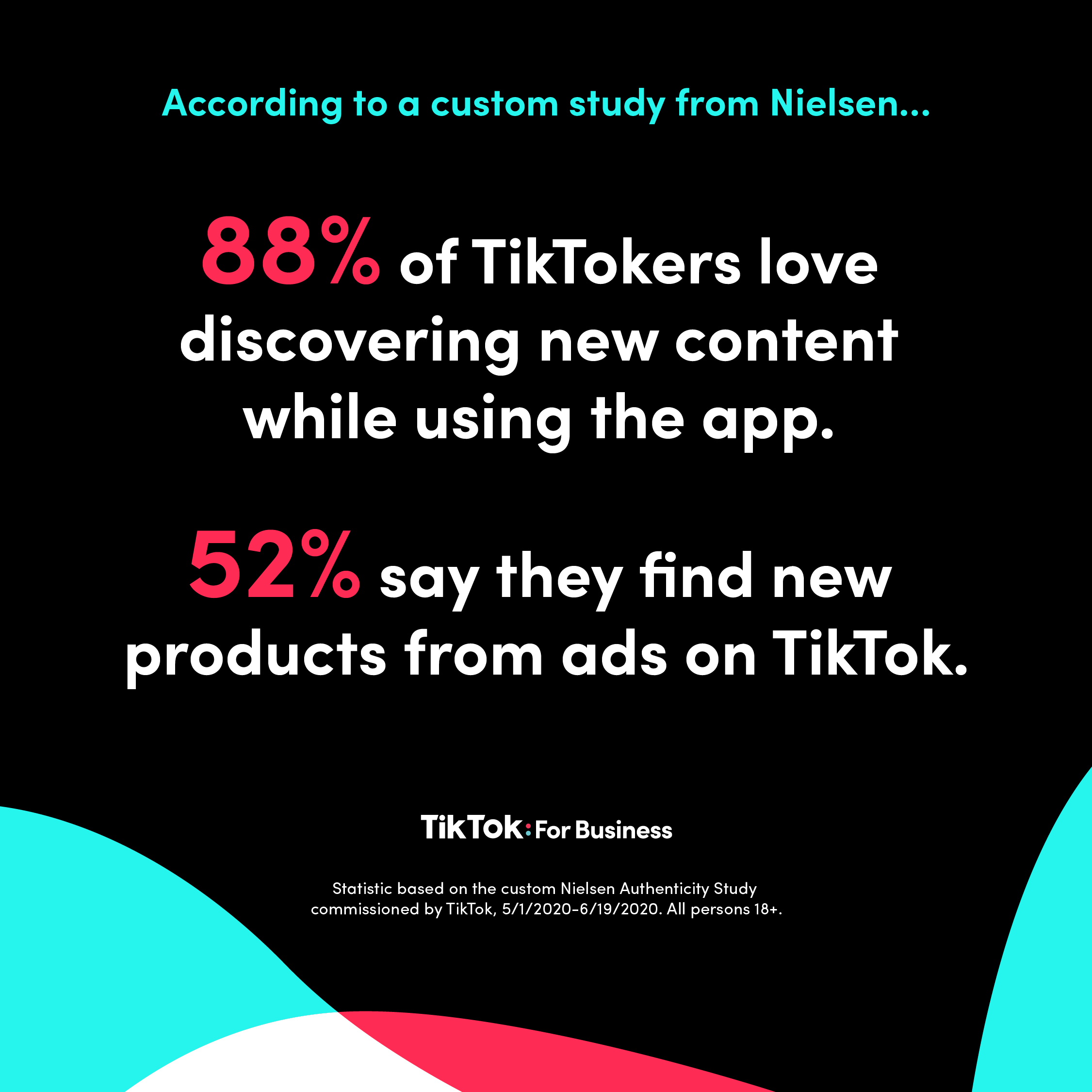 We are humbled to see our users showing up as the most honest version of themselves, and we are proud to enable and provide a platform for that authentic self-expression. What TikTok offers brands has never been available before - a place to truly become part of the fabric of culture through authenticity. This means listening, adapting and evolving with our community, not talking at them or 'making ads'.
*Source: Nielsen custom Authenticity Study commissioned by TikTok, Persons 18+, 5/1/2020 - 6/19/2020