At TikTok, building and supporting community is at the heart of everything we do—and this month on our Creator Spotlight Series we're celebrating the LGBTQ+ TikTok Trailblazers who are making a difference in their own communities. We're inspired by how they've embraced their authentic selves and how they're encouraging others to live their lives freely and fully, too.
Get to know Jesse Sulli (@jessesulli), a transgender father who shares his journey with the TikTok community on going from mom to dad, and raising his daughter Arlo. His mission is to highlight that not all families look the same, and to be a role model to young transgender people all over the world. Jesse wants LGBTQ+ people to feel not only heard, but celebrated and empowered. Read more below about Jesse's story, and how he's found power in owning his unique experience and identity.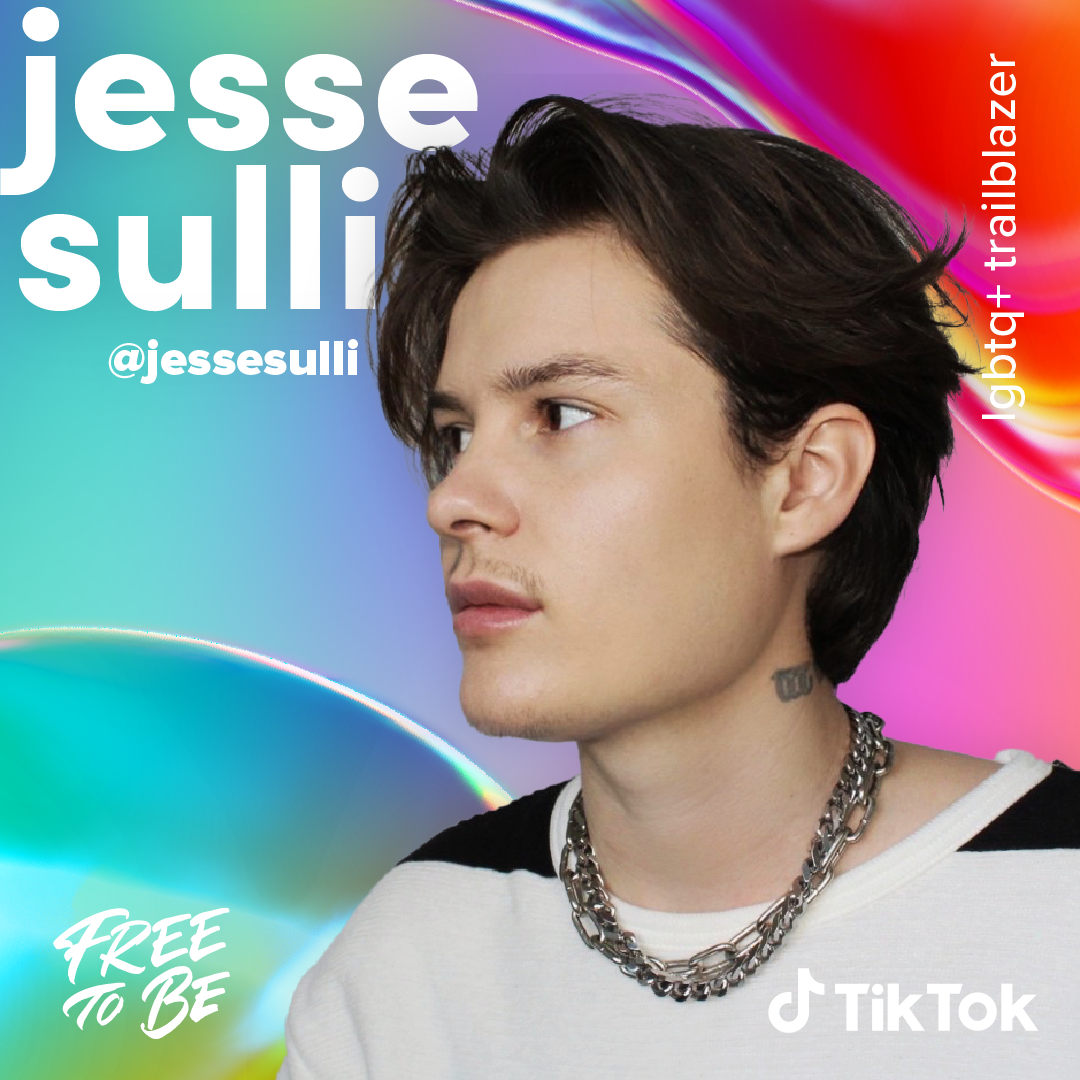 What does Pride mean to you? How has that meaning changed for you over time?
For me, Pride means unapologetically celebrating who I am. Not just saying, "Hey I exist!", but instead saying, "I exist and my transgender body is worth celebrating because it's beautiful." I feel proud of who I am. Even when things get tough, I feel lucky to be me.
How has your identity influenced or shaped you?
It's influenced almost every part of me. I remember deciding to come out as transgender, and that decision felt like climbing a mountain alone. The response from people close to me wasn't great, but I knew if I wanted to raise my daughter authentically, I had to be honest with the world about who I am. Once I did, it felt like for the first time in my life every step I took was in the right direction. Breathing literally felt different, it felt better. And that shaped me to be a very empathetic and a very powerful person. I've lived the life of a woman, and have dealt with all the difficult parts of that, and I think it's shaped me into a really great man. I think I can raise my daughter to be someone who changes the world because of my experience and identity.
How do you celebrate the diversity/strength of (and also support) the LGBTQ+ community?
I feel like just showing my family to the world is how I support the community. I want to give my hand out to any young person who feels alone. I try to respond to as many LGBTQ+ people who reach out on social media for advice or help. If I could, I'd show up in person to give them a hug, and tell them how amazing they are. By connecting, we strengthen one another. I try to donate to transgender surgery crowdfunds, and support LGBTQ+ businesses. To me, we're all a big worldwide family. We have to support one another!
How has the TikTok community inspired you?
It's actually changed my life. It's so inclusive and loving. Not only seeing other creators' unique and beautiful stories, but having people from all over, and from all types of backgrounds, support Arlo and I means more than they know. I started my transition right before the pandemic, and so it felt pretty lonely at times. The TikTok community inspired strength and pride during times I was struggling. It's inspired me to be creative in new ways and connected me with people I never would have met. I honestly truly love the community.
What video are you most proud of creating?
Me showing myself from pregnancy until now. I was worried at first, but I wanted to show my full journey. I never thought it would catch on, and over night the response was overwhelming. Most of it was support and it was amazing.
What are some content creation tips you would offer to other creators?
Make sure you have good lighting and you can actually see yourself. On a bigger scale, show your real story and connect with people. Show authentically who you are and where you came from -- the good and the bad. Create your own microcommunity online.
What advice would you give to the next generation of the LGBTQ+ community?
My advice is to not only accept yourself, but love yourself fiercely. Celebrate who you are every day. If you're in a home in which you are not supported, don't lose sight of the rainbow light at the end. I promise you there's a massive community of people ready to embrace you.
How do you think people can be allies to the LGBTQ+ community?
By not only accepting LGBTQ+ people personally, but by standing up for them. If you hear a slur, or see mistreatment, stand up and say something. Tell family members, write social media posts, and vote for politicians who have LGBTQ+ people's interests in mind.
Who are some LGBTQ+ TikTok creators that everyone should be following/watching (and why)?
@Therealclaybaby is one of my favorites, not only is he hilarious but he spreads positivity and love. He talks about mental health and is so supportive of his community. @Ajclementine is a beautiful trans girl who does a great job of empowering herself and others, which I think is so important. @ladytragik is a badass musician and activist, who shows their journey starting a family with their wife.