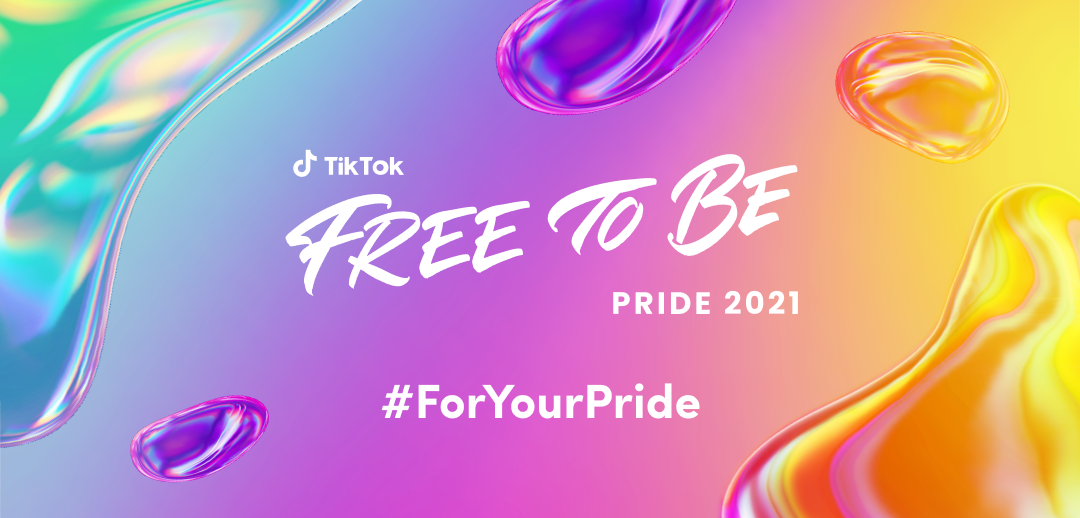 Pride 2020 was history in the making. With a global pandemic set as the backdrop, LGBTQ+ communities around the world experienced a Pride Month unlike any other in recent memory. Gone were beloved and traditional rainbow-themed events, parades, and parties. However, the inability to celebrate in person provided the community with time to reflect on how far we've come, and how far we still need to go. This unprecedented time reminded us that there are still some who are fearful and threatened by the progress of LGBTQ+ rights.
This year TikTok is celebrating Pride Month with a unifying, global rallying cry: Free to be. Free to be you in any and all spaces, free to evolve into the person you are supposed to be, free to create content without judgement, free to take the time to understand other people's experiences - free to live authentically you. This Pride Month, we want you to feel empowered and free to be you, #ForYourPride.
Introducing the next wave of LGBTQ+ TikTok Trailblazers
To kick off the celebration, we're proud to debut our second annual LGBTQ+ TikTok Trailblazers, creators who are at the forefront of the next wave of digital entertainment and defining what it means to embrace self-pride and live their lives freely and to the fullest. These creators are making a positive impact on TikTok and in their broader communities. Throughout the month, get to know these Trailblazers as they share their personal stories.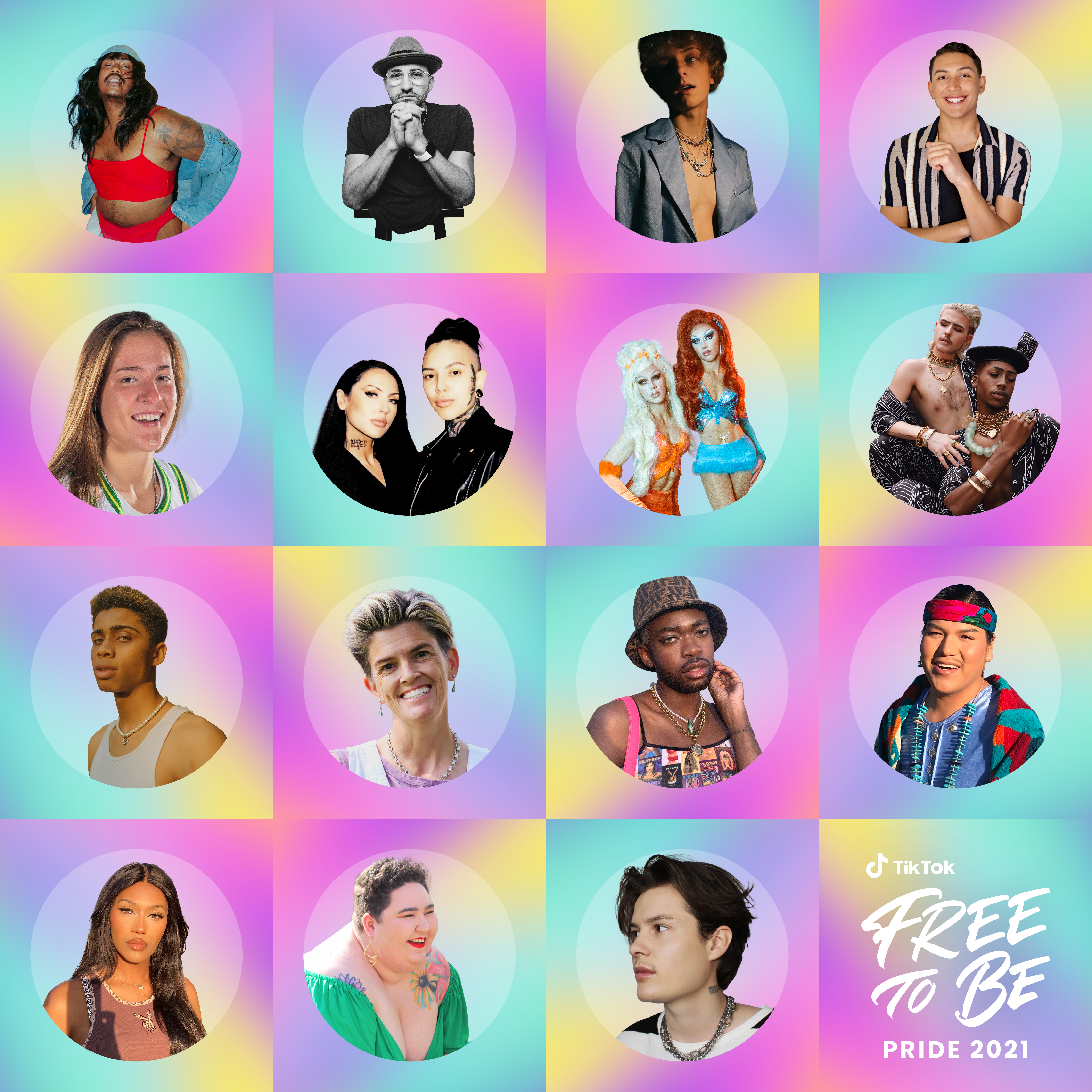 Celebrating Pride with LIVE music & programming
Building and supporting community is at the heart of everything we do at TikTok. We invite everyone to join us in celebrating Pride this month where we'll feature special musical performances and community-building events on TikTok LIVE. Programming will be available on the Discover page all month long, including:
The Thrive with Pride Concert, in partnership with LA Pride, on Thursday, June 10 at 7 PM PT/ 10 PM ET. Hyperpop diva Charli XCX and a bevy of LGBTQ+ talent including host Benito Skinner, aka BennyDrama, and incredible artists Love Bailey, VINCINT, Gia Woods, and more will perform. More updates and information about each artist can be found on the lapride.org website.
The first-ever global TikTok Pride March, a TikTok LIVE Lineup fundraising event spanning 12 hours across 24 different programs hosted by countries around the globe, including the US, Brazil, Japan, Korea, Singapore, and more. Taking place on June 24 beginning at 9 AM PT/ 6 AM ET. More updates and information about musical performances and artists will be available on the Discover page soon.
Launching new in-app creative effects
The TikTok in-house design team was inspired to create creative effects that looked beyond identity and celebrated the different dimensions of the LGBTQ+ community. Nine new creative effects will roll out throughout the month to help creators celebrate and share stories of the LGBTQ+ community, including Rainbow Hair, Rainbow Curtain, Rainbow Trail, Pride Lighting, Pride Time Warp, Pride Rainbow Cheeks, Pride 3D Lashes, Pride Glittery, and Pride Flag Sky AR.
@henrycheng94, a senior 3D designer who created the Rainbow Trail effect, says 'free to be' to him means "to embrace life fully and be true to myself and also everyone around me." And @jefraingg, a senior 2D designer who created the Pride Flag Sky AR effect, says "it means to be able to freely and truly express myself without having to hold back because of what people might think of me." To create with a Pride Month creative effect, open the Effects tray before filming and add them on top of your video.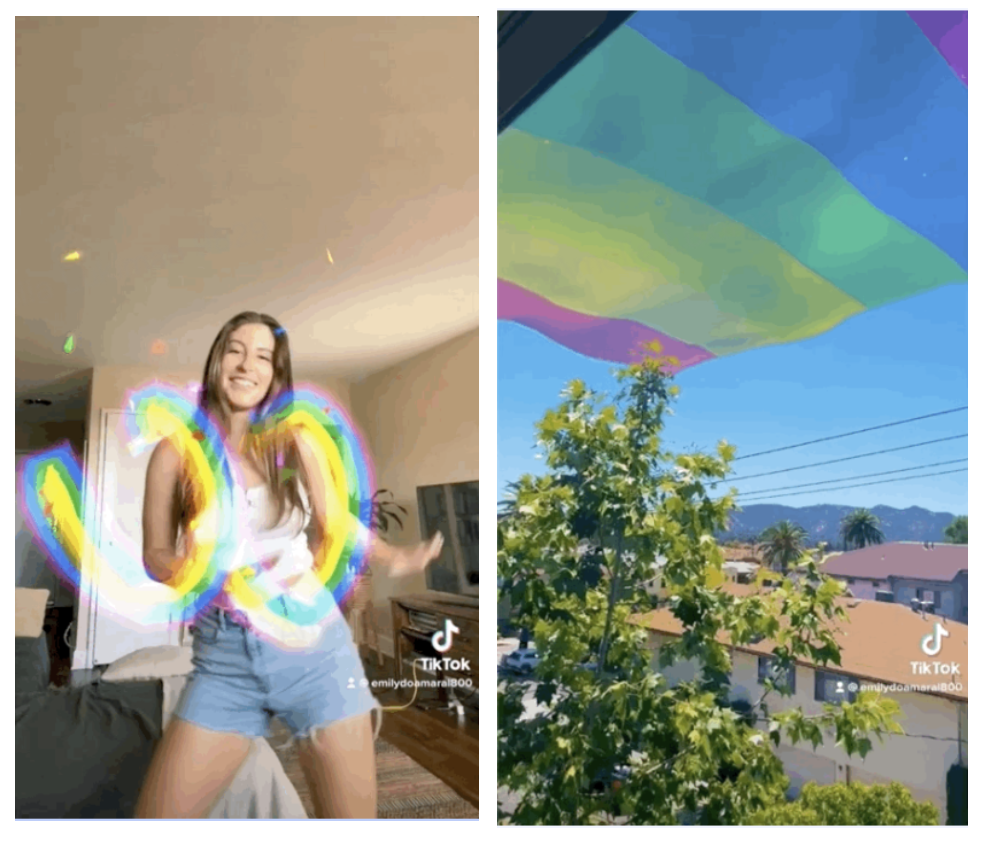 Fostering a welcoming and supportive experience for everyone
At TikTok, we're driven by our passion for creating a safe and supportive space so that everyone in our community feels free to be their most authentic selves.
LGBTQ+ people understand in particularly poignant ways how necessary it is to create new systems and find new ways of seeing and being seen, and we want people to feel safe to express themselves creatively and authentically. As we work to foster a welcoming environment, we'll remove hateful, anti-LGBTQ+ content or accounts that attempt to bully or harass people on our platform. And, as hateful behaviors evolve, we'll redirect searches and hashtags to our Community Guidelines to reinforce that there's no place for hateful ideologies like #only2genders and #superstraight on our platform.
At the same time, we continue to invest in a range of tools to help people feel empowered over their TikTok experience, including ways to report up to 100 comments at once or block accounts in bulk. We also introduced prompts that ask people to reconsider posting a potentially unkind comment as we actively work to cultivate kindness in our community.
We're committed to listening to our community and experts as we aim to develop equitable policies that are consistently enforced. Our goal is for LGBTQ+ creators to feel empowered to be themselves on and off our platform.
Supporting the LGBTQ+ community
The community would not be what it is without the tireless work of non-profit organizations committed to advancing LGBTQ+ causes that support each one of us. That's why we're donating $500K to organizations that support the LGTBQ+ community and inviting our global Pride community to join us in advancing the work of these organizations. We've partnered with GLAAD, It Gets Better Project, The Trevor Project, True Colors United, Born This Way Foundation, Trans Lifeline, to name a few. The passion and commitment of organizations like these is a reminder to us all that we're not alone, that we're strong and resilient individuals, and that we're even stronger together.
We're proud that TikTok creates opportunities for people to create and share content that resonates with others and helps them build a stronger community. We're continually looking for ways to better ourselves in promoting and building an online destination that is inclusive of all people and voices.❤️🌈