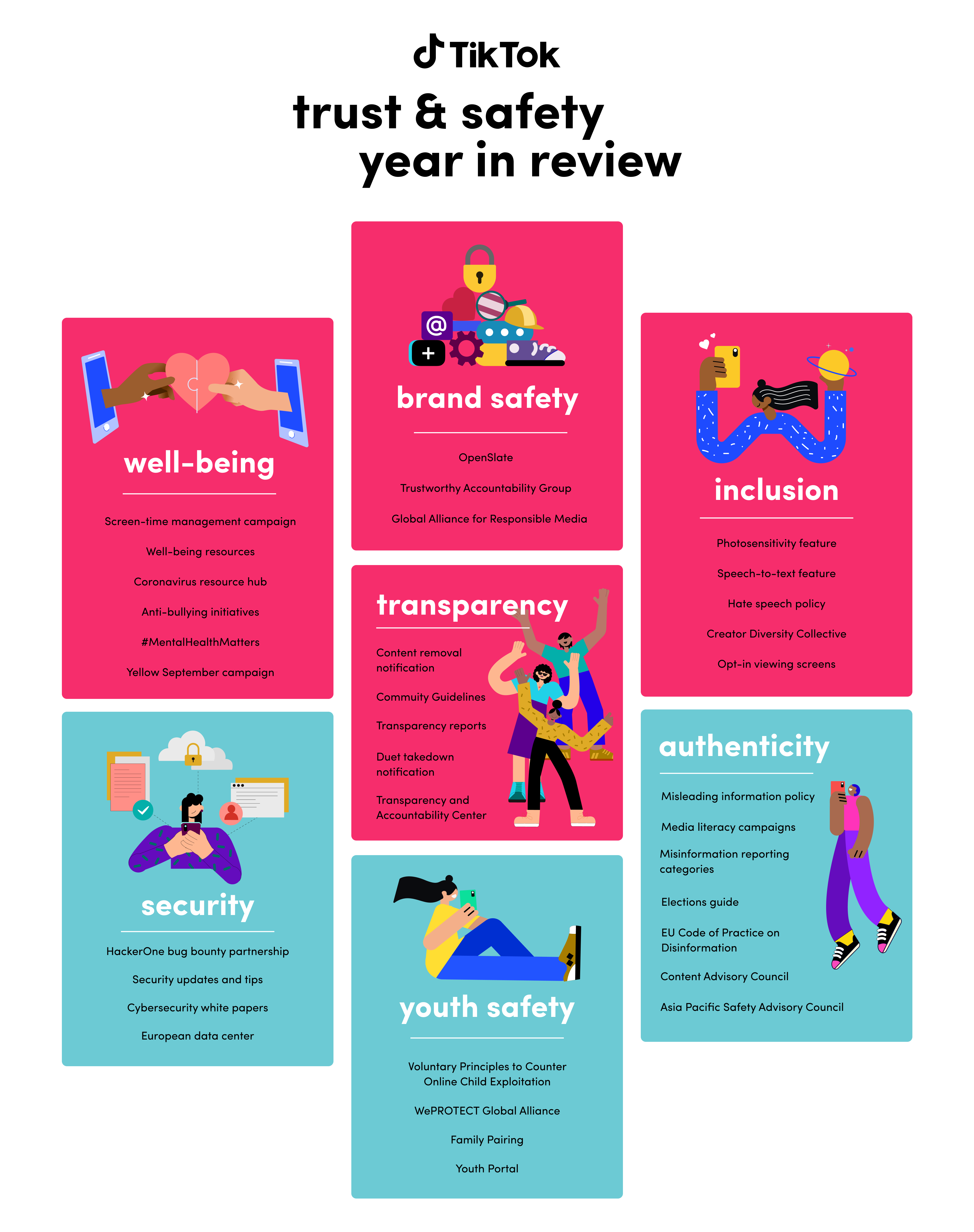 TikTok is home to millions of people who come to our platform for entertainment, education, and fun. To maintain this environment, we've made important progress over the past year to further develop our safety infrastructure. In January, we updated our Community Guidelines because we wanted to make our values more clear and this month, we refreshed those guidelines to illustrate how our thinking on complex issues such as self-harm and bullying is constantly evolving.
In all that we do – expanding our global Trust and Safety hubs, launching safety features, initiating partnerships with industry experts – we aim to keep TikTok a home for safe, creative, and authentic expression. As we look to the new year, we reflect on how we've grown and what we learned in 2020.
Promoting authenticity on TikTok
We care deeply about promoting authenticity and limiting the spread of misleading information. Over the course of the year we strengthened our integrity policies and introduced additional reporting options to help our community flag concerning content and accounts. We also developed relationships with fact checkers to help us assess the accuracy of content relating to elections, COVID-19, vaccines, and other content.
At the same time, we made significant investments in digital literacy education to help our users make informed decisions about the content they see online – from our "Be Informed" series in the US to the #thinkb4youdo campaign in Singapore to our media literacy initiative with the Génération Numérique NGO in France.
To hold ourselves publicly accountable, we've signed the European Union's Code of Practice on Disinformation and pledge to fight against disinformation on TikTok to support genuine content and interactions. We believe that misinformation harms the trust-based environment our users want and deserve, and we invest in measures to combat it.
Continuing our commitment to transparency
Transparency is critical to building trust with our community. This year we enhanced our safety infrastructure to enable us to explain why content may be removed, make it easier to appeal a removal, and bring even more detail to our Transparency Reports.
Brands are a growing part of the TikTok community and we're dedicated to helping them connect with audiences safely. Our partnerships and integrations with OpenSlate, the Trustworthy Accountability Group in the UK, and the Global Alliance for Responsible Media are aimed at promoting brand safety and holding us accountable for removing harmful content.
Additionally, we opened our first Transparency and Accountability Centers to provide policymakers and experts with a first-hand view into how we operate, moderate and recommend content, and work to maintain privacy and security. TikTok aims to be an industry leader when it comes to transparency into how we operate and keep users safe, and we'll continue to make improvements along the way.
Keeping TikTok secure
Security is always top of mind for us, and we're constantly improving our systems to protect our community and their information. In addition to our dedicated global security team, we've partnered with HackerOne to expand our public bug bounty program, allowing us to reinforce our defense systems through the help of global security researchers and industry experts. This is an area where we hope to grow alongside our community. In that spirit, we also regularly provide security updates and work with partners, such as the Center for Digital Society and the Onno Center in Indonesia, to publish white papers about cybersecurity.
Caring for our global community is a complex undertaking that requires nuanced and ever-evolving measures. We prioritize security because our users deserve peace of mind when they open the app. Without it, TikTok could not be the home for creative expression.
Prioritizing the well-being of our community
The coronavirus pandemic has impacted all of us, and we're committed to doing our part to keep our community informed. Early this year, we launched an in-app coronavirus resource hub and mounted campaigns – including #HeapsGood in Australia to spread positivity during the pandemic, the #vudieruatay hand-washing challenge in Vietnam to encourage hygienic practices, and #happyathome to help people across the world remember that we're all one community.
Well-being extends beyond physical health – emotional health is just as important. Over the past year, we increasingly sought the advice of mental-health experts as we developed more inclusive and comprehensive policies on self-injury, eating disorder content, bullying, and harassment. We also introduced emotional-support resources with evidence-based actions someone can take if they're struggling with their well-being.
This year, we participated in Brazil's Yellow September suicide prevention campaign that advocated for improved access to mental health services. In recognition of World Mental Health Awareness Day we fostered heartfelt conversations among TikTok users about their experiences by debuting the #MentalHealthMatters hashtag in the US and announcing a collective of creators who share inspiring well-being content in the UK. We hope to help de-stigmatize mental health by enabling conversations and connection so that those struggling know they're not alone.
It's important to us that everyone on TikTok feels comfortable and confident expressing themselves. We recently strengthened our policies against bullying and will continue listening to experts as we work to improve. For instance, we developed campaigns, workshops, and programs that advocate for good digital citizenship and online kindness with the Parent Teacher Association in the US, the Ministry of Communication and Information Technology in Indonesia, and NASSCOM Foundation in India.
Showing care for our younger users
On TikTok you'll find a diverse mix of people, from grandparents learning new dance moves to teenagers finding creative ways to capture their everyday lives. We want everyone to feel safe on TikTok, and that's especially true for our younger users. While TikTok is for users aged 13+, we recognize that teens' experience can differ greatly from those who are older.
We dedicate significant time to understanding the special journey teens and young adults embark on as they develop their online identities. We regularly speak to parents and teens to learn about their perspectives so we can set them up for a positive TikTok experience with tools for screen time management, privacy, and comments. Caring for younger teens is a critical effort, and we work hard to stay alert to potentially harmful behaviors and update our tools, policies, and practices accordingly, for example through our recently updated policy on harmful activities by minors.
We continued our work with leading youth safety organizations, such as the National Center for Missing and Exploited Children, the Family Online Safety Institute, and ConnectSafely, to prioritize the safety of youth on TikTok. With their input, we developed Family Pairing and our Youth Portal to educate teens about digital literacy and foster conversations about online safety within families. Based on youth-safety research, direct messaging and live streaming aren't available for registered accounts under 18 as we work to reduce the potential for negative experiences or harm. TikTok also committed to the Voluntary Principles to Counter Online Child Exploitation and are members of WePROTECT Global Alliance.
Building with empathy and inclusivity
Safety and inclusion go hand-in-hand, and we believe in maintaining an environment that celebrates everyone. We've evolved our hate speech policy to better account for scenarios where underrepresented groups may feel excluded or marginalized and to counter hateful ideologies.
It's critical that we listen to the perspectives of our users, learn from them, and act. We honor Black History month, LGBTQ+ community celebrations, and other important occasions that enable meaningful conversations among community. In the US, we launched the Creator Diversity Collective featuring users from different backgrounds who regularly meet with our team to discuss and share ideas around how we can center representation, diversity, and inclusion both within our programs and on the platform.
True inclusivity means building a platform that everyone can easily use and enjoy. We still have work to do on this front, and we're taking important steps to make our platform safer for those with visual sensitivities. We now notify creators when they produce videos that may trigger photosensitive epilepsy and have introduced a feature that lets people skip photosensitive content. We've also introduced opt-in viewing screens on top of videos that some may find graphic or distressing. Additionally, we've rolled out a text-to-speech feature that turns typed text to audio.
Feeling safe is critical to feeling comfortable expressing yourself and being creative. This year has been filled with tremendous growth and challenges as well as opportunities to innovate around community safety and support. We've worked to build a sustainable infrastructure that puts the safety of our users first. As we expand upon this foundation, we're determined to be even more thoughtful and proactive in the ways that we care for our community in the year to come.