By Vanessa Pappas, TikTok US General Manager, and Kudzi Chikumbu, Director of Creator Community
As we shared in a blog post at the start of this month, racism and discrimination have no place on TikTok and we are committed to specific, concrete actions in our push toward building an inclusive platform reflective of our diverse world.
Recently, we invited Black creators to share their concerns and experiences in a Town Hall with our CEO, Head of Safety, Head of Culture & Diversity, and the two of us. Our team also held a roundtable to hear the perspectives of our student ambassadors from historically Black colleges and universities (HBCUs). In these discussions, our community has emphasized the need for TikTok to take more proactive steps against harassment, better understand cultural sensitivities, and broaden our own team's perspectives. Internally, forums with our Black employees are facilitating ongoing conversations to make sure we're aligning our on-platform and community initiatives off the platform as well.
We are determined to have these important, albeit challenging, conversations – with our community and about our own company – as we take action toward fostering a strong and inclusive platform. Our mission is to inspire creativity and bring joy through the TikTok experience, and that isn't possible unless our users feel safe and heard on our platform. The voices, images, and emotional stories resonating on our platform and around the world are an important reminder of the responsibility TikTok has to its users.
Today we want to provide an update on some of the steps in our ongoing commitment that we've taken so far.
Introducing our Creator Diversity Collective
TikTok creators are diverse, and want to make sure they are seen and their voices are heard. Today, we are announcing the formation of our Creator Diversity Collective, which brings people from different backgrounds together to help ensure diversity, inclusion, and representation in our programs and on our platform. These creators were chosen due to both their knowledge of TikTok and their dedication to advocating for a more inclusive platform. The inaugural members of the Collective, who will be joined by more creators of diverse backgrounds in the coming weeks, will first gather in early July and will meet regularly with TikTok employees to share the perspectives of the creator community.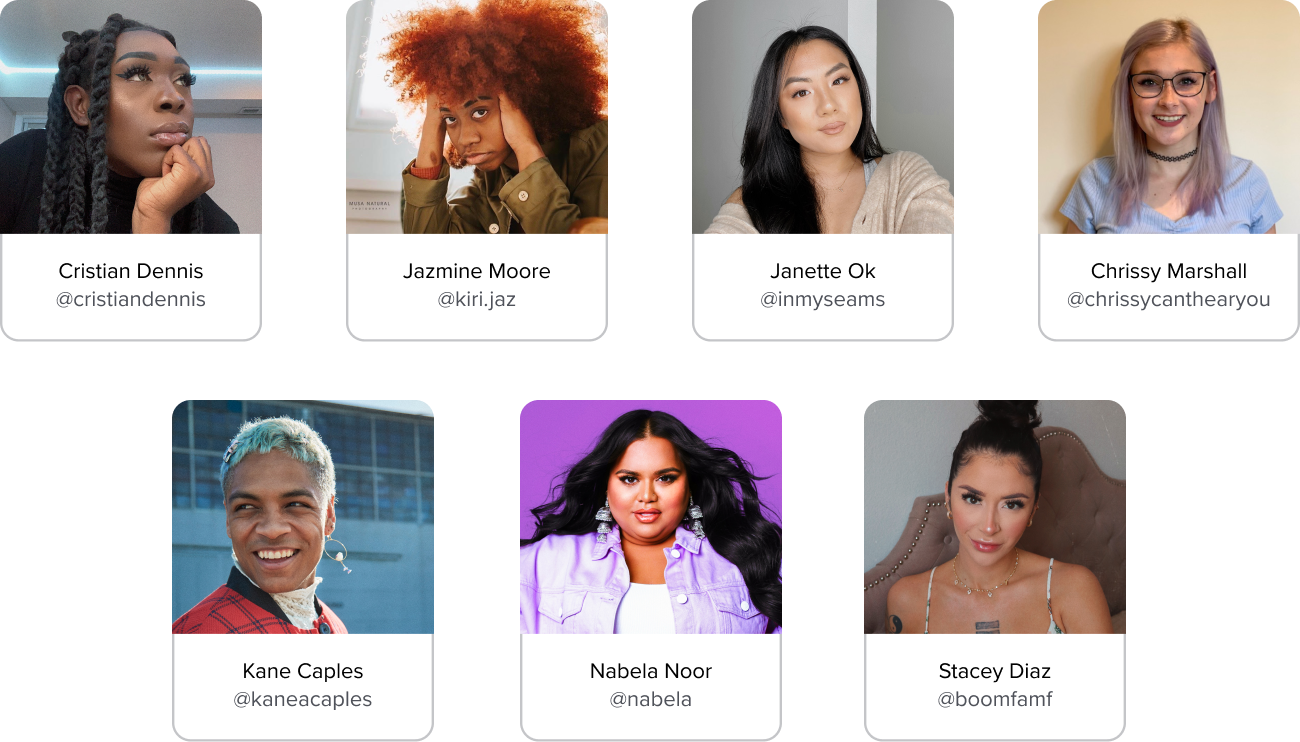 Welcoming Mutale Nkonde to our Content Advisory Council
Today we are also announcing that Mutale Nkonde has joined TikTok's Content Advisory Council; she attended her first meeting yesterday, where we tackled how to appropriately handle hateful behavior. Her expertise and perspective, including her research focused on understanding racial bias in algorithms, will help us as we continuously enhance our policies to keep TikTok a safe and welcoming place for everyone.
"As TikTok becomes the online destination for Gen Zers, the construction of race and expressions of racism are becoming a foundational part of how users understand each other. I am honored to join this council to help bring attention to the challenges and opportunities this presents and ensure Black, Indigenous, and other negatively racialized young people enter an affirming and inclusive online space." – Mutale Nkonde, Fellow at Berkman Klein at Harvard and Fellow at Digital Civil Society Lab at Stanford
Updating and enhancing our platform and systems
We want TikTok to be a platform that celebrates Black voices in our community, and it's critical that our product and policies treat users fairly and get continually better at protecting users from harassment. Again, racism, hate, harassment, and discrimination have absolutely no place on TikTok, and hate speech will not be tolerated on our platform. When our enforcement teams detect known hate or violent extremist groups we quickly remove the violating content, ban accounts, and work to block the spread of hate terms in search. This is a challenging area and we won't always get it right, but conversations with our community and experts like our Content Advisory Council continue to help inform our product and policies as we also invest in our ability to quickly detect and triage hateful or abusive behavior, including growing our product and engineering teams in our Trust & Safety hubs to focus specifically on enforcement efficiencies.
Additionally, we're making product changes to offer clarity around content removals. We recently released a feature that notifies users if they duet or react to a video that was removed for violating our Community Guidelines. Previously, users who made duets condemning what they felt to be racist content felt betrayed to find their own video removed – as a result of the original video they duetted having been removed. We have a series of other improvements underway to improve notifications and appeals, which will begin rolling out next month.
Since users spend most of their time exploring their For You feeds, last week we also took an important step in providing insight into our recommendation system to help users understand their options for shaping their unique experience. We want to be open about the inherent challenges recommendation systems face and how we work to protect against bias. Our teams are intent on developing ethical machine learning processes that reflect inclusivity and diversity, but we know there's work to be done in this area and we are committed to further research and investment toward that goal.
Honoring and elevating Black history and creators
In celebration and remembrance of the 155th anniversary of Juneteenth, we created a dedicated page for users to learn more about the holiday and Black history through resources and informational videos from creators and social justice organizations. Following Juneteenth, this page has shifted to focusing on how systemic racism continues to impact the Black community, including highlighting videos and accounts of Black creators who are raising awareness of the issues that are important to their communities. We are mindful of the role that TikTok can play in the lives of our users, and we are committed to fostering a platform that amplifies Black voices – not just during isolated occasions, but as an ongoing part of the fabric of TikTok.
Supporting organizations that fight for equality
While the voices of our community are powerful, we know elevating them on our platform is not enough – which is why we're also making financial contributions to organizations that fight for racial equality and justice; nonprofits that provide programs and resources to local Black communities, including empowering underserved youth, girls, and seniors and working to increase access to health care, education, financial literacy, and cultural awareness; and museums that preserve stories of courage and heroism in the Black community, stimulate open dialogue about race, and inspire everyone to take steps to learn, listen, and heal.
We're contributing $2 million to organizations that work to establish and support inclusive communities across America, including the Accion Opportunity Fund, BET + United Way COVID-19 Relief Fund, the Congressional Black Caucus Foundation, and Black Girls CODE. These organizations are also part of our employee donation-matching program, and will soon be added to our in-app Donations feature so the greater TikTok community can support them as well.
We're committing $1 million to the Center for Policing Equity to help them fight for justice by condemning racism and bias in policing across the country. Our donation will support CPE's work to give their community-based partners data-driven solutions that keep dignity and fairness at the core of public safety.
We're providing $850K in microgrants to the Brooklyn Community Foundation, Chicago-based My Block My Hood My City, and The Brotherhood Crusade in South Los Angeles, and future grants will support other organizations working to undo the damage caused by systemic racism through actionable public policy.
We're also supporting Black museums across the country through a donation of $150K. These donations will go to the National Underground Railroad Freedom Center, California African American Museum, and The Legacy Museum, founded by the Equal Justice Initiative.
As we engage with our community, we continue to receive valuable feedback on how we can increase transparency, improve systems, prevent inherent bias, and amplify diverse voices – and we are hard at work on updates to that end. We realize that these are just first steps; no one action, donation, or blog post is going to fix a broken system. At TikTok, we are fully committed to supporting and promoting diverse voices and perspectives. We must be part of the solution, not the problem. We look forward to providing further updates on our progress and hearing feedback from our community in the months to come.