Strengthening its commitment to building a positive, safe online environment for users, TikTok partners the Media Literacy Council to launch a new #thinkb4youdo challenge for all Singaporean creators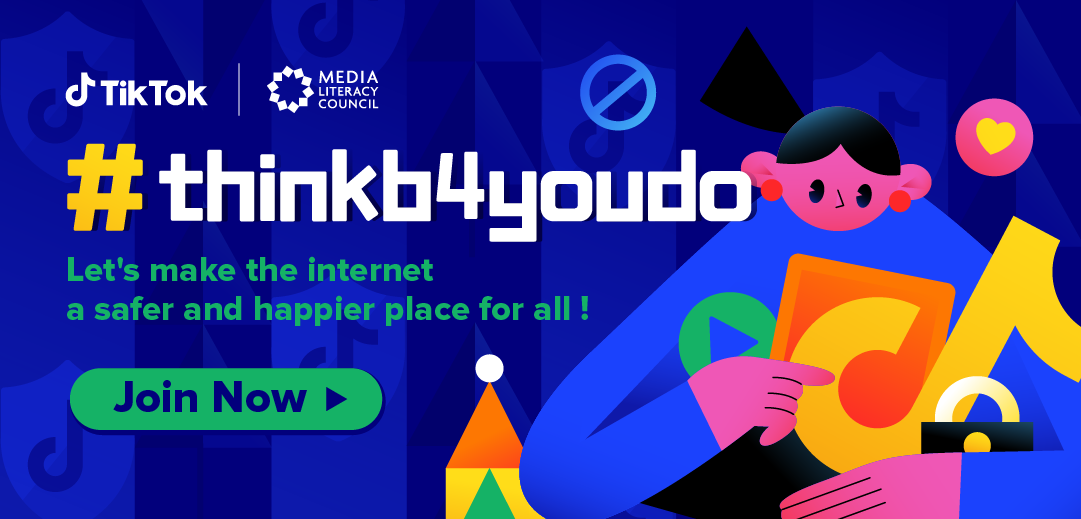 SINGAPORE, 19 November 2020 – TikTok, the world's leading destination for short-form mobile video, has exclusively partnered with the Media Literacy Council to launch an educational, new #thinkb4youdo hashtag challenge. With four in 10 young Singaporean children found to be at risk of cyberbullying in today's digital era, Internet safety and digital wellness is becoming more paramount. #thinkb4youdo will serve as a call to action for everyone using the platform to play their part in creating a safe and positive environment for the community.
From 19 November, local users can have fun while learning about cyber wellness tips and tricks by uploading TikTok videos, sharing their favourite digital wellness and Internet safety fun facts using the new #thinkb4youdo hashtag. Strengthening its commitment to Internet safety and positivity, TikTok and the Media Literacy Council will also launch an educational guidebook outlining how local users can all play a big part in making the Internet a happy place, alongside the ever-increasing safety features on TikTok. The guidebook will be available for download via this link.
"Our #thinkb4youdo hashtag challenge has become more relevant than ever, as the Internet continues to remain multi-faceted, presenting both opportunities and risks to all," said Arjun Narayan, Director of Trust and Safety, Asia-Pacific, TikTok. "Alongside the Media Literacy Council, we hope that our users will inspire others to use social platforms safely and spread collective positivity that helps everyone enjoy the benefits of a digital world."
"As digital citizens of a highly-connected world, we all have the responsibility to use the Internet in a safe, smart and kind way," said Mr Lock Wai Han, Chairman of the Media Literacy Council. "Through this partnership with TikTok, we aim to spread greater awareness amongst youths on digital literacy topics, and that by adopting positive online actions, they are only 1 Click Away from creating a better Internet for everyone."
Adding to this meaningful cause, popular local TikTok creators are playing their part to build a more positive, safe and inclusive environment, joining the #thinkb4youdo challenge to share their own Internet safety tips.
In conjunction with this challenge, TikTok will also be participating in the upcoming SG: Digital Wonderland Special Edition 2020 festival, in collaboration with the Media Literacy Council, for a live virtual panel event on the art of digital parenting, happening on Saturday, 28 November, from 2pm to 3pm. Joining MLC member Dr. Jiow Hee Jhee as part of the panel, are TikTok's Head of Trust and Safety in APAC, Arjun Narayan, as well as local TikTok stars Ng Ming Wei (@mingweirocks) and Cedric Ng (@daddyming), who have a combined TikTok fanbase of over 17 million. They will be sharing more on the best practices to engage children on digital literacy topics, as well as ensure the responsible and safe usage of social media.
Promoting a safe and positive app environment remains TikTok's top priority, with a level of accountability no peer company has committed to. Learn more about TikTok's robust and ever-evolving safety efforts and community guidelines.
TikTok is available in over 150 countries and regions in 75 languages. Download the TikTok app via iOS or Google Play.
###
About TikTok
TikTok is the leading destination for short-form mobile video. Our mission is to inspire creativity and bring joy. TikTok has global offices including Los Angeles, New York, London, Paris, Berlin, Dubai, Mumbai, Singapore, Jakarta, Seoul, and Tokyo. www.tiktok.com.