By Kevin Morgan, Head of Product and Process, Europe
As we come to the end of what continues to be an incredibly difficult year, promising results from early vaccine trials are providing hope to millions of people around the world.
Reflecting on the beginning of this year, when it became clear that the world was grappling with a pandemic, we knew our community - like everyone else - would have lots of questions about the virus. We moved quickly to provide our community with trusted information and as a safety team, we worked to ensure that our policies and moderation approach would be effective in light of an event we never imagined needing to deal with.
In January, we introduced an in-app notice so that when people searched for hashtags related to the pandemic, they would be provided with easy links to the World Health Organisation's website and the British Red Cross. In February, we continued our work by partnering with trusted sources to introduce an information hub in-app to provide the TikTok community with access to accurate information. Since June, the page has been viewed more than 2 billion times globally.
This is just a snapshot of the work our safety teams have done in our commitment to keeping TikTok safe for creative expression throughout the pandemic. To read more about our efforts, including how we have been donating to communities most in need and hosting events like #HappyAtHome to keep the TikTok community upbeat and positive during such a difficult time, you can head over to our Safety Centre.
Looking to the next phase of the pandemic
TikTok is designed to inspire creativity and bring joy. Unfortunately though, we need to be realistic that there will always be a small minority of people who will try to use our platform to share content that goes against our policies. From the NGOs and experts that we talk to, we know it is more important than ever to ensure that misinformation that could harm wider public safety is not allowed to proliferate online. Here's some of what our teams are working on to ensure that TikTok is a responsible partner as we enter the next phase of the pandemic.
Promoting authoritative information
As the debate and discussion about the COVID-19 vaccine increases, we believe it's essential to continue our work to provide the TikTok community with access to trusted and authoritative information. We are updating our information hub in-app so that when people search for vaccine information in-app, they will be directed to trusted information about the vaccine from respected experts. This will begin to roll out globally from 17 December.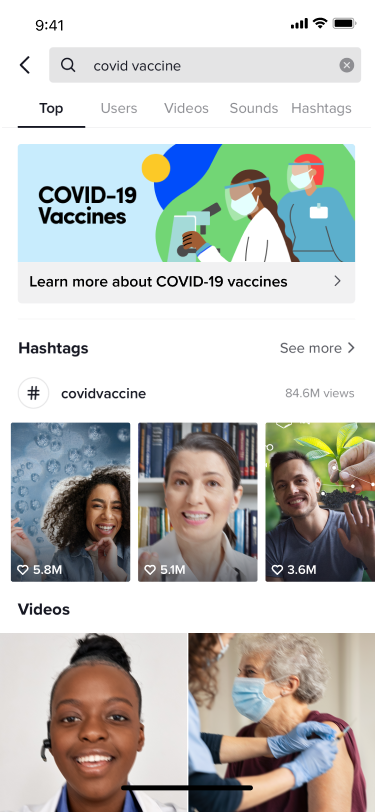 Additionally, we will soon introduce a new vaccine tag to detect and tag all videos with words and hashtags related to the COVID-19 vaccine. We will attach a banner to these videos with the message 'Learn more about COVID-19 vaccines'. This redirects the user to verifiable, authoritative sources of information. The TikTok community will begin to see this tag from 21 December.
We are also delighted to continue our partnership with Team Halo. From the UK, to South Africa, Brazil, the US and beyond, scientists all over the world are posting video updates on TikTok, to show the world the progress being made on the vaccine. This team of public health heroes will be answering all kinds of questions from the public, from what steps go into building a vaccine to how they test them for safety - helping the TikTok community keep up to date on the latest Coronavirus vaccine news. .
Supporting our moderation teams
As always, we continue to encourage our community to have respectful conversations about the subjects that matter to them - and to that end, we already have policies in place that prohibit misinformation that could cause harm to an individual's health or broader public safety. This includes taking action to remove misinformation about the vaccine.
Our moderation teams continue to do critical work to keep harmful content off TikTok. We also recognise that this is a difficult job, and our reviewers are human meaning they occasionally make mistakes. To minimise the chance that mistakes happen at such a crucial time for public health, we have been holding additional training sessions with our moderation teams.
Partnering with industry experts
To further aid our efforts to identify and reduce the spread of misinformation, we are continuing our work with third-party fact-checking organisations, including AFP, Animal Político, Estadão Verifica, Facta.news, Lead Stories, Newtral, Politifact, SciVerify & Teyit. We also work with outside experts to understand what kind of misinformation trends are occurring on other platforms. By being alert to content trends outside of TikTok, our teams can issue guidance to our moderation teams to help them more easily spot and take action on violating content.
We take our responsibility to keep harmful misinformation off TikTok incredibly seriously. Our safety teams will continue to refine and improve our approach so that TikTok can be a safe space for creative expression for everyone.