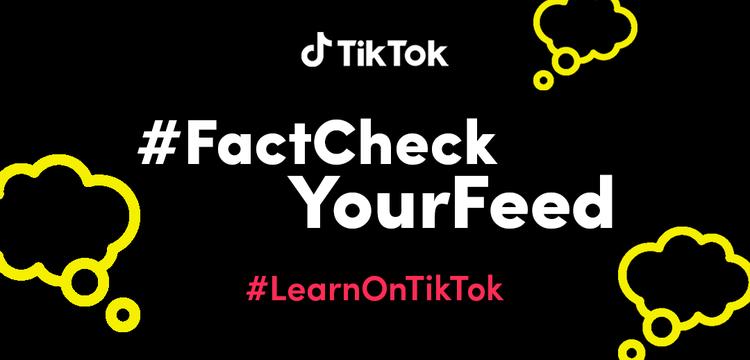 TikTok has always been a place that inspires creativity and brings joy. Every day we are blown away by the inspirational, motivational and educational content we see on our platform.
We know that TikTok is not only a place where people come to be entertained, but also a place where people come to learn. That is why we launched #LearnOnTikTok last year, a major investment to deliver the widest experience of learning in a short-form content format.
#FactCheckYourFeed
As part of #LearnOnTikTok, we're launching our new #FactCheckYourFeed campaign, to help equip our community with the skills they need to critically engage with content, navigate our platform safely and guard themselves against potential harms.
We've collaborated with some of our creators, public figures and digital media literacy charity The Student View to roll out a series of videos on the platform aimed at keeping people on our platform safe and helping them to think critically.
At TikTok, we take the responsibility to help educate our users seriously, which means making sure that everyone has access to good, accurate information whenever they need it. To achieve this, it's important that our users are able to correctly identify what they are watching and to know if they are being given potentially inaccurate or harmful information.
For some, learning on TikTok might mean understanding the natural world. For others, it might be learning to make banana bread or pasta, learning to sing sea shanties, or to discover new books. Or, importantly, it might mean making sure that you're armed with all the right information when it comes to COVID-19 vaccines.
Media Literacy
#FactCheckYourFeed has kicked off with a series all about critical thinking and news literacy, covering topics including how to think critically and build an argument, recognising fake news and misinformation, and how to consume a balanced 'news diet'. Here's a snapshot of what's to come:
We'll also make sure that users who search for these topics get these videos presented to them, as well as notifying all users of the new content through notifications.
In a time when it's more important than ever that we can trust and engage with what we're watching online, our ambition is for #FactCheckYourFeed to encourage our community to dig a little deeper and think a little wider. Developing these important skills will not only help people while online, but in their everyday lives.
What the experts are saying
Founder of Digital Media Literacy Charity The Student View, Solomon Elliott said:

"We're delighted to support TikTok's efforts to educate their users across the UK to develop their critical thinking skills.
"At the Student View, we train schoolchildren to critically evaluate information online. With the help of online platforms, we can equip more people with these vital tools to ensure the UK becomes the safest country in the world to be online."