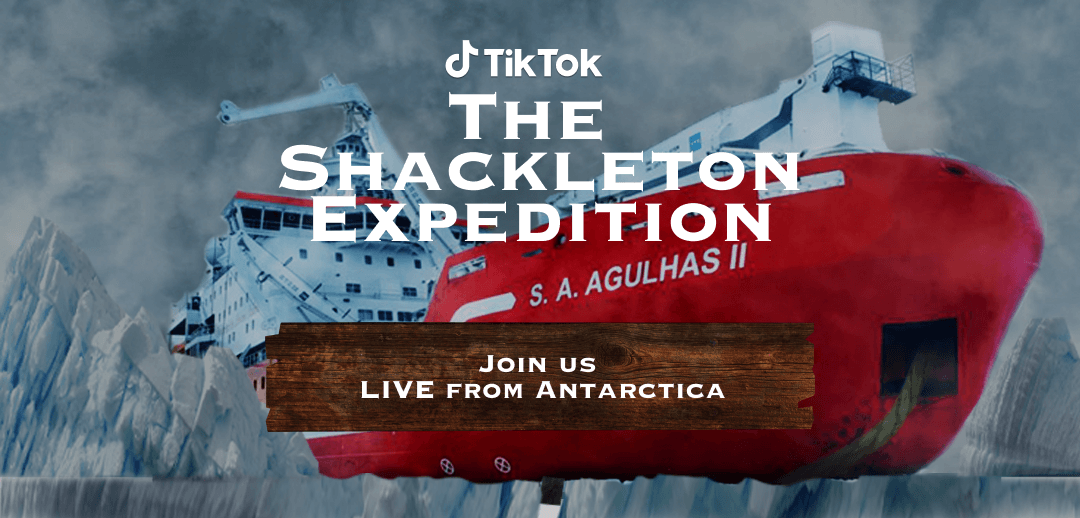 TikTok is fast becoming the place to discover history, learn about our planet, and feed your curiosity! With hashtags like #historytok and #learnontiktok racking up over 239 billion views, TikTok is not only a place of creativity and learning, but of groundbreaking new discoveries.
That is why we're so excited to be part of the pioneering expedition to locate the wreck of Sir Ernest Shackleton's Endurance in Antarctica, organised by the Falklands Maritime Heritage Trust. In partnership with the award-winning Little Dot Studios and History Hit, exclusive content of the groundbreaking search will be available on their accounts.
Originally leaving South Georgia for Antarctic on December 5, 1914, the goal of Endurance's 27 strong crew was to reach the South Pole and ultimately cross the continent. However, when nearing Antarctica, the ship became trapped in pack ice and the crew were forced to spend the winter in the frozen landscape, although miraculously, all of those under Shackleton's control survived.
The ship has for over a century remained inaccessible and one of the last great undiscovered shipwrecks, until now. The expedition to locate it set off from Cape Town on 5th February, and alongside a film crew, a team of scientists and explorers are on board, conducting broader research and experiments.
Here's how to access exclusive content on TikTok
All of this and more is available to watch exclusively on TikTok! As well as charting the groundbreaking voyage, there is also a huge variety of content at the #endurance22 hashtag for our community to get stuck into, from what it is like living in Antarctica and the science and technology used to locate the vessel, through to the history of the Endurance and legendary explorer Sir Ernest Shackleton. There will also be regular LIVEs and updates on how close the team are to locating the shipwreck, available to view on @historyhit and @absolutehistory as well on the accounts of those team members partaking in the expedition. This can be accessed all in one place on our Expedition Content Hub, so that our community can keep up to date with the latest action in Antarctica.
We're hugely honoured to be partnering on this groundbreaking voyage to discover this legendary ship, and we can't wait to see what the team find! If you can't get enough of #history on TikTok, check out some of the best accounts that we've been seeing below:
New to TikTok and want to follow the expedition? Simply download the app for free via the Apple App Store, Google Play or Amazon and head to our Expedition Content Hub for all the latest updates!