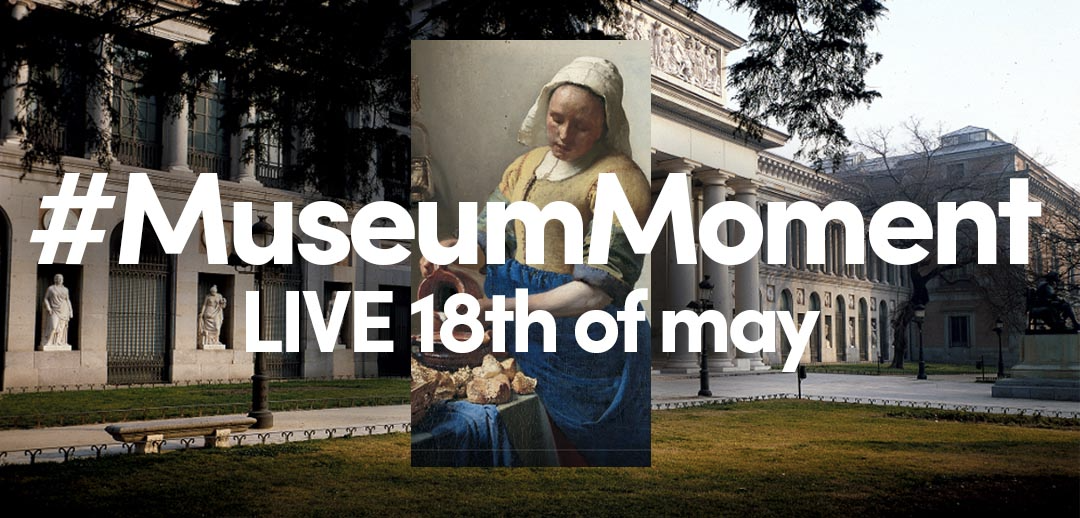 As a global entertainment platform, TikTok is a place that celebrates cultural expression and the arts, empowering communities to discover culture in every corner of the globe, from art and music to dance and theatre. On May 18, TikTok launches its inaugural #MuseumMoment, bringing together some of the world's most iconic institutions in an all-day LIVE global event for the very first time.
Around the world, one #MuseumMoment at a time
TikTok's longest culture LIVE to date will be taking users on a tour of the world's best cultural institutions, featuring an exclusive virtual tour conducted by 23 museums across 12 different countries around the world.
#MuseumMoment LIVE will kick off with the National Gallery in Singapore at 8:00, and take viewers on an unforgettable journey through the arts and across the world via Israel, Japan, Brazil, France, Italy, Spain, The Netherlands, Germany, UK, USA, with the LIVE finishing off on the other side of the world in Mexico at 2:00. #MuseumMoment will be LIVE streamed all-day via TikTok for Good, TikTok's global social impact content hub.
The #MuseumMoment LIVE will give people a chance to experience cultural content from around the world, from a tour of 1930's England via Black Country Museum (UK) to hearing from a taxidermy expert at Museum für Naturkunde Berlin (Germany) to seeing famous artworks like The Night Watch from Rembrandt at the Rijksmuseum (The Netherlands) and exploring the iconic spaces of The Metropolitan Museum of Art (US). The Sacramento History Museum (US), which has produced some of the most popular culture content over the past year on TikTok, takes art enthusiasts and history buffs alike on a virtual tour of their print shop made famous on TikTok by their volunteer printer, Howard, along with an exclusive peek into their new exhibit, "California in Print." From modern art and historical artefacts to ancient sculptures and quirky architecture, there is something for all culture lovers to enjoy.
As part of the celebrations, TikTok is also launching a new AR effect that allows for a more immersive experience for guests at the Palace of Versailles, where you can come alive as Queen Marie Antoinette as you take a stroll through the virtual gallery.
For those missing their favourite cultural institutions in the UK, people will be able to view a LIVE from the V&A at 18:00 in conversation with TikTok starlet Hannah Lowther and the Black Country Museum at 19:00, who will be giving audiences a guided virtual tour of the 1930s!
Culture starts on TikTok
As a platform that inspires creativity and brings joy, TikTok also creates and celebrates culture that transcends borders, unlocking experiences for art enthusiasts all over the world.
Over the past year, some of the world's most famous cultural institutions have joined TikTok and have connected with a wider audience, welcoming visitors digitally through immersive online experiences.
Culture content takes centerstage on TikTok, where there has been a huge rise in people consuming art and culture over the past year. Content with most popular hashtags in this category, which includes #FineArt, #ArtHistory and #ArtOnTikTok, have garnered over 2 billion monthly views to date globally, growing by over 3000% in the past year.
Being able to virtually visit iconic institutions through the lens of the TikTok community has sparked people's curiosity, whether it's to view art, see something unusual, or to learn about history. #Museum inspired the most video creations around the world, with content growing by almost 200% since May 2020.
The most popular culture content on TikTok transcends borders, as art lovers all over the world can travel to a chocolate waterfall in Lebanon or discover the masterpieces by Italian creator and music artist Emanuele Aloia as he performs a song at the Uffizi Gallery in Italy.
Normanno Pisani, Head of Media Partnerships TikTok UK, comments:
"At TikTok, we're proud to be a place where museums and galleries can open their doors digitally and connect with audiences all over the world with their exciting content. This International Museum Day, we can't wait to see what's behind the scenes of some of the most iconic institutions in the world and provide a place that can be visited by virtual tourists, who will be immersed in culture from all around the world."
Abby Bird, Audiences & Communications Manager at the Black Country Museum comments:
"We're absolutely delighted to be part of the #MuseumMoment and to continue to show off our museum to a global audience. Since posting our first video back in August 2020, we've found TikTok to be the perfect avenue to fire up people's imaginations about the past by telling the real stories of real people in new and creative ways. We're also excited to see more museums joining the app, as it presents an unmissable opportunity for museums both big and small to be part of a global conversation about what our past means, and most importantly, what we can learn from it."
Annie Andoh, Social Media Manager V&A Museum comments:
"The V&A has only been on TikTok for a few weeks, but we are really excited about the possibilities being on this channel will open. TikTok is a great platform for us and other museums and cultural organisations to tell stories differently and dynamically in a way that can showcase the personality and joy that comes with creativity."
To be a part of the action and join in with TikTok's biggest ever culture LIVE, tune in on May 18 from 09:00 BST. Check out the full schedule of the global LIVE here.