Black History Month kicks off in October and and TikTok is celebrating the cultural and creative influence Black community have as well as unpacking what it means to be Black in the UK. #BlackTikTok is a driving force on TikTok and we want to show our appreciation for the rich, positive influence that Black creators bring both on and off platform!
Throughout October we'll be honouring and celebrating some our Black community from #BlackGirlMagic to #BlackMusic. We'll be launching a creator campaign visible across the UK, sharing educational content to encourage everyone to be a better ally to the Black community, as well as launching new tools to help ensure Black creators get credit for the trends they originate; enabling creators to share their support for one another.
Here's what's coming up over the rest of Black History Month and how you can get involved …
🎥 Been Doing It
Appearing now on billboards across the country... Been Doing it - our new advertising campaign that spotlights six Black creators from the TikTok community, who have been blazing the trail.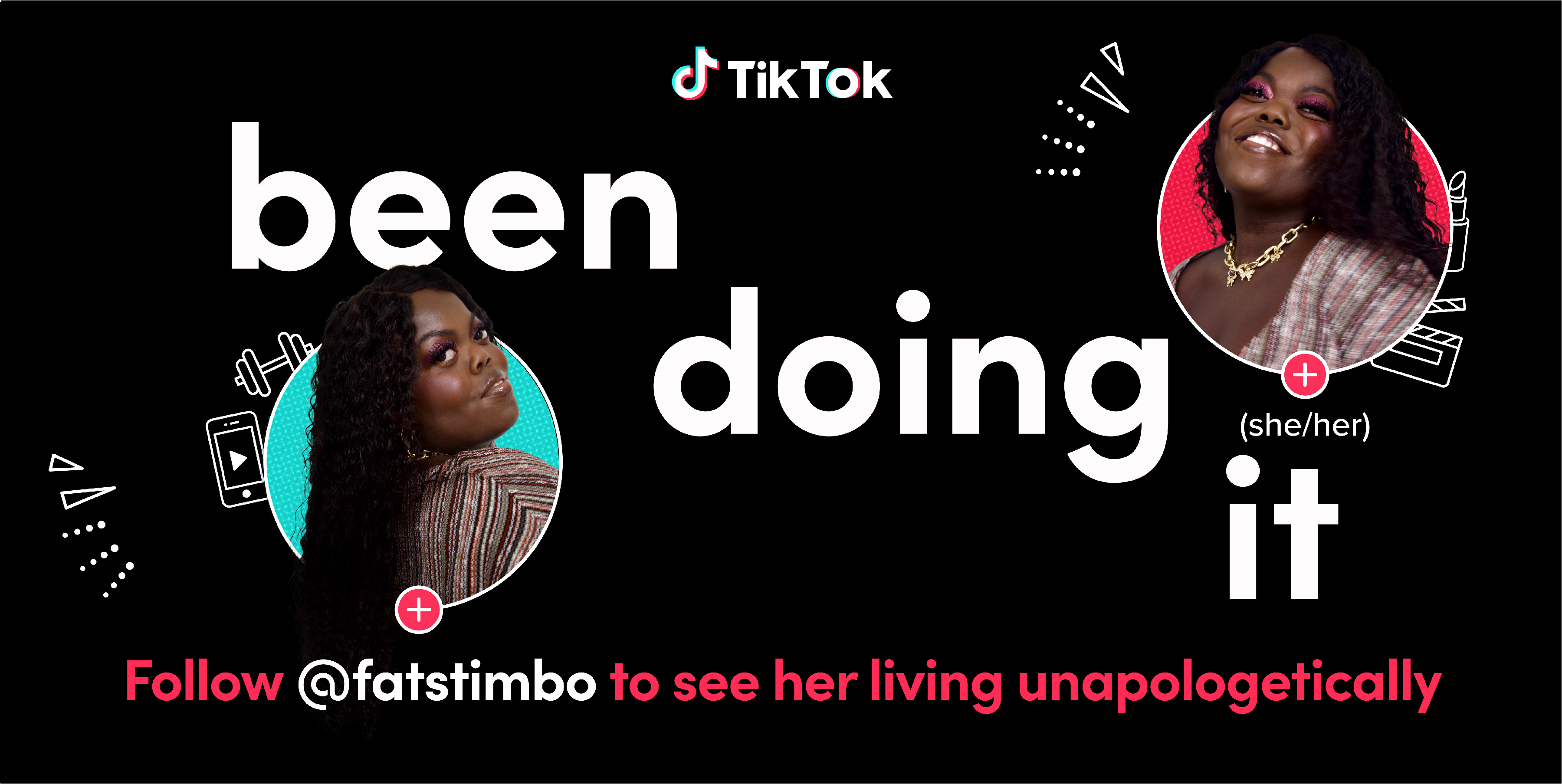 From history and fashion, through to food and comedy, the campaign highlights many elements of Black culture on TikTok, and celebrates how these creators are already making change for their communities. The campaign which goes live from October, has been created in collaboration with Black-owned creative agency GUAP .
Introducing the stars of our campaign . . .
@violetezedimora (450.2K followers)
A much-loved fashion creator, who shares her stylings of everything from suits to street style, and most recently she's been charting her fashion journey through pregnancy. She featured in TikTok's #myroots advertising campaign in 2020 and we're thrilled to feature her again for Black History Month.
@victor.kunda (621.4K followers)
Based in South London, Victor is our TikTok resident comedian and fashionista. Responsible for some of the most viral TikTok videos, his signature dead-pan style and satirical content has been captivating our community - guaranteed comedy hits!
@cocosarel (757.5K followers)
TikTok BookClub laureate and #BookTok Queen Sarel never holds back. Her community loves her brutally honest book reviews and hilarious takes on life in general. On top of this, Sarel is a fantastic storyteller - and we're absolutely here for the journey.
@fatstimbo (2.6M followers)
Fats is a comedy creator who shares skits for every situation - from relationship expectations versus reality, to recreations of her favourite shows and Saturday TV, to relatable moments with your best friends.
@bellewoghirenn (169K followers)
Annabelle uses her TikTok to educate on anti-racism, diversity, equality, justice and decolonisation. Far from heavy, her content is full of joy and optimism, celebrating anti-racist allies and sharing her tips for diversity and inclusion.
@dreyamac (1.5M followers)
West London Native Dreya Mac caused a stir with her debut single "Skippin", which went viral when it dropped in April 2020. Since then, she's been using TikTok to connect with fans around the world, creating dances to all kinds of tunes and dueting with collaborators from across the music world.
🎤 TikTok Unpacks
We're launching a new TikTok Unpacks series to raise awareness and increase our community's understanding of Black heritage and culture.
Our latest series will showcase educational and inspiring videos, boundary-pushing creators and incredible organisations that are dedicated to evolving important societal conversations.
You can find all of TikTok unpacks videos alongside some of our other inspiring Black creators and a calendar of livestream events on the Black History Month Hub on TikTok.
🎧 #BlackMusic playlists
During Black History Month, our #BlackMusic playlist will celebrate and promote the Black artists and songs that have driven many of TikTok's biggest viral moments to date.
Check out the playlist in-app for over 175 of the best tunes by Black artists. You can also find a series of guest playlists from artists including @Flolikethis. Plus we'll hosting 'legends' curated playlists from @Labrinth and more to be announced - which are not to be missed!

📱 Crediting Black Creators
As we celebrate the Black creators who've Been Doing It, we're also taking the opportunity to find new and innovative ways to help them thrive.
We've been listening closely to our community's feedback on a range of topics that matter to them, which include ensuring Black creators receive due credit for the trends they start.
That's why we're introducing the Creator Credit Tool: to make it easier than ever to credit the creators that inspire you. No longer will you need to use acronyms or link the video in your comments - now, you can give context to your posts and pay tribute to originators directly in the description of your video.
This builds on our Culture of Credit initiative, which shares educational resources to support creator content attribution and recognition on TikTok. We hope that together, these tools will help encourage people to credit originators in their process of posting a video on TikTok and help keep our community a supportive and collaborative place.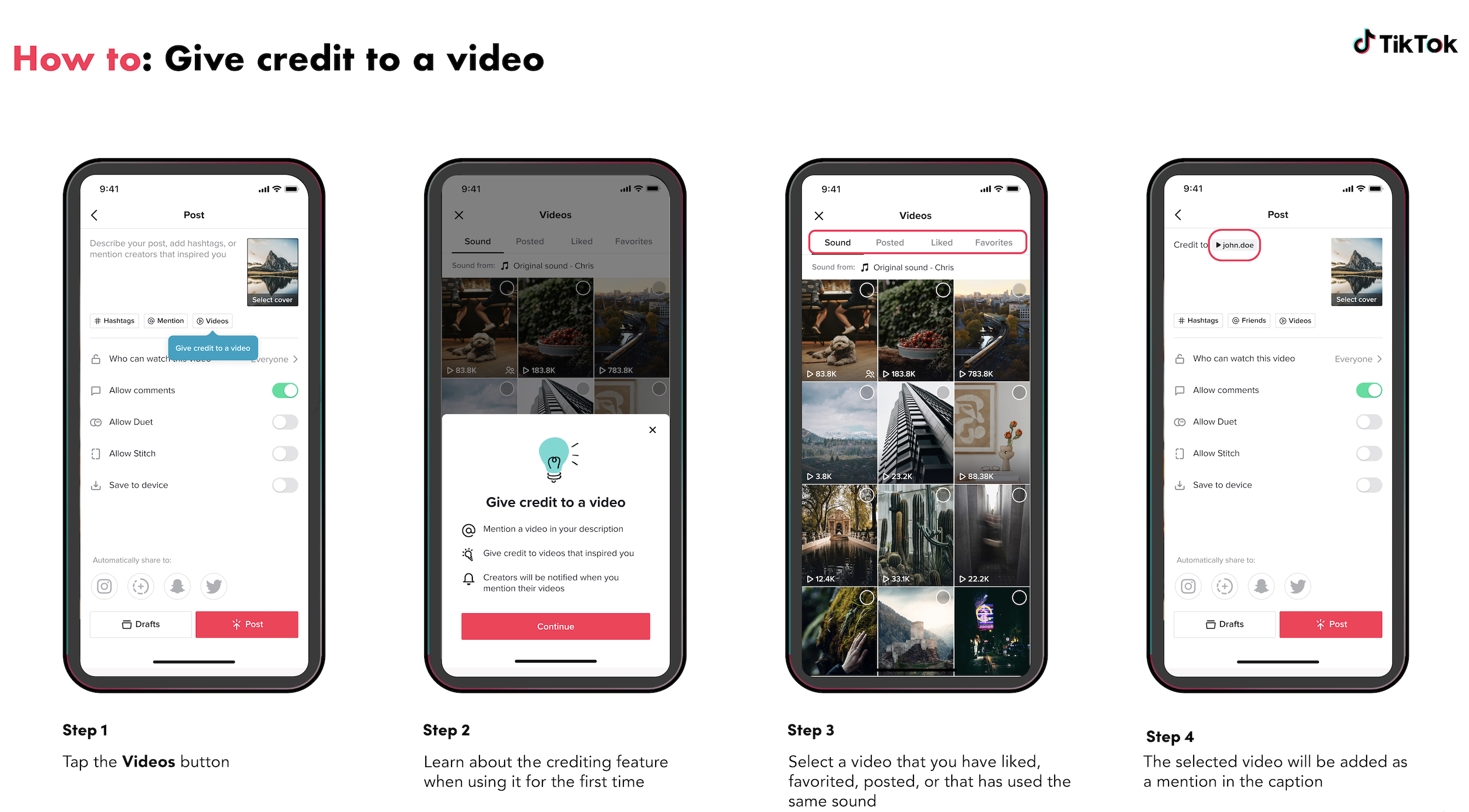 👩🏿💻 Working with community partners
During Black History Month, and all year round, we work with partners to make sure that our work reflects the needs and aspirations of the Black community, through championing the initiatives that matter most.
This year, we're supporting two organisations GTA Black Women in Tech and Glitch to further their work and provide unique opportunities to our inspiring creative community.
GTA Black Women in Tech is a not-for-profit global organisation, based in London, dedicated to building bridges of opportunities in tech by enabling Black female talents to excel and companies to have access to Black women of talent. They're an amazing community of Black women tech advocates of all levels and allies who support and empower diversity and inclusion.
Glitch is a charity committed to making the online space safe for all by working to end online abuse. They do this by mobilising, educating and inspiring everyone that has a role to play - from individuals and communities, to holding governments and tech platforms to account - with a focus on the disproportionate impact online abuse has on Black women and other marginalised people."
New to TikTok and want to explore #BlackTikTok? Getting involved couldn't be easier, simply download the app for free via the Apple App Store, Google Play or Amazon.