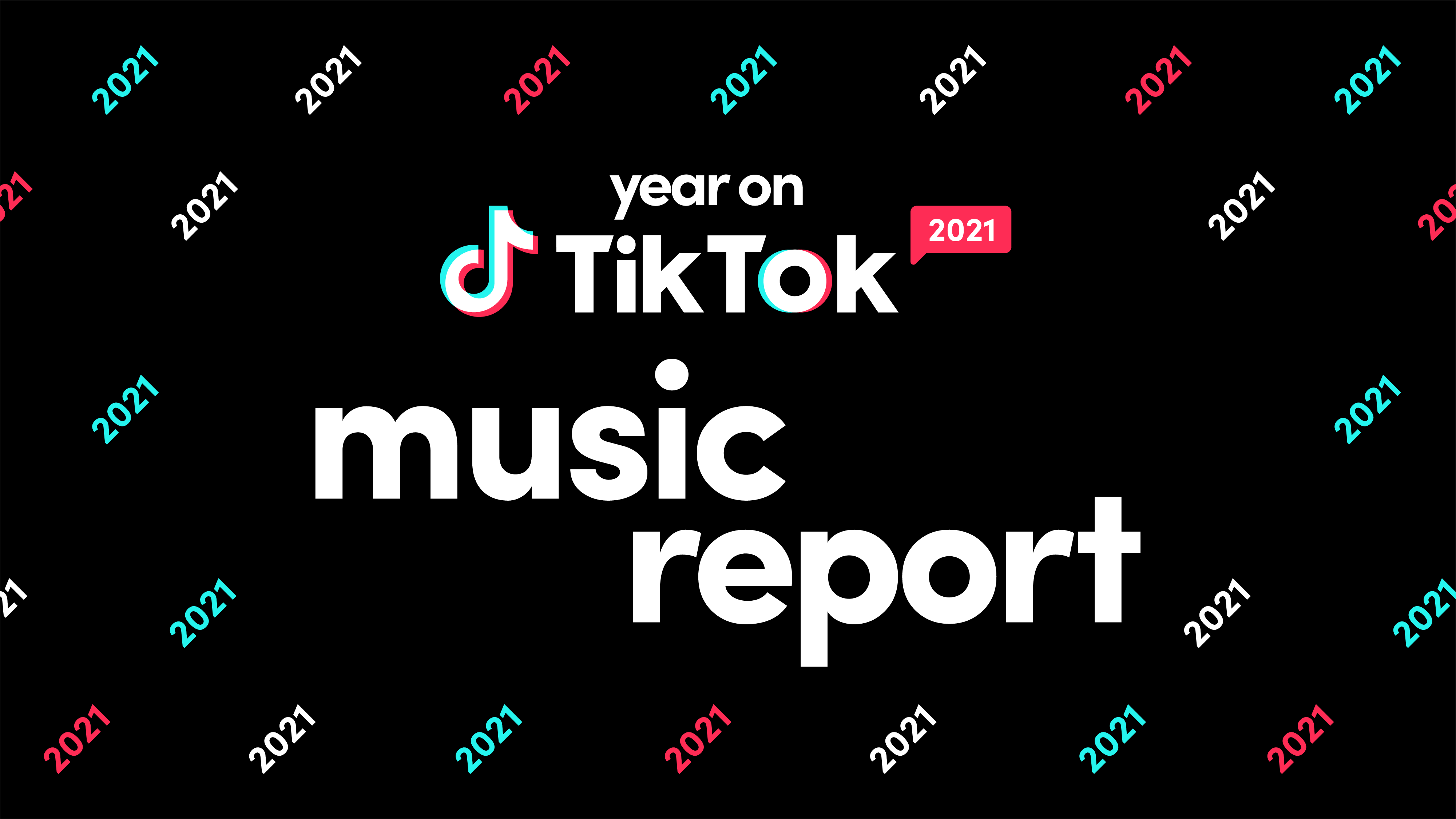 Music is at the heart of the TikTok experience. It's the glue that connects TikTok's disparate threads, providing a throughline between individuals and communities who bring their own spin to the latest trend. In turn, TikTok occupies a central place in the creation, consumption, and interpretation of modern music. TikTok is a playground where artists and creators can interact, combining their unique sensibilities and talents to propel trends to the forefront of culture. Stars can preview new songs to a legion of hungry fans, who jump at the opportunity to create content inspired by a musical element or favorite lyric.
After turning heads in 2020, TikTok continued its tremendous growth to be a dominant force in music and the music industry in 2021. Approximately 430 songs surpassed 1 billion video views as TikTok sounds in 2021–a threefold increase over 2020. The most popular of these songs approach, and even exceed, 20 billion views on videos they soundtrack. The staggering view counts on TikTok do not exist in a vacuum, but directly translate to commercial success for trending songs and artists. Over 175 songs that trended on TikTok in 2021 charted on the Billboard Hot 100, twice as many as last year.
"TikTok opens the door to new artists, new sounds, underground and DIY scenes as well as the classic hits, connecting them with a global audience and passionate music community like never before. 2021 has been a huge year for music and for TikTok and we've been humbled how the industry and so many artists have partnered with us to make this magic happen across so many different countries.
From the Beatles to Sea Shanties, J Balvin to Abba and of course who can forget Taylor Swift's entry - the last 12 months have provided so many music moments, inspired our community of one billion and shown the world that music starts and lives on TikTok"
-- Ole Obermann, Global Head of Music, TikTok
Trends on TikTok open doors to underground and DIY scenes like Hyperpop and Glitch Hop, exposing them to a global audience. TikTok saw trending songs from dozens of countries, and from every continent. The map here only touches on a fraction of TikTok's global impact.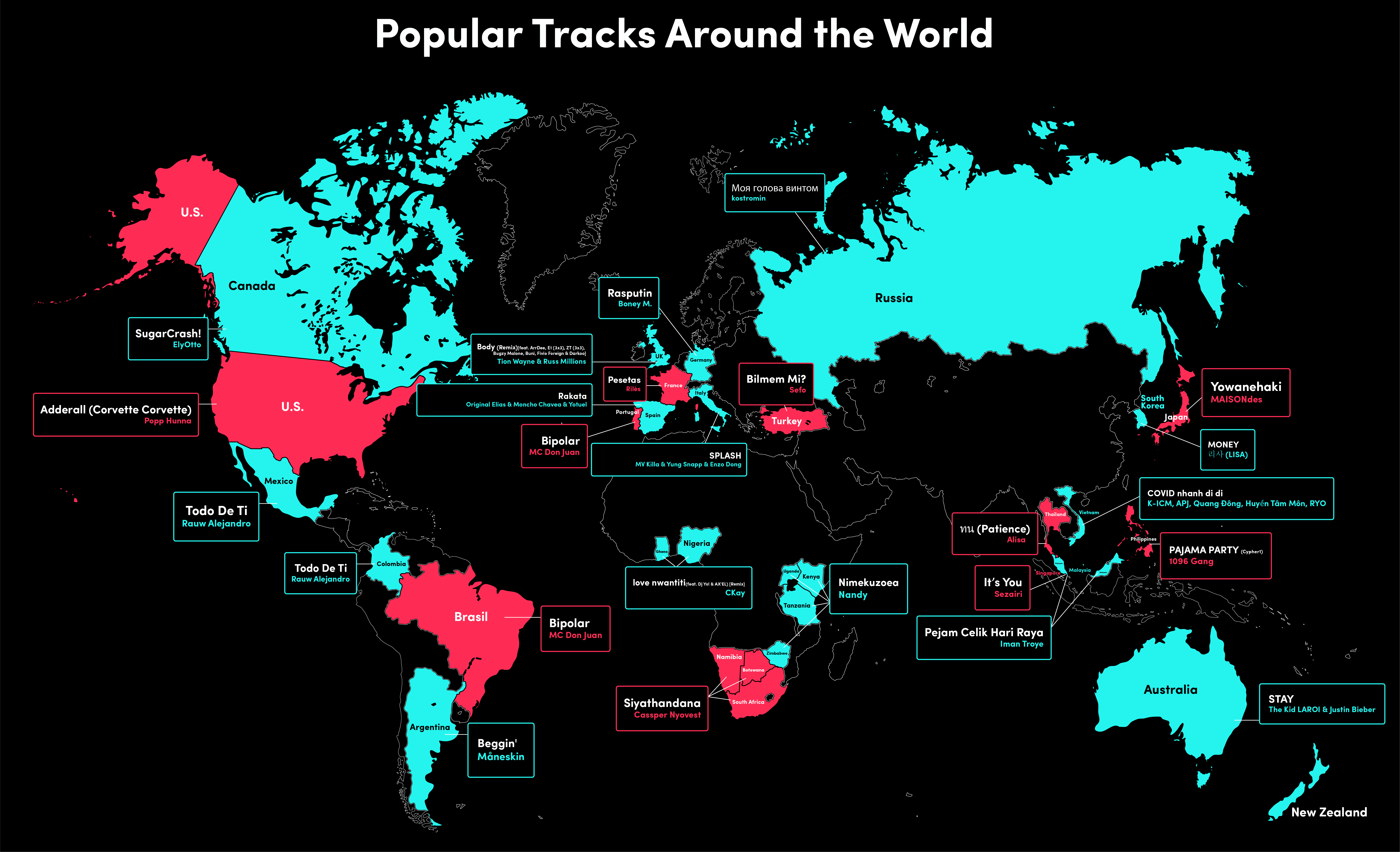 TikTok remained the top source of music discovery for fans of all backgrounds. The platform paved the way for the next generation of music stars, helping usher artists as diverse as Olivia Rodrigo, PinkPantheress, and Måneskin to stardom.
For our second annual music report, we decided to take an in-depth look at what music makes TikTok tick. We'll explore the biggest songs and the most popular trends, but we'll also take a peek under the hood to reveal some of our favorite music moments, and to explore how artists and creators used TikTok's most unique features. And if there's one thing that 2021 proved, it's that any music, and we mean anything, from kids music to baile funk to sea shanties, can break through and become a culture-driving trend. Things got weird.
So to quote one of TikTok's least likely, but most popular trending songs: "on and on we push...into the thick of it!" (Admit it...you're singing it in your head right now!)
'Cause I Am Me: Emerging Artists of the Year
TikTok is home to a voracious community of music mavens, always on the hunt for the next big thing. According to a recent MRC Data study, 75% of TikTok users in the U.S. say that they use TikTok to discover new artists, and 63% say that they hear music that they've never heard before for the first time on the platform. It's the ideal platform for exciting new artists to find and build an audience, without sacrificing creative autonomy or compromising their authenticity.
Following in the footsteps of artists like The Kid Laroi, Tai Verdes, and Tate McRae, who made TikTok's list of Emerging Artists in 2020 and had banner years in 2021, these artists used TikTok to raise their profiles in a major way this year.
The artists are presented in alphabetical order.
Clap For Em: Artists by Catalogue Creations
New year, same queen: after racking up the most catalog video views of any artist in 2020, Megan Thee Stallion, first of her name, reigneth once again in 2021. The Houston-born rapper excels at crafting quotable songs with a danceable bounce, and always provides a smile with her amiable presence as @TheeStallion on TikTok. Songs like "Cognac Queen," "Thot Sh*t," and "Cry Baby" kept her in the number one spot for the second straight year.
Beyond Megan, you'll find a familiar #2: Doja Cat, who placed second in last year's list. After scoring multiple TikTok trending hits from her 2019 album Hot Pink, Doja repeated the feat with her 2021 project Planet Her, home to songs like "Kiss Me More" (TikTok's #4 most-viewed song in the U.S.), "Get Into It (Yuh)," and "Woman." Like Megan, Doja is active on TikTok, showing off her offbeat sense of humor and interacting with fans.
Beyond the repeat champ and vice champ, the list of Top Artists by Catalog is home to plenty of artists who broke out in a big way in 2021, notably Olivia Rodrigo, whose TikTok-trending single "drivers license" garnered the biggest Spotify debut week in history. Throughout the list, emerging artists rub shoulders with superstars, with established stars like Drake and Kevin Gates rubbing shoulders with upstarts like Coi Leray, whose "TWINNEM" and "No More Parties" made major waves.
The community's faves often reflect the tastes of the public at large, but spotlighted below are a few artists on this list that only could've started on TikTok.
SPOTLIGHT: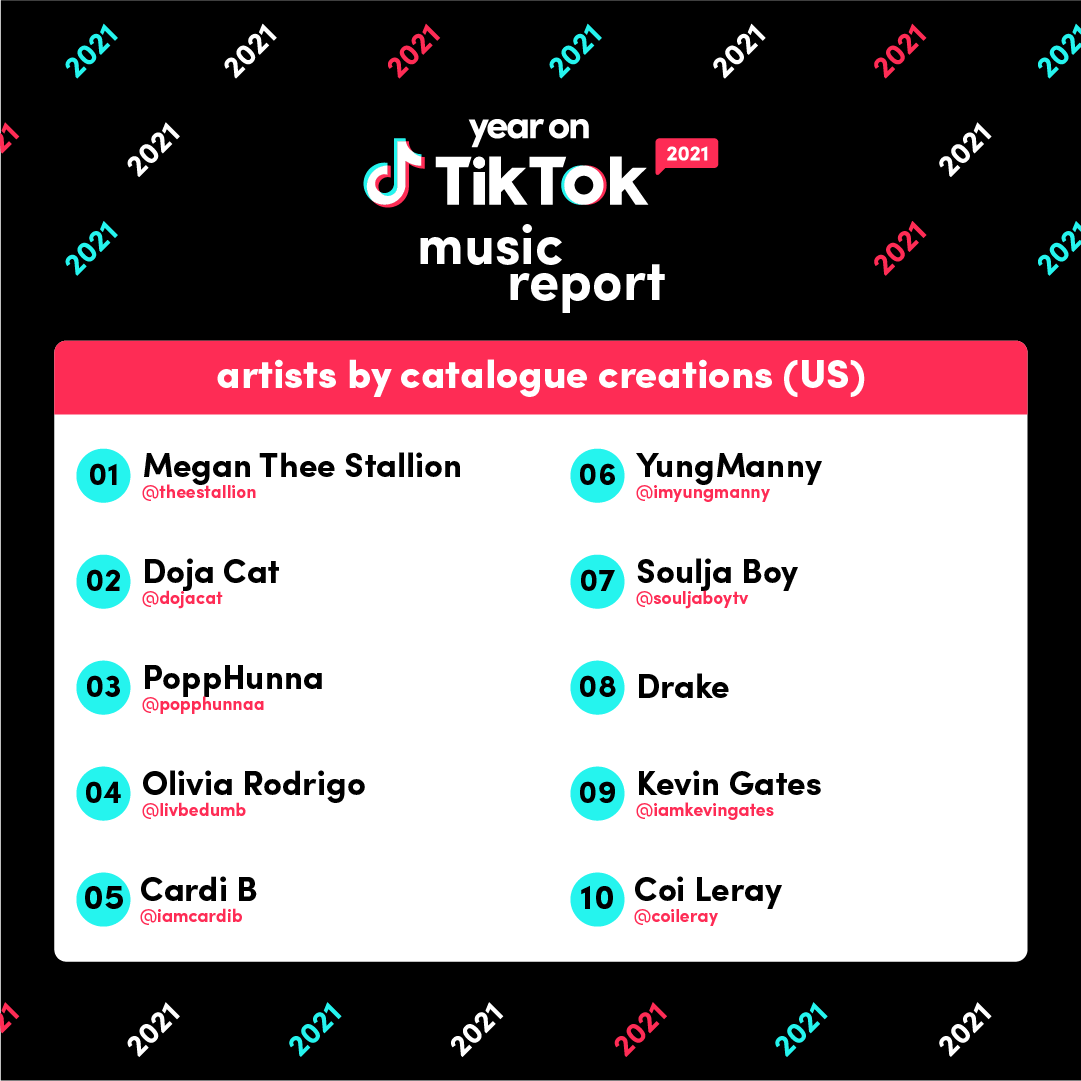 Evergreen Sounds: Top Classic Tracks
One of the most interesting things about TikTok is how the creativity of its community creates new context for a piece of music. On TikTok, vintage hits stand shoulder to shoulder with songs by rising acts and current superstars–plenty of songs from past eras of music have found new life on the platform, and some even returned to the charts. Among the most notable examples was "Rasputin," a 1978 disco hit by German pop act Boney M, which cracked TikTok's list of Top 20 Global Songs in 2021, and with some help from a remix by UK producer Majestic, returned to the Top 20 of the UK Singles Charts and the Billboard Hot Dance/Electronic Songs chart. The rest of the list is peppered with evergreen classics, from the hard-hitting pitter-patter of Run-DMC, to the flute-laden disco of Van McCoy, to the soulful sounds of Bill Withers and Grover Washington.
SPOTLIGHT: Bee Gees - "More Than A Woman" - A sweeping disco epic that highlighted one of the most romantic scenes in Saturday Night Fever before becoming a massive hit for Tavares, "More Than A Woman" resurfaced on TikTok as the ideal soundtrack for moments that boost serotonin. The song's TikTok success inspired British artist and producer SG Lewis to create a new remix, titled "More Than A Woman - SG's Paradise Edit," which boosted the bass and shined a spotlight on the song's groovy percussion. Buoyed by a two-person dance trend, "More Than A Woman - SG Paradise Edit" helped the Bee Gees make TikTok feel like it was 1977 all over again.
Take a look at the songs released more than 25 years ago that made the biggest impact on TikTok this year: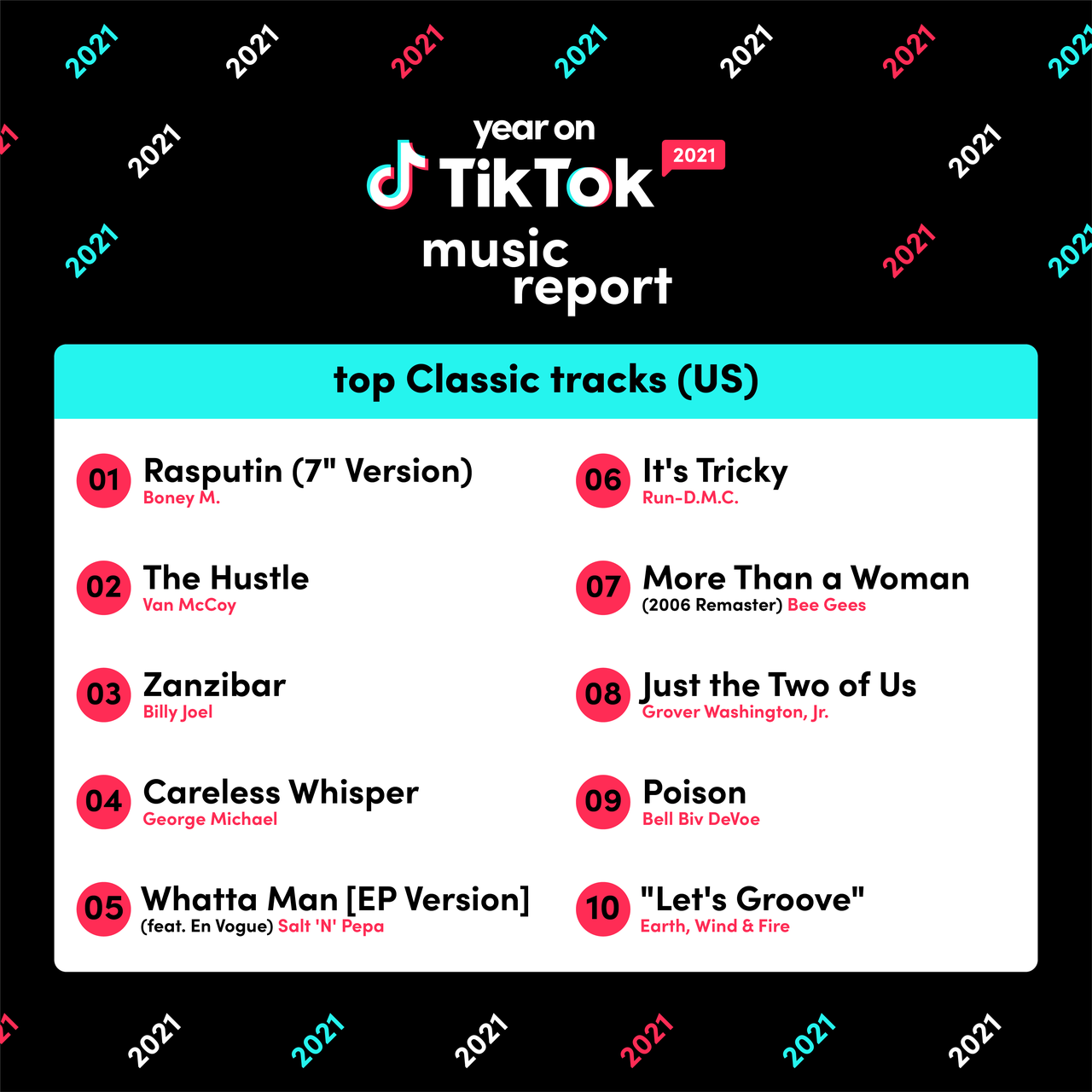 Call It A Comeback! Top "Comeback" Tracks
Oldies bring nostalgia and new music brings thrills, but what role do songs that don't quite fit either category play? This year, TikTok gave those wayward songs a home, as a host of non-current, not-yet-classic songs reached trending status and gained second life as a result. These songs provided the soundtrack for some of the most memorable trends of the year, from the text-on-screen "now look at this" fact reveals of Kid Cudi's "Day N Nite," to the inspired choreography set to Britney Spears' "Gimme More," to the role model salute of Lukas Graham's "Mama Said."
SPOTLIGHT: Dr. Dog - "Where'd All The Time Go?" - Originally released in 2010, Dr. Dog's "Where'd All The Time Go?" is a wistful and transporting indie rock ballad that deals head on with the inevitable fact of aging. The song's swirling intro became one of the most familiar sounds on TikTok in 2021–a distant, mechanized voice intones "above the cloud were cliffs," as sonorous synths whisper in circular arpeggios. TikTok creators seized upon the song's wistful vibe, using TikTok's reverse shapeshifting creative effect to seamlessly illustrate how time passes, but some relationships last forever. Many creators used the song to comment on their recent graduations from college or high school, to pay tribute to lost loved ones, or to soundtrack "selfie-a-day" art projects.
"Comeback" tracks are classified as trending songs released between 5 and 25 years ago.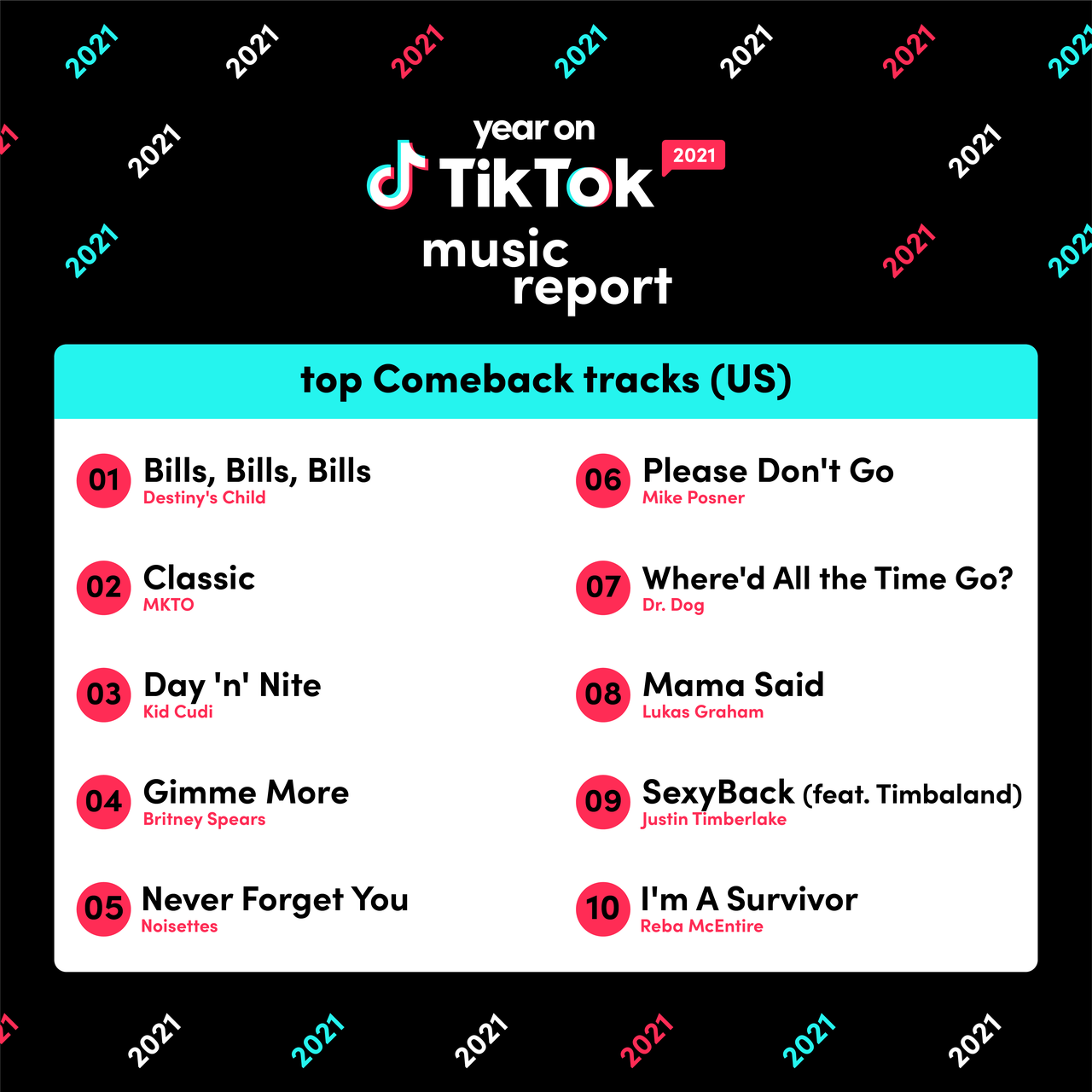 Welcome To The Internet: Music Moments of the Year
Oh I'm Curious! Top Artist Original Sounds
TikTok's emphasis on sound allows artists to communicate and interact with fans in increasingly creative ways. They use the app to create remixes or mashups, or create a universe of memes. Our list of the "Top Artist Original Sounds" features multiple entries from Saucy Santana, who seemed to start a trend with nearly every video he created, and @sickickmusic, the masked mashup maven. Notable videos in this list include @tiktokbrownchick's piano ballad version of "WAP," @JVKE's mash up of Trinidad Cardona's "Dinero" and Internet Money's "His N Hers," and Taylor Swift's encouragement of her fans to use "her version" of her trending song "Wildest Dreams."
Artists also used original sounds to share tantalizing snippets of new music. Donned in a tuxedo with a similarly-dressed accompanier on the piano, Coi Leray used TikTok to preview her song "TWINNEM," which became one of the most popular songs on TikTok in 2021. Before the official audio generated over 4 million creations, Cfinaloi's original sound generated over a million views on its own. Using the snippet, Coi was able to create organic excitement around her new song, and create a sense of ownership for fans on TikTok who feel like she wrote it just for them.
NEED YOU TO STAY: Global Top Tracks
TikTok's list of top songs for 2021 features a mix of megahits from unlikely sources strewn across the globe. Streaking across For You pages powered by irresistible dance challenges and memes, U.S. hip-hop takes up much of the global list, but the community's diverse tastes propelled pop songs from Australia, hyperpop from Canada, and ragged rock from Italy into the stratosphere. Here are the year's most popular songs, along with their stories:
Masked Wolf - "Astronaut In The Ocean" - Originally released in 2019 by a then-unknown rapper from Sydney, Australia, "Astronaut In The Ocean" became one of the year's biggest sleeper successes, its existential angst soundtracking millions of TikTok videos and racking up billions of views en route to a Top 10 Billboard placement.
Måneskin - "Beggin" - Capturing the hearts of a continent after winning Eurovision, Italian rock band Måneskin earned a surprise TikTok smash with their cover of Frankie Valli's 1967 hit.
Popp Hunna - "Adderall (Corvette Corvette) - A dance challenge propelled Popp Hunna's fast-paced heater to trending status for months on end, as the song launched from the streets of Philadelphia to far corners of the globe.
ElyOtto - "SugarCrash!" - Expressing conflicting emotions with saccharine synths and abrasive auto-tune, "SugarCrash!" turned Canadian 17-year-old ElyOtto into a household name–his song reflects the TikTok community's deep love for hyperpop.
The Kid Laroi & Justin Bieber - "STAY" - The Kid Laroi was highlighted by TikTok as an Emerging Artist after his success on the platform in 2020 and he more than made good on his promise in 2021. Laroi revealed "STAY" (partially penned by TikTok-beloved Charlie Puth) as a snippet on TikTok months before its official release–building enough momentum to earn a featured spot from Bieber and eventually topping the Billboard Hot 100 for seven non-consecutive weeks (and 11 weeks topping the charts in his homeland of Australia).
Oliver Tree - "Life Goes On" - One of the year's fastest-growing and most effortlessly shareable stars on TikTok scored a hit with this vibey and infectious pop jam.
Erica Banks - "Buss It" - TikTok loves Texas rap–Erica Banks put Dallas on the map with her sultry, Nelly-sampling slapper.
YungManny - "Clap For Em" ft. Flo Milli & Sada Baby - Two breakout TikTok heroes from 2020 helped a buzzing Maryland teenager raise his profile when they hopped on "Clap For Em."
Megan Thee Stallion - "Cognac Queen" - Once again the queen of all she surveys, it was clear that Thee Stallion wouldn't be denied a spot on this list.
Cardi B - "Up" - Megan's "WAP" duet partner struck TikTok gold with her only solo single of 2021–don't be surprised if she places a song even higher on 2022's list.
And here are the rest of TikTok's Global Top 20 for 2021: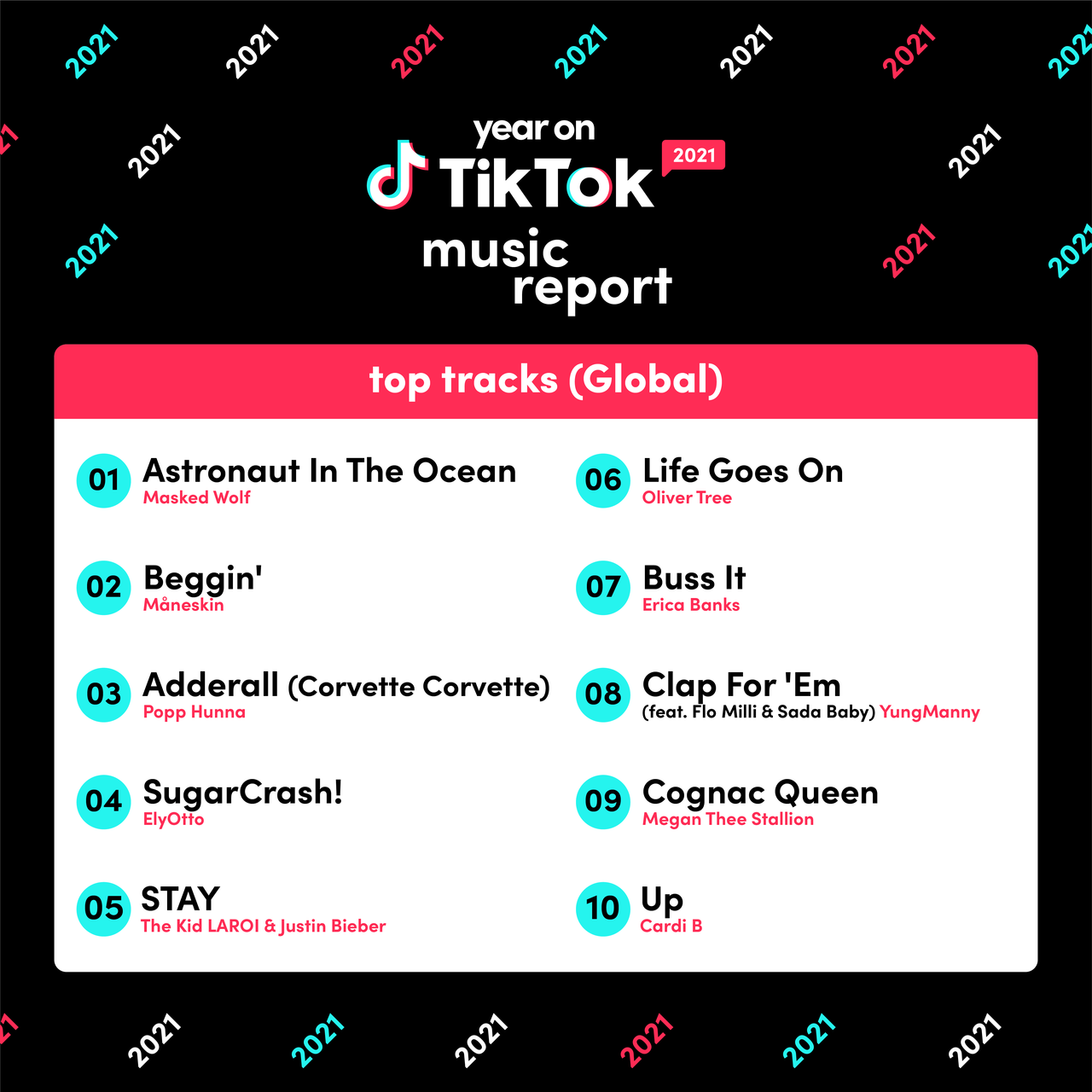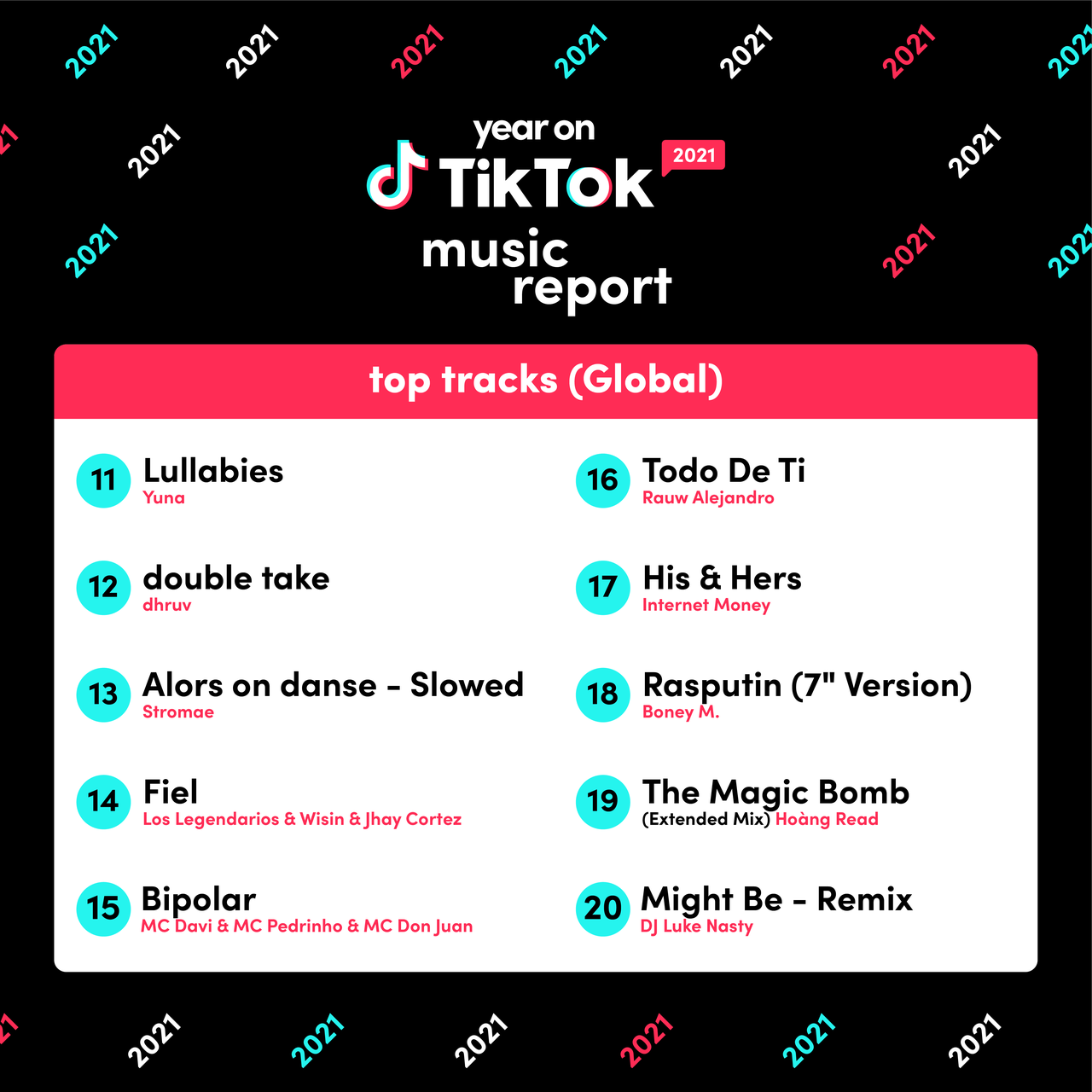 Up & Stuck: Top Tracks (US)
The list of top songs in the United States is dominated by hip-hop of all shapes and sizes–songs that sparked some of the year's biggest dances and funniest trends. Beyond the beats and rhymes lie songs by some of TikTok's biggest breakout stars–Olivia Rodrigo brought anthemic heartbreak, Tai Verdes offered laidback vibes, and PinkPantheress transfixed with her wistful vocals and reinterpretations of UK garage.
Spotlight: Olivia Rodrigo The early weeks of 2021 hit pop music like an earthquake thanks to the arrival of Olivia Rodrigo. Rodrigo posted a video in late 2020 of herself playing her new song "driver's license" on the guitar, and just two weeks later, her song was a Billboard #1 smash, with a record-setting Spotify debut to boot. Olivia's incredible first impression was mere prelude of hits to come–she proved her immense songwriting talent with her follow-up single "deja u," and earned her second number one single with the pop-punk breakup anthem "good 4 u." Beyond the big three singles, nearly every song from her chart-topping debut album trended on TikTok, from the vicious opener "brutal" to the sweeping ballad "happier" to the acoustic "favorite crime."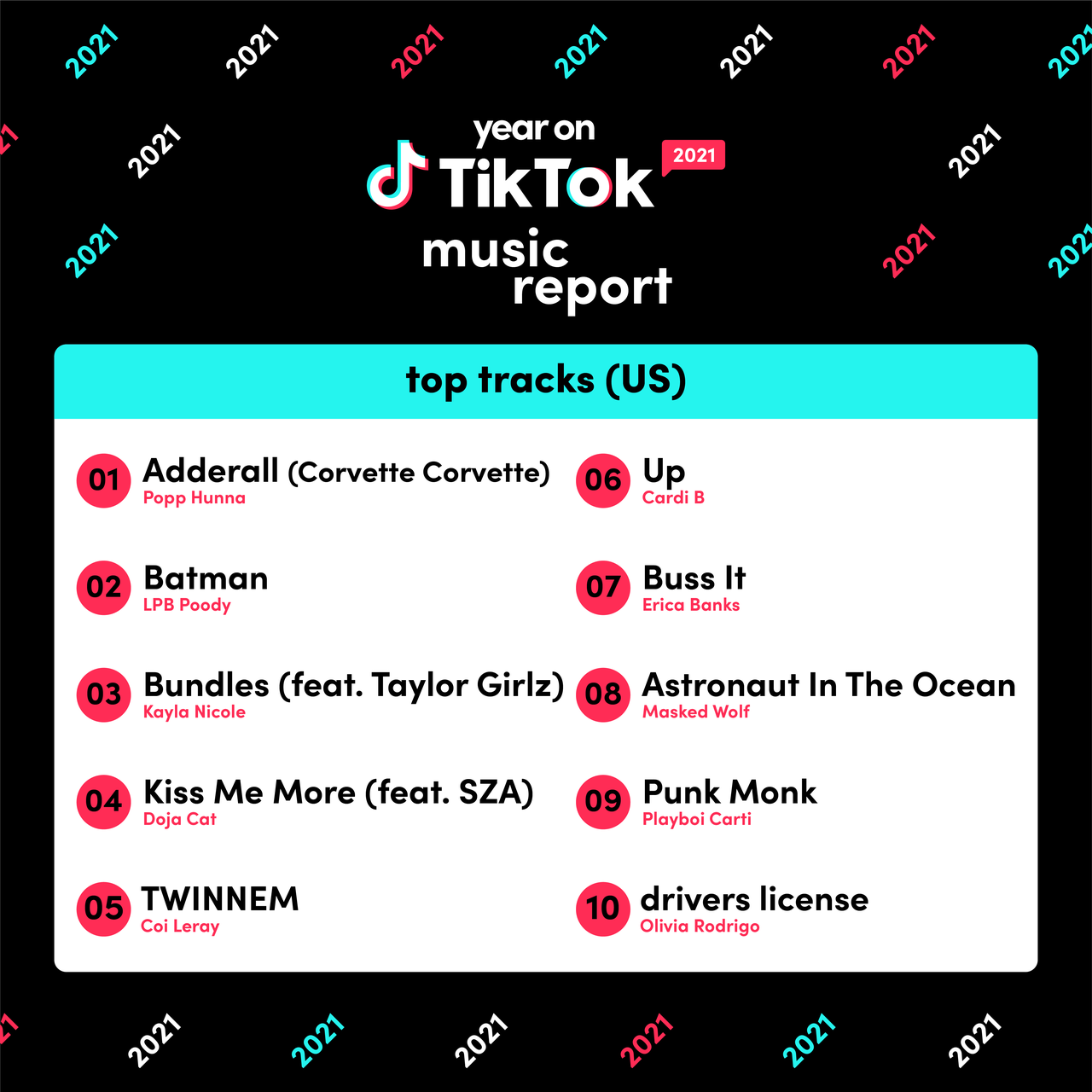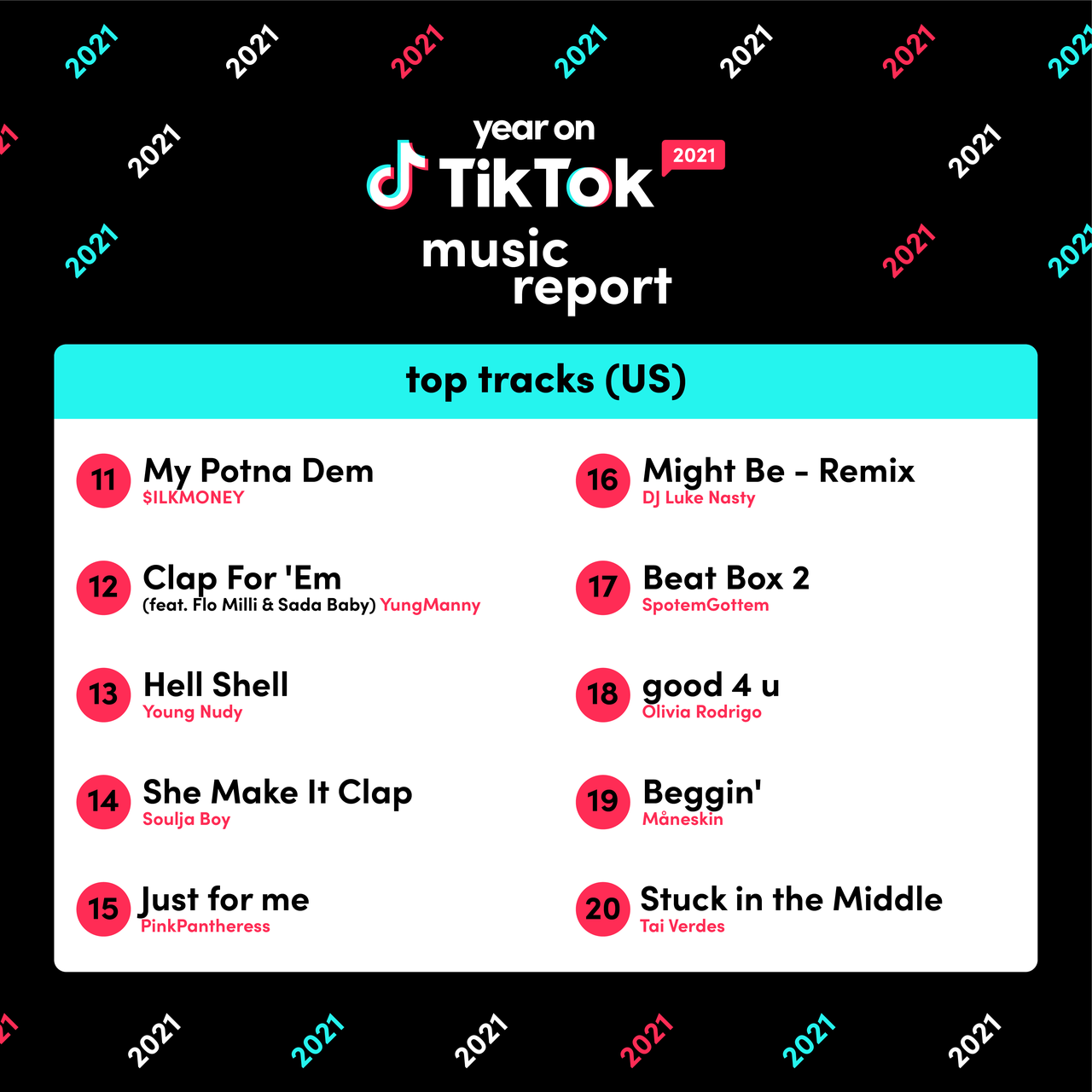 A bit of everything: Top Genres
Music on TikTok is as diverse as its community of users, who bring their own tastes and talents to the table. In general, the distribution of genres on TikTok reflects the tastes of the public at large–rap and pop lead the way, followed by passionate subcultures who can't get enough EDM, R&B, or indie. The biggest growth genre of the year was Latin music, which hopped from 10th on the list in 2020 to 6th this year.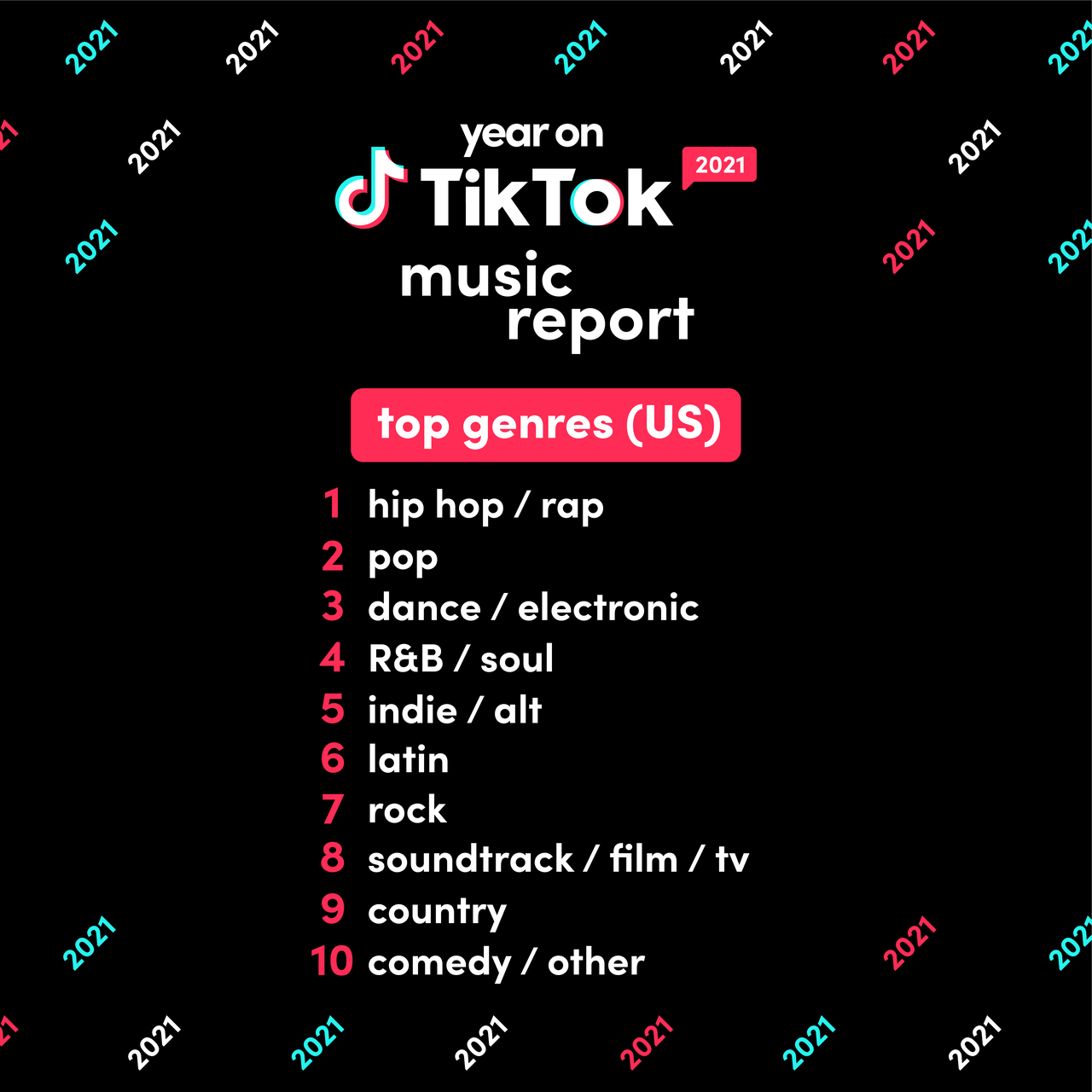 Go Best Friend! Top Hip-Hop Tracks
The top hip-hop songs on TikTok are a testament to the strength of the genre and the wide-ranging tastes of the TikTok community. Every type of rap music is represented here, from turnt-up Texas trap (Megan Thee Stallion, Erica Banks, TisaKorean), to superstar showcases (Drake, Playboi Carti, Cardi B), to drawling bangers from the deep south (Kevin Gates, LPB Poody), to tongue-twisting sounds of the underground ($ILKMONEY). Though there are plenty of hits from big names, the U.S. hip-hop list is a showcase for emerging stars from all over the rap map, like the ubiquitous Coi Leray, UK drill dons Tion Wayne & Russ Williams, and Philly's own Popp Hunna.
SPOTLIGHT: Tion Wayne & Russ Williams - Drill music grew into one of TikTok's favorite subgenres in 2021, as drill songs from Brooklyn, Chicago, and the United Kingdom tore up TikTok's trending charts and creators just danced to drill remixes of songs from other genres. Tion Wayne and his super-sized remix for "Body" was one of the biggest drill hits of the year, parlaying a TikTOk trend based on guest artist ArrDee's animated verse to a reign at the #1 spot on the UK Official Charts.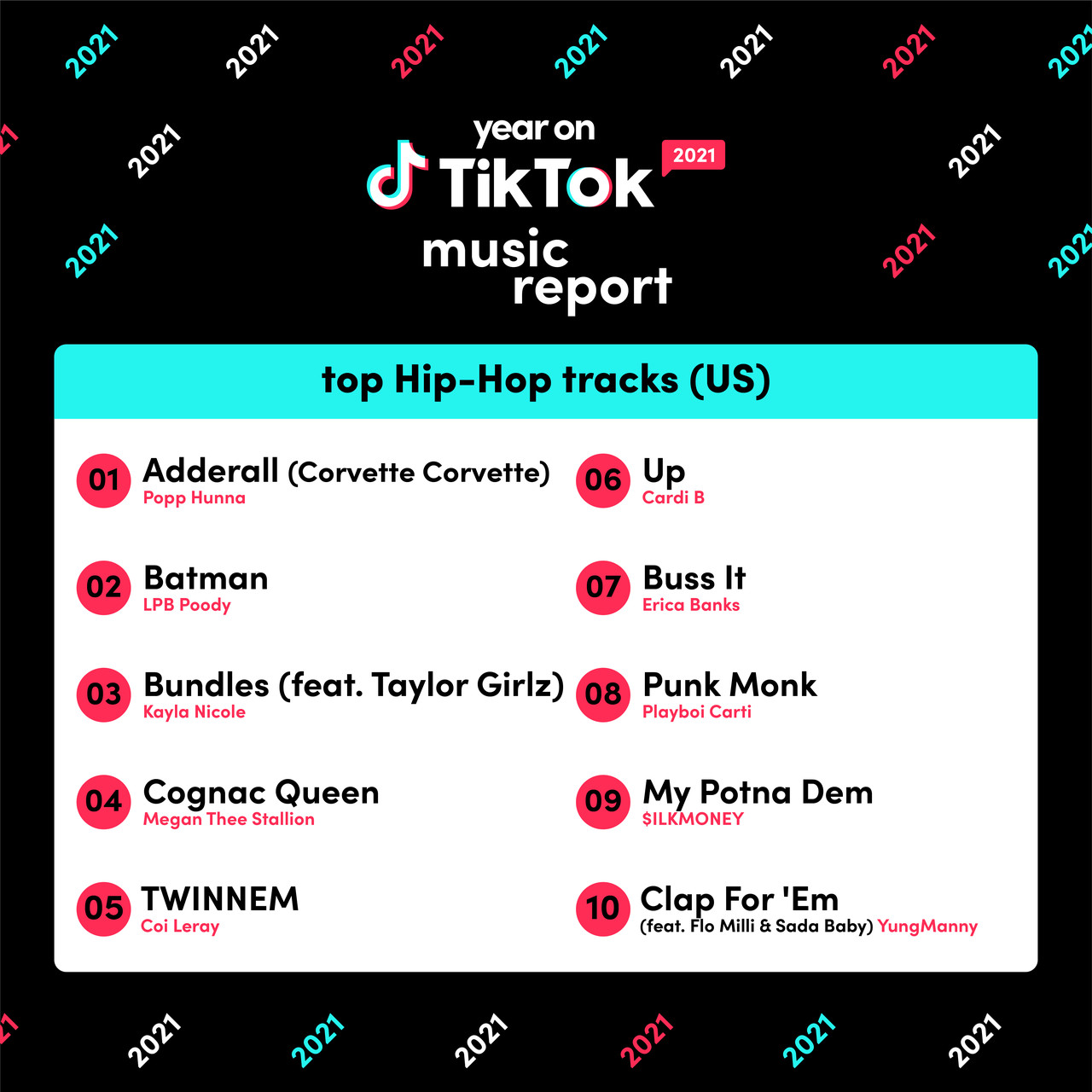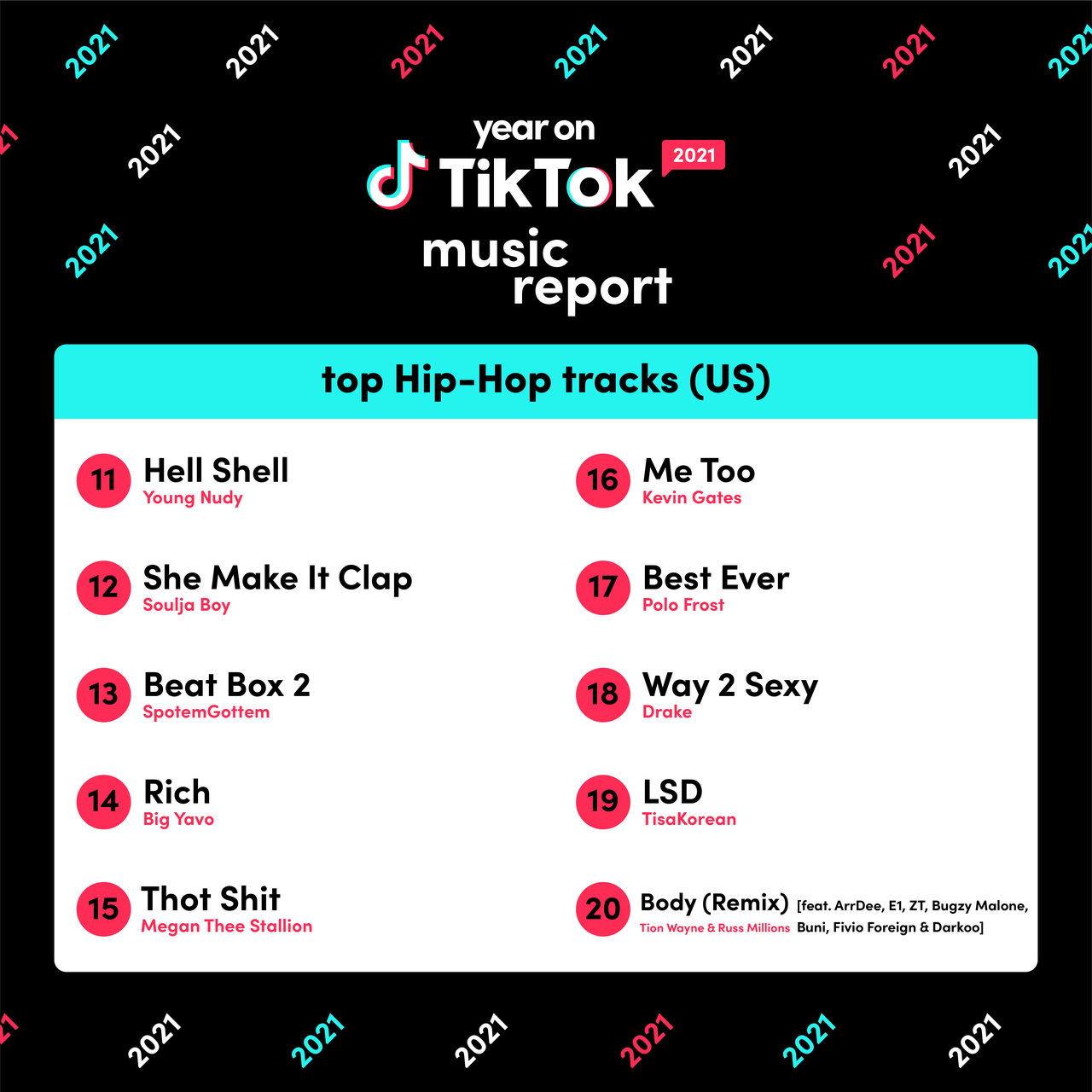 Tok to the Future: Top Pop Tracks
Pop fans on TikTok are passionate about their faves, breathlessly anticipating their next moves. The most successful pop stars on TikTok embrace their fans' love, feeding them tidbits of new music along with generous heapings of personality. The pop stars who made the U.S.'s top Pop songs of 2021 all stay active on the platform while crafting songs that stick in listeners minds. The mutual embrace between pop stars and pop stans creates a sense of community and collective goodwill: they celebrate the success of stars like Lil Nas X or Olivia Rodrigo or Bella Poarch–stars that made their name on the platform–as if it were their own.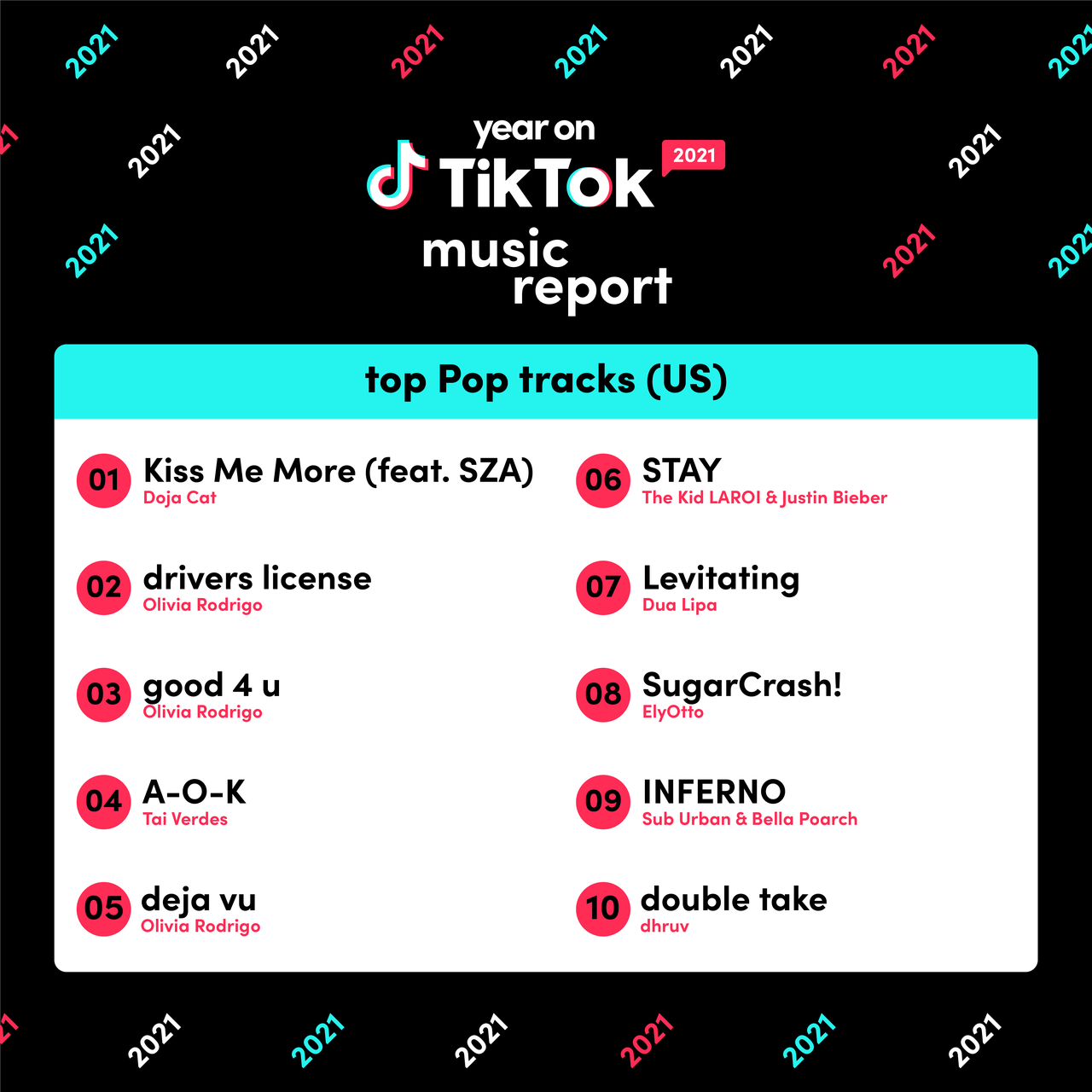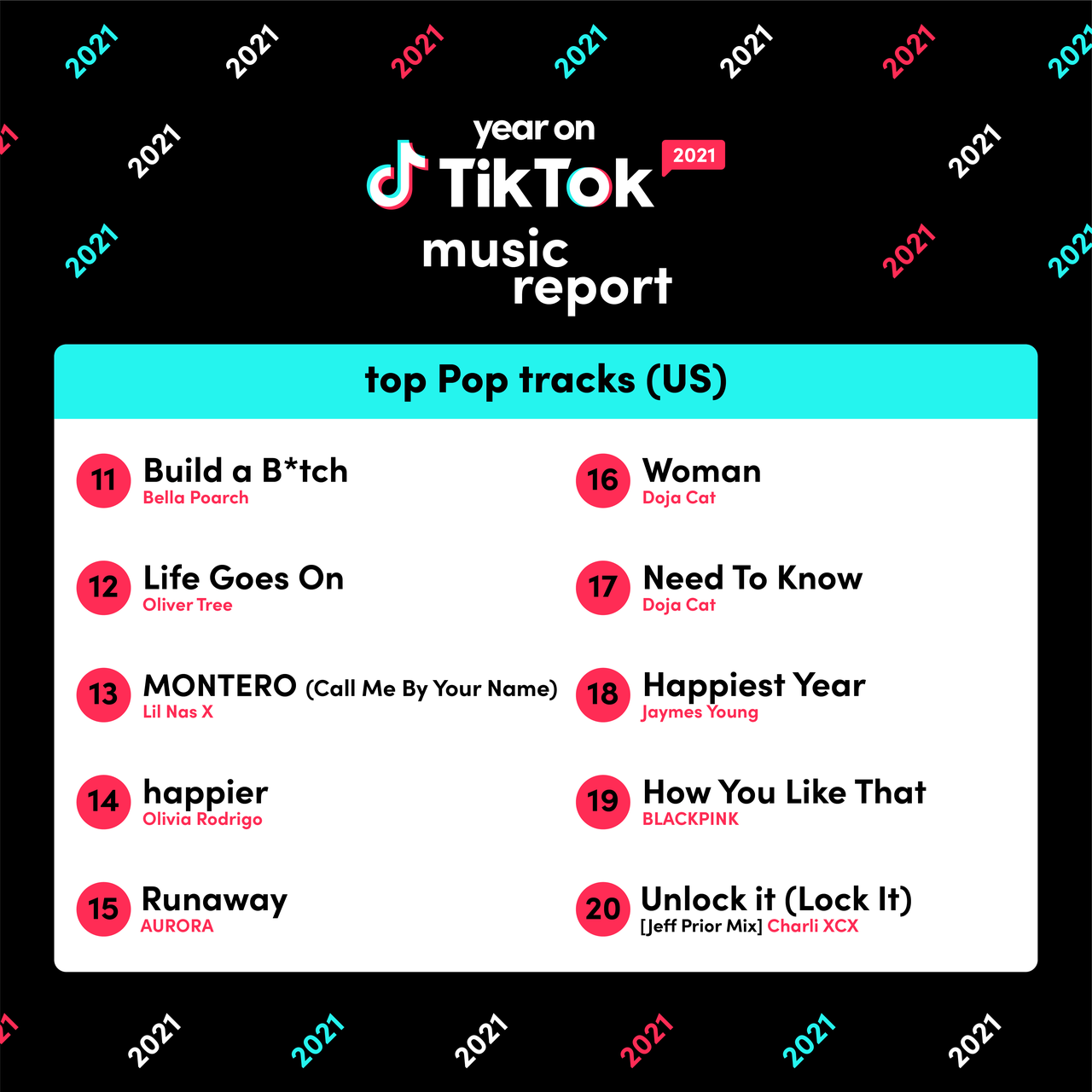 Magic Bombs and Immaculate Vibes: Top Dance/Electronic Tracks
TikTok loves electronic music of all moods, from high-energy bangers to vibey scene-setters. It was one of the latter that was #1 in the community's heart in 2021–DJ Snake's transformation of a Gap Band classic into a swelling, bass-heavy track equally suited for the club or nights spent at home. The dance/electronic songs that TikTok vibed with most heavily reflect the genre's global nature–find songs from Italy (Kina), Canada (Kaytranada), Sweden (Ikson), the UK (Navos, who earned a contract with Island Records), and perhaps most notably, Vietnam, the home of Hoàng Read, whose "The Magic Bomb" soundtracked one of the year's most enduring trends.
Notable among this list is Kaytranada's "Caution," which premiered on TikTok as we honored Black music during Black History Month.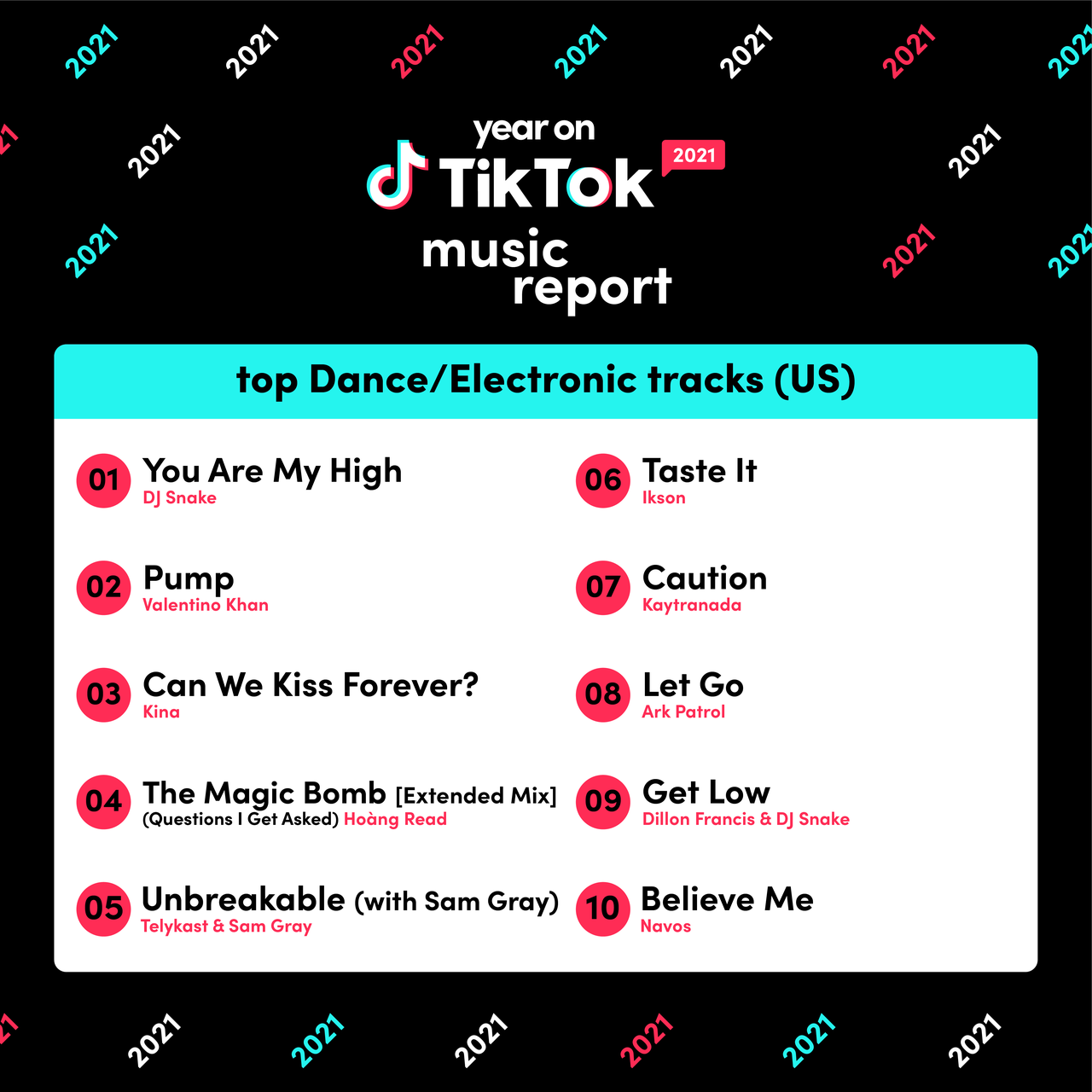 TwangTok: Top Country Tracks
Fancy like Applebee's and always ready to have a little fun, Country fans and the music they love are a major part of what makes TikTok tick. The community helped propel Walker Hayes' "Fancy Like" to the top reaches of the Billboard Hot 100 and a Best Country Song GRAMMY nomination, making it the biggest Country crossover hit of the year. Other songs on the list have major TikTok stories–Luke Combs debuted a snippet of "Forever After All" in 2020 that helped the song make a #2 debut on the Hot 100, and the legendary Shania Twain announced her arrival on TikTok with an empowering video set to her own "Man! I Feel Like A Woman!" Ranging from classics by NGDB, to songs from emerging artists like RaeLynn, to hits by superstars like Gabby Barrett and Dan + Shay, 2021 made clear that country music starts on TikTok.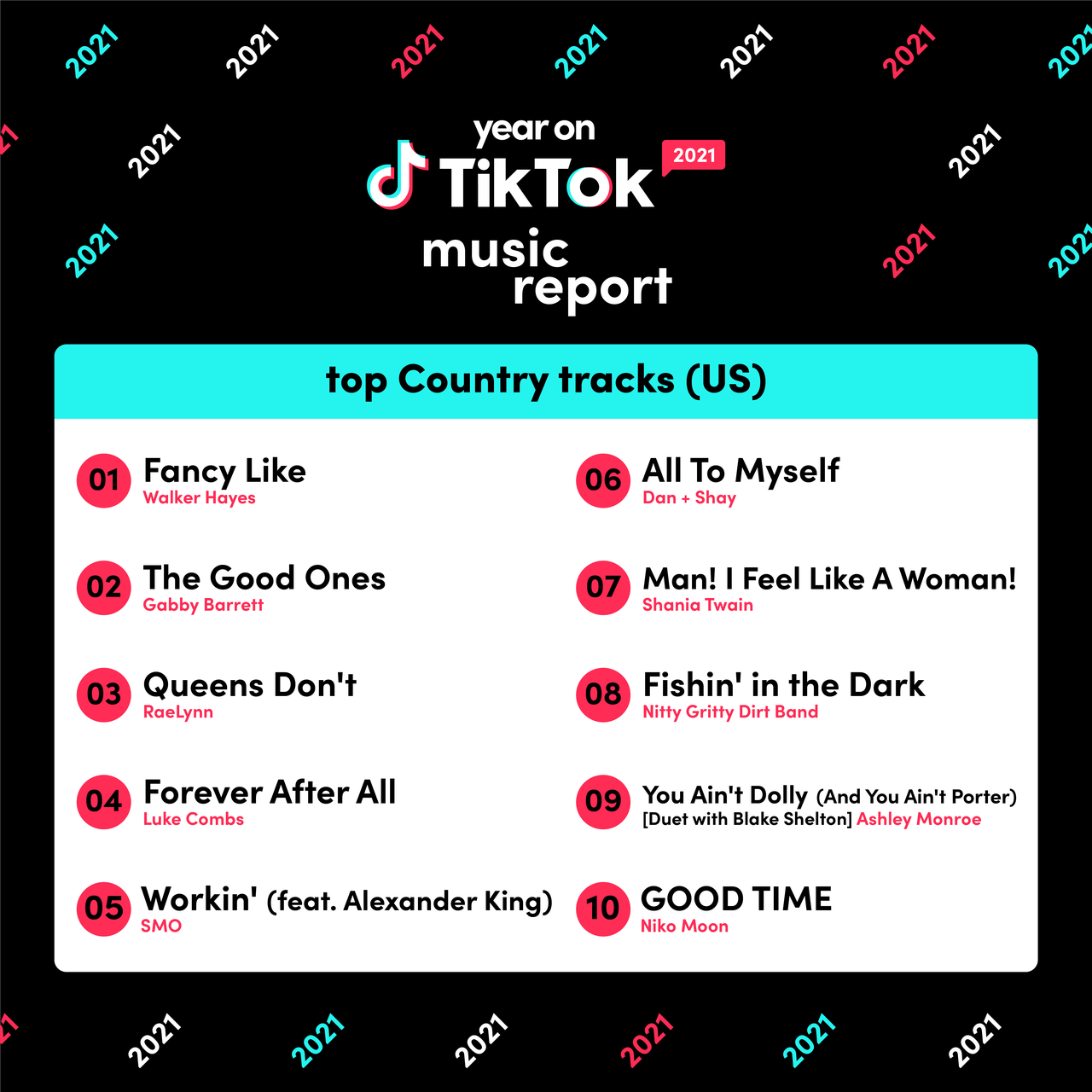 Left Of The Dial: Top Alternative/Rock Tracks
Rock music holds a special place in the hearts of the TikTok community, and the genre had a major year in 2021. We welcomed legendary acts like The Beatles, Led Zeppelin, and The Rolling Stones to TikTok, and stars like John Mayer fill For You pages with creative ideas and duet invitations. But the songs on TikTok's list of Top Alternative/Rock Tracks of 2021 come from unlikelier sources. The TikTok community helped make Måneskin one of the biggest bands in the world (in addition to the megahit "Beggin," songs like "MAMMAMIA" and "I WANNA BE YOUR SLAVE" trended on the platform), wholly embraced WILLOW's new pop-punk-flavored creative direction, and transformed their appearances to the tune Kim Dracula's cover of Lady Gaga's "Paparazzi." Indie rock made major inroads, this year, as the community vibed to Beach Bunny's sugar-coated emo bliss, the shambolic, bite-sized lo-fi banger of Lonely God's "Marlboro Nights," and Mitski's disco-flavored "Nobody," which helped some TikTok creators indulge the urge to run away from negativity.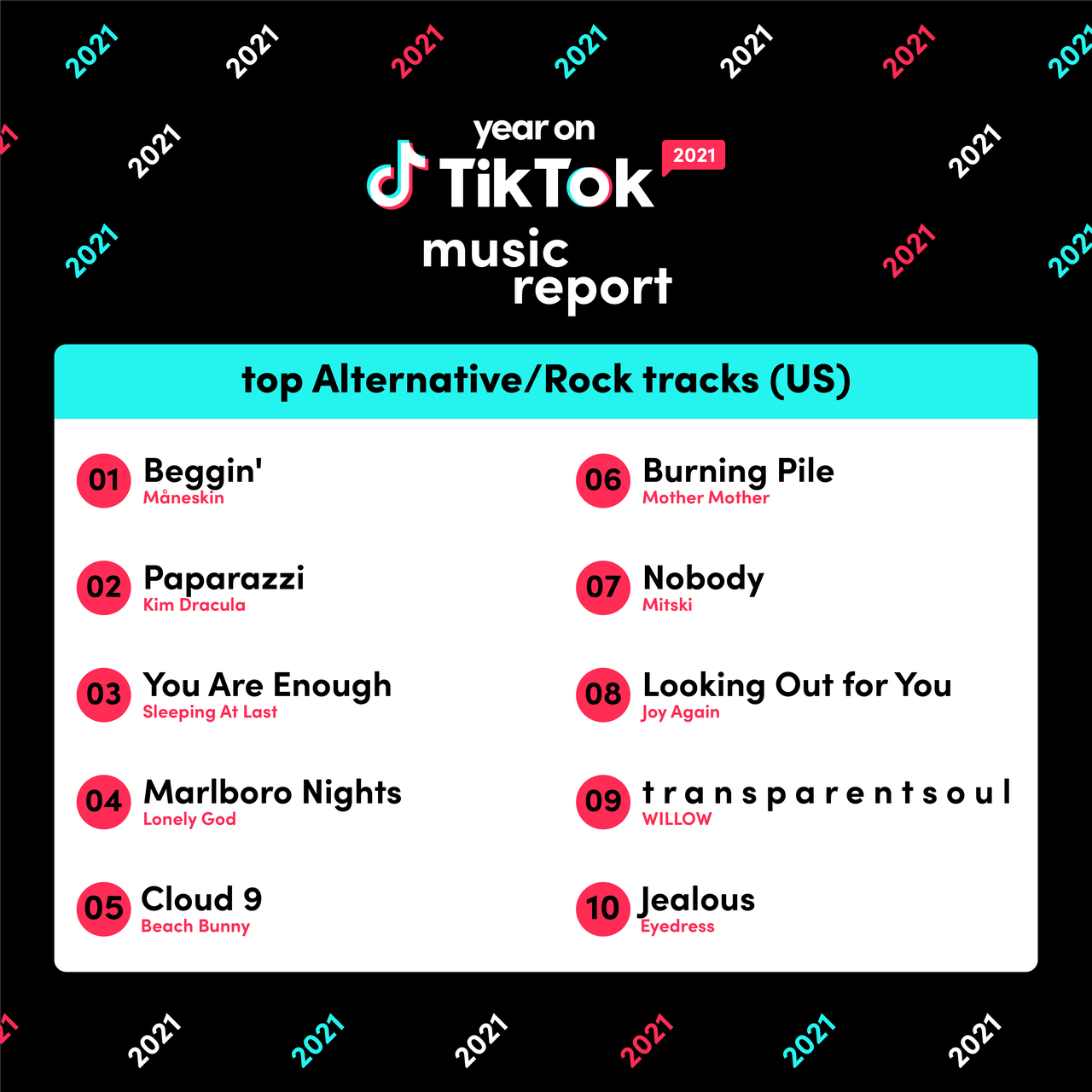 De noche y de día: Top Latin Tracks
Latin music was the fastest-growing genre on TikTok in 2021, expanding far beyond the Spanish language sphere and becoming a global behemoth. Though the latest reggaeton hits are well represented by the likes of Bad Bunny, Jhay Cortez, and Jowell & Randy, TikTok's list of top Latin tracks in the U.S. in 2021 demonstrates the wide variety of Latin music that trends on the platform, from Colombian Alt-Pop (Monsieur Perine) to EDM crossover (Farruko) to Dominican dembow (El Alfa). Kali Uchis's dreamy, bilingual pop smash "telepatía" became one of the year's crossover hits after trending on TikTok. Ivan Cornejo's "Está Dañada" became one of the first regional Mexican hits to ever chart on the Billboard Hot 100. A notable entry into the top 5: Gipsy Kings' rollicking "Bamboleo," which first garnered attention upon its release in 1988 before becoming one of TikTok's biggest Latin hits this year.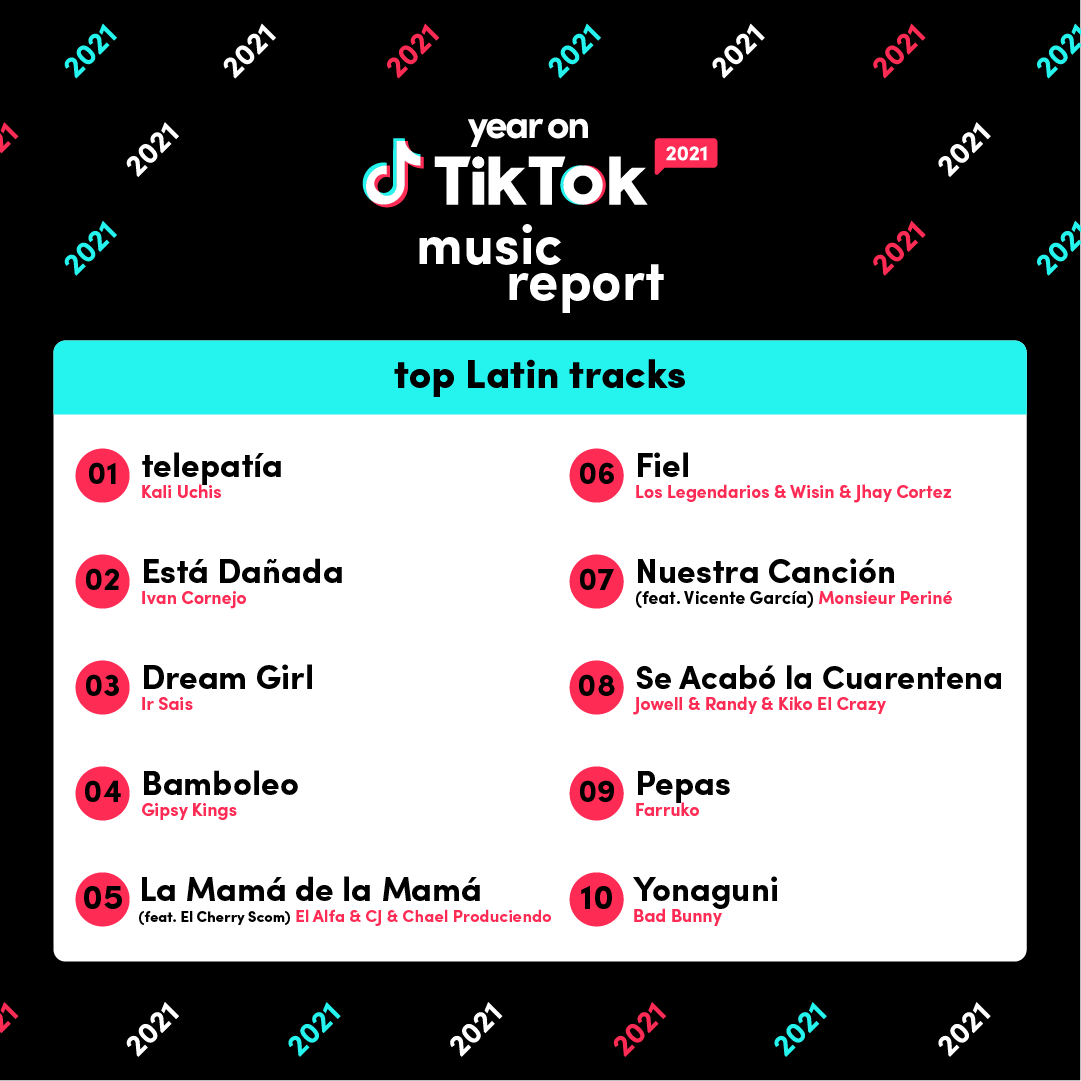 Track Stars & Love Songs: Top R&B Tracks
TikTok has a devoted community of R&B lovers on the platform, who appreciate the genre in all its forms. The top two tracks encompass two flavors of rap-influences, with Mooski's soaring street melodics and Luke Nasty's smooth flow on his 2015 hit "Might Be." Along with Mooski, TIkTok's biggest R&B songs of 2021 announced the arrival of new stars, like Giveon, whose tear-inducing, deep, and velvety vocals elevated hits like Justin Bieber's "Peaches" and his own "Heartbreak Anniversary," Kaash Paige, who set the vibe when an intimate 2019 bonus track resurfaced as a TikTok hit, and RealestK, who makes sonorous hymns for late nights. Classic styles are also represented here, including Silk Sonic's immaculate retromania and Ciara's string-laden, oh-so '00s "Like A Boy" (2006).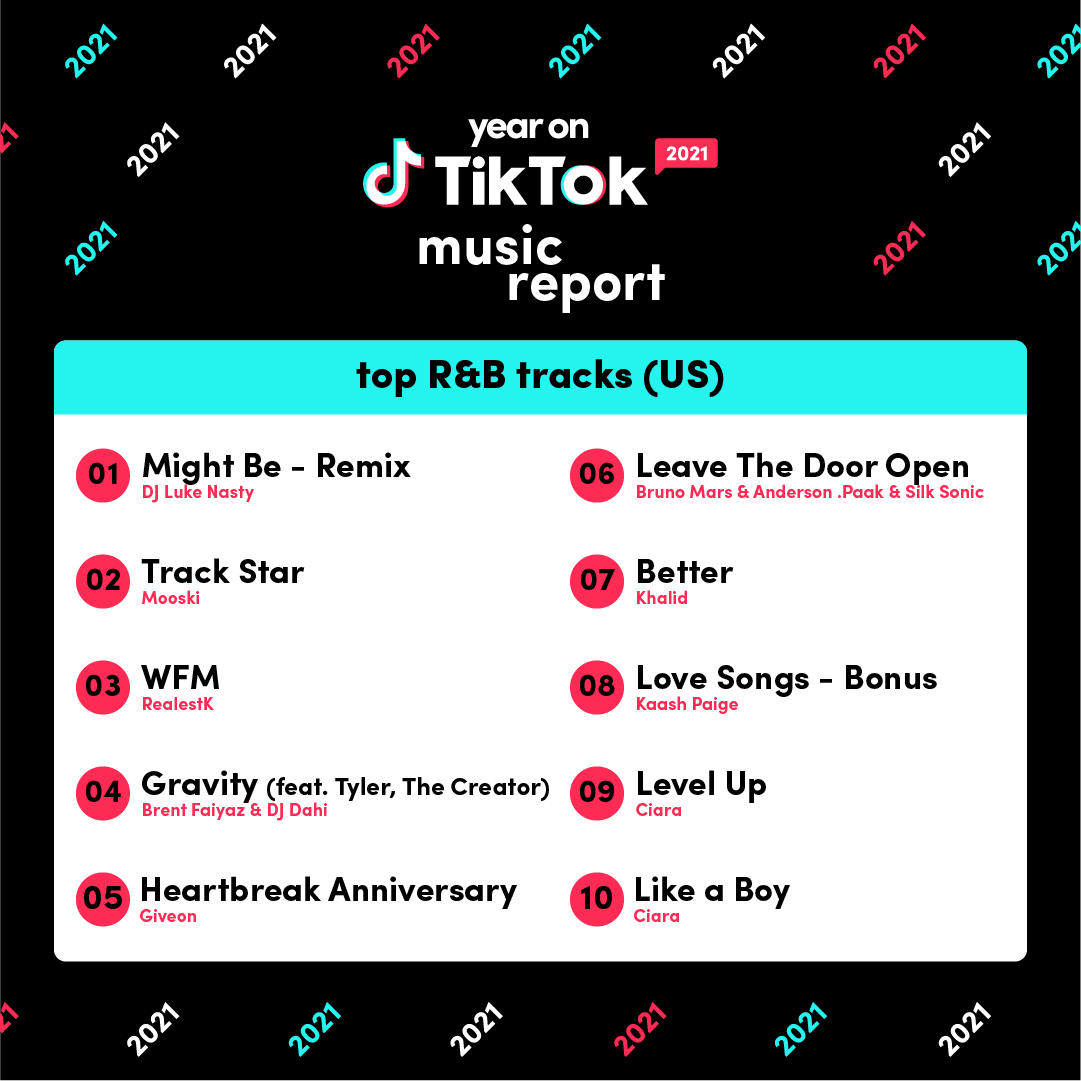 A Deeper Dive: Artists
A Salute to Jason Derulo, who makes TikTok His Own
Jason Derulo was one of the first artists to grasp what makes TikTok special, and he remains the most-followed artist in the U.S.–he has his finger on the pulse of the community, collaborating with creators, and frequently engages with trends in his trademark over-the-top, high-production value style.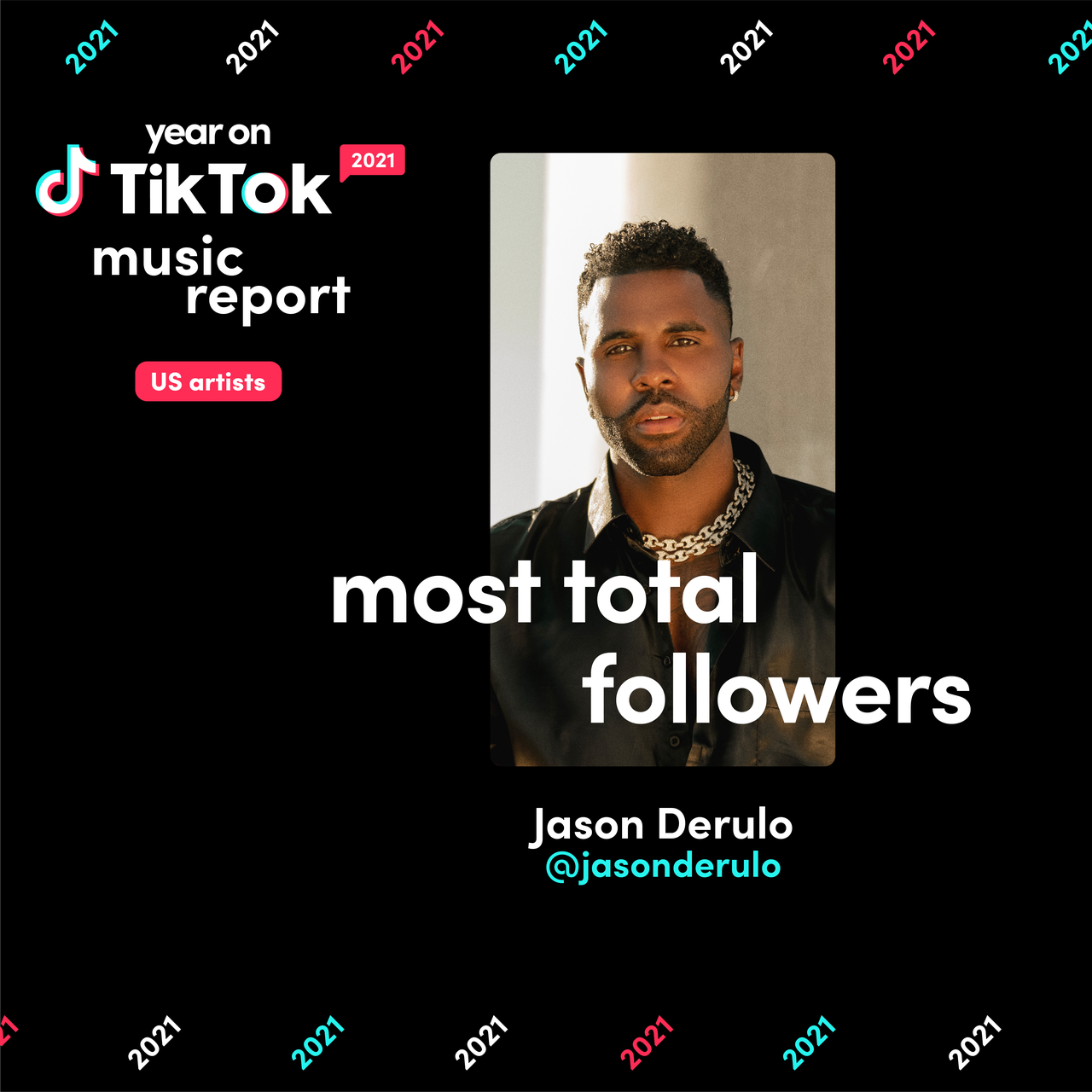 No Choice But To Stan: Artist Accounts With The Most Growth
TikTok is a place where emerging artists rub shoulders with superstars. The list of artists with the most new followers include artists that emerged this year like Olivia Rodrigo, and artists who recently joined the platform like Billie Eilish, but this year also saw major growth from artists that fans associate with TikTok, like Lil Nas X, Lizzo, and Jason Derulo.
SPOTLIGHT: After starting a TikTok in late 2020, Billie Eilish fully embraced it this year in the run up to her second album Happier Than Ever. She dramatically revealed her new blonde hairstyle in April, and became much more active, posting videos of her dog, giving behind the scenes looks at her "Lost Cause" music video, and clapped back at her haters. Billie was the U.S. artist who gained the most followers in 2021, with over 30 million new followers gained in the calendar year.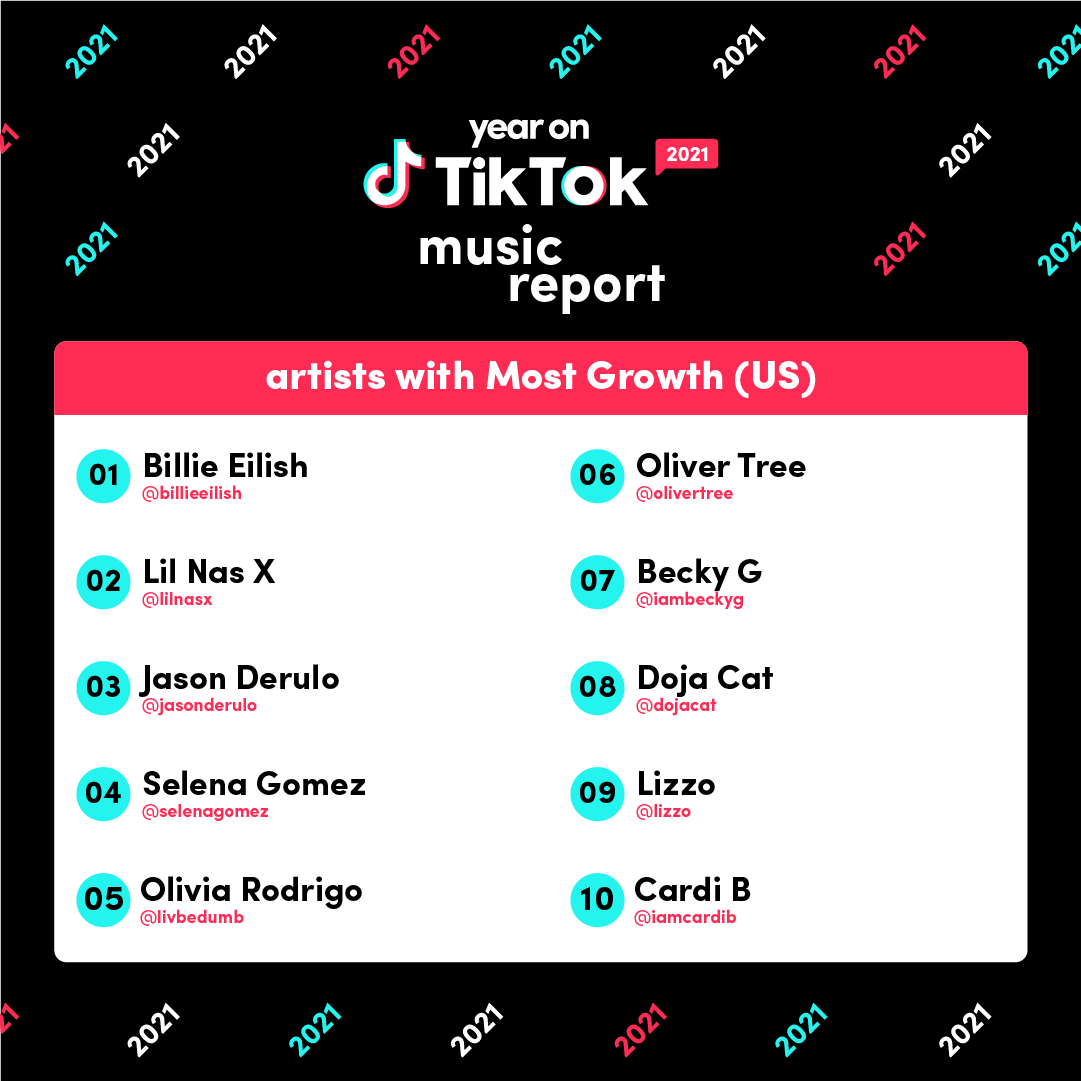 Industry Babies: Most Viewed Artists
Artists succeed on TikTok if they can achieve a balance between showmanship and relatability, and the ten artists with the most views on their account videos have managed to strike that balance with creative aplom