No celebration of Black History Month is complete without a salute to the Black artists who shape the past, present, and future of American music. To pay special tribute to the Black community this month, we've shined a spotlight on Black music on and off the platform, creating themed playlists to celebrate Black music's past, present, future & joy, hosting LIVE conversations and performances with Black artists, teaming with @SongPsych to delve into the history of Black music, and, in a first for TikTok, teaming with two of our favorite artists to premiere two original songs!
"TikTok has become an incubator for Black creatives of all disciplines, and our goal is to make the playing field equitable for all. We're excited to work with artists and creators like SongPsych to amplify the pillars of the past, present, future, and joy of Black music," says Brandon Holman, Label Partnerships Manager at TikTok. "I'm also really proud of our new program, TikTok for Black Creatives, and that we are focused on continuing to show our dedication to Black creators' and artists' advancement every month of the year."
Original Songs by Leon Bridges & KAYTRANADA
Known for his golden voice and songwriting, Grammy Award winning R&B artist Leon Bridges is the perfect figure to provide a modern window into Black music's illustrious past. For Black History Month, Leon connects with fellow Fort Worth resident Keite Young to premiere an impassioned cover of "Like A Ship," a beloved under-heard 1971 gospel/soul hybrid gem by Pastor T.L. Barrett. Marked by ecstatic choirs and swelling organ, Leon's version of "Like A Ship" is both a faithful interpretation of the original and of a piece with the rest of Leon's R&B catalogue, illustrating how Black music's spiritual roots continue to permeate popular culture.
A producer and artist who bubbled up from the Montreal electronic music underground, KAYTRANADA lives on the cutting edge. TikTok and KAYTRANADA are proud to premiere "Caution," a brand new original song that seamlessly blends funk, disco, and house into a futuristic mix. Layering syncopated kicks, splashy snares, and energetic vocal samples, "Caution" explores another hotspot of Black music innovation: the blockparty.
Together, the two songs by Leon Bridges and KAYTRANADA point to an illustrious history of Black music, while paving a path forward for both traditional and boundary-pushing sounds. Both songs will be available first as TikTok sounds, and will be released to DSPs later this month.
Your Favorite Artists LIVE
During Black History Month, we've made it our mission to amplify Black voices. We've exclusively invited Black artists to host "Sound-Off In The Comments" interactive livestreams. In the past two weeks, we've aired LIVE conversations with R&B icons Ashanti and Monica. Ashanti chatted with TikTok creator and activist Jax James to talk about her career and the history of R&B music. Last week, Monica and TikTok creator and LGBTQ activist Ve'ondre Mitchell shared their skincare and haircare routines and discussed the progression of Black people in the beauty industry. Last night, Kelly Rowland hosted a LIVE conversation with with TikTok trailblazer and real estate queen @quenwilliams, celebrating the legacy Kelly has created, her influence in paving the way for so many young artist and black women, and all of the exciting things the Black community can and will accomplish.
We've also seen "Sound-Offs" from rising artists like Erica Banks, Coi Leray, Amorphous, and Ayzha Nyree. Stay tuned for many more livestreams, from Leon Bridges and more.
Black Music History with @SongPsych
SongPsych is a new media brand that started on TikTok as part of the Creative Learning Fund in May 2020. Since then, SongPsych has grown to over 655K followers thanks to their unique voice and detailed explainers into all elements of music theory and the music industry. This month, we've enlisted @SongPsych to help us delve deeper into our favorite Black music, offering deep dives into genres (including lesser-known sub-genres of hip-hop), lists of songs that sample Black music icons, explorations of the music theory behind common Black musical techniques, and more. @SongPsych, and its intrepid host @dev_lemons, conducted interviews with renowned artists like Jon Batiste, Mario, Tierra Whack, Yung Baby Tate, and more
Themed Playlists
From ragtime and jazz to disco and house to hip-hop and R&B, Black music never ceases to push the culture forward. To honor the history of Black music, our music team put together "Make Black Music," a series of themed playlists that highlight a particular genre, era, or quality that makes Black music special. As the month progresses, the theme of the playlists shift from past (playlists highlighting Motown, rap classics, rock 'n roll origins, and more), to present (featuring hip-hop hits, pop icons, and Afrobeats), to a glimpse of the future (house & electronic, hip-hop newcomers, future soul). The month concludes with a series of playlists celebrating the Joy of Black music. The "Make Black Music" playlists can be found on the "Discover" page and on the "Sounds" page.
TikTok LIVE Make Black History Celebration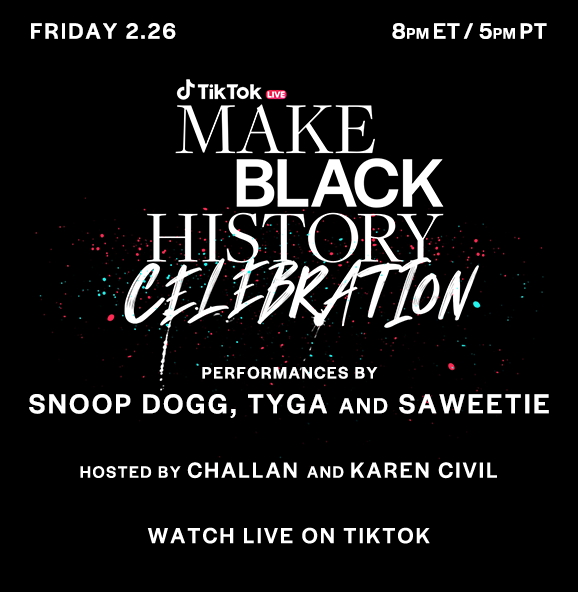 Our month-long celebration ends on a high note by celebrating artists that represent the past, present, and future of West Coast Hip Hop. Airing on Friday February 26th and hosted by Karen Civil and Challan, TikTok LIVE Make Black History Celebration traces the evolution of California rap, featuring interviews and performances from iconic Cali artists like Snoop Dogg, Tyga, and Saweetie, each with a special backdrop that speaks to their West Coast roots. The 90 minute extravaganza takes the time to shine a spotlight on Black creators, offering a close look at this year's Black TikTok Trailblazers.
Community Support
There is no denying the cultural impact Black artists have had on TikTok and we are determined to continue to elevate the community. In addition to donating to trailblazing organizations like the Alvin Ailey Foundation (find the full details of our Black History Month giving in our kickoff blog post), we're continuing to develop our "TikTok for Black Creatives" incubator program, nurturing and developing 100 talented Black creators and music artists, helping to open doors for them to reach new heights in their careers.
We're excited to continue honoring and supporting Black musicians on and off the platform this month and beyond. Follow along with #MakeBlackHistory as we celebrate Black musicians' contributions to our platform and the culture at large.