Super Bowl celebrations might look a little different this year, but we're still kicking off gameday in style. The NFL has embraced the TikTok community, and throughout the 2020 NFL season the league has provided unique access and behind-the-scenes moments to fans rooting for their favorite teams and players from home. We want to keep fans connected as they get hyped for the Big Game, so this year we're bringing the excitement of Super Bowl LV to the TikTok community.
Join the TikTok Tailgate, the Ultimate Super Bowl LV Pregame Experience
We're teaming up with the NFL for an unforgettable pregame celebration that delivers everything fans come together to enjoy on Super Bowl Sunday: good food, great music, and football. The first-ever TikTok Tailgate will be a two-hour, virtual pregame experience exclusively for the TikTok community. Starting at 2:30PM ET/11:30AM PT on February 7, fans watching from home in the U.S. and Canada can tune into @NFL on TikTok to catch tailgate cooking tutorials, interviews with creators and special NFL guests, a look back at the best Mic'd Up moments and TikToks from the 2020 NFL season, LIVE musical performances, and more.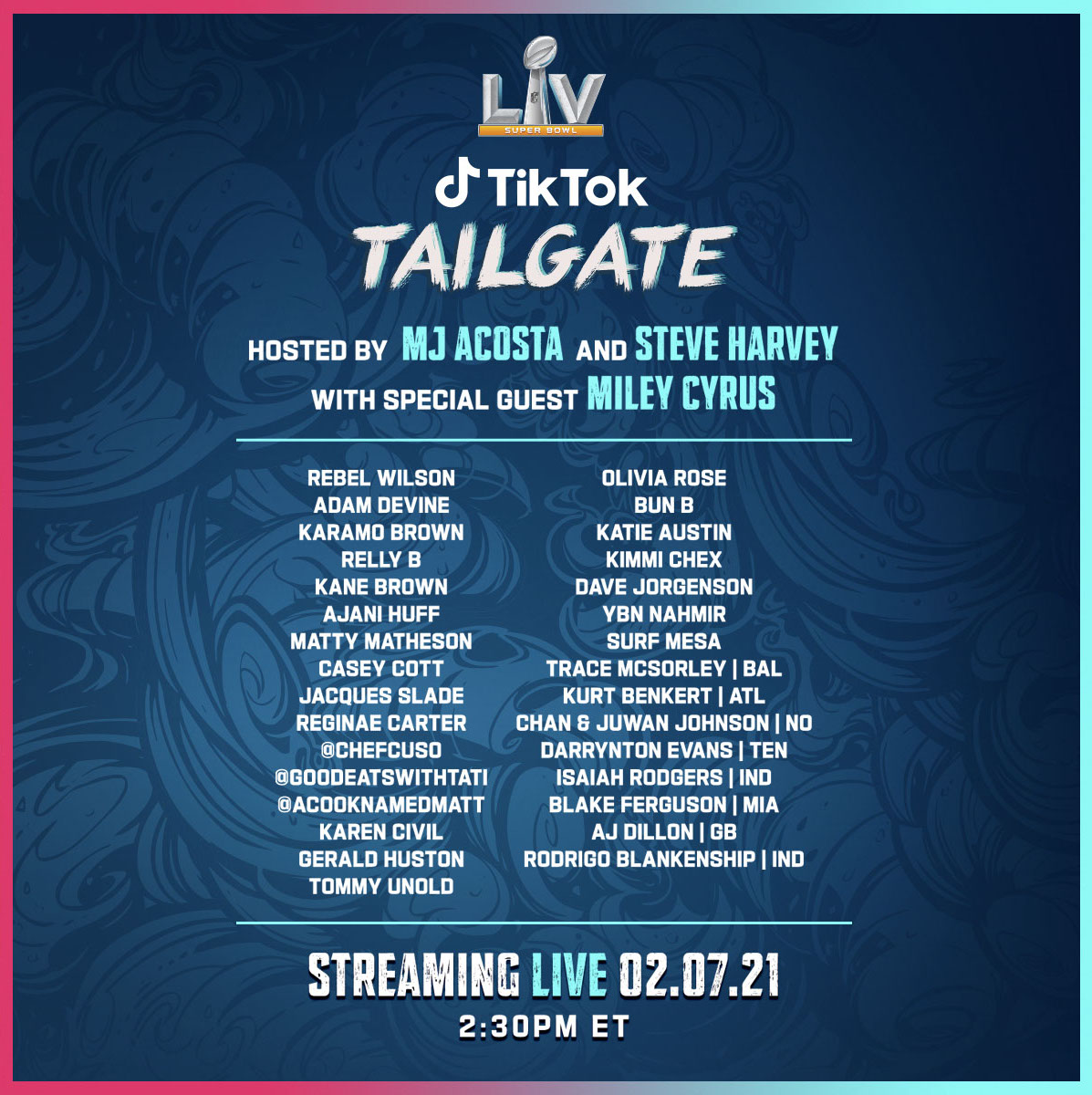 Hosted by Steve Harvey (@steveharvey) and MJ Acosta (@mjacostatv), the TikTok community can expect appearances from Rebel Wilson (@rebelwilsontiktok), Adam Devine, Kane Brown (@kanebrown), Ajani Huff (@ajani.huff), Dave Jorgenson (@washingtonpost), "TikTok's most popular QB" Trace McSorley (@tracemcsorley), and more as they discuss their favorite tailgate food, who they think will win Super Bowl LV, and what the perfect touchdown celebration looks like. TikTok foodies and creators @chefcuso, @goodeatswithtati, and @acooknamedmatt will also share their best gameday recipes so fans can recreate the tailgate dishes they've been craving.
The TikTok Tailgate will culminate in a LIVE concert from Grammy-nominated artist Miley Cyrus, who will also be performing in front of 7,500 vaccinated health care heroes the NFL invited to attend Super Bowl LV in Tampa starting at 3:30PM ET/12:30PM PT. We can't think of a better way to start off gameday.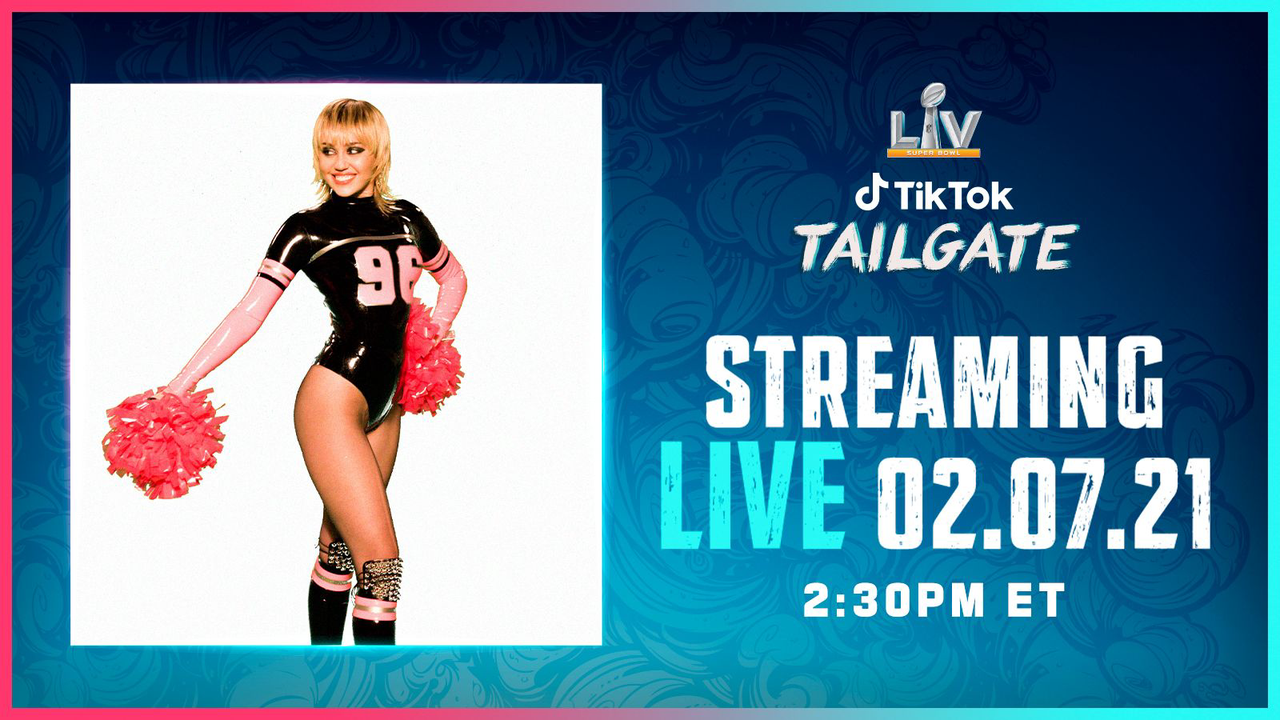 Kick Off Super Bowl LV Celebrations with these #Hashtags
#TikTokTailgate - The Super Bowl kicks off on Sunday, but our party starts today. Whether they're playing corn hole or cooking up a few burgers, fans are invited to show off their #TikTokTailgate.
#SuperBowlLV - We're encouraging fans to pull on a jersey, settle in for the game, and show the TikTok community how they're celebrating #SuperBowlLV.
Fans can also try out our Game Day Prediction Creative Effect to find out whether they'll be set for a trophy or overloading on snacks. The effect will go live on Friday, February 5, giving fans plenty of time to prepare for the Big Game (and their touchdown celebration).
Brands Look to TikTok for Super Bowl Campaigns and LIVE Programming
Brand campaigns are as much a staple of the Super Bowl experience as the game itself. Whether they're making us laugh or making us cry, brands have continued to inspire us on the platform, and many are inviting the TikTok community to celebrate Super Bowl LV with them through Hashtag Challenges, livestreams and more:
Verizon's 'Big Concert for Small Business' Livestream
On Sunday, Feb 7 at 11pm ET, in an effort to celebrate small businesses, Verizon is giving the TikTok Community the chance to experience the ultimate after-party for Super Bowl LV with 'The Verizon Big Concert for Small Business' livestream - hosted by Tiffany Haddish, and featuring performances by Alicia Keys, Christina Aguilera, H.E.R., Luke Bryan and many more!
M&M's Free Packs Campaign
In a year (and football season) like no other, M&Ms is spreading the love by allowing users to gift free packs of the multi-colored chocolates to friends and family.
Mountain Dew's Major Melon Campaign
Mountain Dew is kicking off their newest flavor, MTN DEW MAJOR MELON , with a life-changing In-Feed campaign and game-day challenge, starring WWE Superstar legend John Cena! Simply be the first to count the correct number of bottles that appear in the ad and you could win a million dollars! (Rules: www.lifechangingDew.com)
Rockstar's Energy Boost Campaign
To celebrate their new look and fresh hustle, Rockstar Energy's In-Feed campaign will aim to inspire the TikTok community to fuel their hustle and chase their dreams (with a little energy boost along the way).
CHI-CHI'S® #SalsaSafely Challenge
The makers of CHI-CHI'S® Brand salsa are encouraging fans to stay safe, healthy, and socially distanced this game day - without sacrificing their favorite game-day snack! The #SalsaSafely Challenge, featuring creators such as @brodywellmaker and @flossybaby, asks the TikTok community to duet the creators to show off their most creative ways of sharing salsa (not germs) across the screen.
Ocean Spray's #DoggfaceDanceVibes Challenge
Leading up to the big game, Nathan Apodaca (a.k.a. @420doggface208) will partner with Ocean Spray to showcase his new moves with the #DoggfaceDanceVibes challenge. The TikTok community can join in on the fun and recreate Nathan's personal choreographed dance (with Ocean Spray Cran-Raspberry juice drink, of course) to cheer on their favorite team or to just enjoy the good vibes.
Gillette and Old Spice's #ThisorThatSBLV Challenge
What's better than the biggest game of the year? Smelling great and looking your best during the biggest game of the year! Gillette and Old Spice join forces for a #ThisorThatSBLV Hashtag Challenge and Branded Effect, playing off of TikTok's ever-popular "This or That" trend.
Doritos' #DoritosFlatLife Challenge
To give fans the ability to truly experience their Super Bowl commercial, and the return of Doritos 3D Crunch, Doritos created a first-of-its-kind Branded Effect that allows the TikTok community to become flat like Flat Matthew (Matthew McConaughey). With the #DoritosFlatLife Hashtag Challenge and Branded Effect, the TikTok community can showcase the fun and wacky ways in which they would break free and enjoy life in 2D.
Cheetos' #ItWasntMe Challenge
As an extension of the Cheetos suspense-filled Super Bowl spot, Cheetos is calling on the TikTok community to play up the intrigue for the #ItWasntMe Hashtag Challenge. Creators will showcase how they are creatively stealing Crunch Pop Mix, a new product favorite, from family and friends to the soundtrack of 2000's hit, "It Wasn't Me."
Pepsi's #PepsiHalftimeChallenge
Pepsi is giving fans the opportunity to take the Pepsi Super Bowl LV Halftime Show stage with the #PepsiHalftimeChallenge, where the community is invited to own the moment using a special Branded Effect as they perform to The Weeknd's latest single 'Save Your Tears'!
TurboTax's #TurboTaxLivePick6 Challenge
Super Bowl weekend is all about game time decisions. From "Nachos or Wings?" to "Big Punt Returns or Big Tax Returns", TurboTax's #TurboTaxLivePick6 Hashtag Challenge will be asking the important questions this Super Bowl Sunday. By tapping into TikTok's popular "This or That" trend, TurboTax will coach the TikTok community to leave it all out on the field through a series of Super Bowl-themed questions.
We're excited to start Super Bowl LV off right and celebrate all the moments that make this time of year so special, even when we're apart. To catch the TikTok Tailgate, tune into @NFL on TikTok LIVE on Sunday, February 7 starting at 2:30pm ET.