Thee Muses (@theemuses), Adrienne Muse and Janeeka Muse, are your favorite queer aunties that surround you with positivity and protection. Their influence inspires people to value self-love, strength, and spirituality.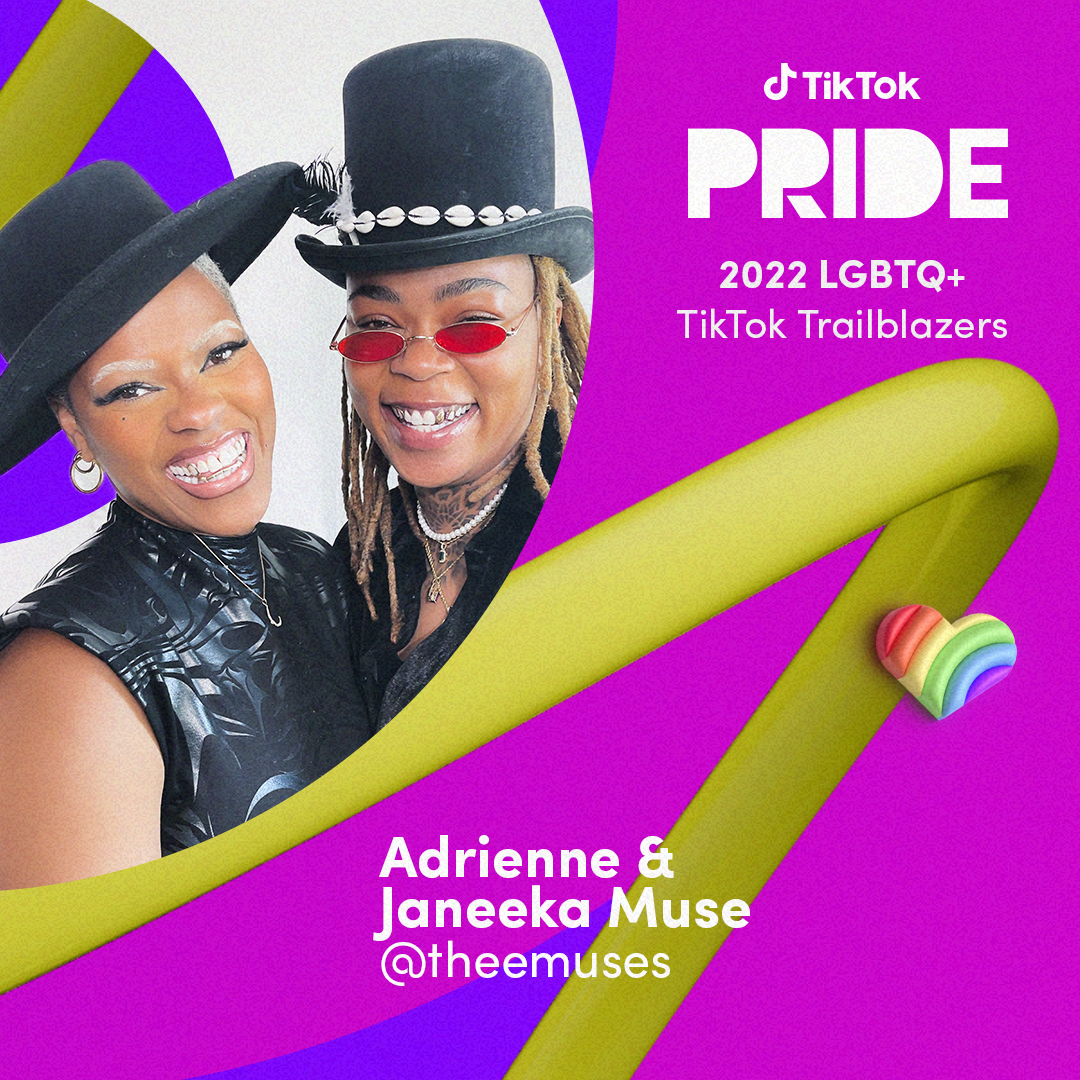 What does it mean to you to be part of the LGBTQ+ community?
Being a part of the LGBTQ+ community is heartwarming and welcoming. We are both the first to come out in our family as queer so to be able to be a part of a community that accepts us and allows us to break barriers is empowering. We are always happy to help those in need and stand against societal issues that may try to bring us down. We are strong, we are seen, we are loved and we are here!
How have you built and maintained a community on TikTok?
By staying true to ourselves. We believe our authenticity shows through the content we create. We welcome everyone no matter what they look like or what they've experienced, and provide a safe space for everyone to feel accepted and to heal past experiences. We want our followers to feel like they have a space to call home.
Why is representation important when it comes to spirituality?
Our platform is based on spirituality and defining your power within yourself. You hold the power to manifest what you want in your life. And we also have fun and find humor in life. This representation is important because spirituality has been so demonized for centuries. We are both Aquariuses, and now it is the Age of Aquarius! We're going to bring the truth to light whether people want to hear it or not. People are thirsty for the knowledge. We want people to know that our platform is a safe space to take what you want and explore.
What is your favorite TikTok video that you've created and why?
Our favorite video is set to the sound "How Bizarre", where our nieces, nephews, and niblings mention their bully got hit by a car.
What are some of your passions on and off of TikTok?
We're passionate about creating art and painting murals. We just finished painting a mural for the Los Angeles SoFi Stadium for the Super Bowl 2022 which was a fun and exciting experience. We believe it's important to fulfill your passions in life because it creates balance where you can always feel like you are living your best life.
What's the best piece of advice you've ever received?
Dream bigger.