As we celebrate Pride 2021, we're sharing the inspiring stories from our LGBTQ+ TikTok Trailblazers on our Creator Spotlight Series, who are advocating for their communities both on and off TikTok. Next up, meet RJ and Adrian, aka The Goddess Boys (@rjchumbley), a dynamic duo known for their work in makeup and fashion. They are always pushing the boundaries of masculinity and femininity, creating a community where everyone can be "goddess babes."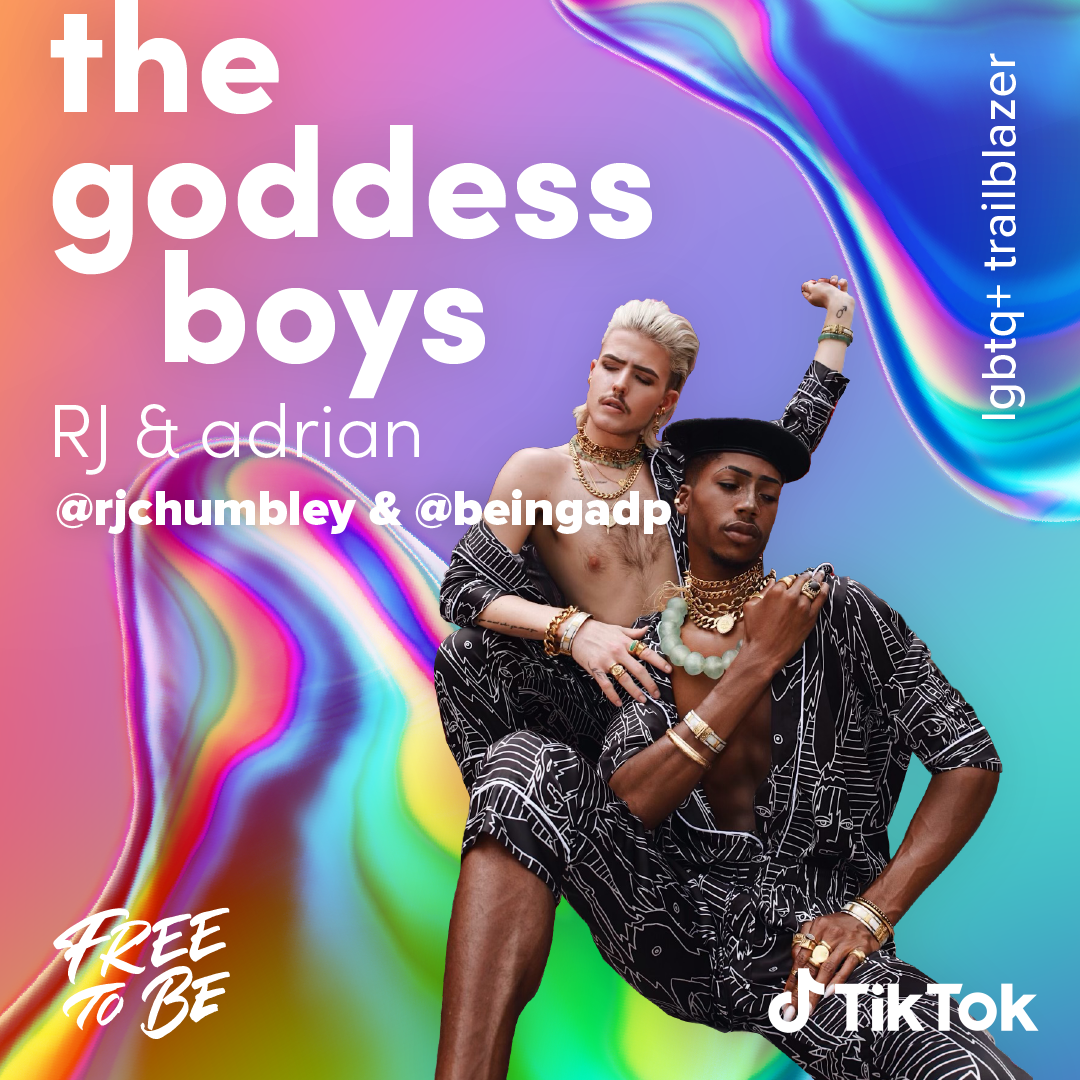 What does Pride mean to you? How has that meaning changed for you over time?
Visibility, community, understanding and acceptance. Pride when one first discovers who they are, at its simplest definition, means being proud to be who you are. As time goes on, it means being proud to be a part of a beautiful community and ultimately, one huge family.
How has your identity influenced or shaped you?
As we are both feminine and masculine and use he/they pronouns, our identity allows us to be authentic to ourselves and to open our eyes to a much fuller and beautiful range of human identity. Allowing us the freedom to explore and truly understand our gender identities, and sexuality; as they are not synonymous with one another. The confines of the heteronormative structure are blown away, and we are simply allowed to be free, allowed to be our most authentic selves, and accept the people around us for who they are.
How do you celebrate the diversity/strength of (and also support) the LGBTQ+ community?
By uplifting and supporting other queer creators across all social platforms and using our platform to be an advocate for and amplify the many diverse voices within our community.
How has the TikTok community inspired you?
The endless amount of creativity on TikTok is astounding and truly inspiring. So many diverse groups of people all showcasing their individual talents and experiences, making the world a more beautiful and educated community.
What video are you most proud of creating?
This one! It's actually the fourth video posted on Adrian's channel, @beingadp.
What are some content creation tips you would offer to other creators?
Just be your real self. There are so many people who will boost you up and share the love with you. If you get into the right community, people will find you. Try it, do it and get out there. Find your niche, come up with something original, and have fun with it. Practice, but dont take it too seriously. Get inspired by others -- there is a community for everything youre interested in.
What advice would you give to the next generation of the LGBTQ+ community?
Surround yourself with those who allow you to thrive and grow into your own identity. Do not let the boundaries of other peoples' minds hold you back from loving and accepting yourself.
How do you think people can be allies to the LGBTQ+ community?
Educating themselves about the many diverse identities that the queer community includes. Doing their own research on the many laws within and outside the country that are discriminitory against the queer community, and spread awareness. Do not be afraid to have those "hard" conversations with those around you, be they family, coworkers or friends. Correct and inform them about the weight of their words and actions against the LGBTQIA+ community and other minority communities within it.
Who are some LGBTQ+ TikTok creators that everyone should be following/watching (and why)?
Our talented photographer & best friend "Halo" (she/they) @myhaloisprada, fashion icon (he/they) @itszuose, makeup master (he/him) @isaiah_nyc, activist goddess (she/her) @compassq.