We're proud to help amplify the voices of our new wave of LGBTQ+ TikTok Trailblazers. These incredible creators are showing what it means to share your truth with the world through their inspiring and authentic content. Throughout the month, we're sharing more about each creator's story for our Creator Spotlight Series.
Next up is Jere Chang (@mschanggifted), a gifted education teacher at an elementary school in Atlanta. Growing up in a small town in Georgia gave Jere a desire to educate those who are unfamiliar with the LGBTQ+ community. Her TikTok content is centered on teaching and sharing her life with her wife and two sons (ages five and seven) in hopes that people will see the value of her fun-loving family. Read more below about how Jere's experiences have shaped her into a more empathetic person, and how she's found support from the TikTok community during a difficult year.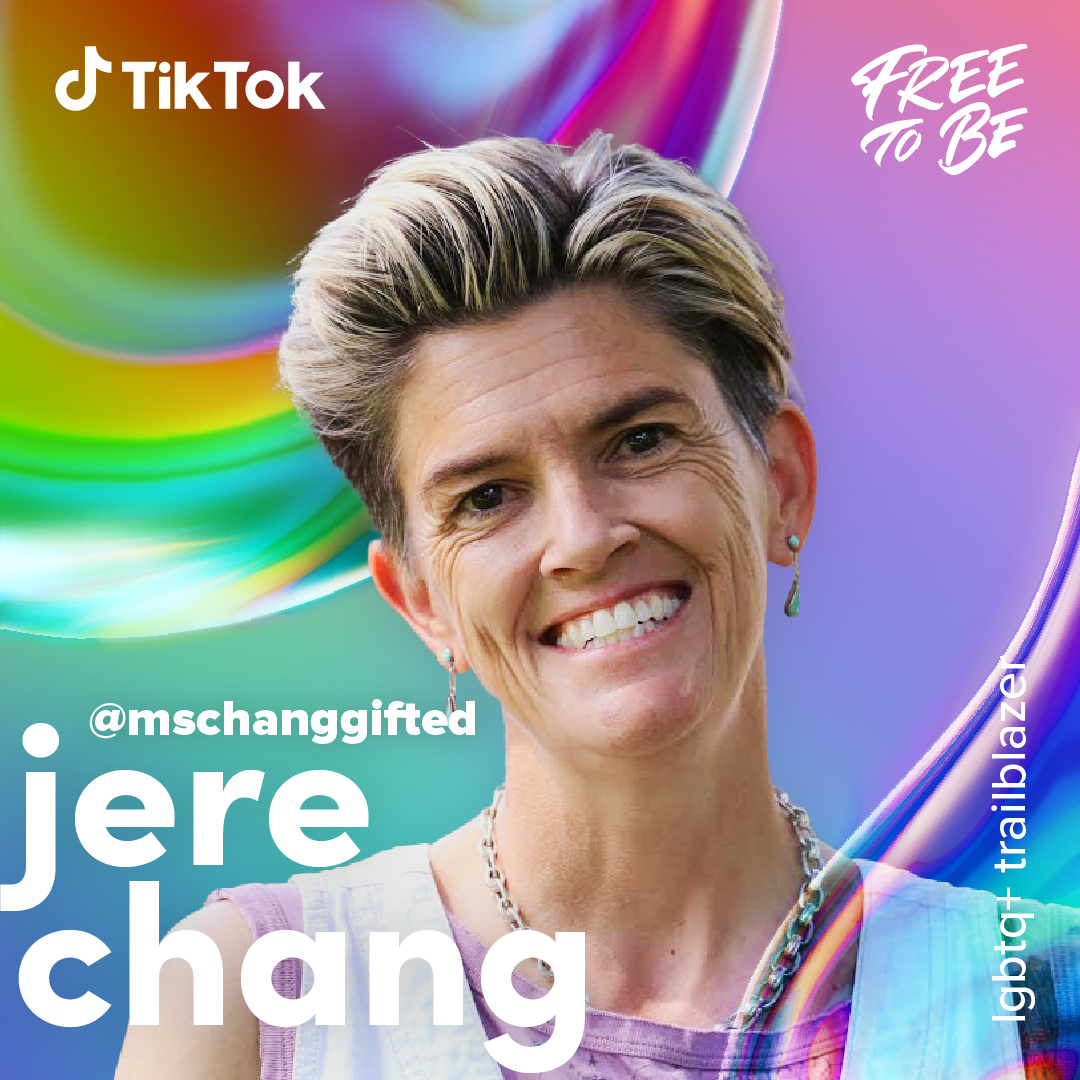 What does Pride mean to you? How has that meaning changed for you over time?
Pride means celebrating my true self and feeling a sense of love for both myself and those in our community. Pride is also a sanctuary for me, as it provides a safe space for me to simply exist without feeling "different."
How has your identity influenced or shaped you?
Growing up gay in a small Georgia town in the late 1980s/90s has given me an understanding of the hardships that many face. As a matter of fact, the only mention of the LGBTQ+ community I recall throughout my childhood was in high school health class. Students submitted anonymous questions, and I asked about homosexuality. My teacher responded, "God made Adam and Eve, not Adam and Steve. This is disgusting. Next question." This conservative background molded me into a more empathetic and non-judgmental adult. It has given me the desire to educate those who may lack the understanding of our community, and to be the openly gay teacher I never had.
How do you celebrate the diversity/strength of (and also support) the LGBTQ+ community?
I strive to provide a classroom atmosphere that celebrates differences and create a safe space for all students to be their true selves. As an openly gay elementary teacher, people often turn to me for guidance and support.
How has the TikTok community inspired you?
Like many, 2020 was a difficult year for me and TikTok helped me through it. When I joined, I immediately felt as if I was a part of a community. Through the ups and downs, TikTok showed me real people sharing their lives. I wanted to join in and create a space that brightens one's day. I chose to create a page that centers on positive vibes through sharing my teaching and a two-mom family life.
What advice would you give to the next generation of the LGBTQ+ community?
Before you concern yourself with others' perceptions, love yourself, because you deserve it. Find a community that accepts you for you.
How do you think people can be allies to the LGBTQ+ community?
Honor us even when we're not around. When you see and/or hear homophobic/transphobic actions, take a stance. The best thing you can do to show your support is give us a voice, listen, and vote in such a way that values our existence.
Who are some LGBTQ+ TikTok creators that everyone should be following/watching (and why)?
@therainbowteacher - fun loving teacher who is everything rainbow.
@mrwilliamsprek - Hilarious PreK teacher who breaks gender norms for young students
@classroomyogi - Kind and loving 3rd grade teacher
@thenewmixx - Degendering fashion
@sy.the.gender.rebel - Activist and educator for all things LGBTQ+