Megan Mitchell is an anchor and reporter for WLWT, the NBC affiliate in Cincinnati, OH and also a TikTok creator known as @megan.mitchellll. She has built a strong following on TikTok showcasing LGBTQ+ representation and has received multiple awards including an Emmy for her work uplifting diverse voices.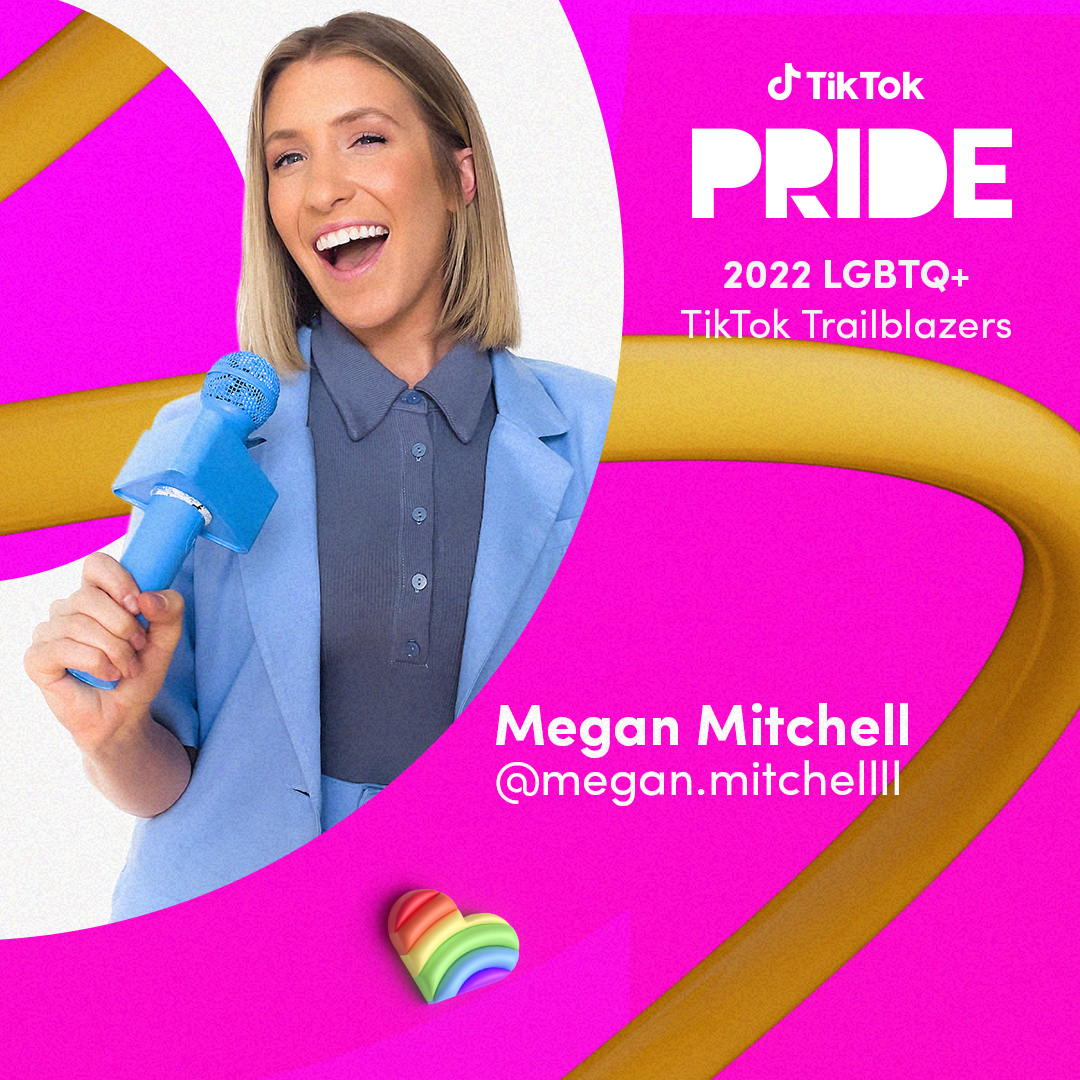 What does it mean to you to be part of the LGBTQ+ community?
Being a part of the LGBTQ+ community means I have an army of folks who allow me to float on water rather than tread it. It means I am part of a long line of incredible people who didn't accept the status quo in the name of self-expression and love. It is because of the LGBTQ+ community that I can be who I am every day. I don't take that for granted or lightly. It has given me a perspective on not just LGBTQ+ issues, but an empathy for anyone who is judged, stereotyped, or mistreated. I am a better person because of this community.
How has the TikTok community inspired you?
The TikTok community is one of the most authentic spaces you can find. It is people unabashedly being themselves and discovering themselves. It is an environment where you can find connection, relatability, and community. It is by watching others talk about their struggles that I cannot just post about mine but heal from mine. My For You page directs me to folks who's issues I may not share but can empathize with and take with me in the real world.
How have you built and maintained a community on TikTok?
I have built and maintained a community on TikTok by bringing my whole self to the platform. I speak on issues that affect me living in the middle of the country. I utilize the trends and culture of TikTok itself to share my perspective on the world. I showcase my on-air wardrobe and undercut or dance with my co-anchor to bring some levity to what normally is a heavy space in the news studio.
What is your favorite TikTok video that you've created and why?
Although it may not be one of my most viewed, it is the most meaningful TikTok I've made. I came out to my parents in 2011 and it was devastating when they didn't accept me. For years they yelled at me or blamed it on a number of things until it turned into a topic we didn't discuss. I was always career-oriented so they told me never to go public about it because it would ruin my dream of being a successful news anchor. In 2020, I posted my first TikTok featuring my undercut, suit and a TikTok-specific indictor that I was a lesbian. It blew up. I started gaining a following from the very thing they thought would ruin my career. That month, I started dating someone I really liked. A year later, I was able to bring her home, introducing my parents to the first girl they would allow over, a decade after I came out. It went incredible.
What is your dream opportunity?
My dream opportunity is to anchor a successful streaming morning newscast that is accessible to people on their phones. Something that people can listen to or watch when they're lying in bed or getting ready for work. I would love to be able to do this from a platform like TikTok, Hulu or Netflix.
What advice do you have for working professionals who want to share their authentic self on TikTok?
Do it. So many people in the queer space have reached out to me, especially older queer folks who have been in a business for 25 years, telling me that they've only come out to a small number of people at work about being gay. That is wild! I'd encourage everyone to bring their whole selves to work and the public so that you have the freedom to be authentic and vulnerable without having to hide the real you! Plus, it will inspire the future generation or others who are afraid to come out with the comfort of knowing that they have a supportive network on TikTok!