TikTok is a home for creators to celebrate their unique perspectives, share their stories, and educate their communities. Through our Creator Spotlight Series, we get to showcase some of the standout talent we see on the platform doing this each day.
In honor of Pride Month, we'll be highlighting our LGBTQ+ TikTok Trailblazers, learning more about their journeys on TikTok and what it means to be a Trailblazer to the community.
Meet Lisa Brezinski and Pope (@lkbphotography_). The beloved pair shares creative POV videos, all with their signature dark aesthetic and unique fashion sense. Their goal is to create a safe space for all to feel loved, accepted and inspired to be their authentic selves. Read more below about how TikTok inspires the couple to share their true selves with the world.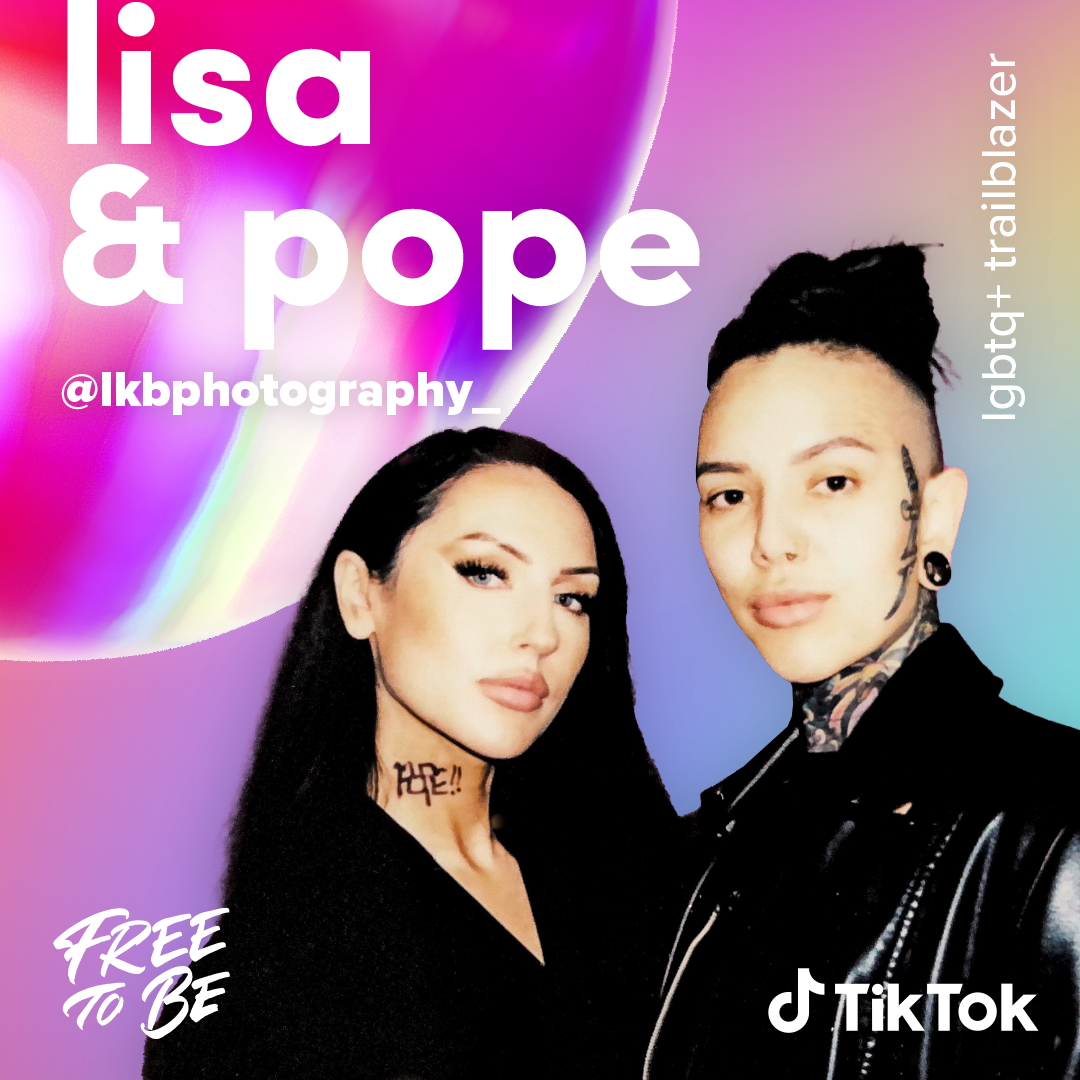 What does Pride mean to you? How has that meaning changed for you over time?
Pride is being proud and confident with who you are, and comfortable sharing what you stand for. Over time, the meaning has changed with the ability to share our authentic selves openly with the world, and celebrate true diversity and love.
How has your identity influenced or shaped you?
The more we stepped into our true identity, the more we discovered our true creative outlet and family. We are constantly inspired by our identity and have created a world that is our muse.
How do you celebrate the diversity/strength of (and also support) the LGBTQ+ community?
We celebrate by truly accepting, celebrating and welcoming diversity into our family. We encourage authenticity and aim to inspire everyone to love themselves exactly how they are.
How has the TikTok community inspired you?
TikTok has inspired us by creating a safe space for creators and individuals to be their authentic selves. We are constantly learning and growing with the community. TikTok truly honors everyone's unique qualities, and we are inspired to share who we are.
What video are you most proud of creating?
There was a video that resonated with a lot of people - we were "meeting the baby sitter" and setting down a book of pronouns. It made us so proud becuase it had minimal words, but was extremely inclusive.
What are some content creation tips you would offer to other creators?
Find something thats unique to you. There is so much content and there needs to be a continuum to what you create. When it comes to content creating, people get lost in "that person's video went viral so I'm going to do that too". But when you let go of the numbers and expectations, you'll find that you have something unique to you that someone will connect with. Let go of expectations and what other people think is cool and think about "what would be cool to do every single day". No matter what, just be genuine and make sure to step away from content creation every once in a while. Show up for your audience 100%.
What advice would you give to the next generation of the LGBTQ+ community?
Always trust yourself and your inner guidance. Your happiness will always be the most important factor in your journey. The sooner you accept yourself for who you are, the sooner you can be free.
How do you think people can be allies to the LGBTQ+ community?
Being more empathetic and accepting, even if you disagree with beliefs or views, makes you a good ally. Listen, be kind, and try to not pass judgment. When in doubt, move with love.
Who are some LGBTQ+ TikTok creators that everyone should be following/watching (and why)?
@bretmanrock - we love Bretman, he has amazing energy and we love that he has continued to be authentic through his success.