At TikTok, we're inspired every day to see creators building connections through community. As we celebrate Native American Heritage month we're proud to spotlight Indigenous creators who are making an impact both on and off the platform. Meet @asheisgod, @johnbarbachano, @nativephotography, and @roxyrendoes, and get to know more about each creator below!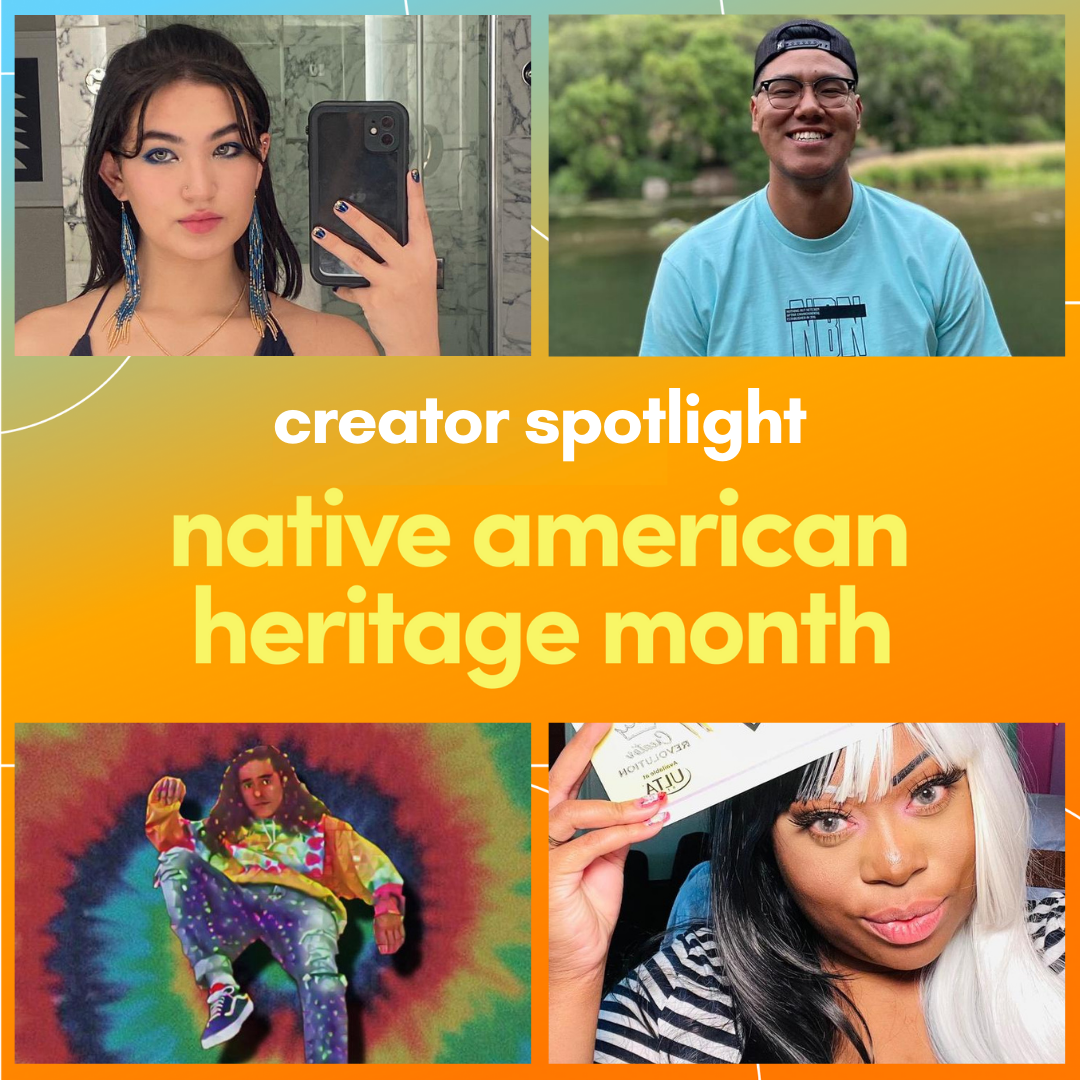 Meet the Creators
@asheisgod Asheisgod [she/her] is a queer Inuk TikTok Creator who shares her experiences as a mixed and queer individual through storytelling and personal anecdotes. Her content heavily focuses on uplifting Indigenous voices as well as calling out harmful stereotypes that still affect Indigenous people.
@johnbarbachano John [he/him] grew up in Alaska until he was 18 years old, spent a few years doing missionary work for Native American Reservations in Arizona after graduating high school, and currently attends college in Idaho. His content highlights his experiences as a Native person.
@nativephotography Chante' [he/him] creates videos that are emotional, educational and informative about the Native community. He does native storytimes, sings, skits, photography and more, all with an aim to change people's lives through encouraging them to be themselves and to let their personalities shine.
@roxyrendoes Roxy Ren [she/xyr] is an Afro-Indigenous beauty inclusivity and mental health activist of over 20 years whose goal has always been to help others find peace and clarity through beauty videos and vlogs regardless of their race or age. Roxy is a proud LA resident and makeup artist working in film, TV and print worldwide.
Creators on What Community Means to Them
What does it mean to you to be part of the Indigenous community?
@asheisgod: Being a part of the Indigenous community means unlearning western ways of thinking and knowing. It requires critical thinking and decolonizing to relearn Indigenous practices.
@johnbarbachano: To be unified in purpose and healing.
@nativephotography: I'm very honored to be a part of this community to show the beauty and the issues that are going on today and bring awareness to them. It has a special place in my heart and I'm blessed to have this opportunity to show my culture and the love I have for it.
@roxyrendoes: It means family, home. It's my roots when I feel alone or separate.
How has your culture influenced or shaped you?
@asheisgod: My culture has created who I am today in more ways than one. My culture is my family, my language, my homelands, the elders of my community. I am who I am through learning my culture. Through the Native community I have felt the love we share with each other and how important it is to support one another.
@johnbarbachano: It reminds me of who I am and who I need to be.
@nativephotography: It has really made me humble and think of the little things more often. We take things for granted when we wake up and open our eyes to see life another day — just those things make me feel good to be alive. Also, my culture has made me feel a deep spiritual connection along with our way of life.
@roxyrendoes: My culture has taught me patience and wisdom. The history has taught me the life hacks necessary to live a peaceful life.
How do you share your culture both on and off of TikTok?
@asheisgod: Through sharing Indigenous perspectives and voices. Wearing and supporting Native-owned clothing. Creating Indigenous artwork such as beading. Supporting carvers, painters, and regalia makers.
@johnbarbachano: I lead a Native American society in college and I post TikTok videos that Native Americans can relate to.
@nativephotography: I share my culture on TikTok by talking about issues that are going on, doing skits, and making story times and history videos about our culture. How I share my culture off of TikTok is by being involved in my Native community in Columbus, Ohio. We run a Native American street food truck and share our culture and our traditional foods with new people around the area.
@roxyrendoes: On TikTok I offer support to my Native and Black family and make occasional videos of support. Off TikTok I do research and look for details about my culture's history with my grandfather (who is a huge history buff haha) and when I can, I try to attend cultural events.
How has the TikTok community inspired you?
@asheisgod: Through the TikTok community I learned how important it is to stay true to yourself and surround yourself with those who support and understand you.
@johnbarbachano: I see a type of community that's connected in a unique way. We learn each other's tribes and what drives each other.
@nativephotography: It has inspired me by helping me see that being yourself is the best way to be unique. That's what TikTok is all about — being different. Once you accept that, things will go a long way for you.
@roxyrendoes: It inspired me to return to my roots. I hid and buried my true self because I believed that I'd never be accepted. I already got bullied so I was feeling lost, but this community has brought me back to my center of peace.
What are some content creation tips you would offer to other creators?
@asheisgod: Create content that makes you happy. Build new skills — you will get better as you make mistakes and learn what you love.
@johnbarbachano: Just be you. Embrace your culture and share it. Make others aware.
@nativephotography: I would say to keep posting videos. Keep striving to find something that stands out compared to the rest of creators. "Be yourself and be real" is my motto. So I would definitely encourage that when you are creating videos and coming up with ideas to help you grow on TikTok.
@roxyrendoes: When you hit a wall, be yourself. Let all the crap go and forget about it. Why carry extra weight when you can simply let go.
Who are some Indigenous TikTok creators that everyone should be following/watching?
@johnbarbachano: @brettstoise and @notoriouscree.
@nativephotography: @notoriouscree, @shinanova, @desertndn, and @the_land.