At TikTok, we embrace creativity and celebrate our diverse community. We are driven by a passion to provide a welcoming space for people around the world, where they feel comfortable expressing themselves and being there for each other. This has inspired us to launch #CreateKindness, a global safety campaign and creative video series, as we continue to encourage everyone to choose kindness in their everyday lives.
This month we are also spotlighting the six creator-animators we partnered with to help bring the campaign to life. These talented creators wrote, animated, and lent their voices to their videos, which infuse their distinctive style with their personal experiences with online bullying.
Today, we're highlighting Science Akbar (@king.science), one of TikTok's most popular animators whose many supporters look forward to watching his animated avatar experience life in his characteristic blue jeans, hoodie, and crown.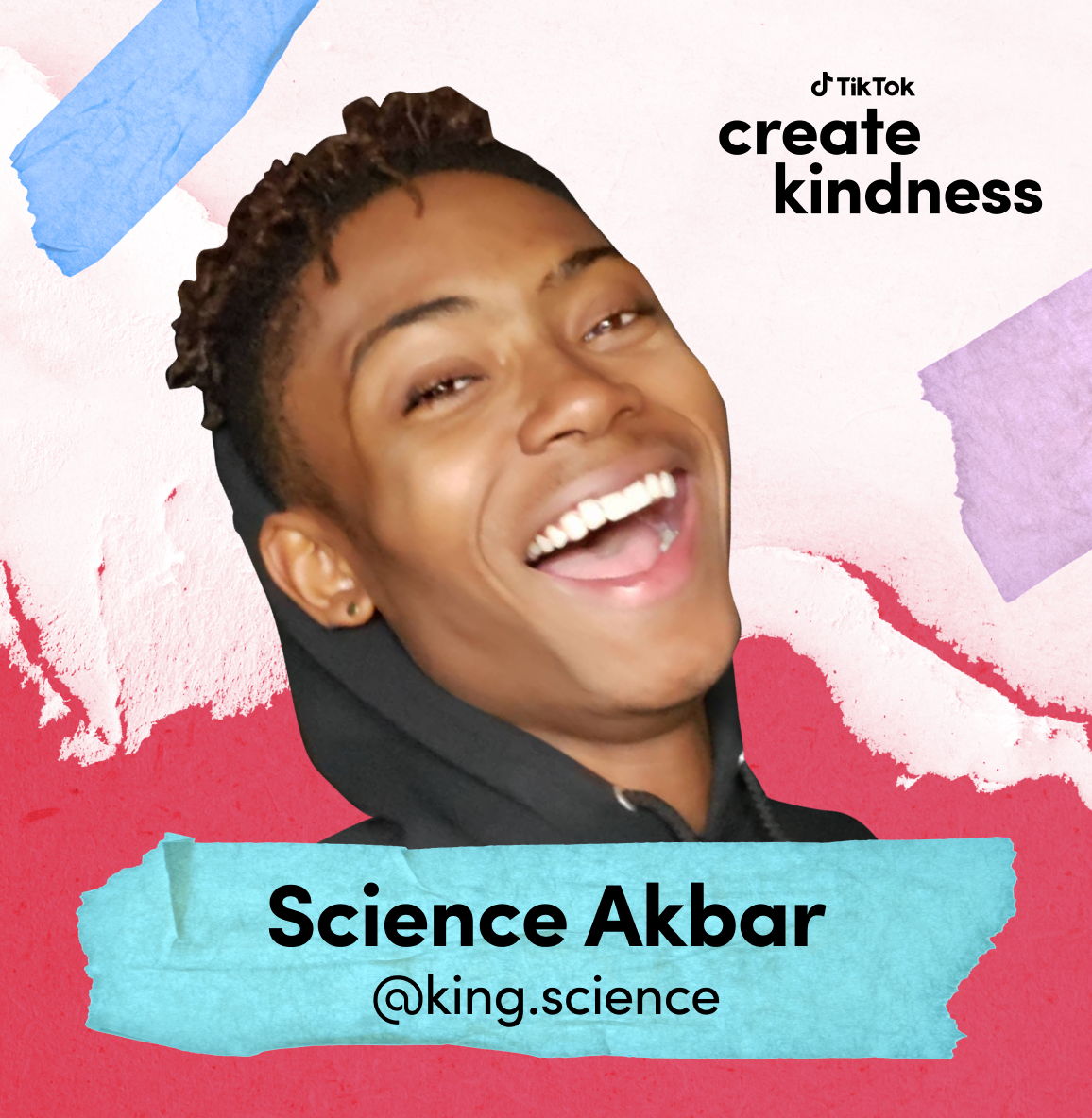 How would you describe your art style?
Simple, and I've also been told "cute."
How has the TikTok community inspired your art? What makes you continue to create and share your art on TikTok?
The TikTok platform has inspired me to make things people enjoy sharing. Music has made making videos more fun, and I love the feedback I get from the community.
What's the kindest comment you've received on TikTok?
The most kind comment was something along the lines of "wow your animation has improved so fast. I've been here since your first video, and that makes me wanna start since you improved soo fast."
If you had to sketch or illustrate kindness, what would it look like?
I'd have to animate, not illustrate it. And it would be something along the lines of showing how doing something good for/to someone can pass on.
Which TikTok creators do you admire or inspire you?
All of the animators are very inspiring, like all of @tiktoons. As well as the animators who do special effects and cinema. I also enjoy the comedy side like my friend @Strawhatdan. There's too many to say specific names because I'd feel bad if I missed any.


What do you think makes the TikTok community so special?
I think TikTok is special because it's the new "underdog," and the community can drive big changes in the real world.


Why do you think people bully or try to hurt one another, especially online?
Maybe online bullying occurs because it's easy to hide behind a username.


What do you think can people can do in their own way to make the internet a kinder, more inclusive place?
Make the community feel that bullying is just not cool and doesn't look good. As well as everything TikTok is already doing to make it better.
You can find King Science's video for the #CreateKindness campaign below, all month within our Discover page as well as permanently on @TikTokTips.
We also invite you to share the kind comments you've received and inspiring moments you've experienced by joining our #CreateKindness hashtag challenge.
New to TikTok? Find out more and simply download the app for free via the Apple App Store, Google Play or Amazon.