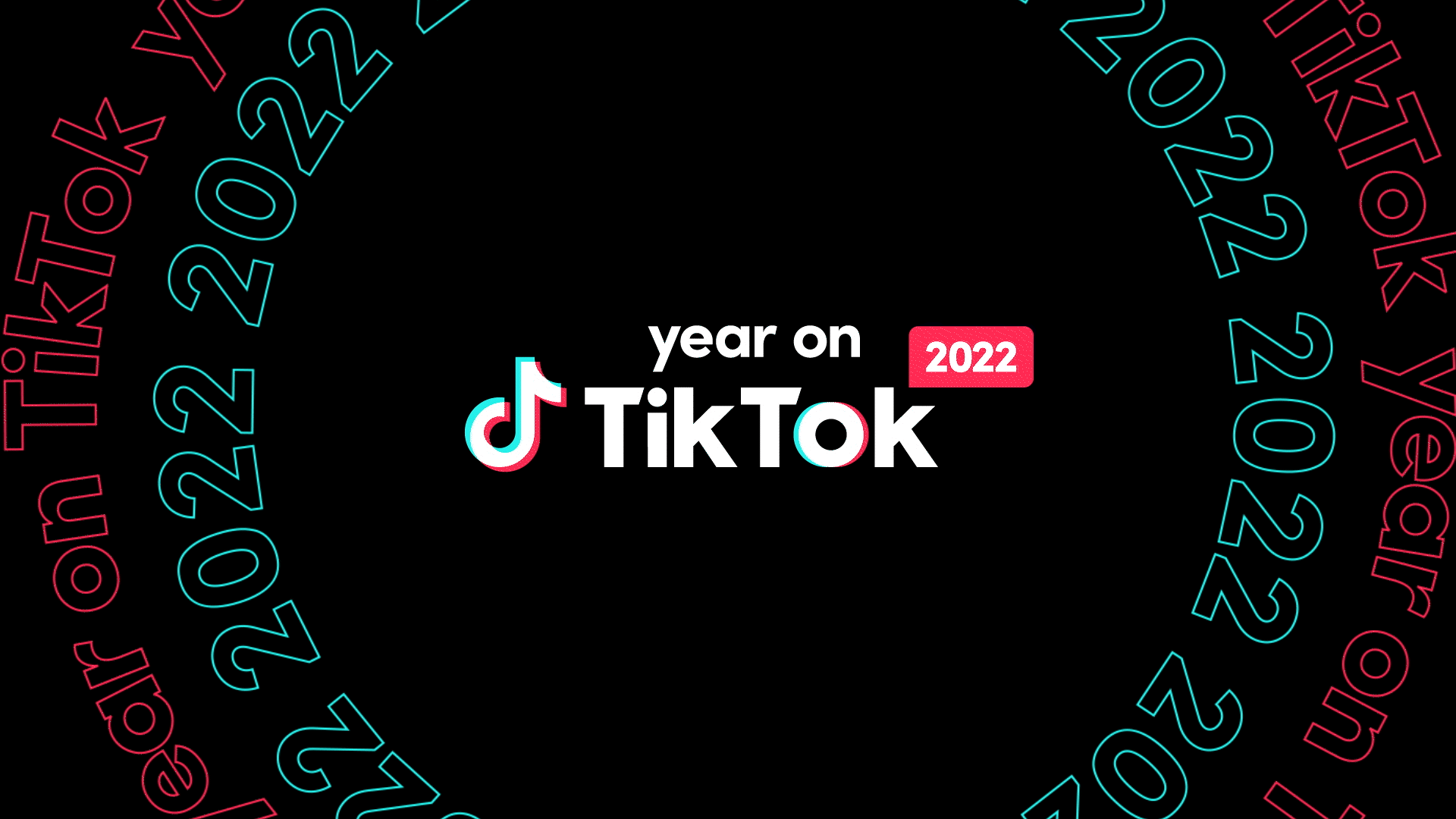 As we look back at 2022, it's clear the TikTok community has been at the centre of the world's biggest cultural trends and movements. The creativity and engagement on TikTok sparked joy and collaboration globally, and once again music has been right at its heart.
From opening the door to emerging artists to driving countless hit records and chart successes, TikTok continues to empower and support the next generation of superstar artists whilst also breathing life into catalogue classics.
Throughout the year, artists have used TikTok to connect with fans and find new ones - laying the foundations for future careers and sustained success off platform. From Venbee and Nicky Youre signing to Columbia Records after releasing tracks through our music distribution and promotional platform SoundOn, to Sam Ryder's historic moment representing the UK in Eurovision, it's been inspiring to watch our community bring new talent to the forefront.
Today, we're releasing our 2022 Year in Music on TikTok, a celebration of the artists and tracks that dominated TikTok in the UK in 2022. This includes the top songs that soundtracked 2022, the most viewed British artists accounts and our homegrown breakthrough artists.


David Mogendorff, Head of UK Music Operations said:
"The music that thrived on TikTok in the UK this year has been as unpredictable and diverse as ever. Just look at Louis Theroux, Kate Bush and even Encanto's We Don't Talk About Bruno in the top tracks, who all became the centre of massive trends on TikTok. It's also been a standout year for emerging talent. From Nicky Youre and Stepz, to Venbee, Cat Burns, FLO, Dréya Mac and so many more - a new generation of wonderful artists are building brilliant, long-term music careers with a huge amount of support and love from our TikTok community. It was especially amazing to see Sam Ryder, as an artist we've worked closely with for two years and who has appeared regularly on our Year on TikTok lists, become the UK's Eurovision hero enthralling fans around the world at the Eurovision Grand Final - our biggest LIVE moment on TikTok with a UK artist this year, alongside incredible shows from Sam Smith, Lewis Capaldi and more. A huge thanks to all the artists, managers, labels and fans who have been part of our journey in 2022, and to our creator community who never cease to amaze us. Bring on 2023!"
Commenting on the global music playlist and hitmakers, Paul Hourican, Global Head of Music Operations said:
"This year, we've seen music from every genre and every market take off globally on TikTok. Swedish rapper Yung Lean has our most popular song of the year - closely followed by the talented Nicky Youre & dazy. Kim Loaiza and Bad Bunny brought Latin music to the world and no one could have predicted the global rap phenomenon that was 'Jiggle Jiggle' by Duke & Jones and Louis Theroux. Our community embraces and engages with music like no other, putting their own spin on sounds and breathing new life into old hits. These dedicated music fans, the artists and music creators and the sheer breadth and diversity of music is what we love about TikTok - I can't wait to see what's unearthed in 2023".
The 2022 Headlines:
Driving commercial success: In 2022, 10 of the 12 number ones on the UK Official Singles Chart had a viral moment, and 13 out of the 14 Billboard Hot 100 number ones were driven by significant trends on TikTok.
A shout out to SoundOn: Nicky Youre had the most popular song by video creations in the UK with 'Sunroof' after he joined SoundOn, and Venbee also made it onto our Breakthrough list after her first ever track 'Low Down' had a viral moment this year. Huge congratulations to both of these artists who went on to sign with Columbia Records this year.
TikTok loves a remix: From a legendary TV interview about rap culture in the early noughties to a global phenomenon, Louis Theroux and Duke & Jones' 'Jiggle Jiggle' makes the top ten for most video creations. It was also the year we got faster and slower, with TikTok trends upending the traditional track, with the likes of Cat Burns' 'go' bolstered up the charts after a sped-up remix.
Going LIVE: We loved tuning in to performances from some of the biggest and most exciting artists in the world, including Sam Ryder, Sam Smith, Lewis Capaldi, David Guetta and ABBA who chose TikTok to reach their fans in special LIVE moments.
The Playlist: Songs that soundtracked 2022 in the UK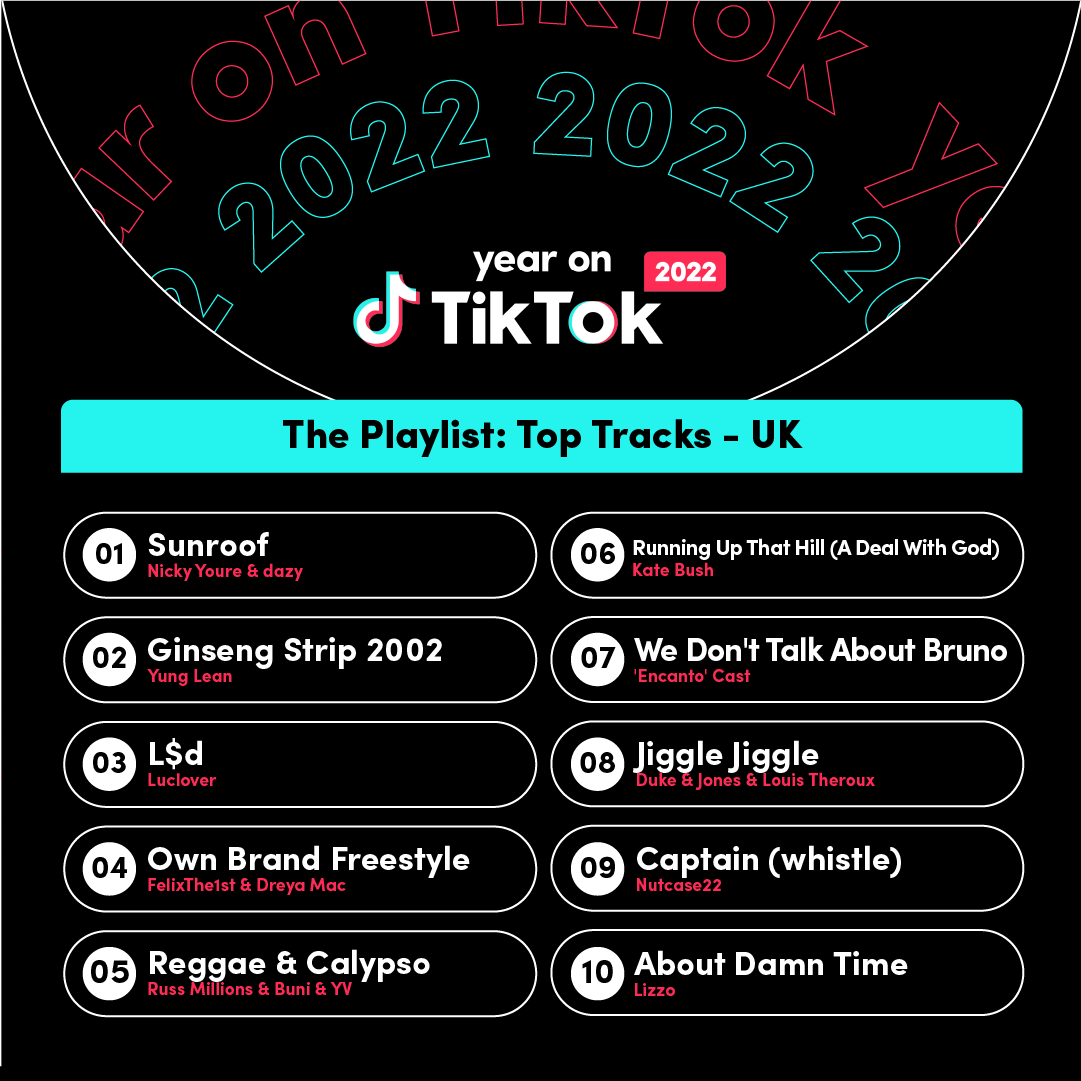 Our most popular song by video creations is 'Sunroof' by singer Nicky Youre and producer Dazy, which charted in the UK Top 40 and propelled Nicky to global prominence.
Young emerging British rappers also heavily feature in our top 10, including Dréya Mac and FelixThe1st, Russ Millions and Nutcase 22 who have all had an astronomical rise on TikTok. Creators have used these tracks in everything from viral dances to football freestyles.
Coming in at sixth place is the catalogue bombshell that was Kate Bush's 80s hit 'Running Up That Hill (A Deal With God)', which was brought back in the spotlight after it featured in a critical scene in Stranger Things. In eighth spot, we have the contagious and catchy rap that got stuck in all our heads: 'Jiggle Jiggle' after Duke & Jones remixed Louis Theroux's Jiggle Jiggle rap from twenty years ago on his Weird Weekend series.
Commenting on his global smash hit Nicky Youre said:

"To be the most listened to sound on TikTok in the US and the UK is something I never even imagined could happen. When I started my career this year, I told my team that I was going to go all in if we were doing this. I'm so glad I trusted my gut and gave my dreams a chance to become a reality. I feel so blessed and inspired by everything that's happened to me this year and I can't wait to keep doing what I do. This is just the beginning! Thanks so much to TikTok and all my listeners for supporting me and my music. I would've gone insane without y'all being there for me."
The Hitmakers: Most viewed UK artists in 2022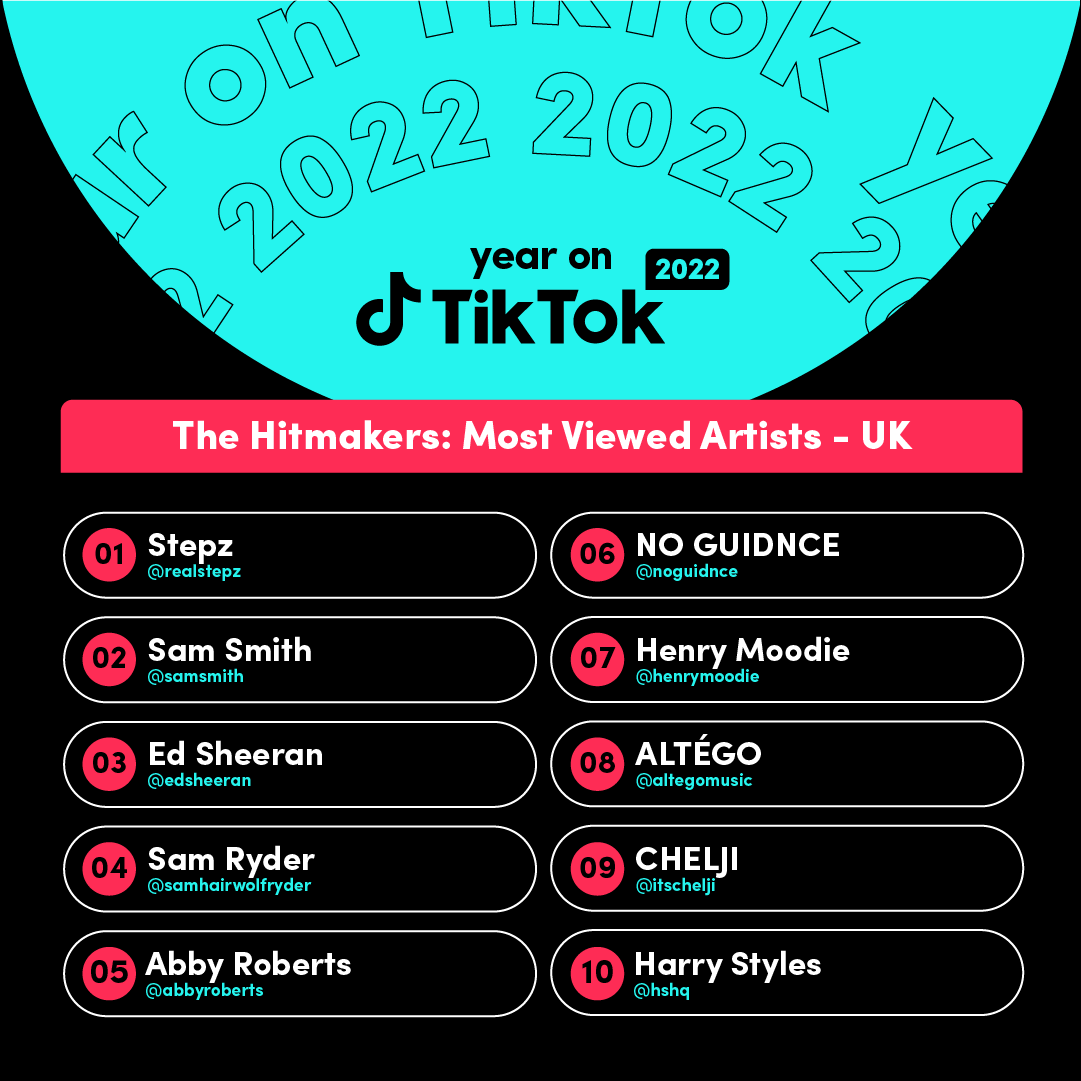 London rapper Stepz takes the top spot for most viewed UK artist account. Stepz had a massive year after his track 'Cramp Dat' blew up on TikTok over the summer.
Sam Smith comes out second after fans lapped up their behind-the-scenes content and duets with fans using 'Unholy'. Meanwhile Ed Sheeran, who was number 1 on the list last year after his record-breaking LIVE, has moved into third place.
Sam Ryder also features in the top 5. Over 3.3 million fans from around the world tuned in for the Eurovision Grand Final, making it the biggest LIVE moment on TikTok with a UK artist this year.
In celebration of smashing it in 2022 on TikTok Stepz said:

"Gaining an audience since I started TikTok allowed me to chase my dreams and allow my sound to be heard with music globally all thanks to God + TikTok my life has changed!"
Our Breakthrough Artists of 2022
In 2022, we strived to make TikTok a platform that supports artists through every stage of their career. SoundOn is one way we do that, as well as our new music discovery format StemDrop, which gives artists and creators the opportunity to collaborate with some of the world's most iconic songwriters.
Our breakthrough artist category celebrates the artists that have truly broken into the mainstream this year and achieved sustained success in the industry, with the help and support of viral TikTok trends and fan connections.
Sam Ryder: From belting acoustic tunes from his home in Essex to the global stage at Eurovision, Sam Ryder has dominated the music industry this year with charting singles, international touring and a debut album release coming on 9th December. He also remains the most followed UK artist on TikTok
Fred again..: Fred again.. fronted our #ElectronicMusic campaign in July and has amassed over 4.7 million likes on his loveable and spontaneous behind-the-scenes content. With iconic Boiler Room sets and a sold out album tour, the producer and songwriter has had an incredible year and now plays some of the most sought-after shows in the UK
piri & tommy: Couple piri & tommy took off when they released 'soft spot', which became the soundtrack to over 100k TikTok videos, amassed over 12 million Spotify streams and found a place in the heart of the likes of Charli XCX. This success has led them to perform at multiple festivals - from Glastonbury to Reading & Leeds - with major tips for 2023
Wet Leg: We hosted our first ever #AltMusic LIVE with the Grammy nominated and Mercury shortlisted indie band - an exclusive livestream from their sold-out O2 Forum Kentish Town. The band regularly post concert snippets and behind-the-scenes, which has earned them a legion of 500k fans
Cassyette: The SoundOn artist and British singer-songwriter merges rock and emo inspired sounds, using TikTok as a platform to develop and experiment in conversation with her 1 million followers on TikTok
FLO: London-based girl group FLO released their RnB/pop hit 'Cardboard Box' earlier this year which was remixed on TikTok by Afrobeats DJ Happi. The remix generated a viral dance trend which saw over 1.2 million videos created. FLO have since performed on Jimmy Kimmel and are now shortlisted for the BRIT Rising Star award
Eliza Rose: Eliza Rose is inspiring the next generation of female DJs on the platform, with her and Interplanetary Criminal's number 1 hit single 'B.OT.A (Baddest Of Them All)' experiencing incredible chart success after dominating soundwaves on TikTok
Stepz: The rapper, who joined our SoundOn platform, was crowned TikTok's most viewed UK artist account this year. Stepz has built an impressive following of over 2.8m on TikTok through a mixture of music and comedic content, which has brought his second ever single 'Cramp Dat' to a global audience
Cat Burns: Having built a hugely engaged and loyal fanbase on TikTok in 2020, Cat burst into the wider public consciousness and the top end of the charts with 'go' this year, with peaked at number 2. Nominated for a BRIT Rising Star award, Cat also supported Ed Sheeran on tour this year, and will be joining Sam Smith's tour in 2023
Hear from our breakthrough artists about how TikTok has boosted their careers this year:
Sam Ryder: "Big up to the legends at TikTok for making me one of their breakthrough artists of 2022! This bonkers little app is where it all changed for me so I wanna say a massive thank you to the whole team and most importantly - the supremely fabulous people from all over the place who supported, shared and connected. Love ya, peace, bye!"
Venbee: "TikTok is the reason I am where I am today, it's where I've made all my fans and where I continue to grow as an artist. I'm so honoured to be one of TikTok's Breakthrough Artists"
Stepz: "Gaining an audience since I started TikTok allowed me to chase my dreams and allow my sound to be heard with music globally all thanks to God + TikTok my life has changed!"
Eliza Rose: "My success on TikTok has helped me move from being only recognised in the underground scene into a more commercial and mainstream space. It has given me access to a wider, global audience, which has been amazing for both the track [...B.O.T.A.] and me as an artist."
FLO: "TikTok is such a great platform to showcase your personality and ultimately the things you love. It's helped us share our music across the world in a really authentic way."
Cat Burns: "TikTok has been a major part of my musical career, without it I don't think I'd have gotten this far in my career this quickly, it's a great space to be able to share your art, and it's a great app to receive the feedback almost instantly!"
Wet Leg: "TikTok has definitely had a significant impact on our music journey so far. The platform has allowed us to reach a wider audience and find people who wouldn't have otherwise come across and connected with our music. We've noticed a stronger presence of young female fans at our shows who say that they discovered our music on TikTok. It's been so meaningful to have gained a strong audience of young women who can fully relate to our music."
Cassyette: "TikTok has helped me hugely. I feel like it was the mechanism that shined a light on everything that I'm doing and have been creating. It's enabled me to put it all out there and get people seeing it. The way the algorithm works has really helped build my audience and presented what I'm doing to people that are really into it. I'm really thankful to TikTok for that. It's meant loads of people have been coming to my shows which has helped fans discover my art and what I've been doing. It's also been really cool because I've been able to collab with other artists and creators on TikTok. I've loved using duets and I've made a load of new friends from this too which has really inspired my music and been a lot of fun."
piri & tommy: "TikTok has been so game changing for creatives of all forms, and as a pair of young musicians we couldn't be more grateful for the platform and reach that tiktok has given us. we started out making music just for fun, not thinking it would really be possible to make our project into a career, but after sharing our music on tiktok we were proven wrong!! our breakthrough moment was definitely our track soft spot picking up steam on the platform which directly led to us signing our first record deal, allowing us to throw ourselves into music full time! since then we've gone on to play festivals like glastonbury and R&L, make music with our inspirations like mj cole, and the highlight of it all was releasing our debut mixtape!! our music has gone further than we ever dreamed, we're so lucky the tiktok community gave us such a strong starting point to go from!"
Year on TikTok 2022 is based on internal research and trends analysis conducted from January to October 2022.
Join our global community on TikTok by simply downloading the app for free via the Apple App Store, Google Play or Amazon.