At TikTok, inclusion and diversity is a fundamental pillar of our culture and sits at the heart of our success. We strive for the diversity of the world and our community to be reflected in our teams. As one of our core values, we're genuine in our efforts to champion and prioritise inclusion and diversity in our work and interactions with others.
Gender pay gap reporting is required by all companies with 250 or more employees in the UK and involves an annual public disclosure of key gender pay gap data. It compares the median and mean pay for all male employees with the median and mean pay for all female employees and is influenced by both gender representation and pay. Gender pay gap reporting is different to equal pay analysis, which looks at whether men and women receive equal pay for equal work (work that is the same, similar, equivalent or of equal value). TikTok met the threshold for gender pay gap reporting for the first time in 2020.
Compensation at TikTok covers fixed and variable pay and can include base pay, allowances, bonuses and equity. Our approach to compensation decision making and governance is designed to reward people fairly based on the market rate for their role and the skills and competence they bring to the organisation, irrespective of gender.
At TikTok, we welcome gender pay gap reporting as one of several inputs to track the progress we're making towards our goal of being a truly equitable organisation.
Results:
In April 2020, TikTok's mean gender pay gap was 33.3% and the median gender pay gap was 14.1%. Average bonuses earned by women were 36.1% lower than those earned by men and the median bonus pay gap was 73.1%.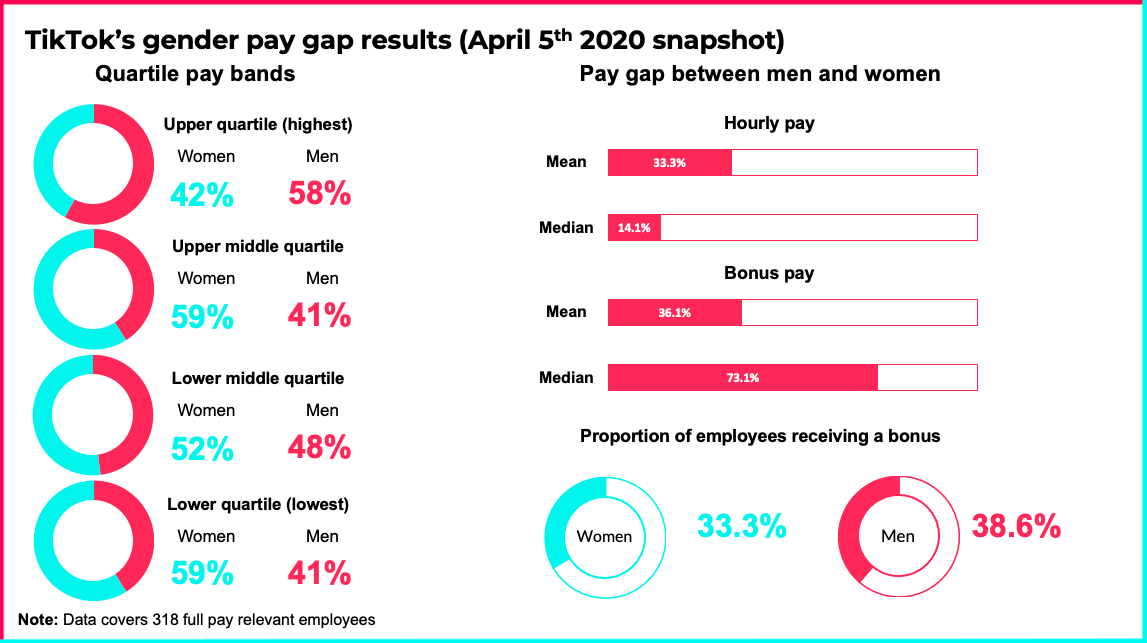 The hourly pay gap is primarily caused by unequal gender representation in leadership positions and key specialist and technical roles. These roles tend to attract higher pay due to high labour market demand for these skills. While the initiatives detailed below aim to address internal challenges, we are equally committed to positively impacting broader industry and societal challenges around female participation in STEM subjects and the tech industry.
Our bonus pay gap is particularly driven by the size of the population that received bonus pay during the 12 months to April 5th, 2020. Although all UK employees are eligible to receive a bonus at TikTok, the proportion of bonus receivers was low due to our annual bonus payment date and subsequent headcount growth over the period. The gap is also influenced by the composition of bonus pay which includes a high proportion of relatively low value one-time payments.
How we are addressing the Gender Pay Gap
While we know that many of the steps we are taking can take time to show an impact, we are absolutely committed to addressing the issues that the gender pay gap exposes at TikTok. We are focussed on three broad areas that we believe will make the biggest impact over the long-term. They are hiring, growing and retaining our existing female talent and a broader approach to inclusion and diversity. We have introduced and will continue to embed a number of initiatives across these areas in order to drive positive change. For example, we have:
Launched a global mentorship programme, giving female employees the opportunity to be mentored by inspirational women across the business.
Made changes to language in job adverts to help connect to as broad a candidate base as possible, and developed an inclusive interviewer training programme.
Increased the diversity of our interview panels in order to better reflect the workforce we are seeking to attract and develop.
Improved our policies around family leave and will continue to focus on strengthening our position as a family friendly place to work.
Established an I&D leadership panel in Europe, which includes senior leaders and meets regularly to track progress and push through new initiatives.
Promoted active participation in employee groups such as the Women at TikTok group who will hold us to account on our ongoing efforts and progress.
We know that there is room for improvement in our gender pay gap results, and we believe that by focusing on the three key areas identified above, and working every day to build on them, we will help foster a diverse and inclusive workplace and impact our results in the long-term.