As millions of people across the UK continue to kickstart their fitness journey this year, TikTok Shop has teamed up with some of the largest brands in wellness to support our Community with supplements and nutritional products.
Launching under TikTok Shop UK's new 'wellness' product category, major brands like Holland & Barrett, Nutravita and MyProtein are selling directly to the platform's incredibly engaged community, allowing anyone who's interested in supplementing their new year's health kick to discover and then purchase top products without having to leave the platform.
Nutrition and wellness remain hugely popular content categories on TikTok, with over 9.6 billion views of #wellness and 11 billion views of #nutrition.
TikTok Shop also provides a fantastic opportunity for growing businesses to tap into these trends, with brands like Hair Gain, 33 Fuel, Zooki and Wellgard all joining the Wellness category.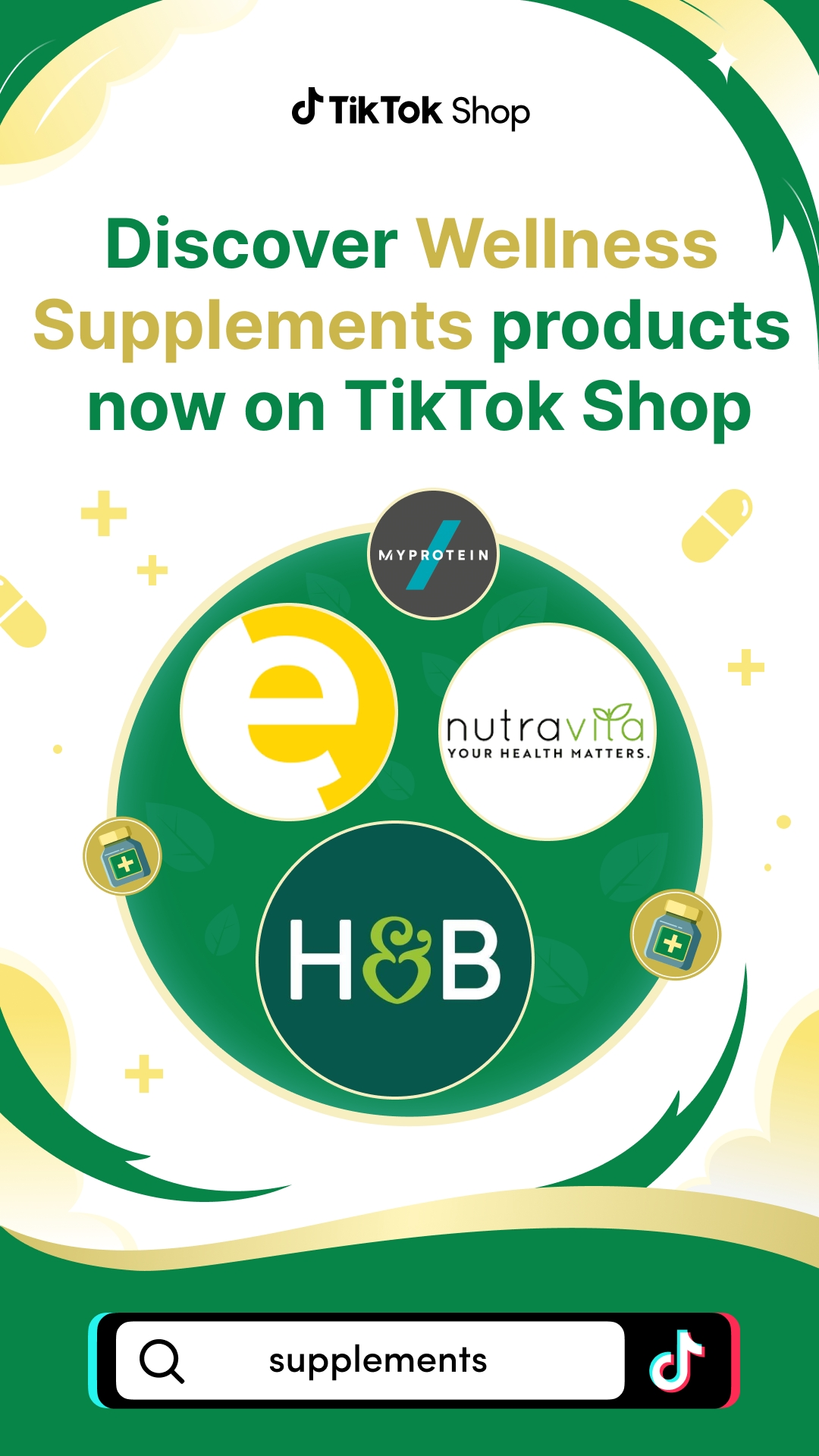 Lucy Palmer, founder of Hair Gain said;
"We're excited to have launched our award-winning range of hair supplements, topical hair treatments and accessories on TikTok Shop. Our mission is to help the thousands of women who suffer from hair loss while encouraging discussion and breaking down the taboo of hair loss, so that no one feels they have to go through it alone. We look forward to developing a meaningful relationship with TikTok's phenomenal HairTok community."
Yousaf Sekander, Managing Director of WellGard said;
"As a challenger DTC brand we are always on a quest to find exciting ways to engage with our audience, expand our reach and grow our digital footprint. Given the popularity of TikTok and its thriving community, it was an absolute no-brainer to launch on TikTok Shop. We see TikTok Shop as an integral part of our growth in the coming years and we are very excited about putting energy, creativity and resources to achieve our brand objectives on the platform."
Erica Pole, CEO & Founder of 33 Fuel said;
"TikTok has been an incredible platform for 33Fuel to connect with the fitness community and showcase our all-natural sports nutrition products in a fun, creative, and engaging way. By collaborating with creators and influencers, we've been able to reach new audiences and promote our products in unique and exciting ways. The direct sales feature through the TikTok Shop made it incredibly easy for new and existing customers to find and purchase our products without ever leaving the app.
"TikTok gives us the opportunity to build a strong community of loyal customers who believe in our mission and products. By making the most of TikTok's suite of editing tools, we've also been able to stand out in a crowded market.
"We are excited to continue growing our presence on the platform in the future. TikTok has been a major asset for 33Fuel and we couldn't be happier with the results we've seen so far."
Sophie Jane Hockings, Head of Partnerships at Zooki said
"Launching Zooki on TikTok Shop was fundamental to our strategy on the platform, allowing our favourite creators to continue working with us and inspiring their audience to start their Zooki journey with a few simple clicks. It allows us to reach a whole new audience every day with a very simple route to purchase, making it easier than ever for customers online to give Zooki a go."