We have loved seeing UK Rap thrive on TikTok.
It's no secret that Rap is popular among our TikTok community. Rap and Hip Hop have continued to dominate and drive trends on TikTok, retaining the top spot as the most popular genre in 2020 and 2021.
Launch of #Rap
To continue to celebrate and support Rap culture, we are today launching #Rap, the first in a series of evergreen Genre Hashtags to be placed centre stage on TikTok UK. #Rap will become the central place for music fans on TikTok to discover the best Rap artists, culture, accounts, content and music.
We are also excited to announce that Digga D will front the campaign, coinciding with the release of his third mixtape 'Noughty By Nature' which is taking the lead in the race for this week's UK Number 1 album. The 21-year old rapper is making a name in the UK Drill scene, injecting the genre with character, vibrancy and viral moments. Creators can expect more special content from Digga D over the coming weeks...
Commenting on the #Rap campaign, Groundworks, Digga D Management said: "It's great be involved with the #Rap launch with Digga D who's had such incredible impact on the platform. Both him & his music has been influential on TikTok & Groundworks feel it's the place where our generation and the next will be building success & expressing themselves. I feel like Groundworks & Digga D represent these generations, so partnering on this makes sense".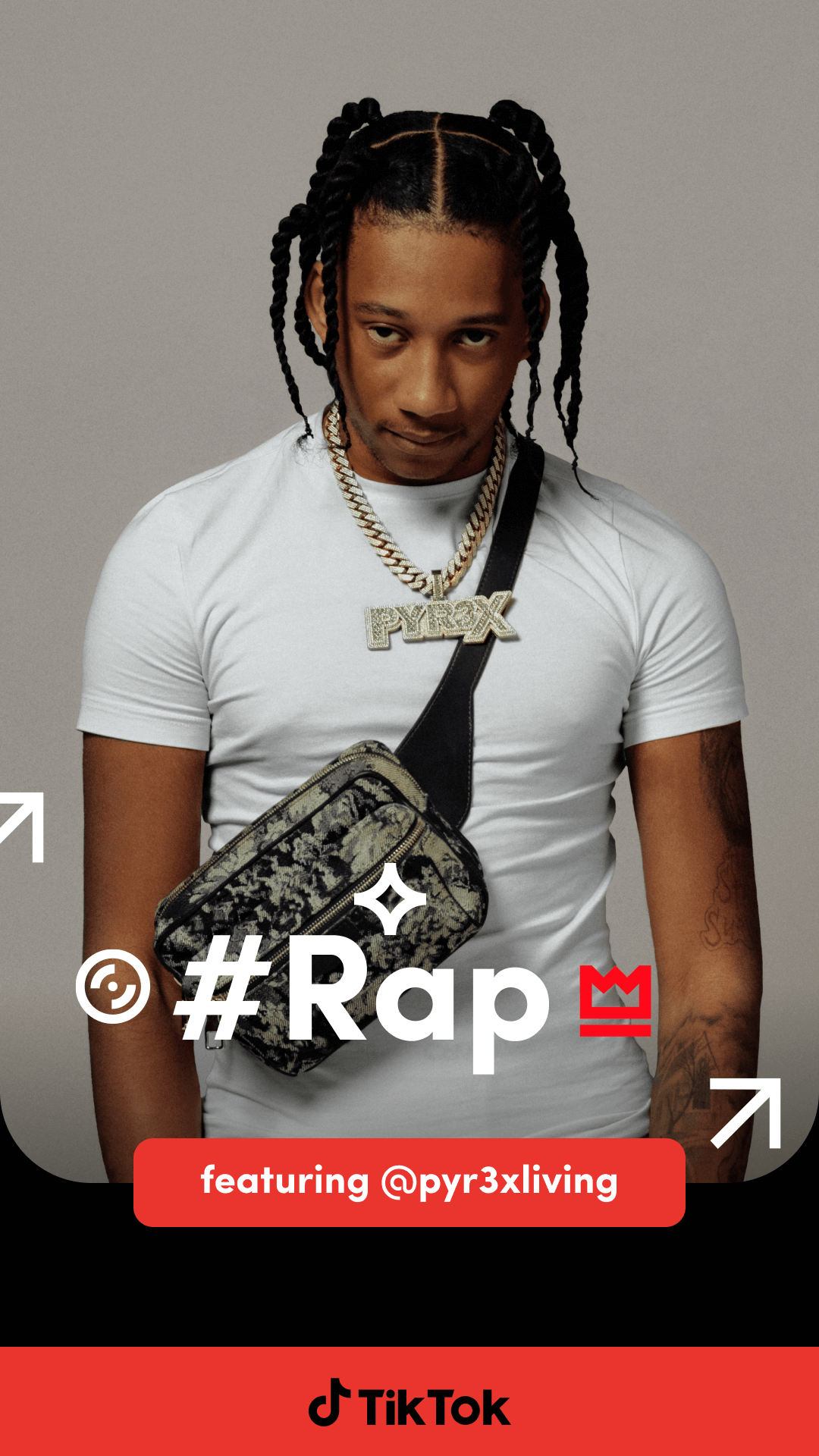 Moving forward, TikTok users will be able to find brand new #Rap content each month. This will include prominent placements on the Discover Page, a brand new #Rap microsite, playlists, artist LIVEs and much more.
How #Rap shaped music discovery on TikTok
Over the last few years, the TikTok community has embraced UK Rap and thrown their support behind a new generation of artists. From the early explosion of Young T and Bugsey's "Don't Rush", Dreya Mac and FelixThe1st's stellar breakout "Own Brand Freestyle", to Tion Wayne's game changing "Body (Remix)" which took UK Rap to the world.
Tion and Russ Millions enjoyed a historic moment with the first Drill track to reach #1 in the UK, supported by a viral verse from ArrDee. It smashed TikTok records to become the biggest ever UK Rap song on TikTok - and there's no denying TikTok's impact on its meteoric rise. Our community fell in love with the outfit transition challenge - from @kween_nah and @muzna.abl celebrating Ramadan, to 80+ year olds like Grandad Frank saying 'you're never too old to have a swag'.
More recently, Dave's "Starlight" and Aitch's "Baby" saw huge traction on TikTok, helping the tracks to battle it out for the top spot on the charts. Dave's single went viral thanks to a meme-like trend where creators displayed montages of personal photos. Dave posted several videos with the sound, encouraging creators to duet with him and add their own interpretations (his videos racked up over 19 million views). 'Baby' by Aitch also become a TikTok favourite after the rapper shared a dance routine for the TikTok community to follow, and hosted an exclusive LIVE Q&A on TikTok to talk about the new track.
Parris OH, Artist Manager at TikTok said: "With our new #Rap campaign, we are committed to celebrating UK Rap culture and spotlighting the genre. Rap has been central to music discovery on TikTok, with it becoming our most popular genre globally. Our community has thrown their support behind UK Rap, sparking the trends behind some of the biggest tracks and chart successes in recent years. It's been incredible to watch the ascent of British rappers on TikTok, from Young T and Bugsey, Tion Wayne through to Dave and Aitch. It's a huge privilege to be a part of their journey and help the UK Rap community reach and sustain a global audience."
New to TikTok and want to celebrate UK Rap? Getting involved couldn't be easier. Simply download the app for free via the Apple App Store, Google Play or Amazon!