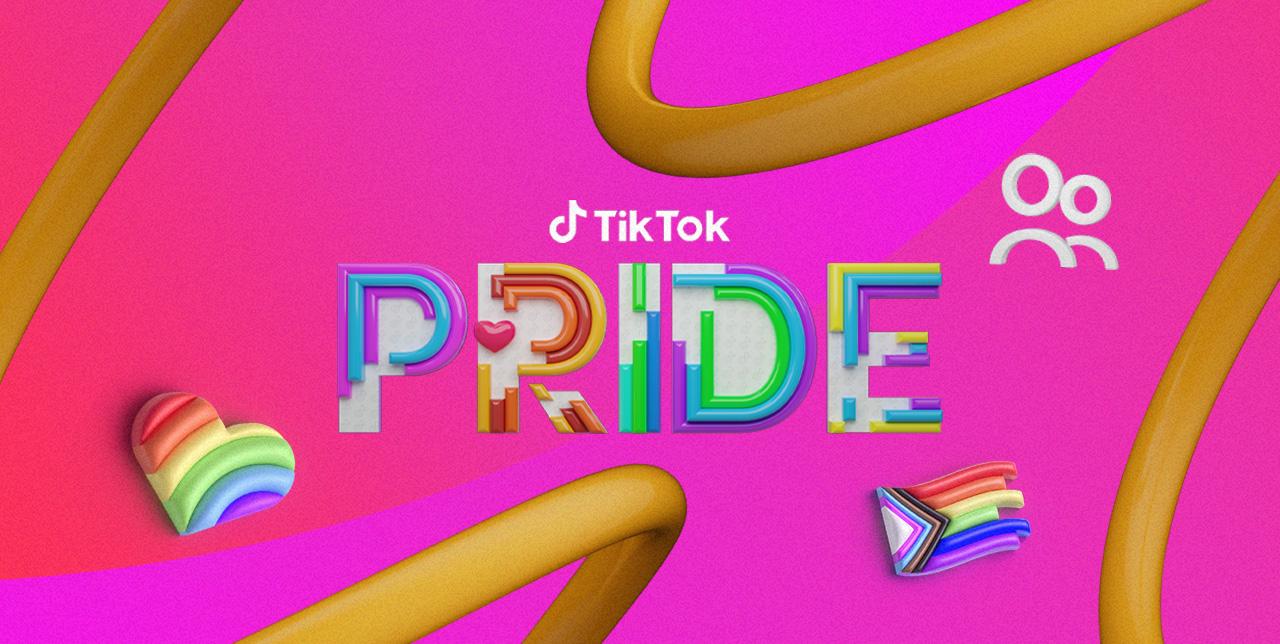 At TikTok, we're committed to providing a safe and inclusive space for our community to share their stories and connect, listen and learn from one another. This year, we're recognizing the collective visibility and power of the LGBTQIA+ community on TikTok helping us to feel stronger, safer, and celebrating Pride, together.
Feel Pride with the next wave of LGBTQIA+ TikTok Trailblazers
The power of our global community lies within the individual and diverse voices who are driving culture, influence and inspiration within the LGBTQIA+ community and beyond to share their stories. To welcome Pride this year, we're delighted to share the next generation of LGBTQIA+ TikTok Trailblazers in the UK.
From bluenbroke showing the importance of living authentically and the power of self-expression to chr0nicallycute tackling the stigma queer disabled people face on a daily basis, these creators are unlocking the power of creativity to make meaningful change, drive awareness of important causes, and embrace our collective journeys in finding pride.
Meet the 2022 UK LGBTQIA+ Trailblazers
max_balegde (He/him)
Max's hilarious skits and commentary, relatable day in the life videos and brutally honest conversations about his childhood crushes make him a TikTok community favourite. Max is open about his LGBTQIA+ identity and has been celebrating Pride month in a way that only he can.
jammi.dodger (He/him)
Jamie regularly reminds the community why dinosaurs are cool and why transphobia is not. His page provides a safe space for trans people and an enclyopoedia for educating others about trans realities, including sharing his takes on awkward trans guy things and how not to compliment trans men.
tyreeceinheels (They/them)
Tyreece enjoys creating fashion content that oozes style and grace. Not only are they confident and effortlessly cool, but every one of their fits is a showstopper and accompanied by the perfect set of heels. Tyreece teaches their followers to embrace their identity and express themselves freely - including sharing a sneak peek of their very first go at #drag!
salihsworld (He/Him)
Salih is TikTok's resident beauty and brow king, who shares the best brow transformation and skincare videos. He posts advice for people still in the closet and shares how he came out to his family, teaching his followers how to be true to themselves. This is also coupled with a healthy dose of style content, with Sal sharing his outfits of the day.
kiwinut47 (She/Her)
Lesbian couple Amara and Keira share wholesome day to day content on their page, including rating each other's Instagram profile and sharing candid photos of each other. The duo also featured in our TikTok Unpacks series, sharing their coming out story and their top tips for telling family and friends about being LGBTQIA+.
chr0nicallycute (She/They)
Meet creator Ru, who shares educational content on the intersection between sex and disability. Ru is queer and proud and constantly challenges the misconceptions of people with disabilities and educates others on having conversations with people born with disabilities. When she's not doing that, they also shares DIY videos that anyone can follow!
shivaraichandani (They/Them)
Shiva is an LGBTQIA+ documentary maker and dancer. Shiva is forever living authentically, pursuing their creative endeavours and sharing snippets of their life with the community to show the best way to live proudly.
queen.velveteen (She/Her) (10.9k followers)
Velv is a well loved creator on TikTok who regularly shares funny skits with her followers encapsulating her every day life and LGBTQIA+ experiences. When she's not making us laugh, she's sharing her music and we love it!
dannisp00ner (They/Them)
Danni is a model and performer on TikTok who regularly shares day in the life content and makeup looks on their TikTok page. They celebrate being non-binary through their makeup looks and hilarious skits, and challenge accepted binaries in the process!
mukeni.nel (He/him)
Mukeni is a dance creator on TikTok, sharing his favourite dance steps and routines with the community. When he's not dancing, he's creating a space for people to listen and learn about the LGBTQIA+ community on his page.
itsMillyEvans (they/her)
Milly is a sex educator and author on TikTok who's set on shedding a light on sexual health topics. From her videos on safe sex to educating the community on what healthy dynamics in a relationship look like, it's clear to see why they're a well loved educator in our community!
bluenbroke (She/her)
Kate shares comedic content on being LGBTQIA+, which makes the community laugh as well as educating them on LGBTQIA+ experiences. Kate shows the community the importance of living authentically and being proud of your story always.
Ieuan (he/him)
leuan is an emerging music artist releasing his sounds through TikTok's SoundOn platform. He makes songs for everyone and anyone, including 'non-binary people, gay people and anyone who doesn't know what an NFT is'. His hilarious captions and catchy tracks make him one to watch!
ellerasmuss (she/her)
Elle is a lifestyle creator who shares comedic day in the life content with the community. Highlights include her puppy destroying her passport to outfit videos that proudly celebrate her LGBTQIA identity and will give you serious style envy!
jayybeech (He/him)
Jay is a fashion creator who pairs his best outfit videos with his favourite dance moves that leave our community gagging for more! From his Beyonce inspired steps to his Marvin Gaye hip swinging moves, Jay definitely has the best vibes and we love him for it!
Poppyajudha (she/her)
Poppy is a singer-songwriter, choosing to release her music with SoundOn. Her feminist anthems, powerful politics and open celebration of her LGBTQIA+ identity are all chanelled into her music - so you won't forget her tracks any time soon!
Celebrate your path to Pride with TikTok
This month, join us as we celebrate Pride and our incredible, diverse community through a series of in-app initiatives. You'll be able to find all of the activity and more on our LGBTQIA+ Hub, featuring all the incredible Pride content from our creators and partners in one place. Here's how you can get involved:
Check out our #Pride Guest playlists every week this month
Published every week this month, our new guest playlists will see some of the biggest LGBTQ+ artists select their favourite tracks to celebrate Pride. TikTok global sensation Cat Burns brought us our first Pride Guest Playlist on 6th June and she is followed by Grammy-nominated singer, Adam Lambert who is sharing his top tunes on 13th. Set your reminder!
Explore our Queer Sounds playlist
We've been busy updating our Queer Sounds playlist, which is available all year round, and is now fully refreshed with all the latest tracks from artists in the LGBTQIA+ community. Plus, the #QueerSounds hashtag has everything you need to get your Pride jam on thanks to our incredible LGBTQ+ artists and musicians.
Take part in our hashtag challenge, #ForYourPride.
We're putting the spotlight on our incredible community of LGBTQIA+ creators. From small business owners, to artists and icons, here's to a community and culture where Pride never ends. Whether it is celebrating one another in the LGBTQIA+ community or taking the opportunity to express yourself freely, join us and take part in #ForYourPride.
Diversity is an integral part of what makes our community on TikTok so special. We're humbled and honored to be part of our community's path to Pride, and we're inspired to continue building experiences to keep TikTok a safe and inspiring place to spend time, support others, and embrace your personal journey to Pride - and make sure to check out our trailblazers!
So this year, we invite our community and allies to celebrate Pride around the world however they choose - whether that's through sharing their stories, connecting with one another, or listening to learn - and expressing Pride Together.
Creating a safe and inclusive experience for our LGBTQIA+ community and beyond
At TikTok, we believe that feeling safe is critical to feeling comfortable expressing yourself authentically. Our policies are designed to promote safety, diversity, and inclusivity, and we work hard to foster a welcoming space for our community. For instance, earlier this year we updated our Community Guidelines to make clear the types of hateful ideologies that have long been prohibited on our platform, including deadnaming, misgendering, and promoting conversation therapy programs. We also continue to develop and test tools that help creators manage comments and control their experience.
To encourage inclusive and respectful interactions on TikTok, we've rolled out the option for community members to include their preferred pronouns in their TikTok profile. Using this field, community members can publicly share the pronouns they prefer to use in English. We're working with LGBTQIA+ organisations around the world to expand the selection of languages available to our users so more people can show their Pride.
New to TikTok and want to find even more #TikTokUnpacks content? It couldn't be easier, simply download the app for free via the Apple App Store, Google Play or Amazon!