At TikTok our mission is to inspire creativity and bring joy. More than 1billion people around the world now come to TikTok every month to be entertained as they learn, laugh, or discover something new. We're humbled to be a home for our immensely diverse community of families, small businesses, and creators.
Between 2020 and 2021, our UK workforce increased nearly four-fold. As we continue to grow, it's important to us that we reflect the diversity of our world and communities in our own workforce. In April 2021, women made up more than half of our UK workforce and we're pleased to offer quality and fairly paid work to all employees.
Our approach to fair and equitable pay
Compensation at TikTok covers fixed and variable pay and can include base pay, allowances, bonuses and equity. Our compensation decision making and governance ensures people are paid fairly based on the market rate for their role and the skills and competence they bring to the organisation. Our focus is on what people do, how effectively they do it and alignment with our internal values. We review employee pay at regular intervals, including during our performance review evaluation periods.
2021 gender pay gap results
Gender pay gap reporting is required by all companies in the UK with 250 or more employees and involves an annual public disclosure of key gender pay gap data. It compares the median and mean pay for all male employees with the median and mean pay for all female employees and is influenced by both gender representation and pay. Calculations are based on the difference in pay between men and women relative to men's earnings. Following statutory requirements, the calculations consider a binary definition of gender only; this view is not representative of TikTok's position on gender identification.
We welcome gender pay gap reporting as one of several inputs to track the progress we're making towards our goal of becoming a truly equitable organisation.
In April 2021, TikTok's mean hourly pay gap was 23% and the median hourly pay gap was 30.3%. Average bonuses earned by women were 23.8% lower than those earned by men and the median bonus pay gap was 39.4%.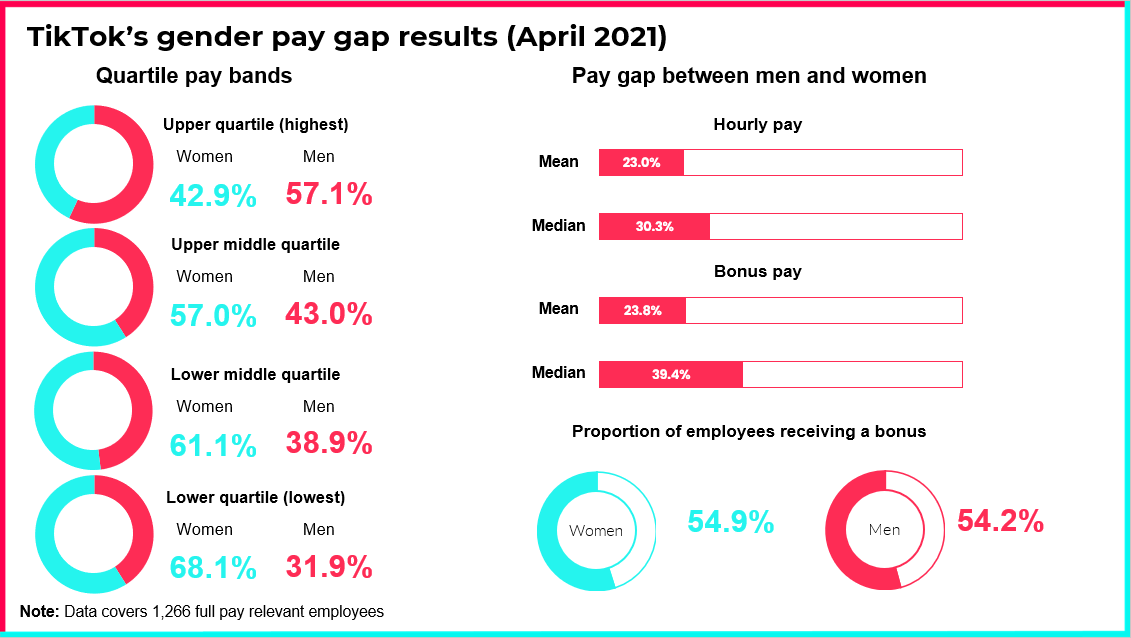 The hourly pay gap is primarily caused by the high number of women in the 'lower-middle' and 'lower' pay quartiles. A significant majority of employees in these quartiles sit within one specific business function, which has well defined rates of pay that are market aligned and applied consistently, irrespective of gender or other characteristics. Within each pay quartile, the median pay gap between men and women is less than 3.1%.
Although our gender pay gap results are influenced more by higher female representation in the lower pay quartiles than low representation in the upper pay quartiles, we remain fully committed to increasing the number of women and under-represented groups employed in senior roles.
Our bonus pay gap is mainly caused by two factors. The first is, again, higher representation of women in the lower pay quartile, which translates to lower bonus awards. The second is the composition of bonus pay which, over the 12 months to April 5, 2021, included a high proportion of relatively lower value one-time payments, such as 'spot' bonuses and employee referral-related rewards.
How we are addressing the Gender Pay Gap
As mentioned earlier in this report, our gender pay gap is primarily driven by the high number of women in the 'lower-middle' and 'lower' pay quartiles. Within each pay quartile, we see little to no difference in pay between men and women.
While our focus on increasing the representation of women and under-represented groups at the most senior levels of our organisation continues, it would be undesirable to set arbitrary limits on the number of women employed in lower paying roles.
To achieve our aims of being an inclusive employer of choice, our diversity and inclusion (D&I) strategy – 'Powered by D&I' – sets out three pillars that we believe will, over time, positively influence the shape and composition of our workforce in the UK, and therefore our gender pay gap results.
People
From leadership accountability to inclusive recruitment and talent development, our people priorities focus on tangible actions that we know will strengthen our culture and amplify our commitment to building a diverse and inclusive organisation. These include;
The launch of a demographic survey to help us better understand the make-up of our workforce
Employee resource groups to keep us honest on how we're doing against key objectives. We have promoted active participation in employee groups such as the 'Women at TikTok' group who hold us to account on our ongoing efforts and progress
Inclusive recruitment practices to help increase the pipeline of diverse talent
Global mentorship programme, giving female employees the opportunity to be mentored by inspirational women across the business, as well as a leadership development programme
Platform
Our platform pillar demonstrates the importance of the role we play in improving society's awareness of women's issues and D&I more broadly. We've been continuing to enhance both our content policies and external facing Community Guidelines to be more inclusive, as well as taking a stronger stance against hateful behaviour. We've also formed an internal European Product Policy D&I Forum to ensure that a range of diverse voices are heard in discussions about content policy.
Partnerships
Many of the factors that influence diverse representation in our industry are bigger than TikTok. To amplify our voice on the issues that matter to us, we've established partnerships with a wide range of organisations in the UK and beyond. Our partners include organisations focused on the representation of women and gender minorities (e.g. shesaidso) as well as those working to improve the representation of minority ethnic groups (e.g. colorintech, Black Young Professionals Network), the LGBTQ+ community (e.g. Stonewall), and people with disabilities (e.g. The Valuable 500).
Looking to the future
We know that there is room for improvement in our gender pay gap results, and we believe that by focusing on the pillars identified above, and working to build on them over time, we will help foster a diverse and inclusive workplace that will impact our results in the long-term.
Statutory declaration
We confirm that the information and data in this report are accurate and in line with the requirements of the Gender Pay Gap Reporting Regulations.