You've downloaded the app, you've set up your account, and you've got an amazing idea for a video or two. Kudos 🙌
There's just one last thing you need to do: learn how to add sound to your TikTok. Without adding sound to your videos, your chances of becoming TikTok famous are slim! So what's a content creator to do? From the biggest hits, to comedic sounds and viral tracks, there are a number of ways to make some noise and stand out from the (virtual) crowd. Here are our top tips. 🎵
Take Advantage of the Expansive TikTok Sounds Library
Diverse music culture is at the heart of TikTok's world. The TikTok community continues to put their inventive spin on tracks making waves, old classics, and songs topping the charts. With TikTok's sounds selection at your fingertips, you can navigate your way from the UK Top 40 to Hip-Hop Fire, search for your favourite song, and bookmark any forgotten tunes to come back to later.
If you're looking to keep your videos hot on the latest trends, why not explore our exclusive #BackInTheGame Sounds- curated by top Premier League teams including Man City, Arsenal, Tottenham and Chelsea.
Or, if you're celebrating this Pride month on TikTok, why not use our specially created Pride playlist- featuring classics such as Diana Ross' I'm Coming Out, as well as a range of other great tracks to celebrate the LGBTQ+ community.
Don't forget, to come back daily to check out the latest updated playlists to match your vibe. 💃🏼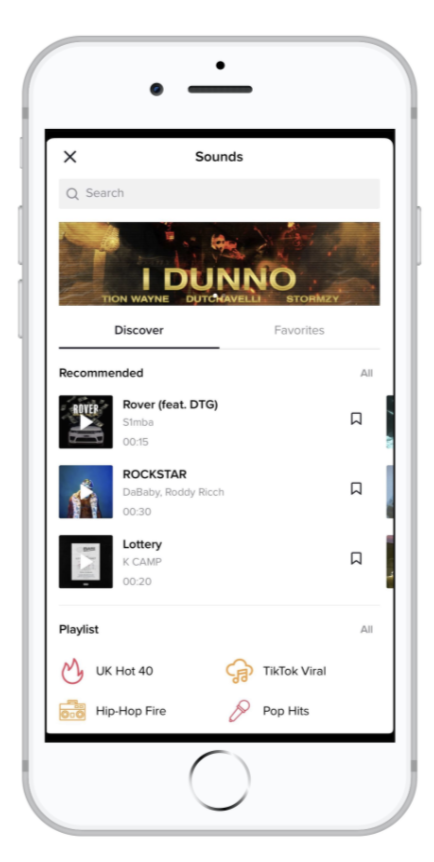 How to add sound when shooting a new video:
1. Tap "+" (the Shoot Mode, and enjoy your face looking up at you from your phone camera)
2. Select "Sounds" at the top of your screen
3. Browse the sound library and check out our playlists until you've found the perfect track
4. Tap the sound and select "✔"
5. Record your video and your chosen sound will play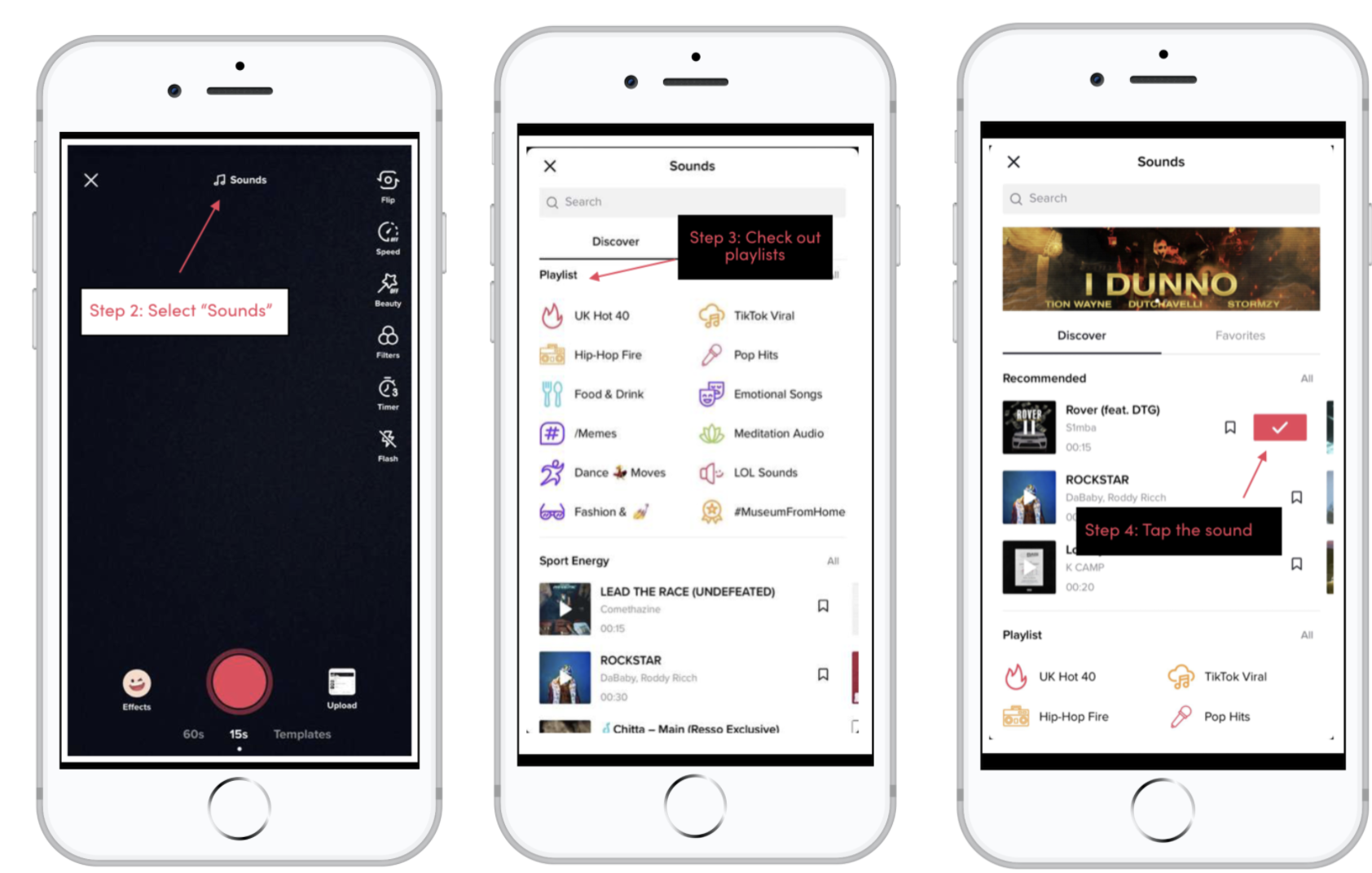 How to add sound when uploading an existing video:
1. Tap "+" and upload your video as normal. Tap "Next" when you're happy
2. Select "Sounds" in the bottom left corner
3. Browse the sound library and playlists, tap your preferred sound, and select "✔"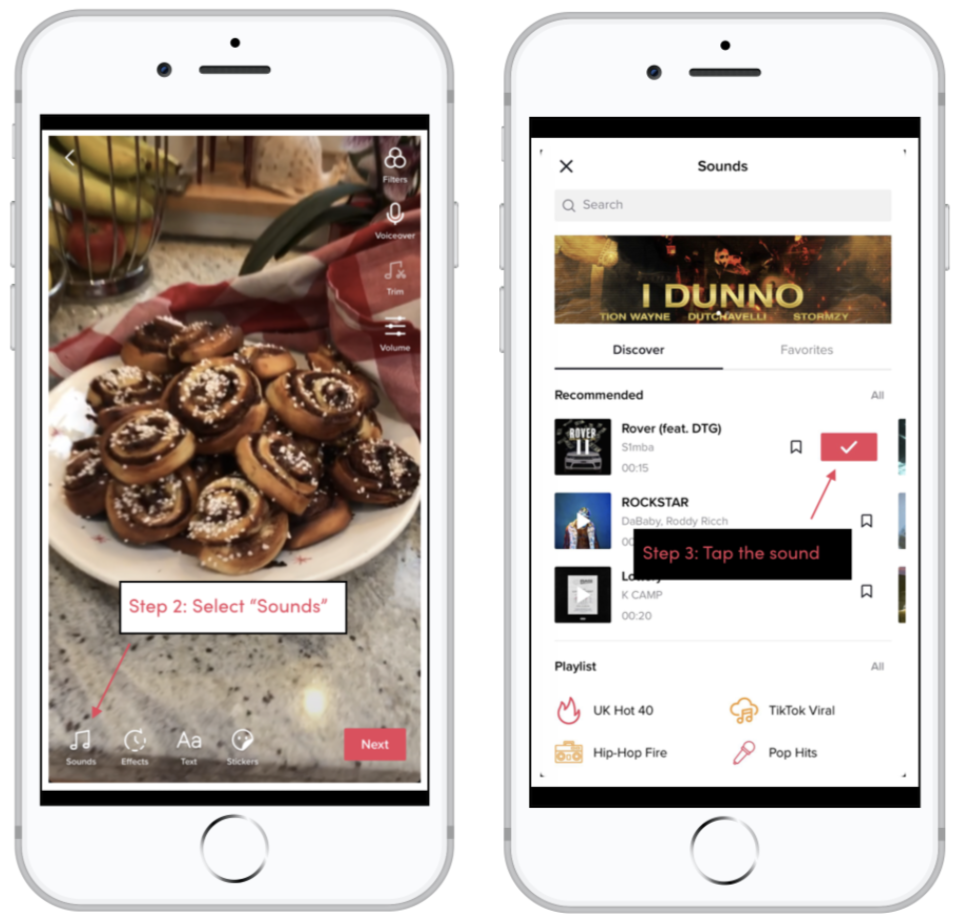 Record Your Own Voiceover:
You don't have to be an accomplished creator to boost your following. Beauty tutorials, Vlogs, workout routines, cooking and educational learning are some of the top trends on TikTok. They may vary in style and length, but they all have one thing in common: a voiceover. Check out our latest blogpost on voiceovers. When you're ready, clear your throat and tap "+".
It's time to create your own audio masterpiece 🎙
For Emerging or Independent Artists:
For the emerging or independent artist out there, upload your music to TikTok so that the community can discover your tunes and re-create! There are lots of distribution companies out there, most of whom deliver to TikTok. A simple search for "how do I distribute my music?" will yield plenty of results for you to research and find the option that's right for you.