Suffering from lockdown limbo? Isolation irritation? What about quarantine fatigue? You're not alone!
While we may not be able to venture outside, over a billion of you have shown us how you're staying positive and feeling #BrighterInside by bringing the outside indoors during lockdown 🙃
To help, TikTok LIVE have a treat in store for you today which will get you dancing, laughing, and out of your current sluggish state in no time at all - all from the comfort of your home. And, what's even better is it's all in aid of charity!
Today TikTok's favourite father daughter duo Tilly and Gordon Ramsay will be hosting a special TikTok LIVE in aid of the British Red Cross. Be sure to tune in from 5pm tonight to Gordon Ramsay's TikTok channel (@gordonramsayofficial) to check out the pair's first ever LIVE, and donate via the new live donation button!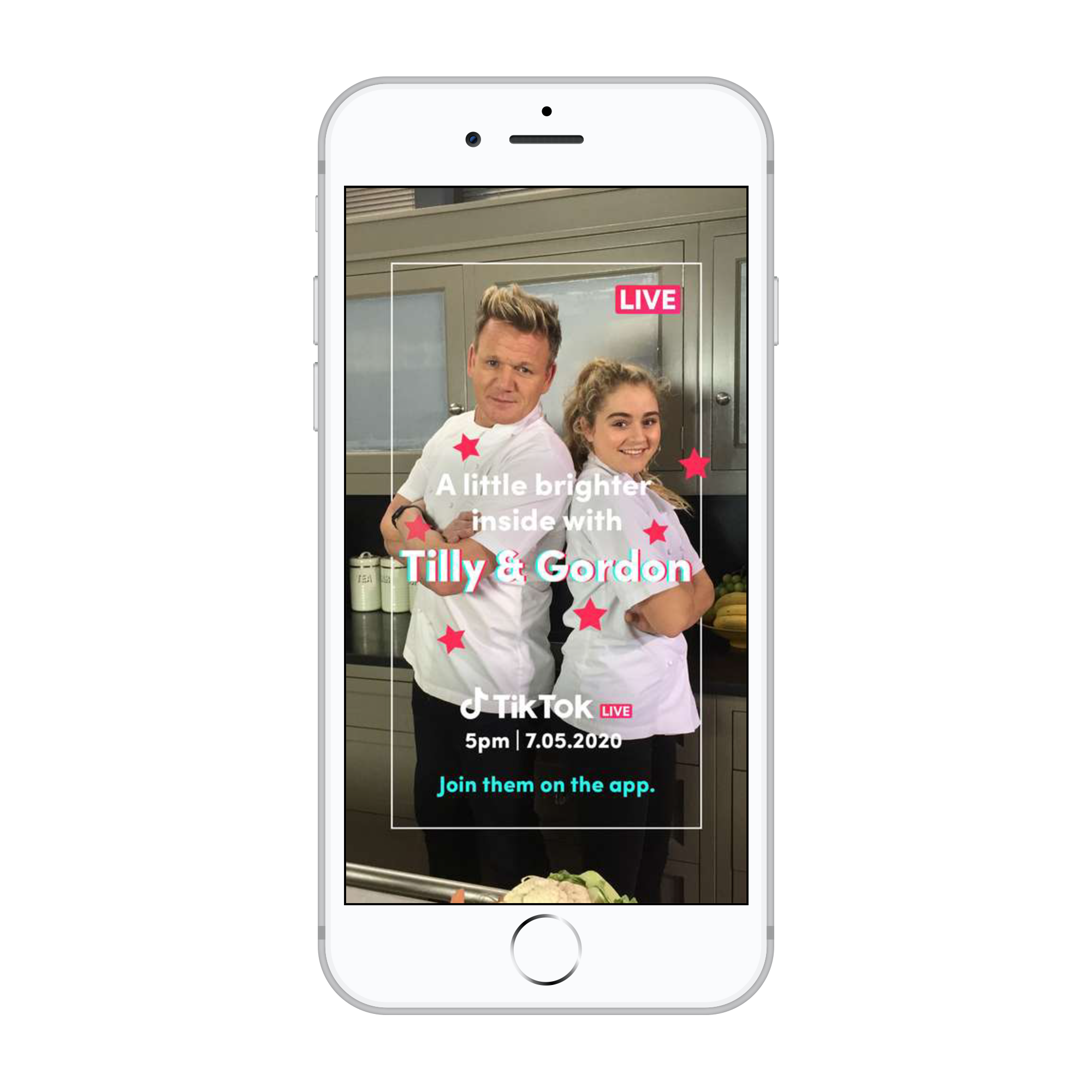 How many Gordon Ramsay quotes do you know? Do you know his favourite catchphrases? Can you reel off his renowned rants? Join in as Tilly and Gordon play 'Did he really say that?' with some of Gordon's most iconic TV quotes.
The pair will also be paying homage to Gordon's chef skills, they'll show us how to make the latest TikTok trend - Pacento Coffee!
You'll also be able to ask the pair anything, in an exclusive live Q&A with the duo. Want to know who's the best dancer? What about the most embarrassing thing Gordon's ever done to Tilly? How about the funniest prank they've ever played on each other? Well now's your chance to ask!
If you loved their take on the famous #FlipTheSwitch challenge or laughed along to their #SaySo dance routine you're going to want to see what the pair have in store for TikTokkers today!
Gordon Ramsay told us, "TikTok is a brilliant place to go and have some fun, it's great entertainment without any judgement and let's be honest, there are not many activities that a Dad can enjoy with his 18-year-old daughter but it's truly fantastic to take part in something so cool with Tilly and share our videos with all the family. The NHS staff TikTok videos have been incredibly uplifting, amongst all that pressure working on the real front-line, the doctors, nurses and care assistants in all their gear taking a moment to release and dance is pretty magic for anyone to see."
Tilly added, "It's cool to be doing this with my Dad, he's always up for having a laugh even though his moves are pretty rubbish!! I'm determined to try and get my Mum to join in next and maybe baby Oscar too!"
In the meantime, we're counting down some of our favourite Gordon and Tilly TikTok moments...
Gordon and Tilly's infamous #FlipTheSwitch (2.9million views)
Tilly shows Gordon how to #HitEveryBeat to You Can't Touch This (8.2million views)
The pair take on the #SaySo dance challenge to different degrees of success! (10.1million views)
Tune in tonight at 5pm!
New to TikTok and fancy tuning in? Getting involved couldn't be easier, simply download the app for free via the Apple App Store, Google Play or Amazon.