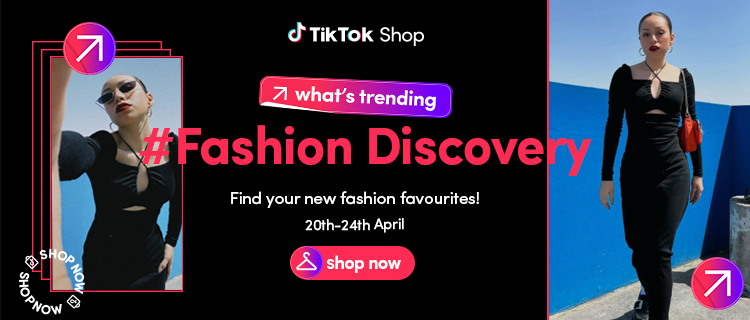 Spring has well and truly sprung, and Summer is just around the corner, which means there is no time like the present to switch-up your wardrobe and dive head-first into the season's freshest trends.
This month sees us celebrate all things fashion on TikTok Shop UK - inspired by the fashion trends we've seen taking off on TikTok and the platform's ability to connect new brands with audiences.
From the 20th to the 24th of April, we're excited to bring you a whole roster of new brands with the best fashion, accessories, jewelry and hair essentials that will kick your wardrobe up a gear. Through in-feed videos and a jam-packed schedule of LIVE Shopping events which you can explore by searching '#FashionDiscovery, we're partnering with some of your favourite creators who will be showcasing their top picks from the campaign.
Our TikTok community will be able to get involved in the campaign through a Hashtag Challenge. Tag your video with #FashionDiscovery and #TikTokFashion to showcase your style transformations or best make-over with a friend and put your most fashionable foot forward.
Here's a sneak peek of some of what to expect:
20th April
Our Spring Style Showcase! A whistle-stop tour of all of the best brands with curated product selection, styling advice and makeover tips from some of your favourite creators.
21st April
All about accessories. From shoes to bags, everything you need to take your fit to the next level.
22nd April
Hair & Beauty deep-dive with a focus on all things wigs. How to install, how to care for and how to change your look so often your friends will think you're a spy...
23rd April
No gym day is complete without the perfect outfit. We'll take you through the best new workout gear to keep you looking fresh whether you're spinning, lifting, running or just brunching - after all, leggings are always a good idea.
24th April
We're pulling out all the stops with dress up day - everything you need for big nights out, summer events and parties. Our creators will take you through their edits of fashion and jewelry and give you all the inspo you need for the best-dressed summer of your life.
Want to join our next campaign and start selling on TikTok? Get started on TikTok Shop UK right here: https://shop.tiktok.com/merchant/en