By Brent Thomas, Global Public Policy Director, TikTok Australia and New Zealand
At TikTok, our mission is to inspire creativity and bring joy – and the need for positivity has rarely felt more necessary than it does in Australia right now. We are all are trying to find our way in these uncertain times, and it's more important than ever to work together to keep safe, stay informed and fight COVID-19.
TikTok is committed to providing access to authoritative and credible information and resources about COVID-19. At the same time, we want to do our part to make it easier for everyone to find and understand this information, and motivate our community to do their part.
Building on our recent work with NSW Health on Dr Kerry Chant's LIVE Q&A, and supporting the NSW Government to livestream their daily COVID-19 press conferences on TikTok, we've partnered with UNICEF Australia to launch a dedicated in-app COVID-19 vaccine content hub specifically for Australians. The local resource, in addition to our global COVID-19 hub, aims to help fight vaccine hesitancy, surface accurate information on COVID-19 vaccinations, and galvanise support for this critical public health program amongst our community.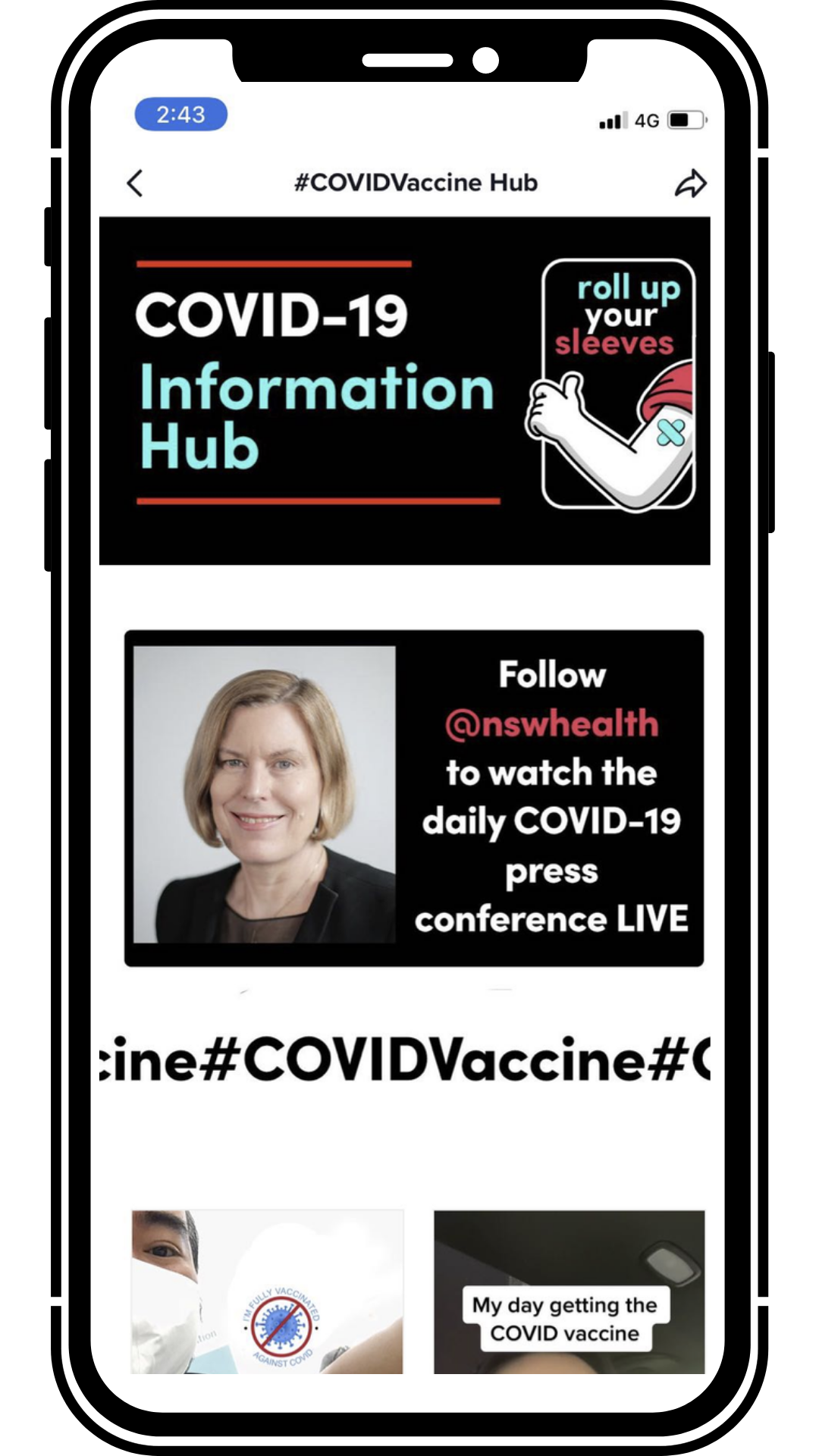 We believe that we are at our strongest when we work together, and partnering with trusted organisations like UNICEF Australia allows us to share authoritative information and resources about COVID-19 and vaccinations with our community. Earlier this year we were proud to become a founding member of UNICEF Australia's COVID Vaccination Alliance, which supports the global vaccine rollout.
As part of the local partnership, UNICEF Australia has been creating TikTok content around COVID-19 vaccinations that resonates with our community, and we're spotlighting these informative videos, along with links to accurate COVID-19 and vaccination resources, in our hub. The hub also features #COVIDVaccine related videos from UNICEF Australia ambassadors, verified TikTok creators, as well as real Australians who are sharing their positive experiences around vaccination, alongside health updates from the Australian Government and UNICEF Australia.
As the discussion about the COVID-19 vaccines continues, we want to make it easy for our community to access credible public health information. Our dedicated COVID-19 vaccine hub brings these important resources and informative content together in one place, which can be found in the Discover tab on TikTok.
We recognise the special role that TikTok can play in helping our community get informed, get vaccinated and beat COVID-19 in Australia and we're proud to be partnering with UNICEF Australia in that effort.
Tony Stuart, Chief Executive Officer, UNICEF Australia said:
"UNICEF is undertaking the largest and most complex vaccination challenge in history as our teams trek up mountains and across rivers to get COVID-19 vaccines to the most vulnerable communities on Earth. But another challenge is vaccine hesitancy, here in Australia and in our neighbouring region, which hubs such as this with credible information will help enormously to counter.
As increasingly vaccination centres for young people aged 16 and over expand around Australia, it is vital people feel confident to roll up their sleeve when their time comes. As a member of the COVID Vaccination Alliance of UNICEF Australia, TikTok is showing how valuable technology and platform diversity is to reach audiences, as we work together to protect Australian communities."
Scientist and TikTok creator, Dr. Karl Kruszelnicki AM, said:
"Educate yourself with the facts, with TikTok's COVID-19 vaccine hub. Your odds of surviving COVID-19 are about 100 times better, after you get vaccinated. In the words of Dirty Harry, "You've got to ask yourself one question: do I feel lucky?" Well do you?"