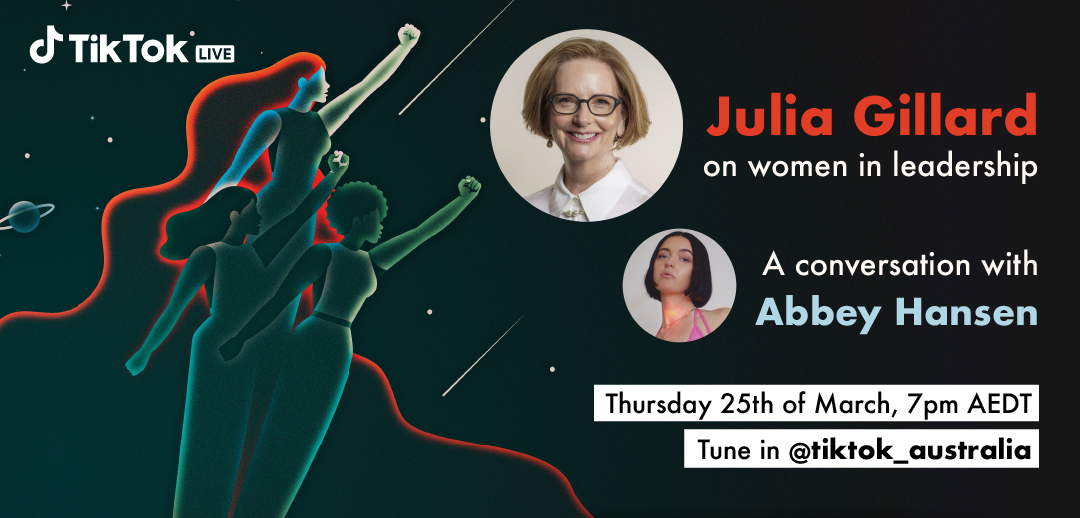 By Lee Hunter, General Manager, TikTok Australia and New Zealand
As part of our initiatives in celebration of International Women's Day, throughout March we're shining a spotlight on the strong, creative and empowered women who have made our platform what it is today, as well as the trailblazers who've inspired them.
On Thursday 25 March former Prime Minister, the Hon. Julia Gillard AC will be going LIVE on TikTok, and we're bringing Australia's first female Prime Minister together in conversation with a creator whose video rendition of one of Ms. Gillard's most iconic moments, became one of the top TikTok's of 2020.
In October 2012, then Prime Minister Gillard received worldwide attention for her searing speech in the Australian federal parliament on the treatment of women in professional and public life. So for us, there was no-one better to interview Ms. Gillard LIVE on TikTok, than fierce and funny feminist creator, Abbey Hansen, whose creative take on Gillard's historic misogyny speech went viral, generating headlines of its own and bringing this inspiring moment to the attention of a whole new generation of women. Better known to her TikTok followers as @minorfauna, last year Abbey took the TikTok #bosschallenge and made it uniquely hers, offering up a 'glambot' lip-sync to Gillard's speech and paying homage to the former PM as the ultimate "boss". Abbey's now-famous video struck a chord, racking up over nearly 250,000 'likes' and giving rise to its own trend, with #misogynyspeech generating more than 1.4 million video views and creating a new audience for this important message about gender equality, amongst people from all over the world.
Of the TikTok creator, Ms. Gillard said: "In the depths of the pandemic last year – a pandemic which has had a disproportionately negative impact on women – Abbey Hansen roused people from the monotony of lockdown with her positive message of empowerment. The creative way she re-imagined my speech on TikTok has opened up a conversation with a new generation on how we can inspire them into leadership positions and remove the barriers currently in their way."
During the upcoming TikTok LIVE stream, Abbey will sit down for a real and intimate chat with Ms. Gillard, who'll share what life was really like for Australia's first female prime minister, as the pair discuss the progress that needs to be made towards equality in Australia, and address sexism, misogyny and ageism in politics. They will unpack the iconic speech that brought them together and explore their respective inspirations, from people, to books, to films. The LIVE discussion will touch on female mental health, and Ms. Gillard will share her advice for young women interested in a career in leadership. Abbey is also calling on the TikTok community to take part in the conversation and share questions for the former leader, and Ms. Gillard has a few questions of her own for this creator.
Through the videos she shares on TikTok, Abbey has revealed a knack for conveying 'big' messages in sixty seconds or less. Transforming personal reflections, views and experiences into comedic relief, the creator and midwife is finding power through her life experiences, and cleverly engaging her audience with feminist issues in ways that are both entertaining and relatable.
Abbey couldn't be more excited to speak to her idol: "It means a great deal to me to have the opportunity to speak with Julia Gillard, not only for myself but on behalf of all the people who interacted with the misogyny speech TikTok challenge. I'm honoured to use this opportunity to address some of the burning questions from people who might not otherwise get a chance to petition Julia for guidance and inspiration for continuing toward the goal of gender equality. Julia Gillard's misogyny speech is more relevant now than ever considering the recent women's justice rallies in Australia; and the issues of inequality that still exist in our society."
This very special LIVE on TikTok event is the perfect moment in time to hear from two Australian women fighting the good fight, and winning, for women everywhere. Tune in via the @TikTok_Australia account at 7pm AEDT on Thursday 25 March.