For graduating seniors, Spring semester is a time meant to reflect back on achievements, celebrate successes with friends, and prepare as they move towards the next phase of their life. Due to COVID-19, the class of 2020 has seen their semester transform through social distancing as in-person graduations, commencement ceremonies, and parties have been canceled to ensure everyone's safety.
At TikTok, we're proud to see seniors and other students connect with each other remotely and want to give the class of 2020 a celebration to commemorate their hard work and accomplishments over the course of their academic careers. Through special LIVE streams and a custom Creative Effect, we hope #TikTokGraduation provides users with an experience that honors their achievements and gives them a moment to look back and celebrate their success. Here's to the Class of 2020!
We're kicking off #TikTokGraduation with special, nightly livestreams from 5-8pm PT. Tonight at 6pm PT, Brittany Xavier will give users a crash course in adulting, and on Friday at 5pm PT, Alex Ojeda will help students get ready for graduation night with a DIY style guide.
On Saturday, we're partnering with XQ Institute, The LeBron James Family Foundation, and The Entertainment Industry Foundation to bring users a special LIVE stream experience for graduating students that a variety of networks will simulcast. With special guests including the Obamas, Loren Gray, LeBron James, Malala Yousafzai, the Jonas Brothers, Yara Shahidi, H.E.R., Megan Rapinoe, Bad Bunny, Lena Waithe, Pharrell Williams, and Ben Platt, this will be a graduation to remember. To accommodate both East and West coasters, there will be two airings. The East coast ceremony will take place at 5pm PT and be reaired for the West coast at 8pm PT.
After the graduation ceremony, TikTok will be the exclusive host of "Graduation Parties" happening on the @GraduateTogether TikTok handle. Get ready to dance the night away with Dillon Francis and other special guest appearances. Creators can also share videos of the big day to #TikTokGraduation and use the new TikTok Graduation creative effect to receive a virtual diploma!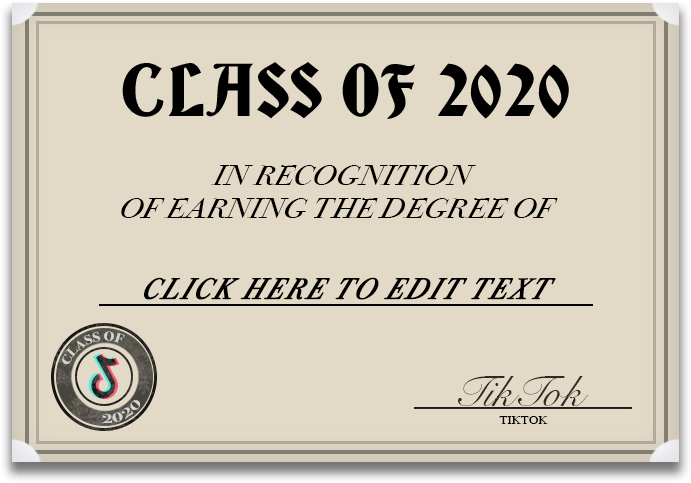 From all of us at TikTok, congratulations again to the Class of 2020, and here's to a lifetime of achievements to come!