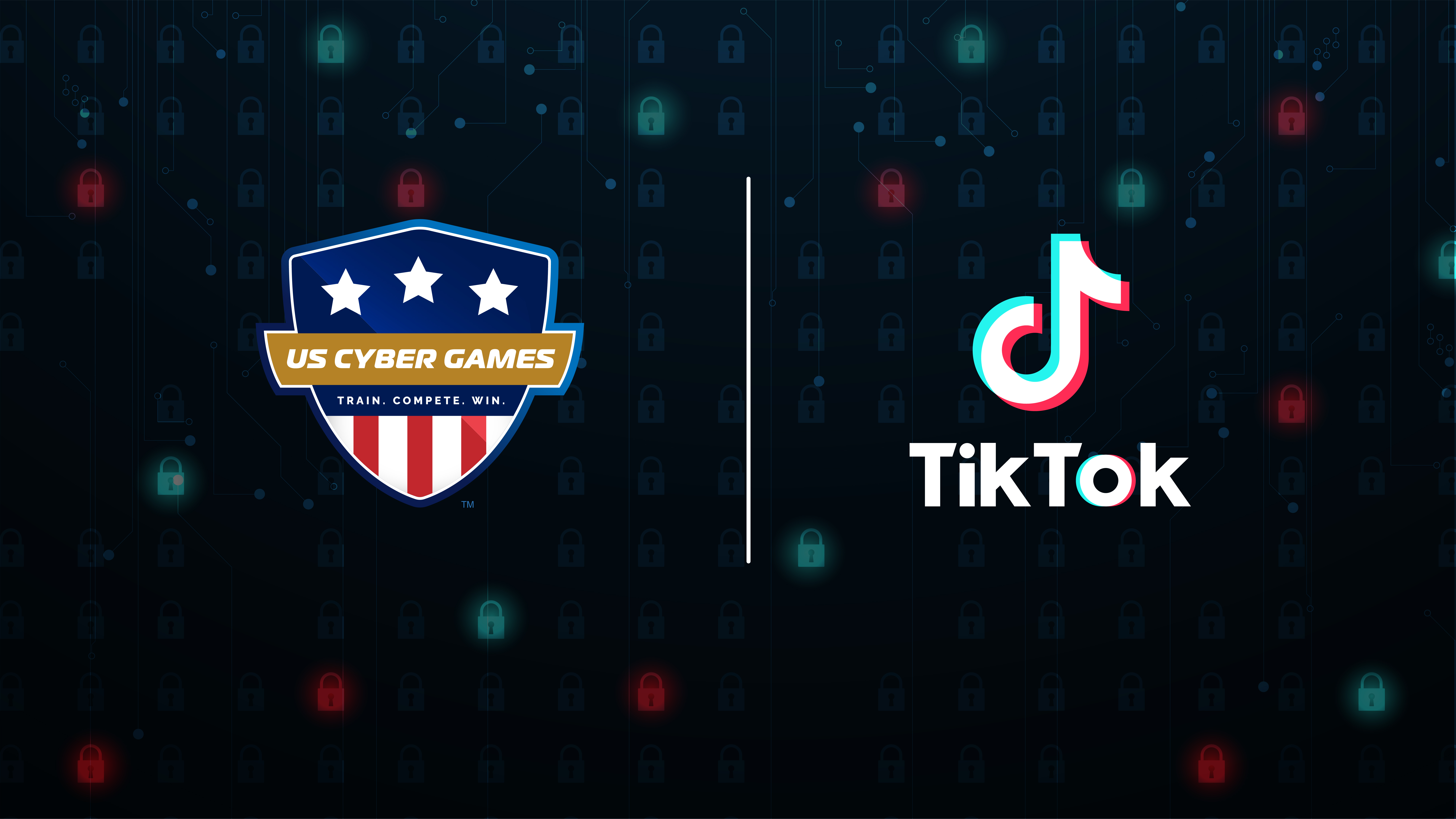 TikTok is an entertainment platform powered by a diverse and vibrant global community. To safeguard TikTok as a destination for creative self-expression and joy, we continuously invest in our people, processes, and technology. We're also committed to inspiring and coaching the next generation of security, privacy, and safety leaders to continue strengthening our platform, alongside the entire industry.
That's why we're proud to join forces as founding sponsor of the inaugural US Cyber Games™ and US Cyber Team led by Katzcy in collaboration with the National Initiative for Cybersecurity Education (NICE) program at the US Department of Commerce's National Institute of Standards and Technology (NIST). US Cyber Games is an esports-style program designed to harness the engagement and educational benefits of gaming to inspire emerging cybersecurity talent with vital skills and competencies for global competition.
"We're incredibly thankful to partner with TikTok to form our national team," said US Cyber Games Commissioner Jessica Gulick. "At the heart of an elite cyber athlete is creativity, tenacity to solve problems and the ability to teach and learn as a team. The TikTok community offers an amazingly rich talent pool that embraces diversity, sharing, and learning."
Cybersecurity, as a STEM discipline, has been identified as one of the most serious challenges facing countries around the world. Experts predict that unfilled cybersecurity positions will reach 1.8 million by 2022. By 2029, the need for information security jobs will expected to grow by 31% across both the public and private sectors.
"As a fast-growing global entertainment and technology company, TikTok is uniquely positioned to encourage young people from all backgrounds to pursue a career in cybersecurity," said TikTok Chief Security Officer Roland Cloutier. "Addressing under participation in STEM fields is critical to enhancing opportunity for individuals, developing a stronger global workforce, and inspiring creativity to shape our future. We're proud to join forces with like-minded leaders to level the playing field, and ensure a safe and secure, and prosperous future for generations to come."
The US Cyber Open took place earlier this year, welcoming 18- to 26-year-old athletes of all levels to join a free, two-week competition to earn an invitation to the US Cyber Combine Invitational. Like a physical sports combine, each cyber athlete completed an aptitude evaluation, interviewed with multiple coaches, trained weekly, and competed in advanced competitions to build their portfolio of achievements. The official "Draft Day" is October 5th, inviting the nation's top 20 cyber athletes to join the first US Cyber Team. From there, the team will train together as they prepare to represent the US at the inaugural International Cybersecurity Challenge (ICC) in December. At least nine nations will compete in Athens, Greece in challenges spanning web application and system exploitation, cryptography, reverse engineering, hardware challenges, forensics, and escape rooms.
"It's encouraging to see the US Cyber Games and International Cybersecurity Challenge receive widespread support from cybersecurity leaders across the public and private sectors," said Lisa Plaggemier, Interim Executive Director at the National Cyber Security Alliance. "Welcoming TikTok as a partner will help advance education and awareness of opportunities in cybersecurity around the world, including both technical and non-technical roles for young people to join efforts to build a safer, more secure digital world."
As a global organization, TikTok is also exploring ways to support cyber athletes and teams in other regions around the world as they prepare to compete in Greece.
"ENISA, together with other regional and international organizations, decided to design and host the first International Cybersecurity Challenge (ICC) to attract young talent and raise awareness within the global community around the education and skills needed in cybersecurity," said Dr. Demosthenes Ikonomou, Head of Capacity Building Unit at the European Union Agency for CyberSecurity (ENISA). "The first ICC event is expected to enhance national and regional efforts worldwide, and we look forward to welcoming all nine teams to one of the best cybersecurity competitions yet."
To help the US Cyber Team develop critical teamwork and technical skills, TikTok Chief Security Officer Roland Cloutier is joining the US Cyber Games board, alongside cybersecurity leaders including:
Competitions Section Chief at the US Department of Homeland Security's Cybersecurity and Infrastructure Security Agency (CISA) Michael Harpin

Codebreaker Challenge Lead for the National Security Agency (NSA) and US Department of Defense (DoD) Ben Marks
Fmr. National Cyber Security Alliance (NCSA) Executive Director Kelvin Coleman

Dell Technologies Vice President and Business Unit Security Officer Bobbie Stempfley

Freddie Mac Director of Risk Governance and Board Reporting Linda Eddy

The inaugural US Cyber Games coaching team is led by head coach Dr. TJ OConnor. TJ serves as the Cybersecurity Program Chair and IoT S&P Lab Director at Florida Tech, where he helped create FITSec, the university's cybersecurity gaming team. The West Point graduate earned a Ph.D. in Computer Science from North Carolina State, and boasts 12 Global Information Assurance Certifications (GIAC). TJ has also served as communications officer at the Battalion, Group, Directorate, and Headquarters level for the US Army Special Forces.
Jasmine Jackson is the jeopardy-style capture the flag coach. Jasmine is a senior applications security engineer for a Fortune 500 company, an adjunct professor at Drexel University, and an instructor at the Infosec Institute, Cybrary, and SANS Institute. She earned a Master of Science in Computer Science from University of North Carolina Charlotte, as well as numerous certifications in cybersecurity
Rob Fuller is the red versus blue coach. Rob served in the US Marine Corps, and has helped lead the Mid-Atlantic Collegiate Cyber Defense Competition (MACCDC) as a Red Team Captain and now CTO. He is currently a senior technical advisor for major corporations, along with HBO's "Silicon Valley." The Hak5 host is concurrently working to earn his Masters of Science in Cybersecurity and Information Assurance.
The coaching team also includes three exceptional senior technical mentors:
Bryson Payne, Ph.D., a professor and coach of the University of North Georgia cyber team
Dane Brown, Ph.D., assistant professor and coach of the US Naval Academy cyber team
Suzanna Schmeelk, Ph.D., assistant professor and program director at St. John's University