TikTok creators Josh "BRU" Brubaker, Lamar Dawson, Drew Afualo, and Eric Sedeño will host TikTok's first-ever LIVE global music event.
Arizona restaurants and food trucks including AZ Taco King, Churros Locos, Tap Truck, and more will be serving TikTok-famous eats at Sloan Park in Mesa, AZ during In The Mix.
Tickets are on sale now. Check out TikTokInTheMix.com for details.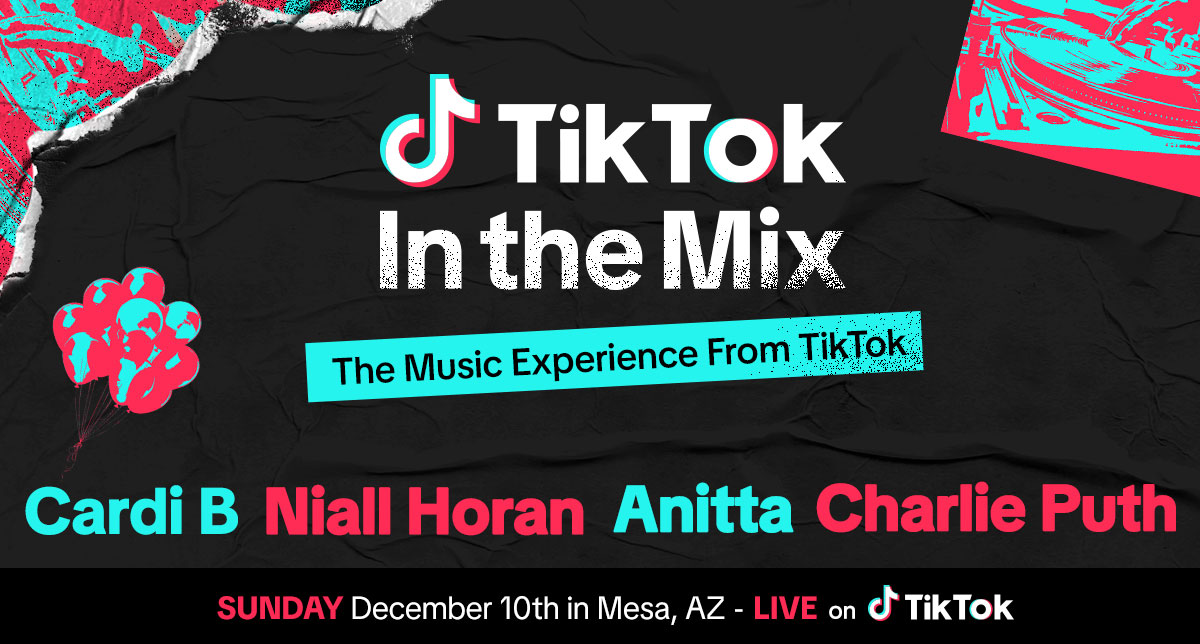 TikTok In The Mix is around the corner and today we're thrilled to announce our lineup of creator hosts, along with the TikTok-trending food trucks and restaurants who will be bringing the best of the Arizona food scene to Sloan Park on December 10.
Hosting TikTok In the Mix are Josh "BRU" Brubaker (@bruontheradio), Lamar Dawson (@dirrtykingofpop), Drew Afualo (@drewafualo), and Eric Sedeño (@ricotaquito). Our creator hosts will bring the For You feed to the main stage as they highlight the exciting slate of musical performances and live segments inspired by our community's favorite trends.
TikTok In the Mix is a concert happening live in Mesa, AZ headlined by four of the biggest genre-defining artists on TikTok and in the music world today — Cardi B, Niall Horan, Anitta, and Charlie Puth. While these artists are performing 'in the round' on the ballpark field for fans, the TikTok creator hosts will welcome people around the globe to enjoy the truly unique sets at Sloan Park as the event simultaneously broadcasts on TikTok LIVE. In addition to the headline acts, TikTok In The Mix will feature performances from exciting new artists Isabel LaRosa, Kaliii, LU KALA, and Sam Barber, plus more surprises!
The TikTok In the Mix creator hosts will also be joined on camera by more creators and small business owners from our community, and additional surprise guests to give viewers worldwide a behind-the-scenes look at everything happening at Sloan Park. Learn more about some of our all-star creators and small businesses below!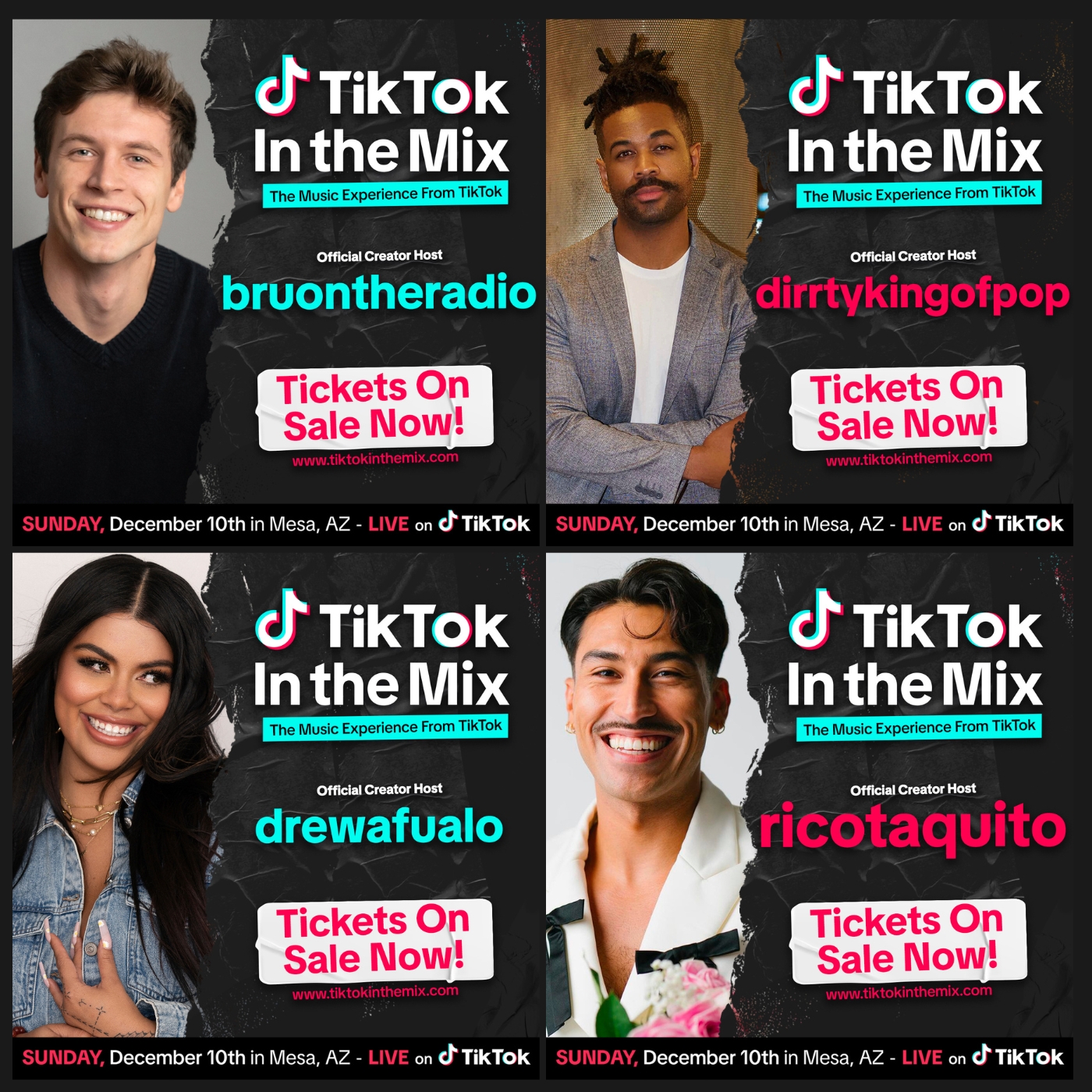 Meet the Creator Hosts
@bruontheradio, Josh "BRU" Brubaker
Based in Los Angeles, where he hosts his show from coast to coast on Audacy Pop Stations, Josh "BRU" Brubaker is heard across the country every weekday. Bru gained major market success in Detroit following a rise to fame on TikTok where he amassed millions of followers that have crowned him the "CEO of Radio TikTok." Bru's social and hosting prowess bridges the gap between celebrities to his listeners daily — he prides himself on being just a normal guy who gets to connect with amazing people every day through the magic of radio. At In The Mix, Bru will be the go-to host and guide to everything happening on stage and behind the scenes.
"Creating on TikTok has impacted my life in so many ways but none more important than the connection I've made with people. From making videos to pass the time to taking my followers through the different stages of my life, it's been a blessing to connect and share those moments with an amazing community. To be a part of the inaugural 'In The Mix' from TikTok is an honor — being in the middle of it, bringing behind the scenes from these massive artists, creators, and fans, is going to be incredible." — Josh "BRU" Brubaker
@dirrtykingofpop, Lamar Dawson
Lamar Dawson, aka the "Dirrty King of Pop," is an entertainment news writer and radio personality from Brooklyn, NY. He's one of the premiere personalities of SiriusXM's TikTok Radio where he hosts the TikTok Billboard Top 10 Countdown, and is also a content creator who's amassed an audience on TikTok where he makes content focused on pop culture news and nostalgia. On December 10th, Lamar will provide a roaming view of Sloan Park; interacting with the crowds, chatting with fans, and giving viewers a look at different attractions and more at In The Mix.
"As a TikTok creator and host of TikTok Radio, it's been awesome to see TikTok become a powerful platform in entertainment, particularly in music. A lot of people took for granted seeing live music and gathering with friends and making memories. So, I'm looking forward to the live acts and the opportunity to celebrate with other creators and fans alike. I'm extremely honored to be part of the platform's evolution as it continues to make its mark in popular culture." — Lamar Dawson.
@drewafualo, Drew Afualo
Drew Afualo, best known as TikTok's "Crusader for Women," is part of Hollywood's next generation of rising stars. From her hilarious viral takedowns to her red carpet coverage at movie premieres and the Academy Awards, to her Spotify Exclusive podcast The Comment Section, Drew is taking female empowerment to new levels. Drew will be in our commentator studio at In The Mix alongside co-commentator Eric Sedeño, sharing her performance reactions and commentary live.
"Creating content on TikTok has completely changed my life in ways I couldn't even begin to express my gratitude for. This platform has given me the ability to not only pursue my dreams, but also build a community of so many amazing, like-minded individuals. I can't wait to have a silly, fun, amazing time at In The Mix and I'm most looking forward to hosting the LIVE, laughing with Eric, connecting with the audience, and seeing some amazing performances!" — Drew Afualo
@ricotaquito, Eric Sedeño
Eric Sedeño is an online personality, art director, and illustrator based in Brooklyn, NY. Best known as being everyone's internet bestie, his hobbies include laughing at pictures on the internet, scouring eBay for the best vintage pieces, and growing his candle company Groove Gives — his spontaneity and contagious laugh have also grown his following to over 980K fans on TikTok. Eric will be on the ground at In The Mix alongside Drew Afualo to share his reactions after each performance and give an inside look at the live music experience.
"TikTok has been a window into myself I never knew I needed and has allowed me to grow in ways I never expected. I'm so excited to see people interact with us LIVE at In the Mix. More than anything it's cool to be a part of something so much bigger than me and it's such a plus that I get to do it with creators who I look up to!" — Eric Sedeño.
Get a Taste of Our TikTok Famous Small Businesses
To celebrate our host state of Arizona, we're partnering with local restaurants and food trucks to bring your favorite dishes from your For You Feed to Sloan Park. Whether it's delicious tacos and birria ramen from AZ Taco King, a mouth-watering grilled cheese from Meltz, AZ, or an iced cold craft ale from Tap Truck, In The Mix will serve flavorful options for all to enjoy. Other vendors dishing up tasty treats at the event include Churros Locos, Fogo & Soul, and Tikiz Shaved Ice. The food trucks will be located right outside Sloan Park for all attendees to explore and meet the creative teams behind these popular businesses during the live music experience.
"We are so honored to be a part of In the Mix! The TikTok community helped launch our business in Arizona from a taco cart to a food truck and two restaurants. We can't wait to meet the community that made our business a success in real life and have attendees try our wildly popular and TikTok famous dishes." — Jazmin and Samuel Sears, Owners of AZ Taco King
Join us at #TikTokInTheMix!
In The Mix is a ticketed concert for All Ages (Under 18s to be accompanied by an adult).
Tickets are on sale now and range from $25 - $60. To find out more and to RSVP for the LIVE, search "In The Mix" on TikTok or visit TikTokInTheMix.com.