Over 1 billion people come to TikTok to find community, discover and learn. As a platform, we take our responsibility seriously to keep our community safe and welcoming while working relentlessly to combat antisemitism, hate speech, misinformation, and violent behavior.
In light of misinformation and mischaracterization about how the TikTok platform actually operates, it's important for everyone to have the facts.
The facts
Blunt comparisons of hashtags is severely flawed and misrepresentative of the activity on TikTok.
It's critical to understand that hashtags on the platform are created and added to videos by content creators, not TikTok. Millions of people in regions such as the Middle East and South East Asia account for a significant proportion of views on hashtags. Therefore, there's more content with #freepalestine and #standwithpalestine and more overall views. It is easy to cherry pick hashtags to support a false narrative about the platform.
In addition, the number of videos associated with a hashtag, alone, do not provide sufficient context. For example, the hashtag #standwithIsrael may be associated with fewer videos than #freePalestine, but it has 68% more views per video in the US, which means more people are seeing the content. And, some hashtags are newer (e.g. #standwithIsrael) while others are more established (e.g. #freePalestine)–the vast majority (9 in 10) of videos tagged #standwithIsrael were posted in the last 30 days in the US. A difference in views and posts is expected.
As a matter of fact, TikTok removed 100% of antisemitic or Holocaust denial content Fighting Online Antisemitism reported through our Community Partner Channel last year. This is in addition to our proactive efforts to identify and remove hate speech before it's reported. Nine times out of ten, TikTok removes hate speech before it's reported.
The difference in volume between content related to Palestine and content related to Israel is similar across platforms. For instance, if you look at public data on other platforms, such as Instagram, you'll find there are 5.7M total posts tagged #FreePalestine compared to 214K total posts tagged #standwithIsrael. Looking at public Facebook data, there are 11M total posts tagged #FreePalestine compared to 278K total posts tagged #standwithIsrael.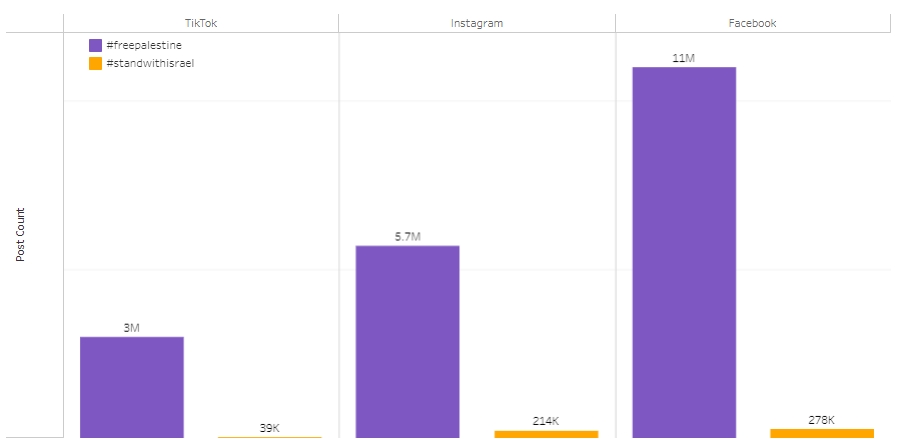 Our recommendation algorithm doesn't "take sides" and has rigorous measures in place to prevent manipulation.
The content people see on TikTok is generated by our community and recommendations are based on the content people have previously engaged with. TikTok does not "promote" one side of an issue over another. In the U.S., we have given our third-party Trusted Technology Provider access to TikTok source code to understand if the system is acting as TikTok intends. We are on a path to allowing an unprecedented amount of third-party access to verify our source code and systems, something no other peer company has done.
On TikTok, the videos people view, like, and share inform the recommendation algorithm about content they might find relevant. Using these signals, the recommendation algorithm creates a prediction score to rank videos to potentially recommend. The system checks for similarity in content to help ensure there's variety. Our moderation rules check that recommended content adheres to our Community Guidelines. The result is a For You feed that reflects someone's individual interests while prioritizing safety. TikTok offers tools to help people shape their content recommendations, with a 'Not Interested' feature and a way to Refresh the For You feed.
TikTok is rapidly and robustly responding to the Israel-Hamas war.
TikTok immediately launched a command center and mobilized significant resources and personnel, with key members of our 40,000-strong global team of safety professionals representing a range of expertise and regional perspectives. We also added more moderators who speak Arabic and Hebrew to review content related to the war. Between October 7 and October 31, 2023, TikTok removed more than 925,000 videos in the conflict region for violating our policies around violence, hate speech, misinformation, and terrorism, including content promoting Hamas.
TikTok has strict policies against hateful behavior, including antisemitism and Islamophobia, which have no place on our platform. Globally, between October 7-31, 2023, we removed 730,000 videos for violating our rules on hateful behavior. We enforce our rules against hateful behavior by using advanced systems, from computer vision models that detect visual signals such as emblems and logos, to text-based technologies, such as natural language processing, to detect language used to promote extremist ideologies or hate groups. Where we have previously detected content that violates our policies on hate or terrorism, we use de-duplication and hashing technologies that enable us to recognize copies or near copies of such content. We also provide ongoing training for our content moderation teams to identify evolving hateful behavior, symbols, terms, and offensive stereotypes.
We regularly engage with our community and experts to strengthen our approach against hate. We hold roundtable discussions with Jewish groups for candid and open discussion about violent extremism and antisemitism. These build on our long-standing engagement with organizations, including the Anti-Defamation League, CyberWell, and Tech Against Terrorism, who help us to more quickly detect and remove hate or violent extremist content that has already been identified off the platform.
TikTok does not allow inaccurate, misleading, or false content that may cause significant harm to individuals or society, regardless of intent. Significant harm includes physical, psychological, or societal harm, and property damage. We remove harmful misinformation and work with IFCN-accredited fact-checking organizations who support over 50 languages, including Arabic and Hebrew. We've removed over 50,000 videos containing harmful misinformation globally between October 7-31, 2023. We also launched an in-app intervention so that when people search for terms related to the conflict, we remind them that information about rapidly changing events may not always be accurate, and provide them with easy access to authoritative information from outlets like Reuters and AFP FactCheck.
We have also accelerated efforts to remove fake accounts and engagement. We have seen spikes in the number of fake accounts being created in the wake of the conflict. Since Oct. 7, we've removed more than 24 million fake accounts globally and more than half a million bot comments on content under hashtags related to the conflict. We remain vigilant against efforts to manipulate our community's TikTok experience.
Attitudes among young people skewed toward Palestine long before TikTok existed.
Support for Israel (as compared to sympathy for Palestine) has been lower among younger Americans for some time. This is evidenced by looking at Gallup polling data of millennials dating as far back as 2010, long before TikTok even existed. A March 2023 Gallup poll, before the war, shows young adults have rapidly shifting attitudes towards the Israeli/Palestinian conflict. While an Echelon poll from October 26, 2023 shows that US TikTok users under 40 are more likely to support Israel (33% vs 28% for Palestine), and the proportions broadly reflect the split in the general under 40 population (32% for Israel, 23% for Palestine).
Additionally, the Pew Research data (taken from 2006-2016) below illustrates the upward trend of Palestinian support among Americans born after 1980. The data shows that this support is not new and was rising before TikTok was created, so it would be unrealistic to ascribe such broad sentiments to a single communications channel such as TikTok (see chart).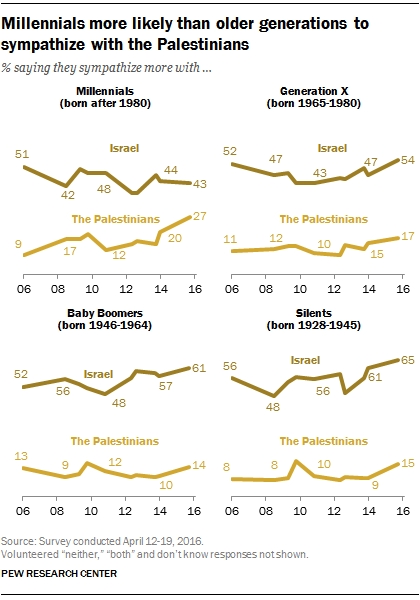 The following chart from Gallup released March, 2023 illustrates the steady decline in support for Israel among younger Americans over the past ten years and confirms that historically, net sympathy for Israelis is the lowest among the youngest generations.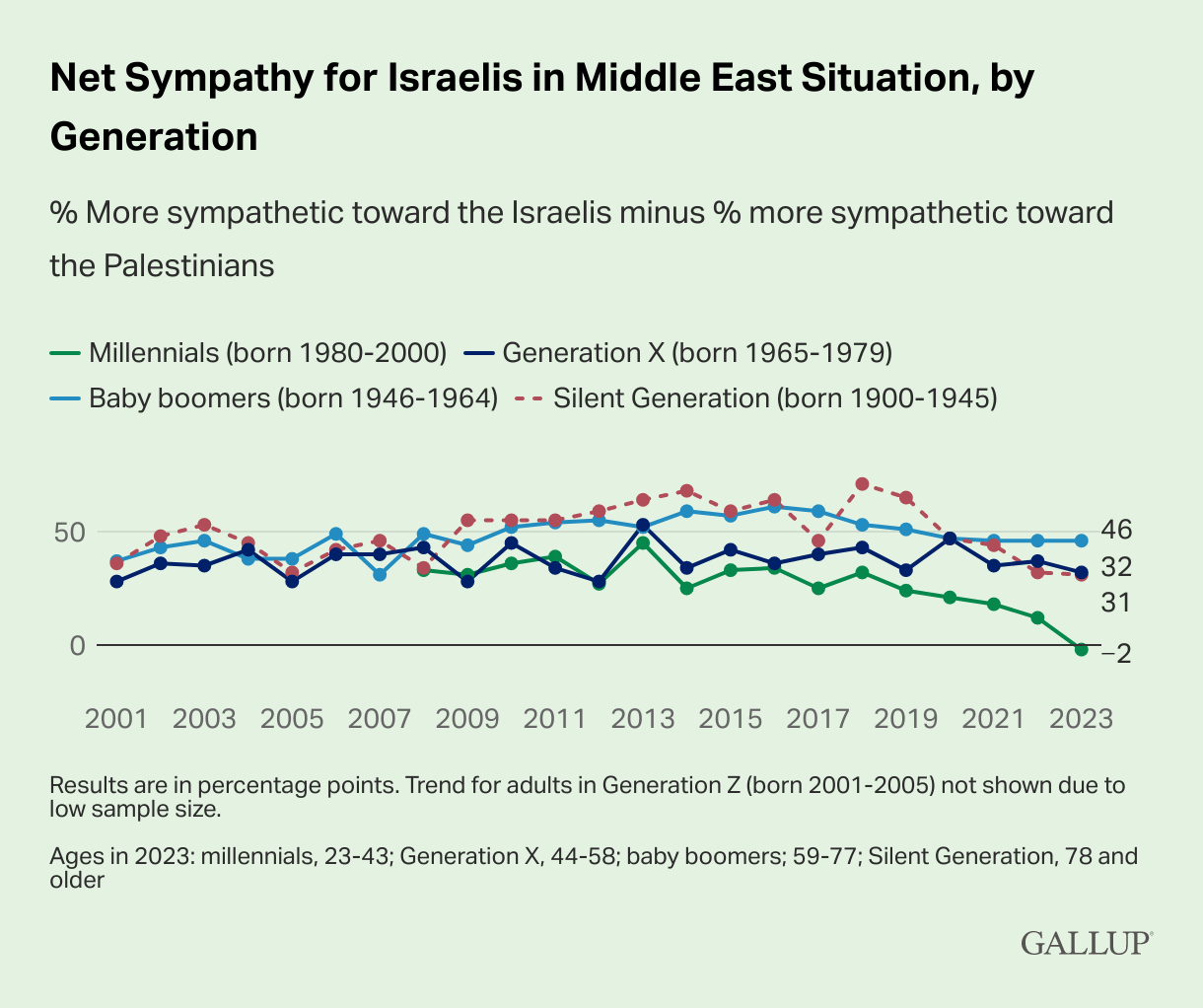 We recognize that when it comes to platform safety, there is always more to be done, and as we learn more, we do more. We welcome honest, open dialogue in all these areas, and we will continue engaging with our community, civil society, nonprofits, and others to protect our community and remain a welcoming space for authentic self-expression.