Every day, millions of people come to TikTok to share authentically and find community. With conversations related to #MentalHealth, #SelfCare and #MentalHealthAwareness garnering billions of views, our goal is to continue fostering an environment where people feel comfortable being exactly who they are. As we celebrate World Mental Health Day today, we're making it easier than ever for our community to access authoritative information about mental health.
Increasing access to trustworthy information about mental health
Starting from today, people in the United States will begin to have greater access to information about mental health directly from the TikTok app. When people search for terms linked to conditions or illnesses such as depression, anxiety, autism or trauma, among others, they will be directed to information provided by the National Institute of Mental Health and the Cleveland Clinic. Once fully rolled out, this will cover 40 neurological conditions and mental health illnesses. From our Safety Center to in-app PSAs, we strive to make it easy for community members to access reliable sources of information about mental health and we're proud that our existing Safety Center guides on topics related to mental health and well-being are a source of support for more than 500,000 people each month. This adds to our existing efforts to help our community create an experience that works best for them, including:
The ability to set a customizable daily screen time limit (turned on and set to 60 minutes by default for everyone aged under 18)
Customizable screen time breaks
Sleep reminders to help remind people when they planned to be offline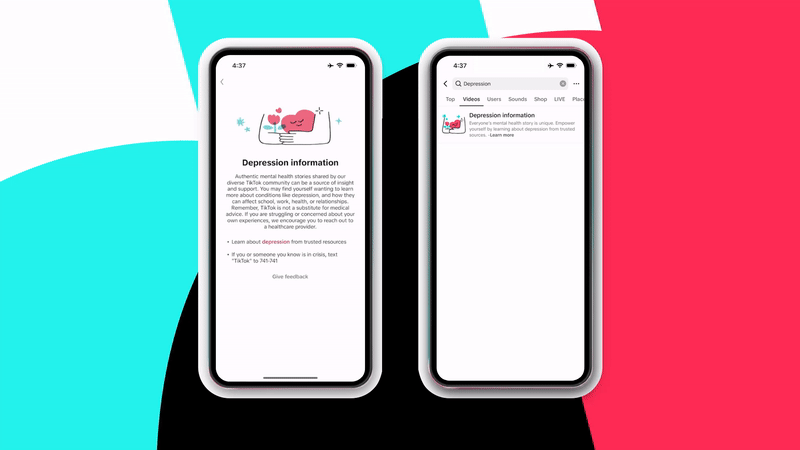 Connecting our global community and promoting well-being advocacy
As we continue to provide our community with access to information and resources around mental well-being, we also work alongside partners and mission-driven organizations around the world to raise awareness of mental health challenges. This World Mental Health Day, TikTok has partnered with the Rare Impact Fund by sponsoring the inaugural Rare Impact Fund Benefit with a donation of $250,000 to support the organization's global work. The Benefit, which was held on October 4, raised funds and illuminated the importance of organizations that expand access to mental health services and education for young people around the world. The Rare Impact Fund was created by Selena Gomez as part of her commitment to addressing mental health and self-acceptance.
As we launch our global campaign, #MentalHealthAwareness: Better Together, we're inviting our community to share encouraging stories and personal well-being journeys, using the hashtag #MentalHealthAwareness. People will also be able to learn from mental health advocates, connect with organizations, and access other resources through our digital wellness hub. We remain committed to supporting our community's mental health and well-being every day and we encourage everyone to learn more about and promote #MentalHealthAwareness.
What our partners say:
"When it comes to researching healthcare information, it is important to get the facts. Mental health has been a growing issue, and we know there has been an increase in online searches around this area, especially among young people. Therefore, it's important that people have access to credible health information on a variety of platforms, including TikTok. We encourage anyone who is struggling to seek out information from a trusted source and to not be afraid to get help from a healthcare provider."
- Dr. Leo Pozuelo, Chairman of Psychology and Psychiatry at Cleveland Clinic
"At the Rare Impact Fund, we are inspired by young people using their voices to share their personal and impactful mental health stories on social media by meeting them where they are every day. We're delighted to continue working with companies like TikTok who support our mission to reduce the stigma associated with mental illness and inspire more positive conversations around mental health and self-acceptance. Together, we look forward to increasing access to mental health education and resources, and empowering young people everywhere to embrace their own mental health journeys."
- Elyse Cohen, Vice President of Social Impact & Inclusion at Rare Beauty and President of the Rare Impact Fund