By Eric Han, Head of Safety, TikTok US
Interest in the US elections is palpable, with many Americans having already cast ballots and many more preparing to exercise their right to vote in the coming days. And while TikTok isn't an app built around political debates or real-time news, we want to make sure we're supporting our community with access to authoritative information if they're having relevant conversations in our app. Today we're announcing additions to our existing in-app election guide, and sharing more on how our policies apply to content and accounts leading up to Election Day and beyond.
Stopping the spread of misleading information
Our misleading content policies prohibit misinformation, disinformation, and manipulated media, and at the beginning of the month we launched an Elections Safety Center to increase transparency into how our policies apply to a range of potential scenarios. For instance, we remove content that seeks to intimidate voters or suppress voting, and we do not tolerate content or accounts that seek to incite violence. We've also detailed how we work closely with fact-checking partners – who are on expedited call during this sensitive time – to assess the accuracy of content so we can quickly remove false or manipulated videos.
With heightened focus around Election Day, we'll be partnering with these fact checkers to reduce discoverability of content that prematurely claims victory in a race before results are confirmed by The Associated Press. Out of an abundance of caution, if claims can't be verified or fact-checking is inconclusive, we'll limit distribution of the content. We'll also add a banner pointing viewers to our election guide on content with unverifiable claims about voting, premature declarations of victory, or attempts to dissuade people from voting by exploiting COVID-19 as a voter suppression tactic.
For more information about our elections policies and approach, visit our Election Safety Center.
Election Day resources
Starting November 3, we'll add new, timely resources to the election guide we introduced last month. For questions about polling locations or hours, state voter registration requirements, and more, we'll provide access to the US Election Assistance Commission (EAC) website.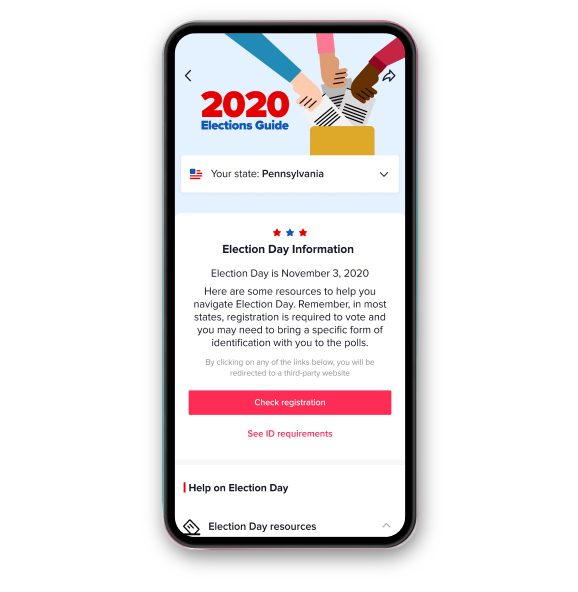 We'll also provide the Election Protection Hotline number in case our community experiences voting difficulties, available in English, Spanish, Asian languages, and Arabic, and a video call option for American Sign Language.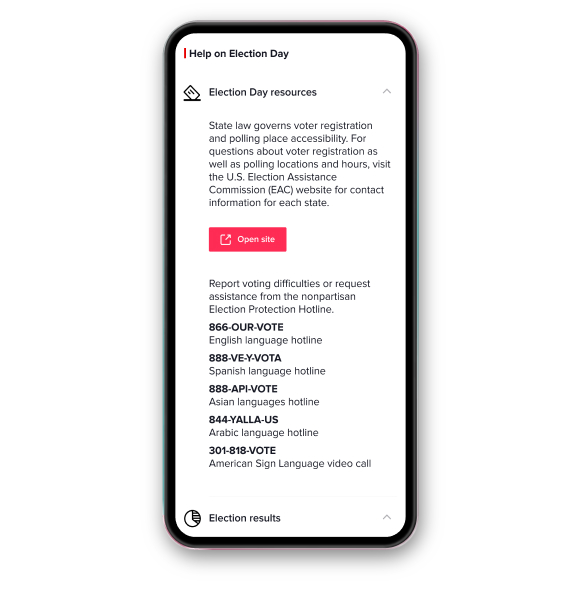 The majority of content people see on TikTok comes through their For You feed, which shows videos regardless of when they were posted. That's why we're working with the AP to provide access to their interactive map which shows live results for races for the US president, Congress, governor, and ballot initiatives at the federal and state levels from our election guide. This way viewers will be able to easily consult up-to-date results regardless of when they watch the video.
In addition, people can reference commonly asked questions and answers from the National Association of Secretaries of State to learn about the voting process, including voting by mail or in-person, how election results are compiled, and what to expect during the counting process.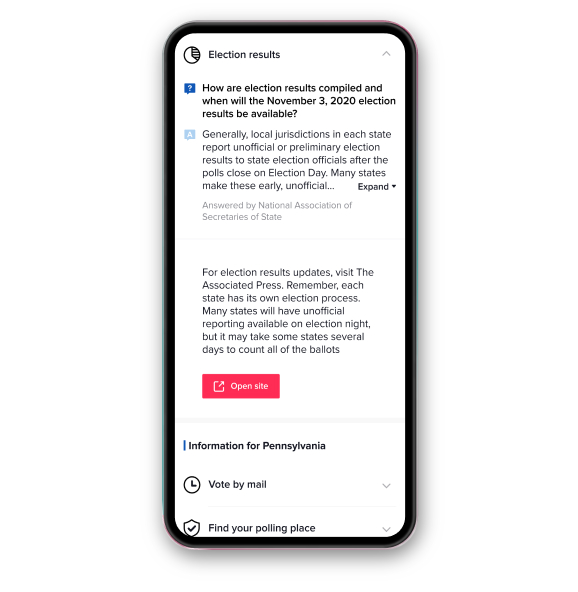 Our election guide can be accessed via our Discover page, election-related search results, and on videos relating to the elections or posted by verified political accounts.
Millions of Americans come to TikTok to express their creative side and connect with others. While much of the time that means light-hearted content, what's going on in the world around us is often reflected in creative expression, too. In these momentous times, we're intent on supporting our community as we work to maintain the integrity of our platform.