By Michael Beckerman, VP, Head of US Public Policy
Today we're launching an in-app guide to the 2020 US elections to provide access to authoritative information as we continue our work to protect against misinformation. The guide connects 100 million Americans with trusted information about the elections from the National Association of Secretaries of State, BallotReady, SignVote, and more.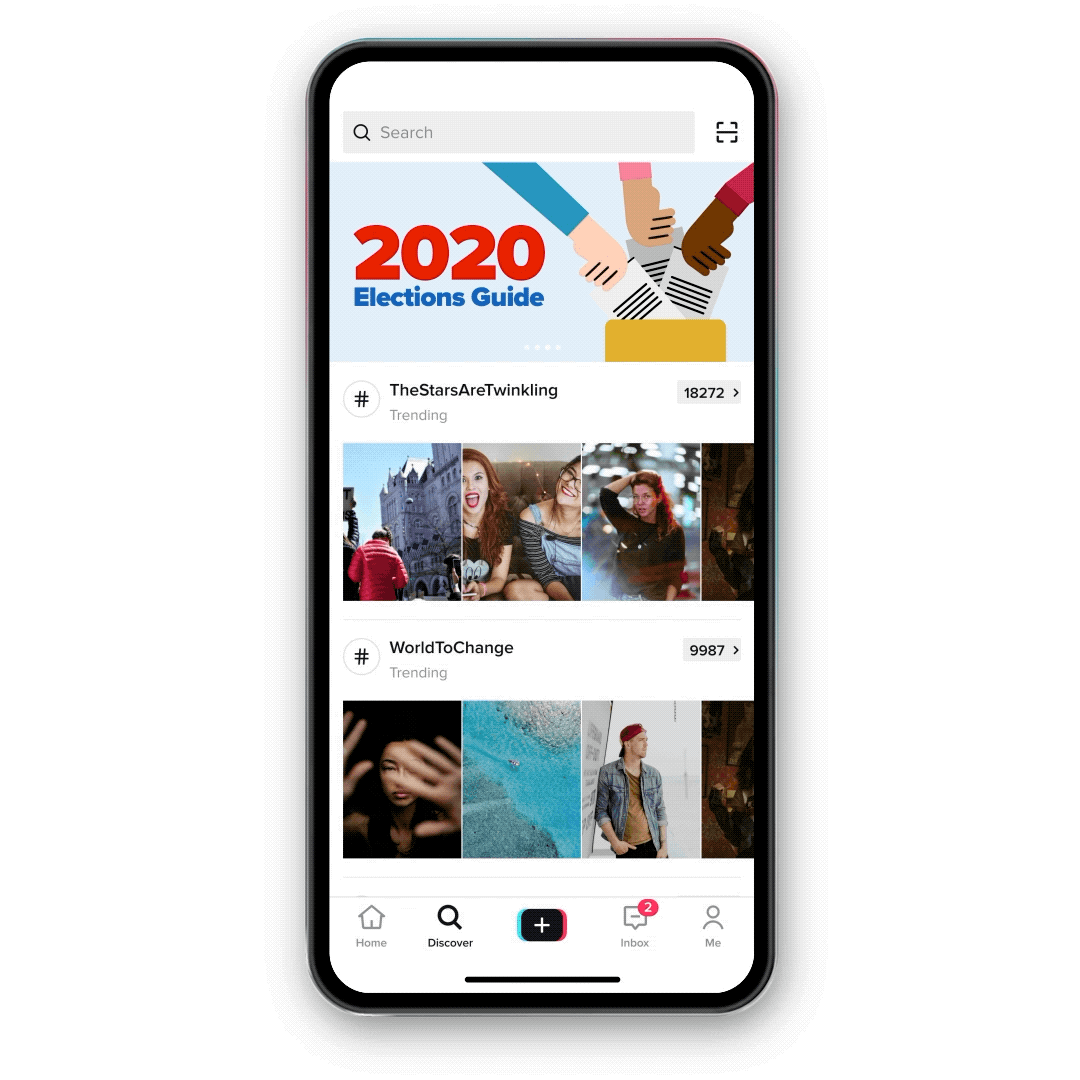 Rolling out to users in the US beginning today, the elections guide offers information about candidates at the federal, state, and local level, powered by BallotReady; how to vote in every state, powered by the National Association of Secretaries of State; and educational videos about misinformation, media literacy, the elections process, and more, powered by MediaWise.
Our TikTok community is incredibly diverse, and our guide similarly includes resources for those in different circumstances. Available in English, Spanish, and dozens of additional languages, it contains information on voting as a person with disabilities, with help from SignVote; as an overseas citizen or service member, through the Federal Voting Assistance Program; as a student, with help from Campus Vote Project; and as a person with past convictions, with help from Restore Your Vote.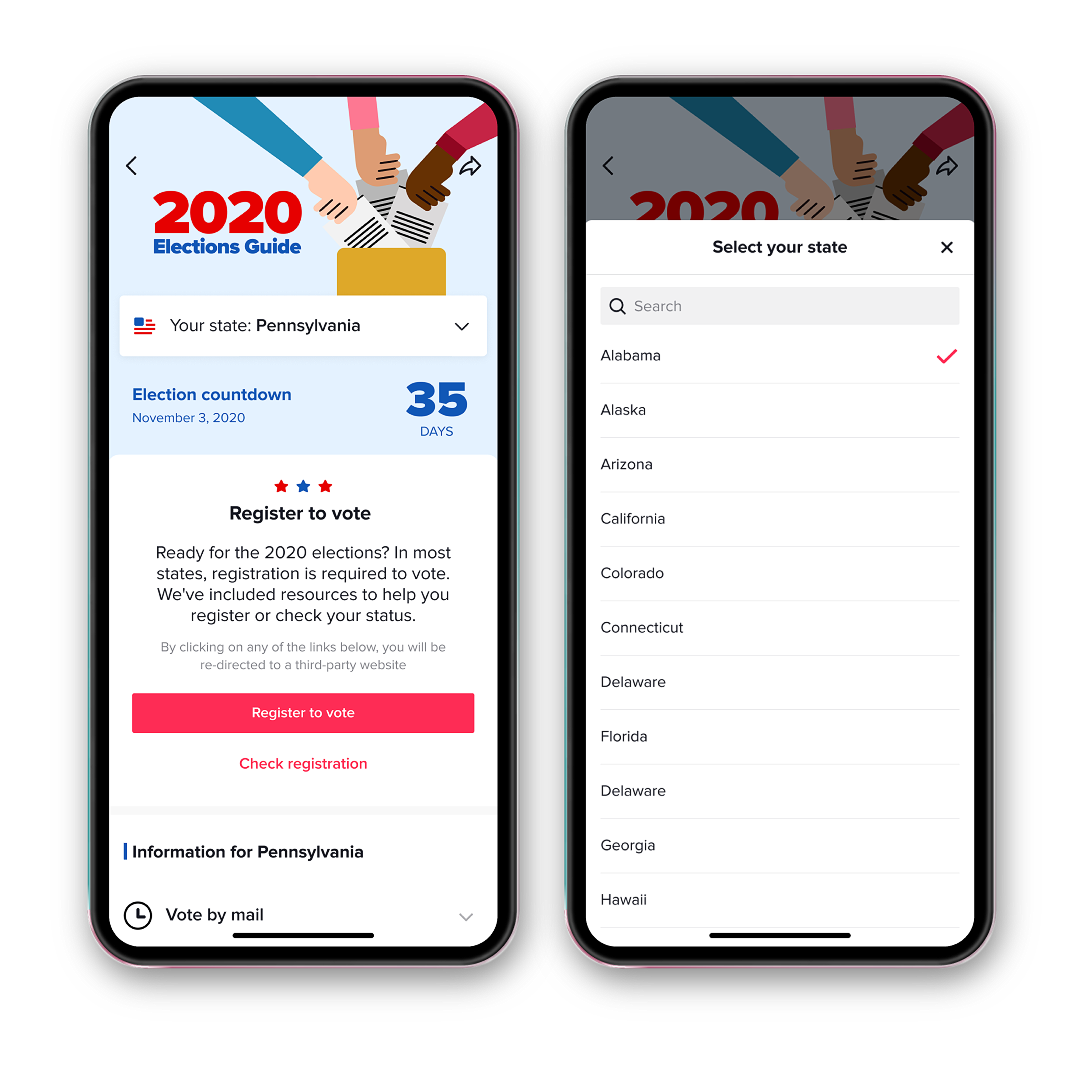 As with our COVID-19 resource hub, the election guide can be accessed from our Discover page and on election-related search results. We'll also be linking to the guide at the bottom of videos relating to the elections and on videos from verified political accounts. TikTok verifies accounts to indicate authenticity of an account's owner, but a verified badge does not imply an endorsement by TikTok. We expect everyone – verified or not – to follow our Community Guidelines which apply to everyone who uses TikTok and all the content they post.
Our elections guide is built with user privacy in mind, so a user must visit the website for a state or a non-profit for anything that involves sharing their information, including registering to vote. Interactions with this guide in our app have no bearing on future TikTok experiences, such as recommendations or ads.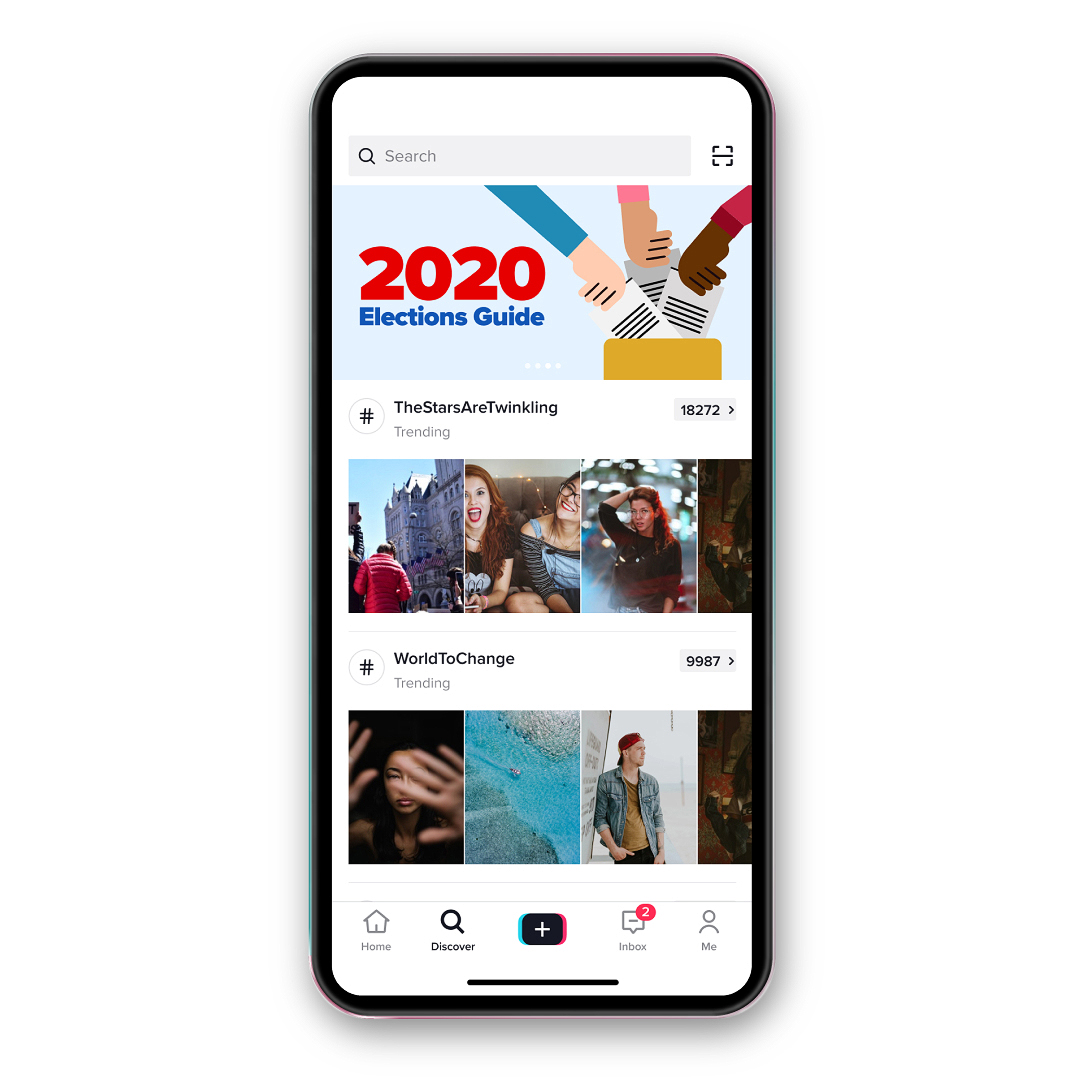 Of course, TikTok isn't the go-to app for breaking news or politics, and we don't accept paid political ads on our app. Still, we know TikTok is a home where Americans express themselves – and with that in mind, we're focused on supporting our users with education and authoritative information on important public issues. Our goal is to keep TikTok a place where authentic content can thrive, and our elections guide reflects our ongoing efforts to protect the integrity of our platform and the US elections.
From our partners
"On TikTok we're seeing how people, especially younger voters, are passionate about important issues and are ready to make their voices heard. We're partnering with TikTok for their elections guide because younger voters often do not realize everything that will appear on their ballot, and we believe that TikTok can help them vote their entire ballot." – Alex Niemczewski, CEO, BallotReady
"SignVote is the only dedicated platform that provides deaf communities with accessible political conversations in American Sign Language. We are proud to partner with TikTok in recognizing that a truly equitable world, and election, is possible when we ensure all community members take part!" – Leila Hanaumi, Strategic Engagement Director, SignVote at Communication Service for the Deaf
"Restore Your Vote, a project of Campaign Legal Center, is glad to partner with TikTok to help empower its users with the knowledge that democracy is at its best when everyone has the opportunity to vote without barriers. By including this information in its elections guide, TikTok is affirming that people with felony convictions deserve to be heard." — Blair Bowie, Restore Your Vote Manager, Campaign Legal Center
"Students across the country are passionate about getting involved in issues that matter to them and are using platforms, like TikTok, to discuss what their communities need in creative, engaging ways. Campus Vote Project is glad to support TikTok's efforts to help young adults understand that they can express their views both within their app and at the ballot box." — Mike Burns, National Director, Campus Vote Project
"We are excited to partner with TikTok to help teach their community how to sort fact from fiction online by teaching them digital media literacy skills through TikTok videos. Our series of videos will teach first-time voters on TikTok how to spot misleading information online so they can feel confident their vote is based on reliable and accurate information and, at the same time, slow the spread of misinformation." –– Katy Byron, Editor and Program Manager of MediaWise at The Poynter Institute