TikTok is where people come to be entertained. From the Corn Kid to #FilmTok, TikTok is an entertainment platform where every creator, user and brand has the opportunity to be cultural drivers with the space to truly express their creativity.
Fueled by a highly engaged, diverse and creative community, TikTok is where advertising becomes entertainment, audiences pay attention, and brands drive real impact. TikTok gives brands the opportunity to engage with their communities in new and fresh ways with 73% of people feel a deeper connection to brands they interact with on TikTok,(1) and 93% of users taking action on content they see in the For You feed.
Last year we launched TikTok Pulse, our first contextual advertising solution that places brands next to the top 4% of trending videos on TikTok across a number of categories. To help brands stay on the pulse of the most culturally impactful moments on the platform, we are excited to expand TikTok Pulse with Pulse Premiere, our newest solution to give advertisers control and predictability to place their ads directly after content from premium publisher content on TikTok's For You feed.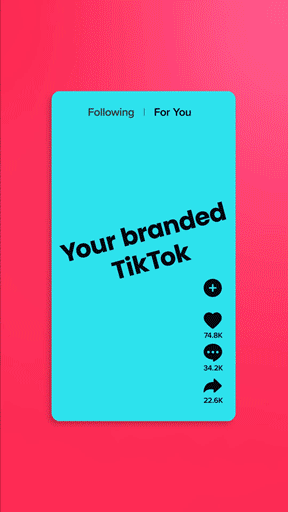 Empowering brands to tap into entertainment
Brands are continuously looking to participate in trends and be apart of larger cultural moments that entertain audiences and bring communities together. They don't want to just appear on TikTok, but be active members of the community. Pulse Premiere gives brands the control to choose where their ads are placed, adjacent to content from our premium publishing partners in lifestyle & education, sports, and entertainment categories for specific tentpole events as well as evergreen, ongoing content.
We're excited to introduce our inaugural Pulse Premiere partners, which include Buzzfeed, Conde Nast, Dotdash Meredith, Hearst Magazines, MLS, NBCUniversal, UFC, Vox Media and WWE, giving advertisers control to place their ads next to content that is most relevant and suitable for their brand. Since launch, campaigns that include Pulse have proven to increase brand recall by +9.8% and awareness by +6.8%, by placing brands next to the top culturally impactful content with a highly engaged and primed audience. (2)
"At Condé Nast the power of our brands allows us to create culture-defining content for 1B of the most engaged audiences across many relevant platforms. TikTok has become one of our most valuable partners, providing us with a variety of tools to ensure that our brands are driving these conversations on their platform. Our advertisers know that culture is the new KPI, and the Pulse Premiere solution finally enables clients to match media buying with how consumers are consuming our brands, like Vogue, GQ and Vanity Fair, on TikTok," states Pam Drucker Mann, Global Chief Revenue Officer & President, U.S. Revenue & APAC at Condé Nast.
"We're constantly evolving and exploring new opportunities that bring us closer to our fans. Over the years, TikTok has provided MLS a powerful way to stay ahead of key cultural moments," said David Bruce, MLS SVP of Brand and Integrated Marketing. "Premiere Premiere puts advertisers who are at the top of their game alongside our content, ensuring that the ecosystem that forms around us helps elevate our brand. It also encourages publishers like ourselves to continue investing in top-of-the-line and differentiated content on TikTok, ensuring that our channel is a must follow for our audience."
Additionally, Pulse Premiere opens new opportunities for publishers to monetize their content on TikTok directly through a revenue-sharing model and allows them to amplify existing partnerships with media on TikTok.
Keeping brands on the Pulse
In addition to Pulse Premiere, we're excited to expand Pulse offerings to help brands maximize their reach and relevance on TikTok. New solutions include:
Pulse Seasonal Lineups: TikTok's first-ever moment-specific ad offerings where advertisers can run ads next to the hottest, trending Pulse-eligible videos around a particular marketing moment, cultural event, or season at a time when interest in the particular topic will spike, driving relevance for the brand. We will first be testing Seasonal Lineups with Thanksgiving and winter holidays, and are excited to expand this to other cultural events and seasons to help brands tap into audiences that are primed for viewership.
Max Pulse : A new buying mechanism that allows advertisers to run their creatives adjacent to top 4% trending content across all categories on TikTok, in addition to those represented by the existing Pulse lineups, helping advertisers maximize their brand's reach and unlock the full potential of their campaign.
TikTok is continuously innovating to help bring brands closer to the engaged, diverse, and creative communities and content on TikTok. Stay tuned for more updates to Pulse Premiere as we continue to onboard publishing partners across the globe.
TikTok Marketing Science Global Community and Self-Expression Study 2021, conducted by Flamingo
Absolute Lift, Meta-Analysis 1P & 3P Brand Lift Studies, US Campaigns June 2022-March 2023. Only used the BLS results with >80% significance.