Trends on TikTok drive and inspire action. Our community has made stars out of musicians like Lil Nas X and Olivia Rodrigo, and brought about big wins for brands including eos shaving cream, the brown GAP hoodie, Goldfish crackers, and the L'Oréal Foundation, to name a few. It's why we say "It Starts on TikTok."
The TikTok community is a reflection of our communities at large - diverse ecosystems of creators, people, culture drivers, and everything in between. Trends happen naturally and regularly because of the way our community participates in and engages with content on the platform.
Although we've known this for a long time, we wanted to get Into the Thick of It and find out what truly drives these trends on the platform and how they extend and impact culture at large. That's why we commissioned MRC Data and Flamingo, both independent research and analytics groups, to dive deep on two of TikTok's defining spheres of influence: sound and culture.
On Sound
Music and sound are TikTok's universal language; they play an integral role in the community's creativity, liveliness, and cultural impact. MRC Data's research reveals the power of music on TikTok, shedding light on the importance and impact music has for brands and the creator community alike.
We've seen TikTok's "sound on" origin challenge brands to think outside the box. From working with a culturally relevant musician to create a custom song, or tapping into trending voiceovers and jingles on-platform, music and sound play a major role in how brands share their personalities with the world.
"TikTok has become an integral part of music discovery, connecting artists to their fans and introducing brands to every corner of the community," said Ole Obermann, Global Head of Music, TikTok. "TikTok is the home for music trends that permeate the industry, charts, and culture. From emerging artists to small business owners, the research from MRC Data reinforces that by associating with the right music or sound on TikTok, creators, artists and businesses alike can see a major impact."
Overall, the unique way TikTok's community discovers, endorses and co-creates music is what makes it such a powerful tool for brands. Here are some key takeaways from MRC Data's research, providing further insights on the heavy-hitting impact of music on TikTok.*
The majority of TikTokers not only discover new music on TikTok but also hear songs they don't hear anywhere else. 75% of TikTok users say they discover new artists through TikTok and 63% of TikTok users heard new music that they've never heard before on TikTok.
When brands feature songs that TikTokers like in their videos:

68% of users say they remember the brand better
58% say they feel a stronger connection to the brand
58% of users also say they're more likely to talk about the brand or share the ad
62% say they're curious to learn about the brand.
Using a trending song in your brands' TikTok content is a great way to capture our community's attention. 67% of TikTok users would prefer to see videos from brands featuring popular or trending songs on TikTok.
TikTokers also love seeing original brand content, with 65% of TikTokers preferring content from brands that features original sounds.
The TikTok community is motivated to interact with the music featured in videos on TikTok, with 67% of TikTokers more likely to seek out a song they heard on TikTok on a music streaming platform.
Community members often have their own "Heard it on TikTok" moment during their day to day lives. 72% of TikTokers agree that they associate certain songs with TikTok.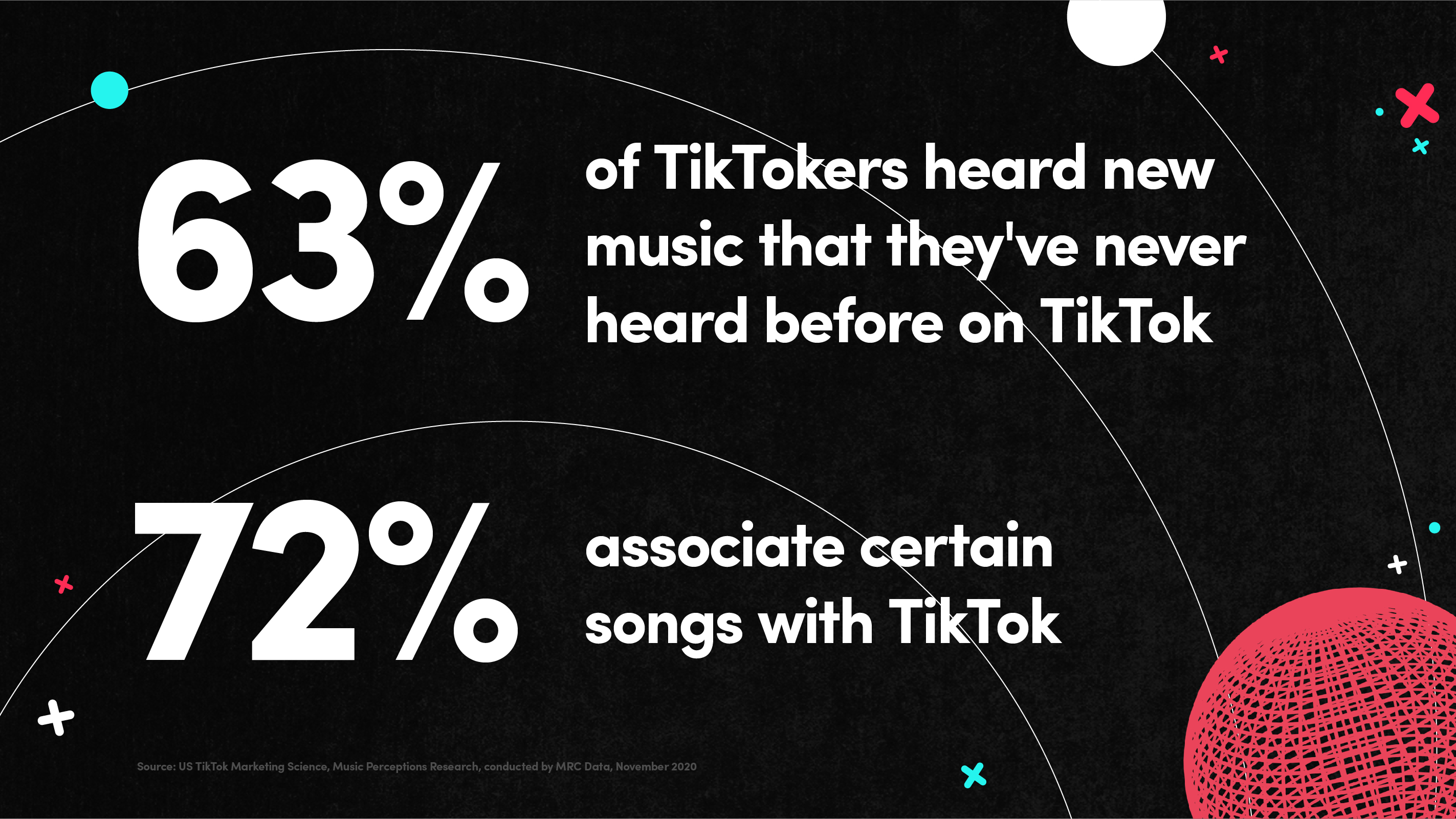 Music and sound play a big role in our lives, and brands are tapping into TikTok's sound on environment to connect with their community in a new and engaging way. When brands embrace music and partner with artists on the platform, they see a far-reaching halo effect of cultural relevancy and brand love.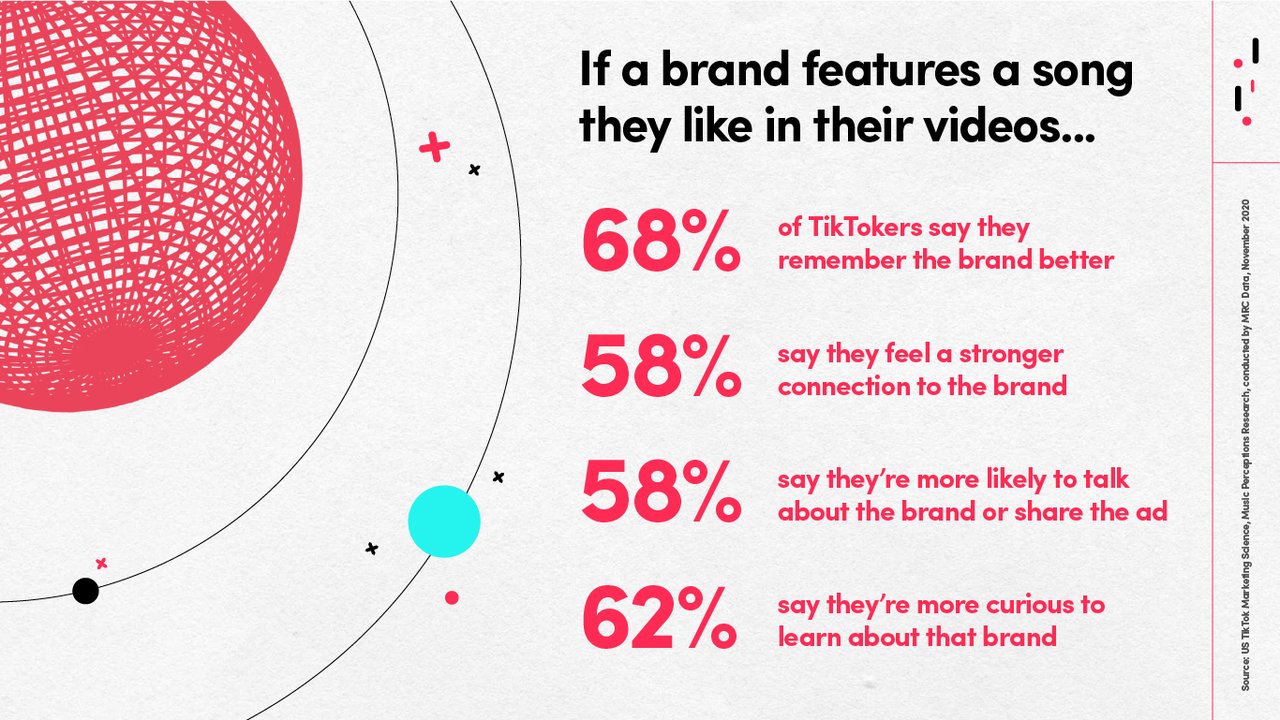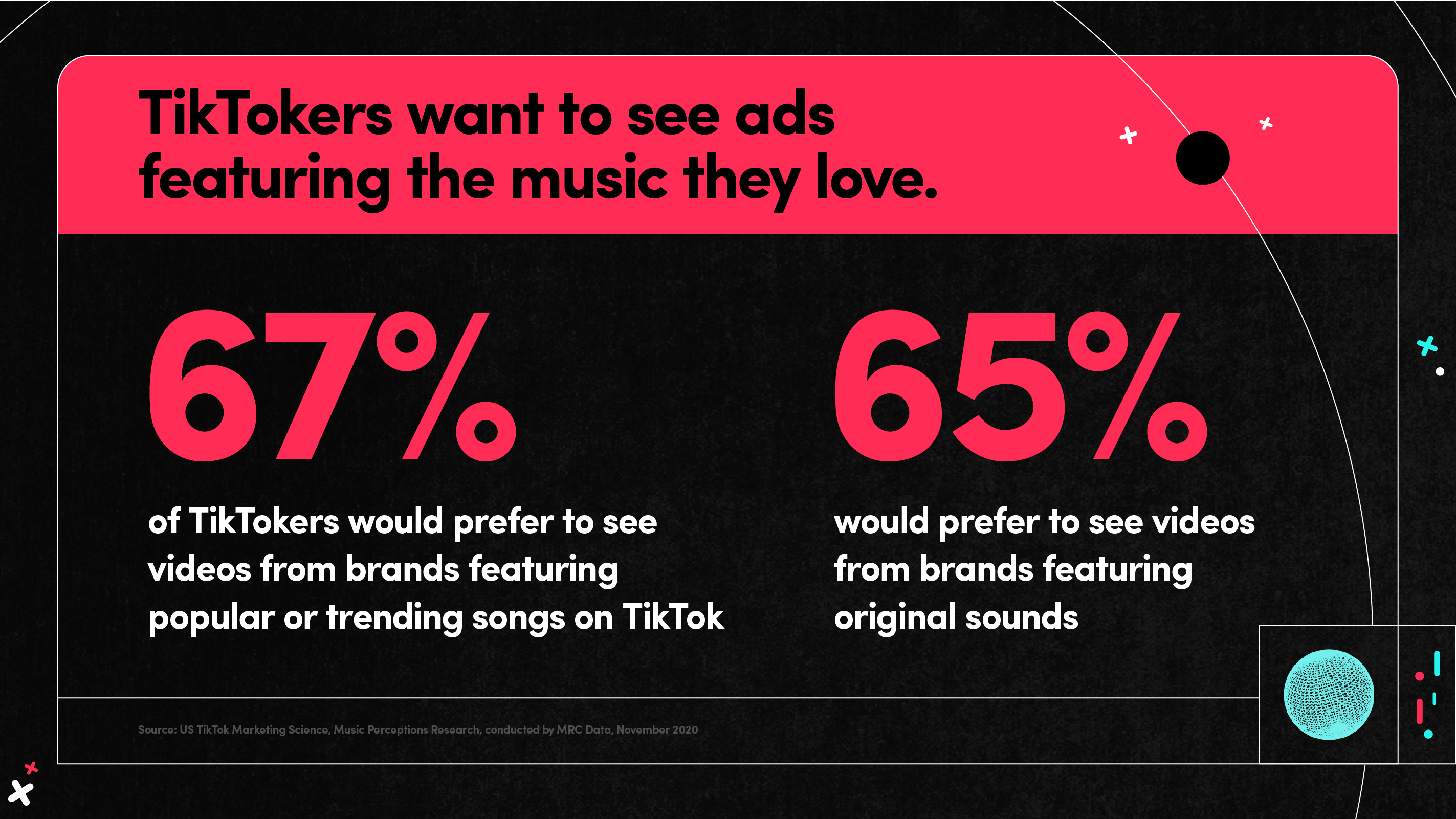 On Culture
Beyond music, our platform and community impacts culture and generates trends that start on TikTok and permeate everywhere. Thanks to Flamingo's research, we were able to quantify just how much TikTok drives culture through catalyzing trends that resonate far beyond the app on your phone.
From clearing shelves thanks to #TikTokMadeMeBuyIt, to driving luxury fashion trends, to hearing your friends say "I saw this thing on TikTok" every day, 71% of users believe the biggest trends start on TikTok.
"TikTok has revived brand love," said Sofia Hernandez, Head of N.A. Business Marketing, TikTok. "Our community invites brands to lean into and participate in trends, to connect through conversations, and to co-create, all of which builds advocacy and ultimately drives purchases."
Flamingo's research uncovered key insights that brands can consider to drive culture on TikTok**:
Through community building and trends, TikTok inspires action off of the platform. 43% of users try something or go somewhere new after seeing it at least once on the platform.
When brands participate and embrace the language of TikTok, the community embraces them. 61% of TikTokers like brands better when they create or participate in a trend on TikTok, and 21% of TikTokers feel more connected to brands when they comment on people's posts.
Embracing the medium of authenticity, 56% of users and 67% of creators feel closer to brands they see on TikTok - particularly when they publish human, unpolished content.
45% of users feel more connected to brands that teach them something new or give them information about themselves on TikTok.
The TikTok Community loves seeing familiar faces on the platform especially when brands engage in creator partnerships. 63% of users like it when brands show TikTok creators in their videos.
Leveraging creators and popular trends is an impactful way for brands to create on TikTok with 66% of users enjoying when brands sponsor creators to show off their products.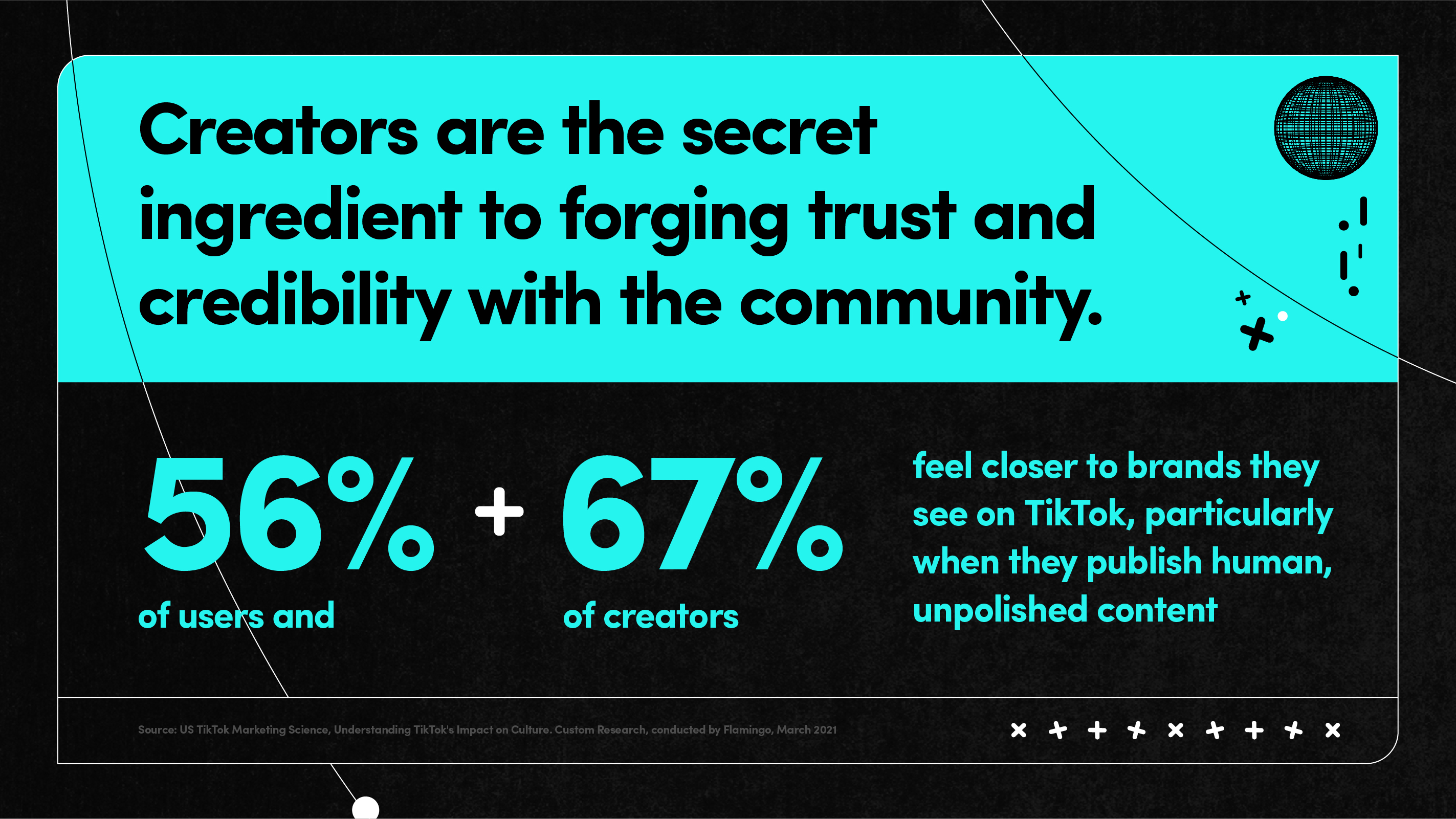 Here's the kicker: 7 in 10 users believe TikTok communities have the power to create change in culture. True to TikTok's mission, the collective creativity of the TikTok community to shape culture can't be understated.
TikTok is a cultural powerhouse, and that's on period. Validated by our custom research with MRC Data and Flamingo, our platform drives influence and impact far beyond the platform, benefitting brands and the community alike.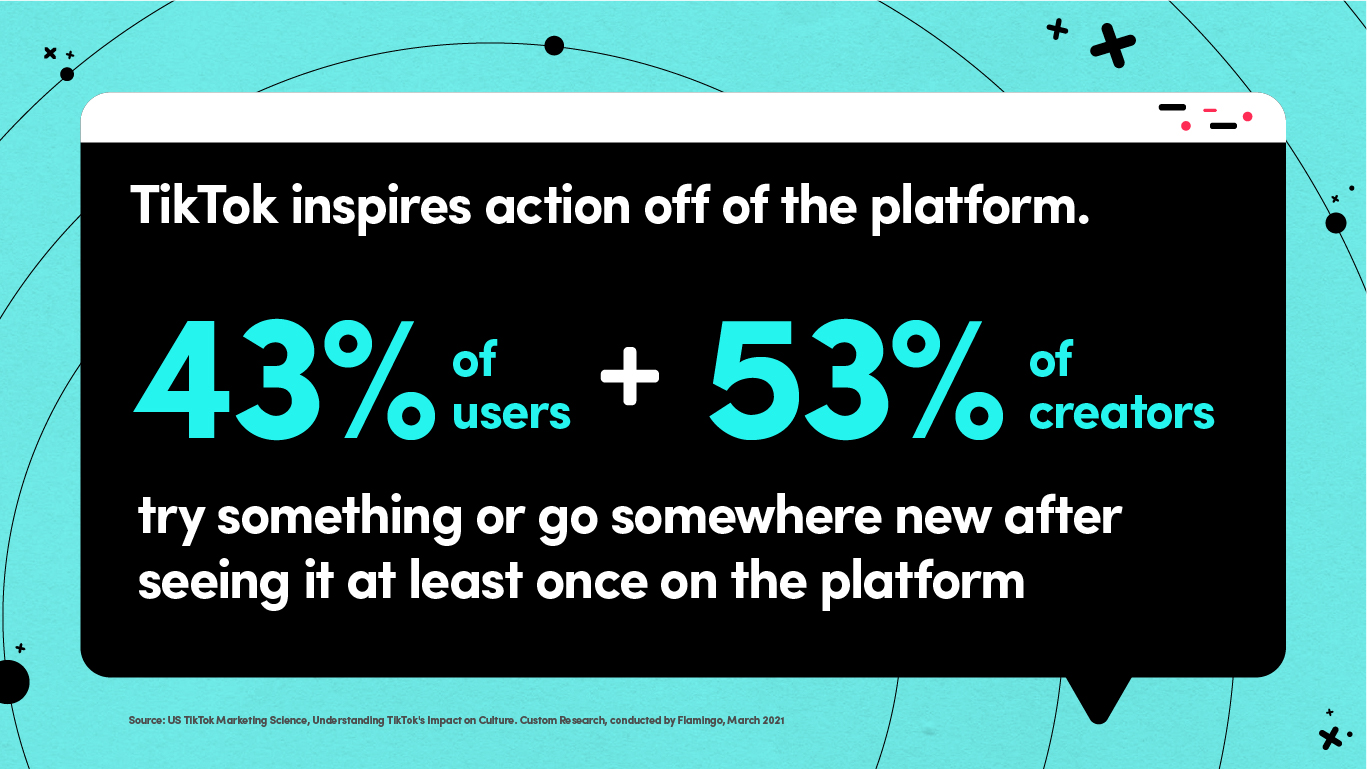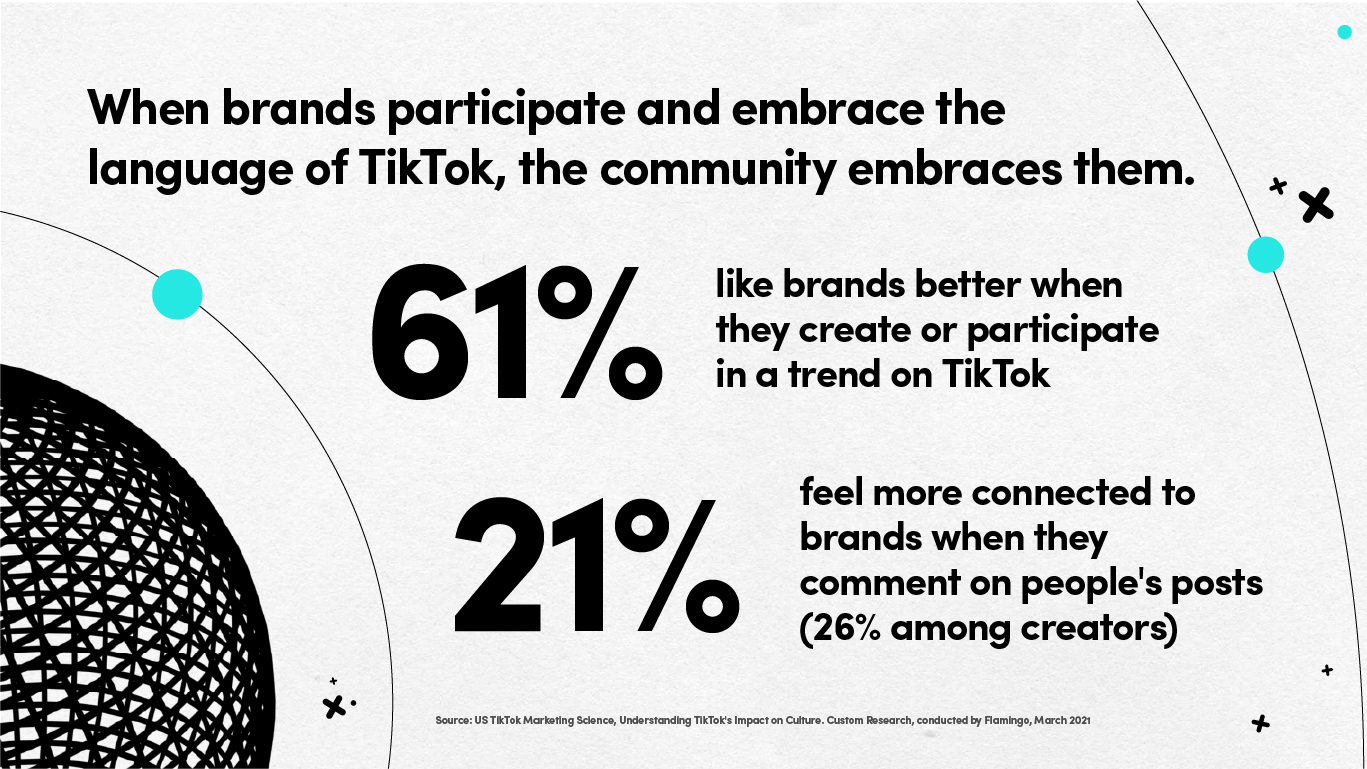 *Source: US TikTok Marketing Science, Music Perceptions Research, conducted by MRC Data, November 2020
**Source: US TikTok Marketing Science, Understanding TikTok's Impact on Culture Custom Research, conducted by Flamingo, March 2021