At TikTok, we're proud to be a platform that offers a safe place where people feel comfortable sharing their personal stories and openly discussing well-being, and we're constantly inspired by our community's support for one another. This #MentalHealthAwareness Month, we're announcing the launch of new initiatives aimed at promoting positive mental well-being, combating stigma, and providing support to our community.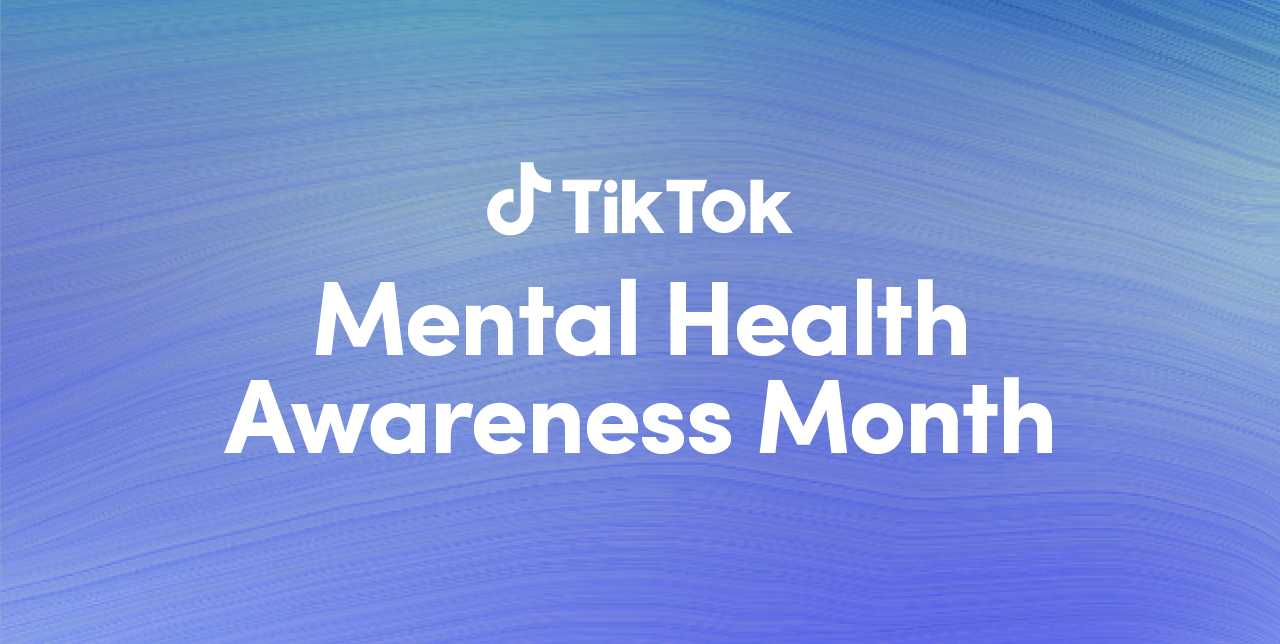 Partnering to Deliver Impact
As part of our commitment to safety, education, and uplifting our community and partners, we're launching a Mental Health Media Education Fund and donating over $2 million in ad credits to organizations working on supporting mental well-being, including:
As part of this initiative, we'll also be hosting a series of TikTok training sessions to equip our partners with the tools they need to share information with their communities during critical moments, such as World Mental Health Day in October or back-to-school season. This collaboration represents just one part of our continued efforts to advocate for positive mental health and reach people in need of support, and we're grateful that nonprofits and advocacy groups choose TikTok as a platform to share their knowledge and to reach a wide audience.
"NEDA and TikTok are committed to working together to continue to raise awareness and provide resources for individuals and families. Eating disorders can be isolating and stigmatizing for many people and TikTok is a globally accessible platform, which makes it an important place for raising awareness and understanding of eating disorders from a variety of perspectives." - Sarah Chase, VP of Communication, National Eating Disorders Association (NEDA)
Encouraging Supportive Conversations
To accompany our Media Education Fund, we're also launching a #MentalHealthAwareness hub for our community to easily learn about well-being topics, connect with advocates, and support organizations that provide important resources. To access the hub, go to the #MentalHealthAwareness hashtag page and tap on the link in the description of the hub to explore. It will be continually updated throughout May to highlight new educational and inspiring videos, mental health and wellness-centered creators, and organizations dedicated to raising awareness about mental health.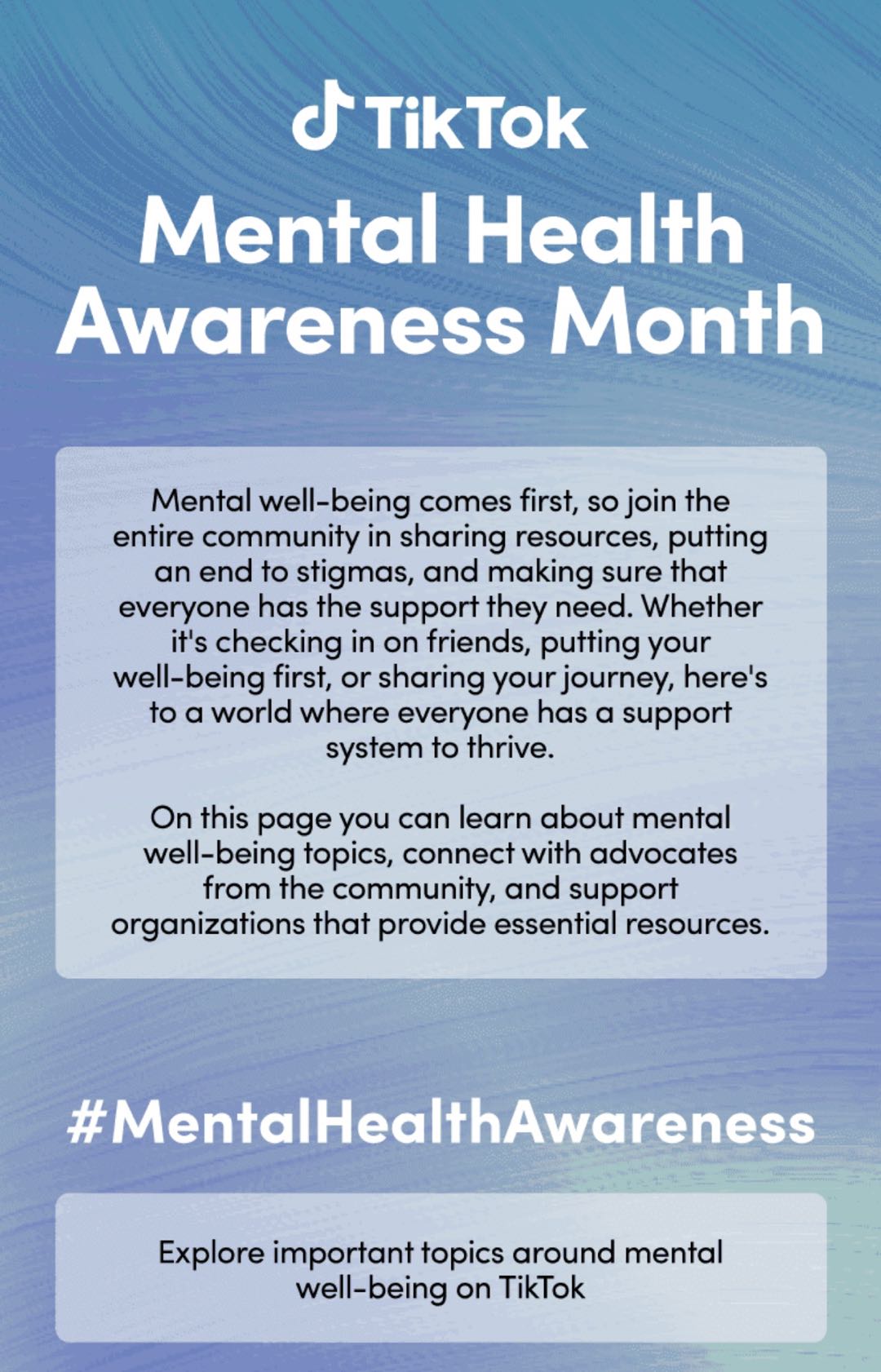 #MentalHealthAwareness Creator Spotlight
TikTok is a vibrant and welcoming place, enabling creators and the wider community to share their personal stories. Whether they're advocating for more open discussion about depression and anxiety, or sharing tips on how people can manage body or self-esteem issues, creators in the #MentalHealthAwareness community help foster open, honest, and authentic conversations. This month, we're spotlighting 10 creators who use TikTok to educate the community on #MentalHeathAwareness and have made a significant impact both on and off the platform over the past year: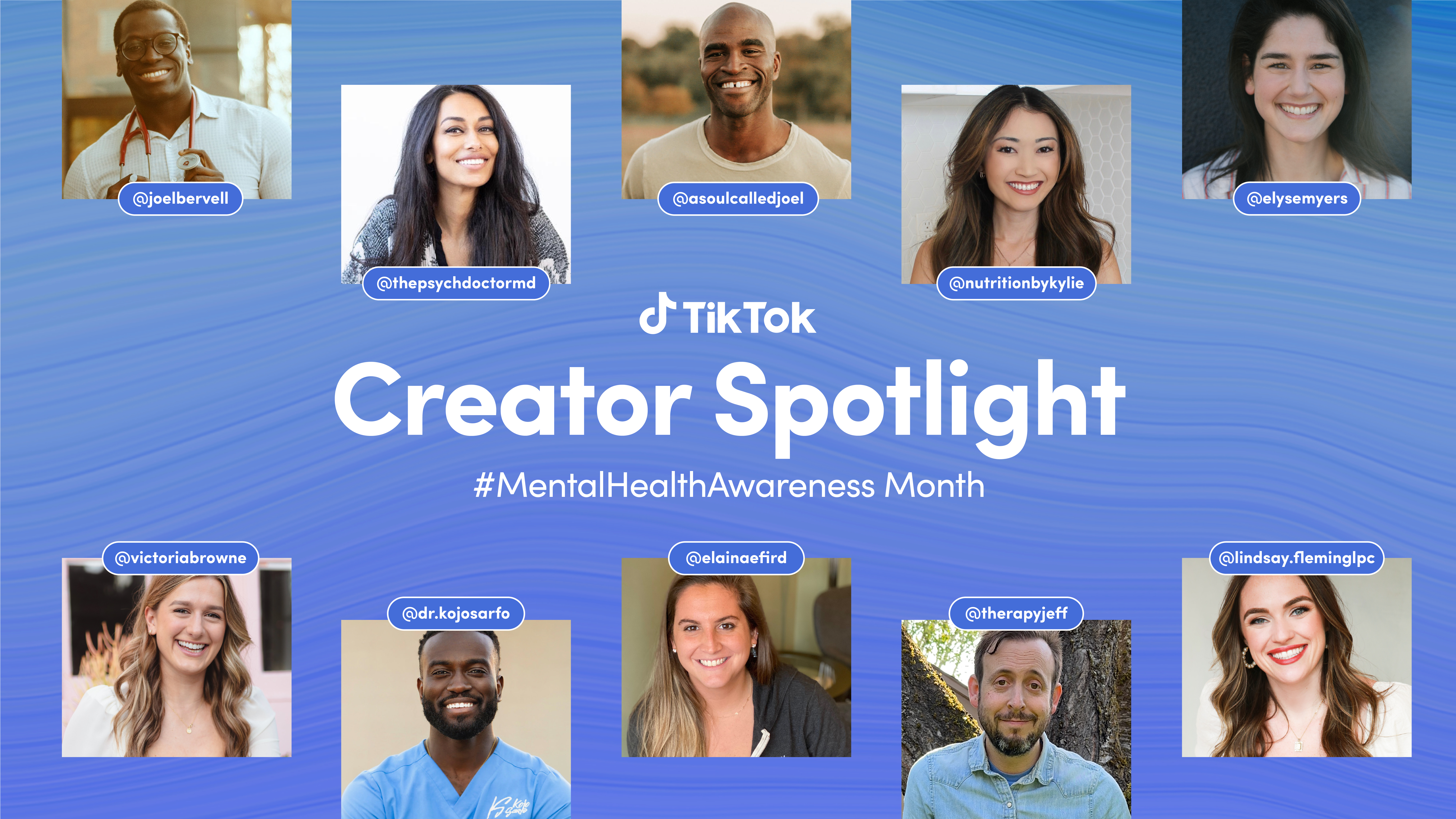 @asoulcalledjoel (Texas) - Joel Cross is a certified meditation teacher, mindfulness coach, and accomplished Grammy-nominated musician who has dedicated over a decade of his life to studying and practicing various mindfulness techniques — which inspired him to create the R.I.S.E. Journal, mindful music, and the Beautiful Souls Mindfulness Community, where he leads daily guided meditations. His practical approach to ancient meditation techniques helps people develop inner peace and emotional stability while staying true to their personal values.
@dr.kojosarfo (Los Angeles, California) - Dr. Kojo Sarfo is a psychotherapist, actor, comedian, content creator, and writer who creates videos in order to bring people together and promote mental health awareness.
@elainaefird (Vermont) - Elaina Efird, RDN, CD, CEDRD, CSSD, is a registered dietitian, certified eating disorder dietitian, and board-certified specialist in sports nutrition. Elaine is helping to break the stigma of eating disorders and educate people on the toxic cycle diet culture promotes. She believes that eating disorders need to be taken more seriously, both in society and in the medical community, and uses her voice to advocate for recovery.
@elysemyers (Omaha, Nebraska) - Elyse Myers is a writer and comedian based in Omaha who has achieved mainstream recognition as a digital content creator since gaining recognition on TikTok. Deemed "The Internet's Best Friend," Elyse continues to create unfiltered, genuine, and hilarious content that allows herself to be seen authentically.
@joelbervell (Portland, Oregon) - Joel Bervell is a Ghanaian-American medical student who creates medical content about racial disparities in healthcare, the hidden history of medicine, and overlooked biases in the healthcare industry. He also serves on councils, including the White House Office of Public Engagement's Health Care Leaders in Social Media, the Council for Social Responsible Media, the World Health Organization's 'Operation Fides,' and The Atlantic's Health Equity Advisory Board.
@lindsay.fleminglpc (Chicago, Illinois) - Lindsay Fleming, LPC, is a licensed therapist and private practice owner who is widely regarded as a trailblazer in modern mental health prevention and de-stigmatization work on TikTok. She is open about her own mental health struggles and has empowered her community of over half a million to start putting their mental health first. She is also a TEDx speaker, podcast host, and nonprofit co-founder.
@nutritionbykylie (Los Angeles, California) - Kylie Sakaida, MS, RDN, is a registered dietitian and content creator who is passionate about helping others improve their health in realistic ways and providing culturally sensitive nutrition education. Through her platform, Kylie shares practical nutrition tips, evidenced-based nutrition information, and easy-to-follow healthy recipes with her millions of followers.
@thepsychodoctormd (Los Angeles, California) - Dr. Sasha Hamdani is a board-certified psychiatrist who breaks down stigmas and provides accessible information about mental health. She uses her platform to spread easy-to-understand, science-backed information to educate, uplift and support others. She is the author of Self-Care for People with ADHD and the creator of FocusGenie, the mobile app for focus, productivity, and ADHD education.
@therapyjeff (Portland, Oregon) - Jeff Guenther uses a unique blend of humor and education to discuss mental health. He draws from his expertise in psychology and combines it with his engaging, witty approach to make complex topics accessible, promote mental well-being, and destigmatize mental health issues.
@victoriabrowne (Los Angeles, California) - Victoria Garrick Browne is a TED Talk speaker, mental health advocate, host of the popular podcast 'Real Pod,' and a former Division I Athlete. She is known for her unfiltered campaign, #RealPost, and for frequently discussing topics like depression, anxiety, and eating disorder recovery. Victoria encourages all people to be their most authentic selves.
Supporting the Well-being of Our Community
As a platform used by millions of people in the US and more than 1 billion people around the world, we're committed to protecting our community every day. Not only do we remove content that violates our Community Guidelines, but we also offer a variety of features that help people explore TikTok safely, including:
Redirecting searches linked to terms like #eatingdisorders or #suicide to prompt people to view support resources, such as helplines along with information on how they can seek assistance.
Enabling people to refresh their feed if they feel what they are seeing is no longer relevant to them
Using keywords to tailor their feeds to avoid potentially triggering content
Additionally, for those aged under 18, we set daily screen time to one hour by default. Since implementing this feature in March 2023, teen use of our daily screen time feature has increased by 590%, with three-quarters of U.S. teen TikTok users setting a daily screen time limit.
While there's no collectively-endorsed position on the 'right' amount of screen time or the impact of screen time more broadly, research shows that when teens are prompted to reflect, they can be more intentional about how they spend their digital time. Our goal is to help empower teens to make the right decisions about their screen time and this feature is an important step toward that goal.
Supporting #MentalHealthAwareness
Through continued collaboration with mental health organizations, content creators, and our TikTok community, we continue to raise awareness and foster a space where everyone can feel heard and supported — during #MentalHealthAwareness Month and beyond. We believe that everyone deserves access to resources and support for their mental well-being, and we are dedicated to continuously learning, evolving, and making a difference.