By Andy Yu and Jeff Dant, Digital Crimes and Converged Security at TikTok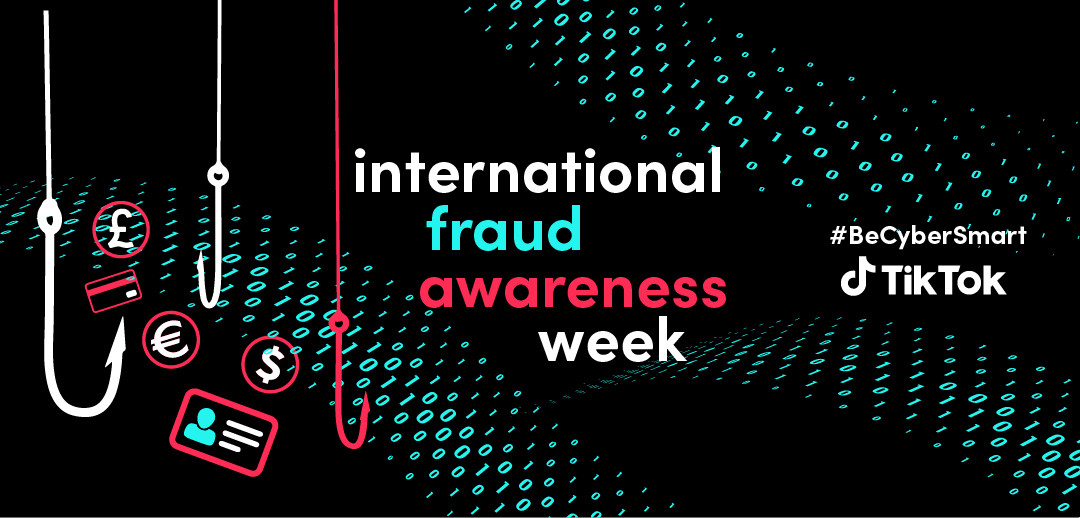 TikTok is committed to maintaining a positive and safe environment for our global community. We aim to make TikTok a welcoming place for everyone, and cybercriminals have no place on our platform.
Cybercrime takes many forms and affects people across countries, cultures, and communities. From social engineering to email phishing or fake websites, cybercriminals continually shift and refine their techniques. For International Fraud Awareness Week, we're supporting the Association of Certified Fraud Examiners (ACFE) as a continuation of our #BeCyberSmart campaign with the National Cyber Security Alliance (NCSA). We're kicking off the week with industry experts like the Identity Theft Resource Center, "Original Internet Godfather" Brett Johnson, Fraudology podcast host Karisse Hendrick, The Knoble's Ian Mitchell, and Frank McKenna (AKA, Frank on Fraud). Our goal is to spotlight ways to identify scams, verify suspicious activity, and report potential bad actors to the appropriate authorities.
"Fraudsters collaborate -- they work together to team up and victimize innocent people," said Brett Johnson. "The only way to combat online fraud is for the good guys to work together, and the most effective way to raise awareness and protect each other is to engage people where they are: on TikTok."
"TikTok moves at the speed of culture, and fraudsters move fast too," said Frank McKenna. "There are a million battles to fight on the fraud front every day, which is why it's so important for platforms like TikTok to help elevate conversations around investing in best practices, technologies, and training before fraud hits."
"I've been fighting financial crime and fraud for over 20 years, and there's always more to be done to protect the most vulnerable members of our global society," said Ian Mitchell, Founder of The Knoble, a non-profit global network of experts with a passion for fighting human crime. "TikTok can power positive impact by equipping people all over the world with the information, training, and tools necessary to stay safe online."
Building fraud awareness and education
We hope creators and brands alike will engage in #FraudAwarenessWeek by taking important steps to #BeCyberSmart. Here are some of our favorite tips:
Protect: Always keep connected devices updated with the latest software. Ignoring reminders to make updates can leave a door open for hackers to exploit you. Use a VPN for an added layer of security, and enable two-step verification to protect your accounts.
Prevent: Look out for social engineering attempts where fraudsters pose as a customer service representative to gain remote access to your device, account, or profile. With remote access to your device, scammers can install malware that allows hackers to steal your passwords, identity, financial information, drain your bank accounts, and more.
Verify: If you get an enticing offer from an unsolicited phone call, text, or pop-up message, go directly to the actual company's website to be sure it's legitimate. If you can't confirm the authenticity of the person or offer, it's probably a scam. Also keep an eye out for incorrect spelling or grammar like someone claiming to work for a government agency without an email address ending ".gov".
Monitor: Continuously monitor your accounts for unauthorized activity. Set automatic alerts for emails or texts with transaction details whenever your debit card, credit card, or Cash App is used. Remember that credit cards offer the most consumer protections when things go awry, and regular credit monitoring is always a best practice. You can also visit HaveIBeenPwned.com to see if your email, phone number, or passwords were part of a breach. If so, that information is available to cybercriminals, so act fast to change your passwords across accounts.
Slow down: Unique or time sensitive investment opportunities should give you pause. Urgent expenses for things like IT support, business operations, customs and taxes, travel, or medical needs should also raise alarm bells. Be cautious if requestors quickly demand moving communications to encrypted messaging platforms, and do not share personal identification documents, Social Security or bank account numbers, or any other personal identifiers.
Stop: If merchants request more data than you're comfortable sharing or something seems amiss, cancel the transaction. Be wary of requests for unusual payment methods like cryptocurrency, prepaid debit or gift cards, or money services businesses to initiate domestic or foreign wires.
#LearnOnTikTok LIVE
Tune in tonight at 5pm PT / 8pm ET for a special #LearnOnTikTok LIVE stream hosted by comedian @Alex_Falcone in conversation with tech creator @mryeester for an insider's perspective on how to avoid falling victim to fraud.
"The holiday season is expected to bring a new surge of malicious activity and bad actors online," said Lisa Plaggemier, Interim Executive Director at the National Cyber Security Alliance. "I'm happy to see TikTok raising awareness and educating people on how to spot and steer clear of scams and cybercrime."
Fighting digital crimes with industry experts
TikTok's digital crimes and converged security operations play an essential role in fighting cybercrime. We work across business operations, risk control, compliance, and other cross-functional teams to monitor for suspicious activity so we can identify, disrupt, and deter illegal activities on our platform. We also collaborate with a vast network around the world, including organizations like the International Criminal Police Organization (INTERPOL) and Europol, United Nations (UN) agencies, Financial Action Task Force, World Customs Organization, and other private-public partnerships. Our objective is to help bring resources to the forefront by exchanging information and intelligence to make the digital world more secure.
"As technology continues evolving, scams and fraud tactics evolve in parallel," said Karisse Hendrick. "By coming together to share more information with the global community with TikTok, we can help usher in a safer online world."
Early detection to ensure community protection
In addition to pioneering new technologies and developing intelligent automation, we believe it's important to invest in continuous training and development for our teams. After all, our employees are our first line of defense. Our global security organization works hand-in-hand with our content moderation teams in every region of the world to keep up with the ever-evolving threat landscape.
"Fighting fraud and practicing good cyber hygiene is a shared responsibility for all of us," said Identity Theft Resource Center President/CEO Eva Velasquez. "When we come together to share information, we not only increase awareness, we also give people the tools they need to protect themselves from cyber thieves and help reduce the impacts of fraud on everyone."
If you encounter suspicious activity in-app, report it to our Safety Center. Fraud, scams, and bad business practices can be reported to the Federal Trade Commission, FBI Internet Crime Complaint Center (IC3), and IRS taxpayer guide to identity theft in the US, along with Action Fraud in the UK. Information is also available from the Identity Theft Resource Center. Follow @TikTokTips to learn more, and join our campaign to help others remember to always #BeCyberSmart.