At TikTok, we value creators for being their authentic selves on the platform and aim to create a space where everyone feels confident to live their best life. Our Creator Spotlight Series, an ongoing feature series highlighting our amazing creatives, allows us to showcase all the innovative talent we see on the platform each day.
Today we are featuring @veondre, a creator leading the charge for original and insightful content about her everyday struggles as a Black Latinx Trans woman. She uses her platform to educate and bring awareness to trans issues, from highlighting other influential Black Trans women in history to celebrating her trans pride and being unapologetically herself. Ve'ondre raises the bar and inspires others every day, all through a comedic, entertaining lens.
She recently spoke with R&B singer Monica on a TikTok LIVE stream about skin care and hair care routines, and the progression of (and their hopes for!) the beauty industry for the Black community. We also chatted with Ve'ondre about how important it is to post content you love and how she is making her page a safe place for viewers to learn and feel supported. Read more below!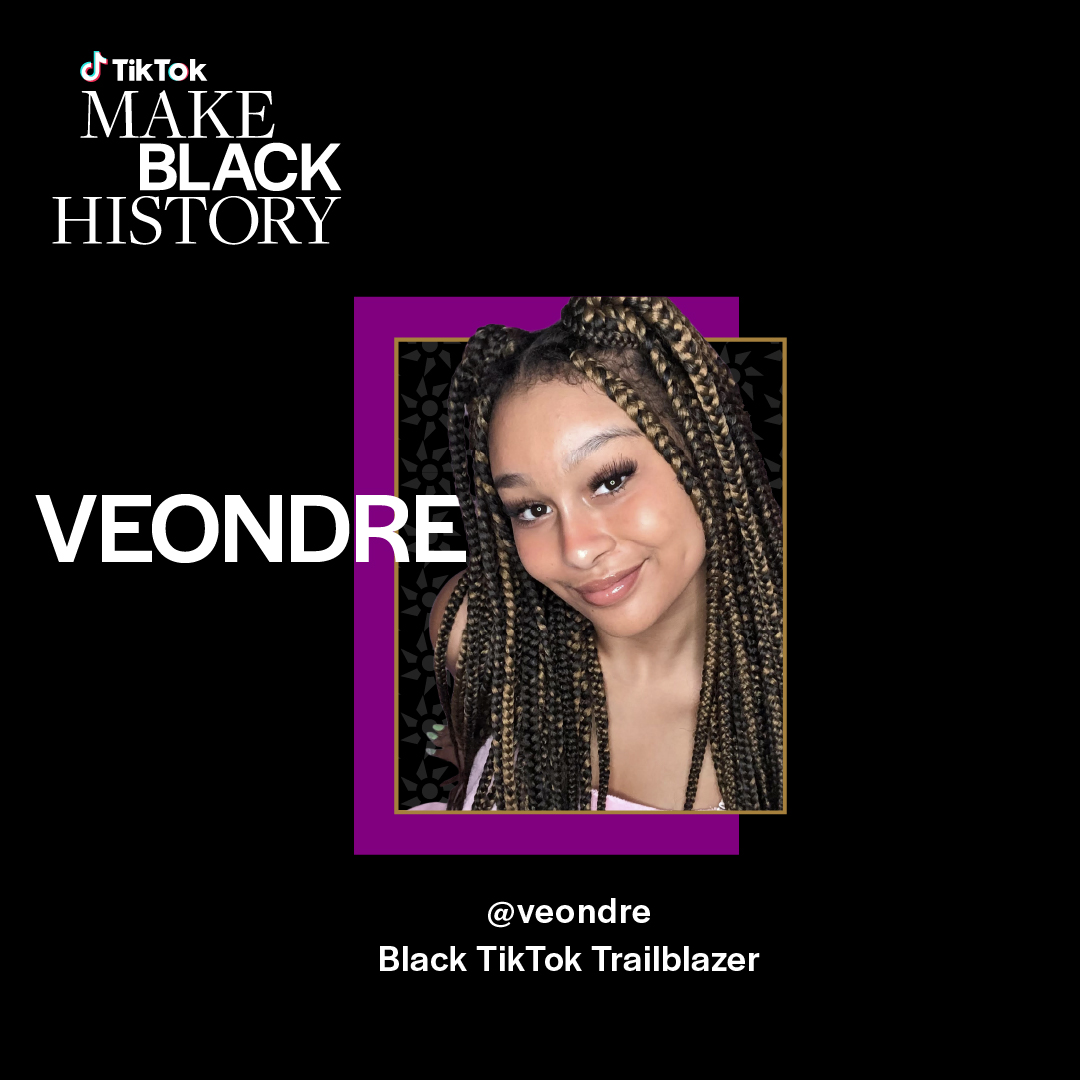 How did you get started creating on TikTok, and what was the first TikTok video you shared/published?
I started off making comedy skits, then brought in my trans content, making my content a safe place for my community and a place for others to learn.
Why do you think TikTok is the right platform for your content or why do you continue to create and share on TikTok?
Because I have never been able to reach such a large audience so fast and it lifts my voice up as a Black trans woman.
What is your favorite TikTok you have made to date and why?
"Can I go to the washroom" video! It gave insight on my story about using the correct bathroom after coming out while at the same time giving any viewer a respectful laugh.
What Black historical figure inspires you?
I have like 1000! But I'll pick one. I love Laverne Cox, she's literally the definition of a Trailblazer. She should be on this team, someone go call her up!
Any advice for new creators?
Post every day and your videos will get pushed! Don't do it for the views, do it because it is what you love!
What does being a Trailblazer mean to you?
It means I am someone who sets the standard humbly for not only my community but my Black/Latinx community!
Who are some Black creators that everyone should be following/watching?
A Black creative you definitely should watch is my best friend Rocky, @righteous.raquel.