On our Creator Spotlight Series, we're celebrating the LGBTQ+ TikTok Trailblazers who are spreading positive messages about living authentically and embracing self-pride.
Next up, meet Sedona Price (@sedonerrr), a 21-year-old collegiate basketball player at the University of Oregon. She uses her platform on TikTok to advocate for change not only in the LGBTQ+ community, but also for women's sports across the country.
Read more below about how she's found the courage to own her identity and bring attention to inequalities and injustices within the LGBTQ+ community.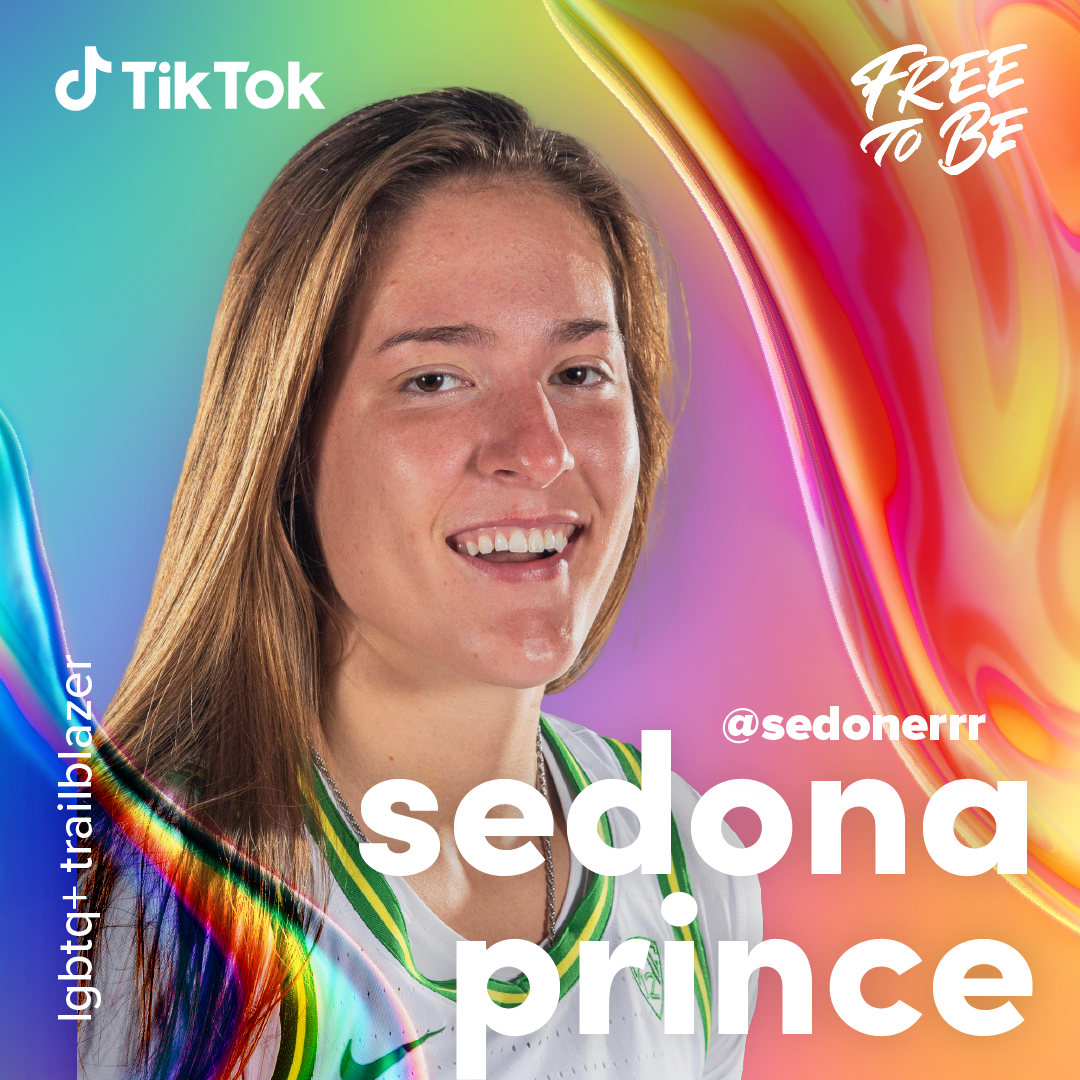 What does Pride mean to you? How has that meaning changed for you over time?
Pride means a lot to me since I first came out as a lesbian through the TikTok platform. I was able to have a community that supports and loves me, which has given me the courage to speak up about inequalities and injustices. Watching myself grow and become much more confident about my sexuality is an amazing feeling, and I hope to help others also become confident with their own sexuality.
How has your identity influenced or shaped you?
Being a female athlete is difficult enough, and being gay has added a lot of more struggles in my career field. Being able to own my identity, and share my love with the world, has given me strength and courage to be a leader in my field. I also feel connected with the LGBTQ+ community because I can relate to the many struggles that others go through daily.
How do you celebrate the diversity/strength of (and also support) the LGBTQ+ community?
Understanding that our community is so vast and diverse makes us even stronger. When we realize that there are so many inequalities within our community, it brings us together to fight against them, which strengthens us as whole. I have noticed that I have such a large fan base that supports every part of my identity, and accepts me for who I am, which is what makes our community so special.
How has the TikTok community inspired you?
TikTok has inspired me because it is an app that allows for stories to be shared and news to be spread. I have met some truly amazing people within the LGBTQ+ community on the app, and we have shared stories of struggles and perseverance. By using our voices, and not being silenced, we are able to become unified, which continue to help further LGBTQ+ generations.
What advice would you give to the next generation of the LGBTQ+ community?
My advice would be to be your true self, even if you are scared of what people will think. Before I came out, I was scared of how people would look at me, and if I would lose friends or even family members. Now, as a LGBTQ+ creator with a large following, I see that by coming out, I have not only made even better friends that love and accept me, but I have helped inspire others, and shown them how incredible it feels to be your true self.
How do you think people can be allies to the LGBTQ+ community?
People can be allies to the LGBTQ+ community by supporting us and sharing our stories. There is a lot of toxicity from people who are against the LGBTQ+ community, and when they begin to spread hatred, allies must step up and use their voices to stop it. When we work together for equality and representation, we can come to a common goal quicker and easier, and help many people in our community feel represented.
Who are some LGBTQ+ TikTok creators that everyone should be following/watching (and why)?
One of my favorite LGBTQ+ TikTok creators is @noelmulk0. He not only speaks about how fitness saved his life from addiction, but he also shares light on asexuality and his struggles through it. He is one of the most positive and loving influencers I have ever interacted with, and if you don't follow him, you absolutely should.