Dakota Wright, or @printfairy, is a southern, "small town," gay creator from Huntersville, NC who shares comical content centered around food and lifestyle. His legendary food haul videos, which can be easily recognized by hearing a restaurants name, followed by the word "ORDERS!," have helped Dakota establish a community of viewers that admire his positive relationship with food and honest opinions. Dakota's presence in the LGBTQ+ community on TikTok is significant. Many LGBTQ+ people in his audience, also from small towns, have shared that they don't have positive, authentic figures like him in their day-to-day lives. He embodies self-acceptance, while promoting acceptance of others, and encourages everyone to "live their best life, unapologetically" through his videos.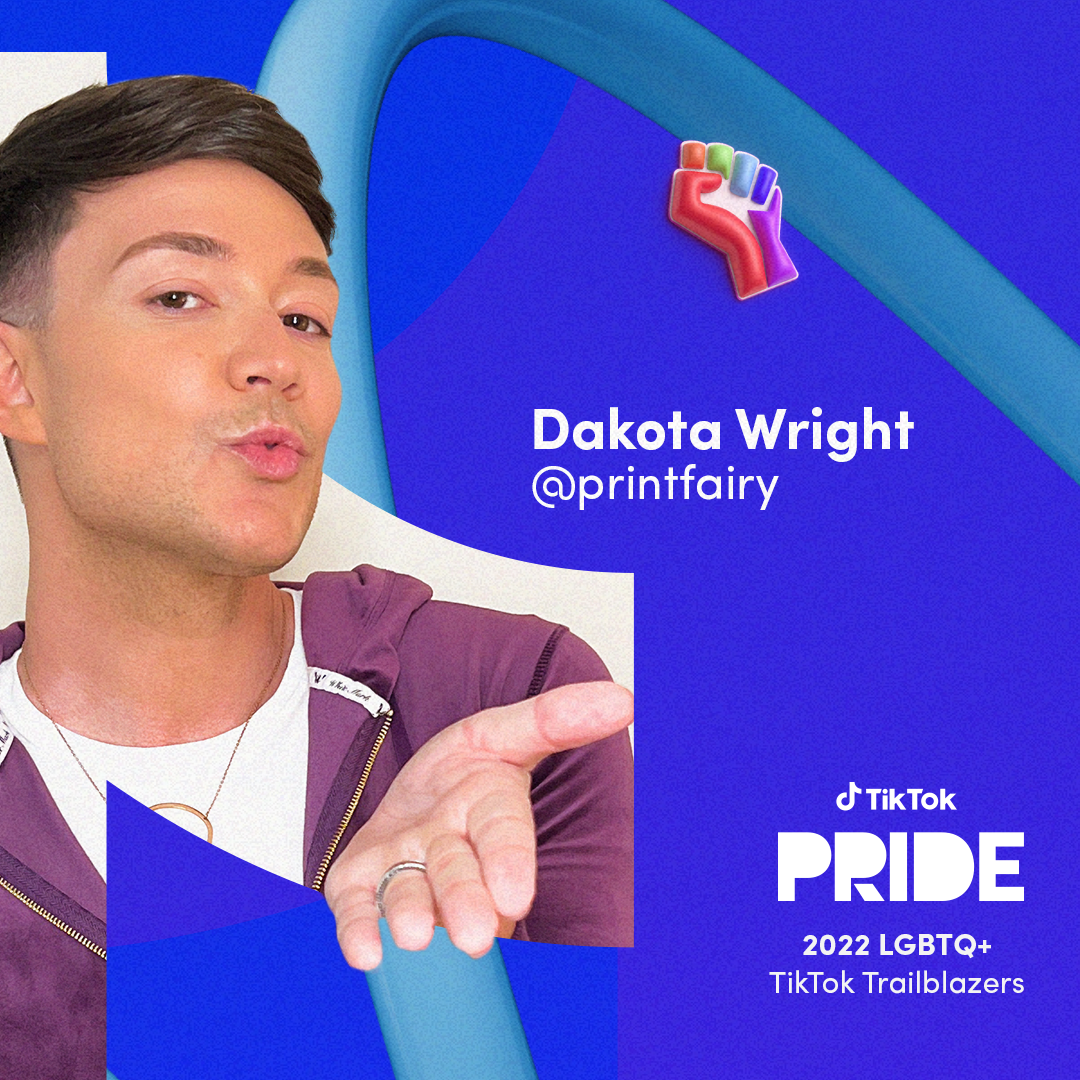 How has the TikTok community inspired you?
TikTok highlights creators who are simply being themselves, giving platforms and communities to essentially everyone. The feeling of "togetherness" that TikTok provides is truly organic and has allowed me to become more confident and express myself in ways I never thought were attainable. Now more than ever, I find peace in connecting people within the LGBTQ+ community and connecting non-LGBTQ+ people with us. I strive to make content that appeals to everyone and hope that a byproduct of doing so promotes acceptance of LGBTQ+ people. I set an example and provide a safe place for people to learn.
What is your favorite TikTok video that you've created and why?
This video is hands down the most iconic video I've filmed. I had JUST paid my car off and to reward myself I had it wrapped in pink glitter! This video embodies everything I am — confidence, sass, humor, pink, and unapologetic. As the beginning of the video states, I've always wanted a pink car. Never in a million years did I think I would be in a position to get one but here we are. I was ecstatic to show everyone that if you want something, go get it. What's stopping you? I wanted a pink car and I made it happen. My full-time job is being a realtor and our vehicles are one of the first impressions we make to consumers. The pink car indicates that I'm loud, confident, and willing to go above and beyond. The reception from my community on TikTok was well received. People went NUTS over this car. I received many comments of people saying they've always wanted to wrap their cars, or start carrying a purse, and even get their first set of nails. The craziest thing was that some of the people commenting that, actually did it, made a video, and tagged me in it! I was truly touched at how influential this short video was. To this day, I receive comments and direct messages of people saying they've seen my car somewhere and it reminded them to "not give an eff what people think." Who knew a southern gay and his pink glitter car would make such an impact? Certainly not I!
What are some of your passions on and off of TikTok?
When I'm unplugged, I enjoy spending time with my mother, husband, and cat named Katy Purry. Family is important to me. My husband and I travel often to build memories and discover new territories. We both are obsessed with The Real Housewives. On TikTok, I enjoy watching other food creators, satire POVs, makeup routines, and other couples. One of my biggest passions is reading comments on videos. Conversations in the comment sections sometimes make videos more hilarious than intended. I've cried tears of laughter several times just by reading comments, even on my videos.
What is your dream opportunity?
Ideally, I would love to have a TV show with my husband. I love spending time with him creating memories and what better way than to work together on something entertaining! The marriages in reality TV, good and bad, are something I've always enjoyed watching. The experience itself would be really wholesome to watch from the outside looking in. On a larger scale, if I or we ever became "rich and famous" I would love to start a charity organization for LGBTQ+ adolescents who have their lives uprooted after "coming out".
What is the story behind your username?
I get this question all the time! In 2013, I bought my first PlayStation, and I had to make a username. My name was taken, and at the time Jersey Shore was big, so I had a lot of animal print on my mind. At the same time, I was also being called a "fairy" as a derogatory term. I always felt like fairies were cute, and I love fairies, so I decided to redefine the term for myself.
What advice would you have for other working professionals looking to create a presence on TikTok?
Turn the camera on and hit record. Don't worry about a thing, just post your content. Other creators often have draft videos and send them to me for feedback. Almost every time I'm left wondering why they hadn't already hit "post." You don't know who your content will resonate with, but there's a community out there for everyone. So, just hit record and post it.