Michelle González is an Argentine-American travel creator and expert who shares travel tips on luxury flights, properties and experiences. In just over two years on TikTok, she has established herself as an expert on both travel tips and aspirational travel, gaining an audience of over 1M followers.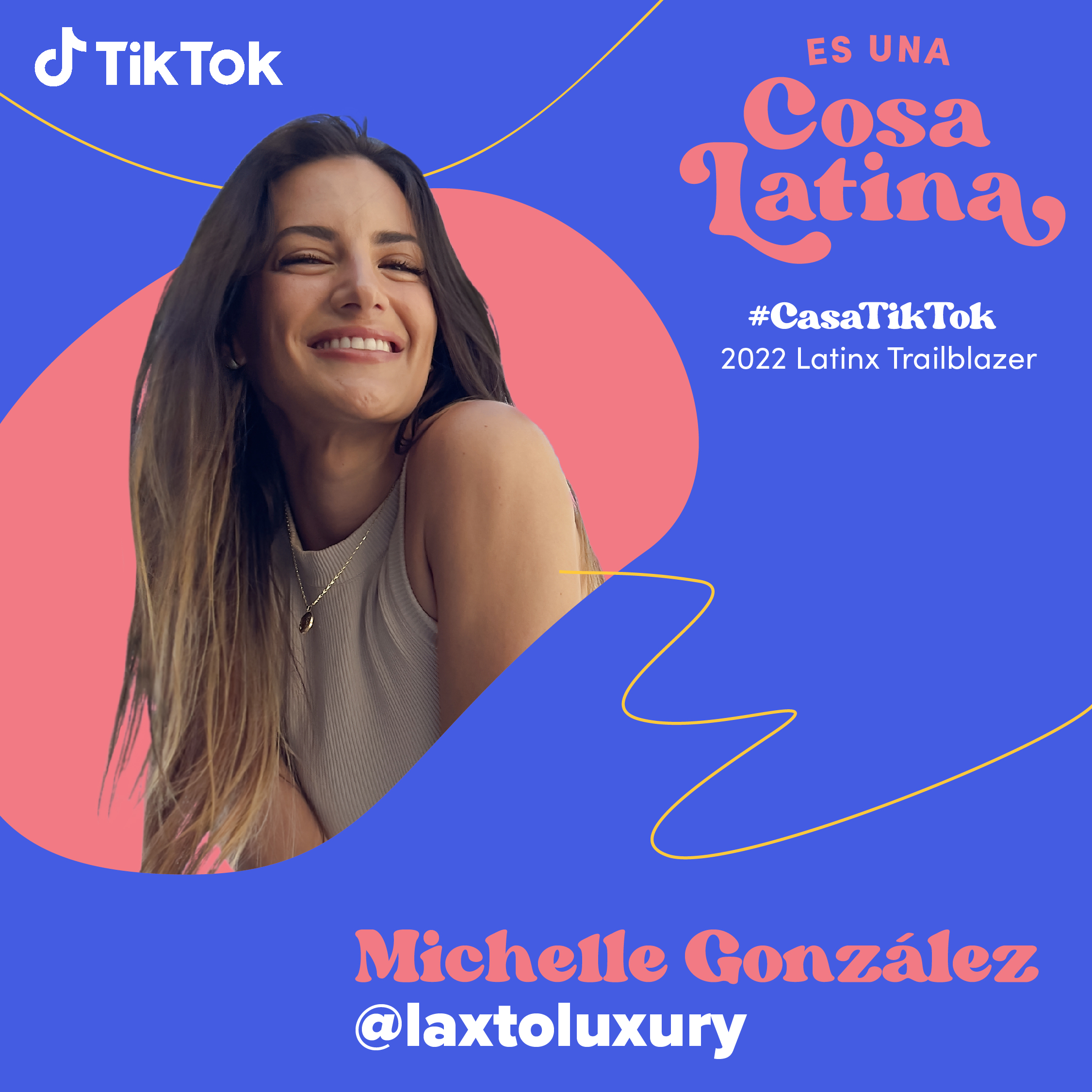 What does it mean to you to be part of the Latinx community?
Being part of the Latinx community means being a representative in the flight vlogging space, primarily dominated by anglo and males, and showing that there is a space for Latinas. It also means connecting with others in the community, lifting each other up and supporting representation and success in other niches. I regularly serve as a resource to other Latinx creators through the TikTok Latinx Creatives program and Casa TikTok, particularly in analytics and rate negotiations.
How has the TikTok community inspired you?
The TikTok community has always inspired me to be my authentic self. TikTok is my "home" social media platform. LAXtoLuxury existed on TikTok first because the community has made me feel comfortable opening up on the platform. It is unfiltered, real and authentic. The TikTok community also introduces me to new topics I never knew I would be interested in!
How do you share your culture on TikTok?
On TikTok, I talk about being a first-generation dual citizen, getting to where I am by creating luxury content without the benefit of generational wealth and participating in Latinx-focused trends.
I'm excited to share my upcoming trip to Argentina. My father and I have not been back since before COVID, and we are the only two in the family who live in the US. My father lives with me for health reasons, so this may be one of his last opportunities to return home. As a result, I am super excited to share where my family lives, our traditions and more in a way that is incredibly meaningful to me.
What is your dream opportunity?
My dream opportunity is to create and host a TV show in which I serve as the world's foremost expert on all premium commercial flight products across the globe. I would love to share how those products and experiences vary across airlines – similar to Netflix's "World's Most Amazing Vacation Rentals" or "Amazing Hotels." This show will focus on the premium flight products of airlines. I want to attract a global audience with viewers planning a special once-in-a-lifetime trip, frequent flyers and those who like seeing the world's best flights. I also want to show that it is not just old, white men sitting in those seats; minority women belong too, and sharing these experiences would help demystify premium flying for the rest of the flying public!
Where is your favorite travel destination and why?
My favorite travel destination is Mexico because you have access to a breadth of experiences, from the ocean, city to the deserts. Plus, there are many restaurants, museums, bars, cultural activities, communities and more! I have probably been there 20 times now, and there are still so many pieces and pockets I have not been to.
Do you have any travel hacks that you learned on TikTok?
I love the travel hack where you use a free sick bag you get on the plane, slide the bag between the case and phone and attach it to the upright tray table in front of you so that travelers can watch movies while flying on their phone hands-free.