Kevin T. Norman, known on TikTok as @kevintnorman, is a queer Latinx creator from Los Angeles, CA who combines humor and his love of reading to help promote diverse and queer stories. He inspires people to read more, introduces them to LGBTQ+ books, and amplifies queer voices.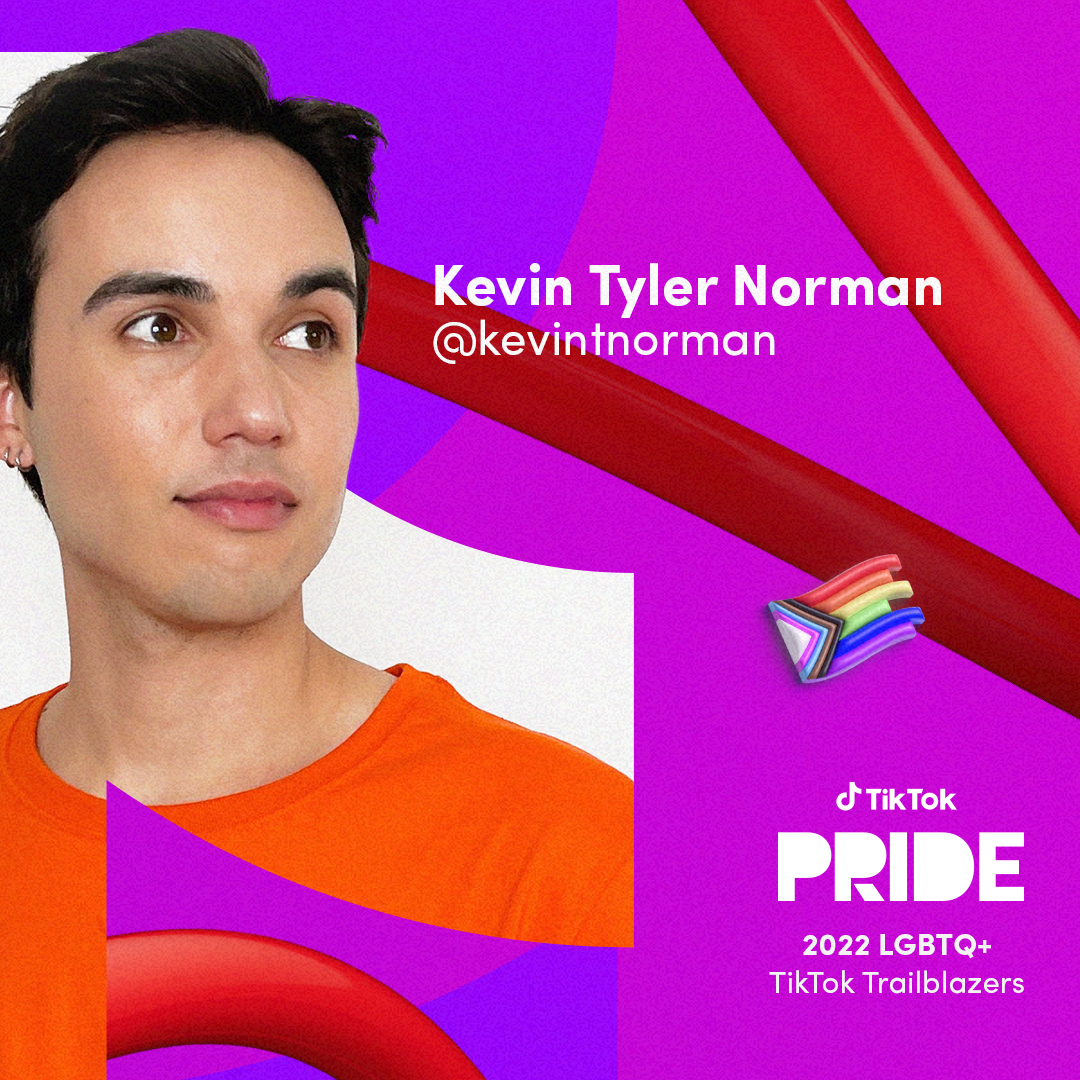 What does it mean to you to be part of the LGBTQ+ community?
It took me a while to accept that I was gay because I had to tackle religion, self-hatred, and a lot of awkward conversations with friends and family. But now, I live a life where that part of myself is celebrated, and I couldn't be happier.
To me, being a part of the LGBTQ+ community means being adaptable, imaginative and wildly courageous. It's learning to picture yourself in media and entertainment when it often fails to represent you. It means being confident because it takes immense strength to be who you are in a world that demands for you to be someone else. To be queer is to be resilient and hopeful. It means facing adversities but knowing you never have to face them alone. It's having a found family and your own culture. It's being a part of a community that will always accept you as you are. Because who you are is beautiful.
How have you built and maintained a community on TikTok?
I have built a community on TikTok by being truthful about who I am and what I'm passionate about. Because I grew up without access to queer books, I wanted to create a resource for those who might be in search of them. Through TikTok, I have discovered a fantastic community of queer individuals and allies passionate about storytelling that tell stories through a queer lens. While growing this community, I have collaborated with some amazing brands that share this vision and continue to engage with other creators, supporting their content, and building long-lasting relationships. I also love to go on TikTok LIVE to engage with my followers and use that time to create an interactive space where we can collaborate. Because my account focuses heavily on books, I get to interact even more with this community that we have collectively built. We often discuss the many books we read and ask each other for new recommendations, which allow for a constant flow of creativity, ideas, and expression. TikTok has allowed me to combine my training as a performer and my love of books to create thoughtful, funny, and engaging content that I hope encourages people to read more.
What is your favorite TikTok video that you've created and why?
I feel as if every new video I make is my favorite, but one of my recent favorites is this video that combines queer content with humor!
How would you describe the #BookTok community to someone who is not familiar with it?
The BookTok community is a very diverse and welcoming community. Everyone is excited about reading and promoting stories. The cool thing about the community is that you can find a niche part of the community for any type of genre. There's romance #BookTok, queer #BookTok, fantasy #BookTok and so much more!
What are some of your passions on and off of TikTok?
The amazing thing about TikTok is that it allows me to use my passion as a performer, love of reading, and artistic creativity to produce content emphasizing learning and books. I didn't have anyone to talk to when I was figuring out my sexuality, so I turned to literature to find answers. When I came out, books were a tool that helped me feel less alone and helped me better understand my queerness. LGBTQ+ stories deserve to be told, and my passion is to creatively share them.
In addition to reading, I love to write poetry, and although I don't discuss poetry on my channel, I have been able to use my platform to showcase my poetry book. I also love to travel and be outdoors. My boyfriend and I have made a promise to visit every National Park together, and so far, we've been to over 15! I have dubbed us "The National Park Gays." I am passionate about food, both cooking and eating. I am a vegetarian, so I love cooking new recipes that use vegetables in fun and creative ways. Ultimately, my biggest passion is learning. This has led me to learn how to create digital art, format a book, speak Spanish, design a website, and more! I want to do so much in life, so I try and teach myself all that I can.
What is your dream opportunity?
There are so many things I want to do. I'd love to act in an LGBTQ+ focused television series, be a television show host where I can interview trailblazers and share inspiring stories and traditionally publish and see my books in stores worldwide!