Tefi, known on TikTok as @hellotefi, was born and raised in Miami, Florida and now lives in Brooklyn, New York. She has been a force in the digital space with her natural ability to connect with her audience through laughter. Pop culture obsessed, Tefi turns the daily happenings in Hollywood into fun and engaging storytelling. From 90s nostalgia to the top shows on Netflix, Tefi unpacks it all with the perfect recipe of humor, honesty, and a dash of real advice. As a Latinx creator, she has been able to successfully master being a comedian while sharing positive messages of activism, mental health, and the art of confidence. Read more below to find out how she finds inspiration from her culture!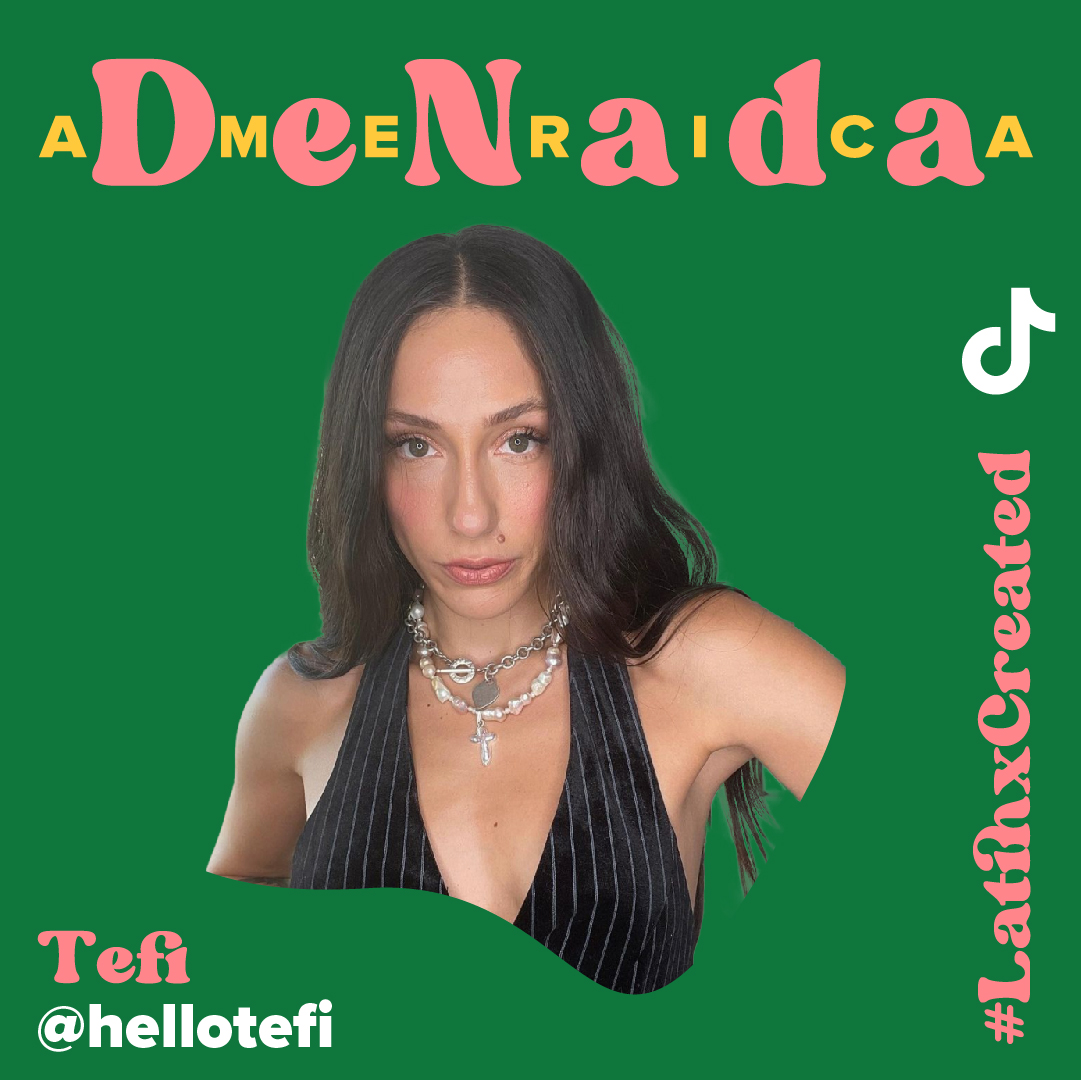 What does it mean to you to be part of the Latinx community?
To be part of the Latinx community means so many things to me. To be part of the Latinx community is everything that I am: it is a house of identity that goes everywhere with me. My community is my pride, my community is my joy, my community is the rhythm to my life. SO much of me and my perspective is indebted to the overwhelming support, protection, love and tenderness the Latinx Community provided for me. To be Latinx is to be fearless and to laugh with your whole face. I could go on forever.
How has your culture influenced or shaped you?
I am who I am because of my culture. When I read this question I tried to imagine not being raised Latinx and I didn't even know how to separate myself and my culture. I can live anywhere, visit anywhere, and meet anyone- it won't change that my culture is my home.
How do you share your culture & community on and off of TikTok?
Well I always say "Everywhere I go is Miami". Even if i'm in Tokyo, I'm like "Miami is wonderful this time of year". Haha -- I just feel like I feel very proud to be Latina and I carry that within everything I do. The moment I open my mouth people know I'm Latina. I could be talking about brussel sprouts, and you would know. My facial expressions, my mannerisms, my hand movements when I talk are very much that of my mama and abuelita. And we are not a reserved people, hahaha. My storytelling style is unique to the Latinx Community, and I make sure to share as many petitions or fundraisers that support Latinos. That being said: Free Cuba.
How has the TikTok community inspired you?
The TikTok community has inspired me to celebrate myself more than ever. Also, it makes me so proud to see so many Latinos share their lives and their humor and their stories. I especially love seeing happy parents proud of their kids graduating. It makes me cry every time! I just know how hard the Latinx community has worked to be heard and seen. To see that is a beautiful thing.
What video are you most proud of creating?
I made a video where I was honest where I am not fluent in speaking spanish and the comments make me weep. I love my community, even if sometimes we can't conjugate the right words at the right time.
What are some content creation tips you would offer to other creators?
Post videos like you are certain 100% of the people that will see it already love you.
Who are some Latinx creators that everyone should be following/watching?
@drealopzz is the daughter of my previous boss, Irma Martinez, who is an iconic celebrity stylist for many decades. Irma styled some timeless shoots, like Shakira's "Donde Estan Los Ladrones". I worked for Irma for many years, and through out those years Drea became like a sister to me. Drea is an INCREDIBLE singer that has already worked with the LEGENDARY Emilio & Gloria Estefan. I am very excited to watch her grow into the star she was born to be.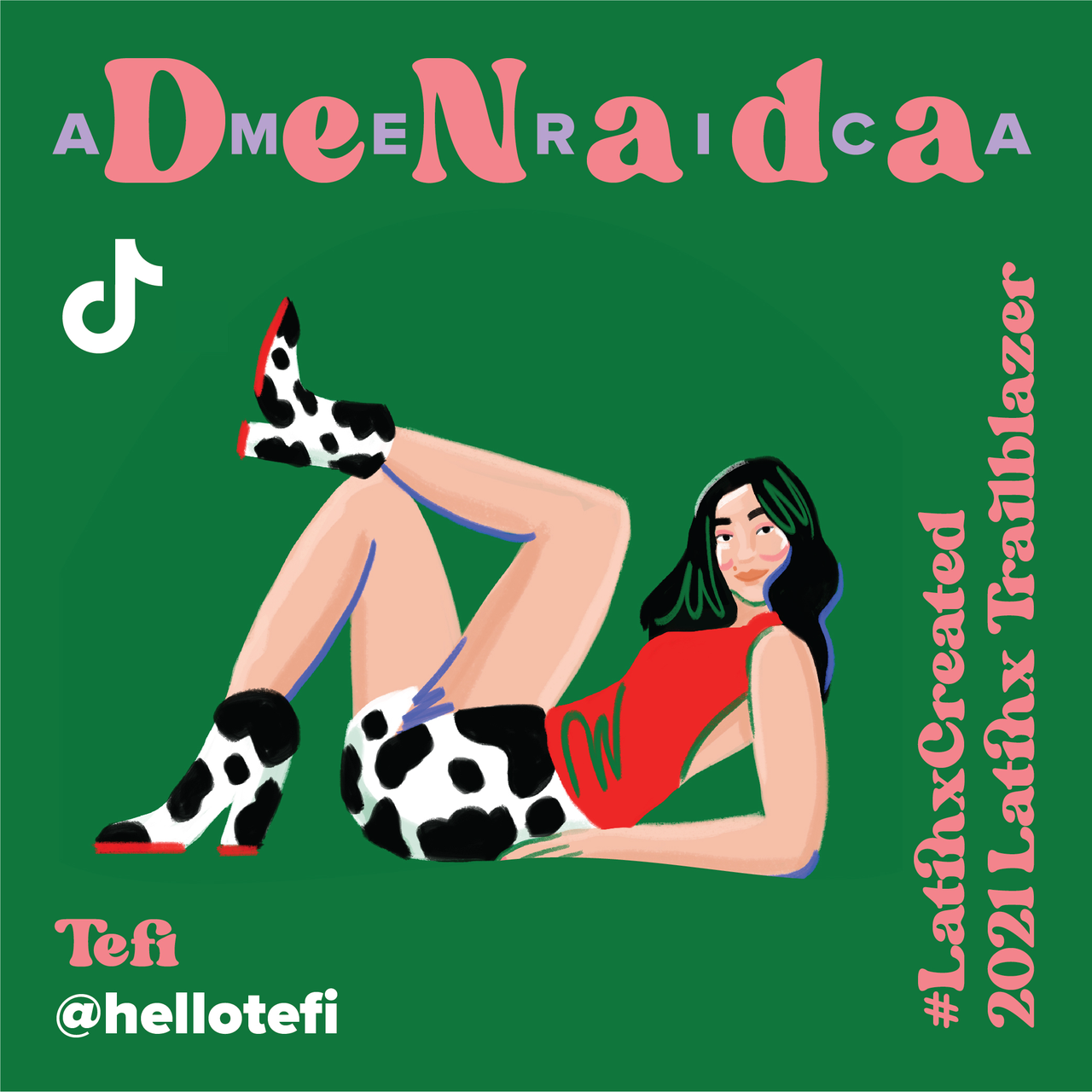 [Trailblazer illustrations created by Brazillian artist Niege Borges for TikTok's Latinx Heritage Month celebration]